Cool Cars & Burning Rubber – #SF14
4 years ago Events
To say I was blown away when I rolled into the gates at Pomona Raceway would be an understatement. My last visit to Spring Fest was in 2011 and even at that time, it was one of the biggest Mopar® events west of the Mississippi River. However, the 14th annual Spring Fest had grown and expanded beyond my wildest imagination, taking up almost every inch of asphalt on the massive LA County Fairgrounds in Pomona. It was filled to the brim with Dodge Challengers, Chargers, Magnums and Chrysler 300s ranging from mild to wild; and did I mention they were all in one location?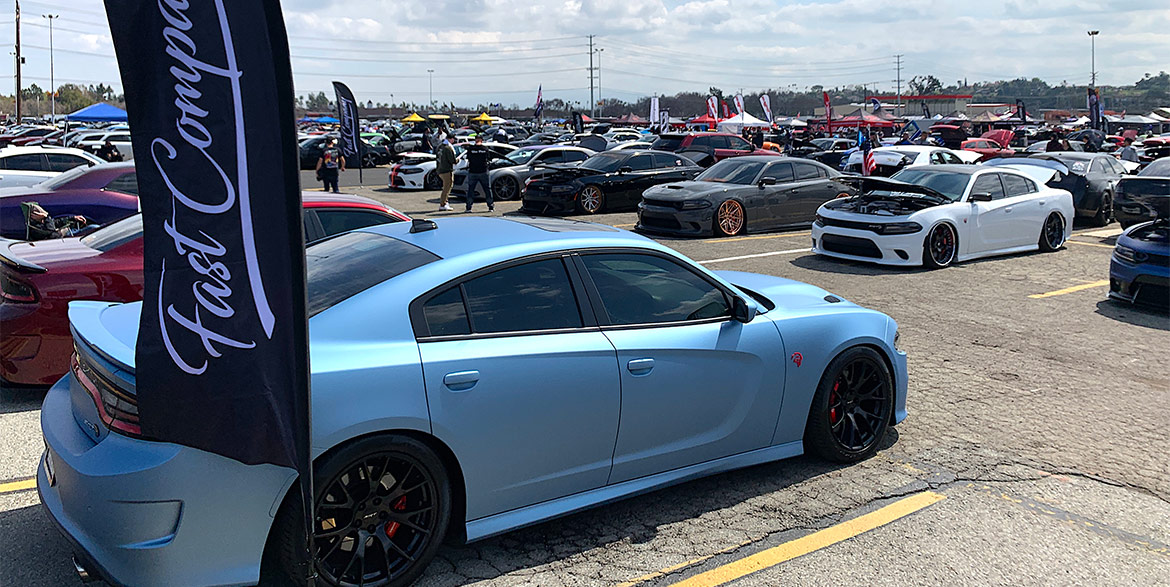 Officially known as the Spring Festival of LX's, its southern California roots go way back. In late 2004, a small group of passionate car folks, led by John Fortuno, gravitated toward the new and revolutionary 2005 Chrysler 300 and Dodge Magnum. For you newbies, the LX nomenclature was the internal body-code designation for the rear-wheel-drive Chrysler 300, and later, the LD code for the Dodge Charger and LC for the Challenger. But for this community, the LX code just stuck and encompasses all the late-model RWD machines. These hardcore enthusiasts have also become the ultimate brand ambassadors for both Dodge and Chrysler in the highly influential California car culture that has been predicting and setting trends forever. Slowly growing, the first Spring Festival took place in 2006 and had just over 300 vehicles from all over the United States and parts of Canada. Now fast forward to the 2019 event, which hosted well over 2,600 vehicles for the car show and many more for the drag racing portion. For many, this event is more of a family reunion of car lovers, only on a global scale.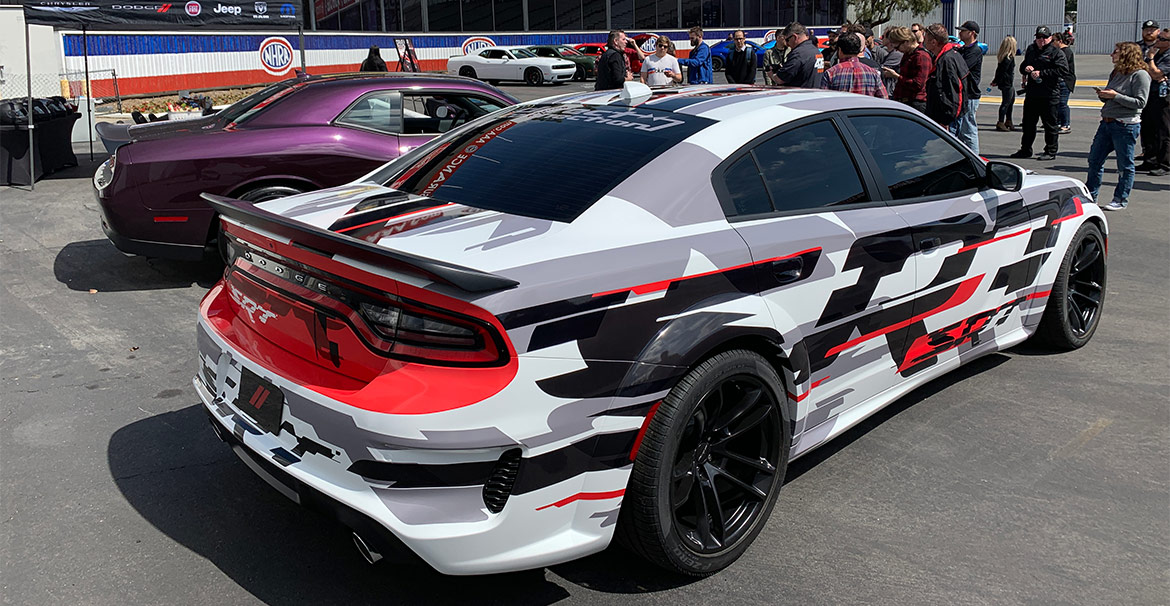 Soon after the first few gatherings, the marketing and design folks from Chrysler took notice and began attending Spring Fest to gauge consumer and fan reaction on everything from new colors and options to even new models. As at prior events, FCA's design team of Ralph Gilles and Mark Trostle met with the attendees to show them the latest creations from the design office and this year, Mark took the folks for an in-depth walk-around of the new Charger Widebody Concept.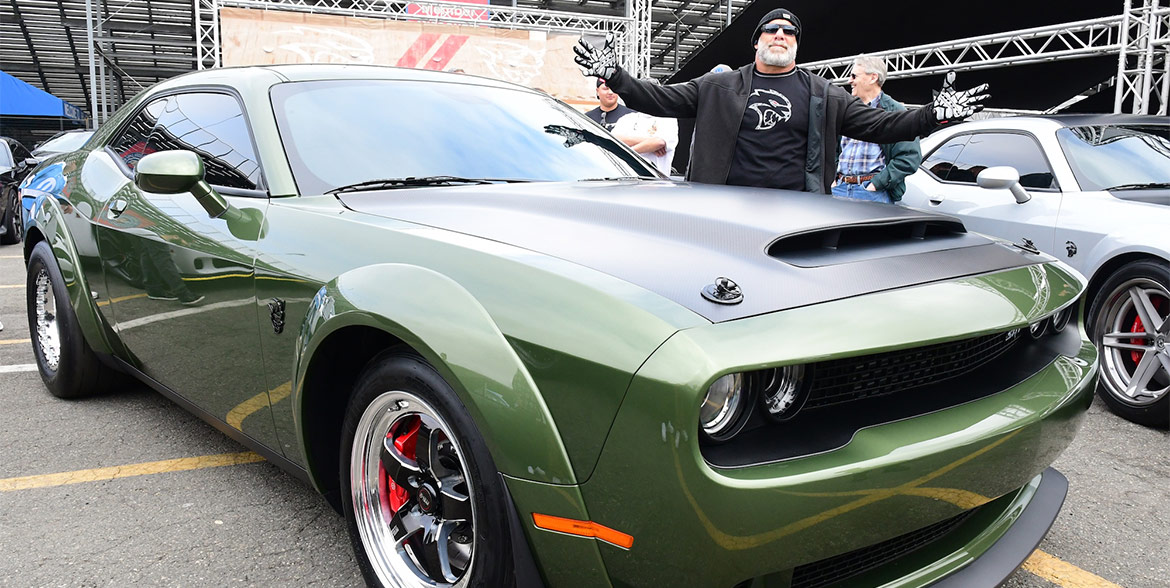 Spring Fest also brought out Hall of Fame pro wrestler Bill Goldberg, Dodge's "Mayor of Muscleville", and his mean F8 green Dodge Challenger SRT® Demon, which looked even tougher with its aftermarket forged WELD Racing Wheels and custom SpeedKore hood. When Goldberg's caravan of SRT Demons and SRT Hellcats rolled into Spring Fest, it was quite the mob scene. Even Chris Jacobs, massive Mopar enthusiast and on-air personality from Motor Trend TV, was at Spring Fest to take in all the sights and sounds.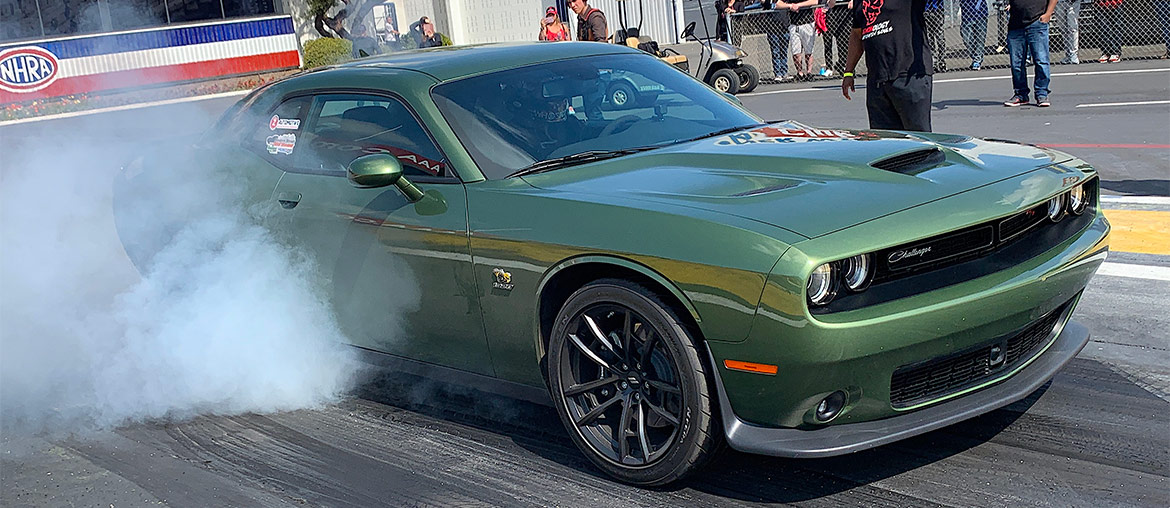 For Goldberg and his "CarCast" partner in crime, a.k.a. co-host, Matt "The Motorator" D'Andria, racing the new Challenger 1320 was all they could think about on the trip out to Pomona. Both of them suited up and after a quick tutorial from yours truly on the proper launch techniques, Bill heated up the drag radials, staged up and blasted off the line in the F8 green machine. Bill had the holeshot advantage over Matt in the Plum Crazy Challenger, but Matt was coming on strong at the top end as they raced along the fence of cheering crowds.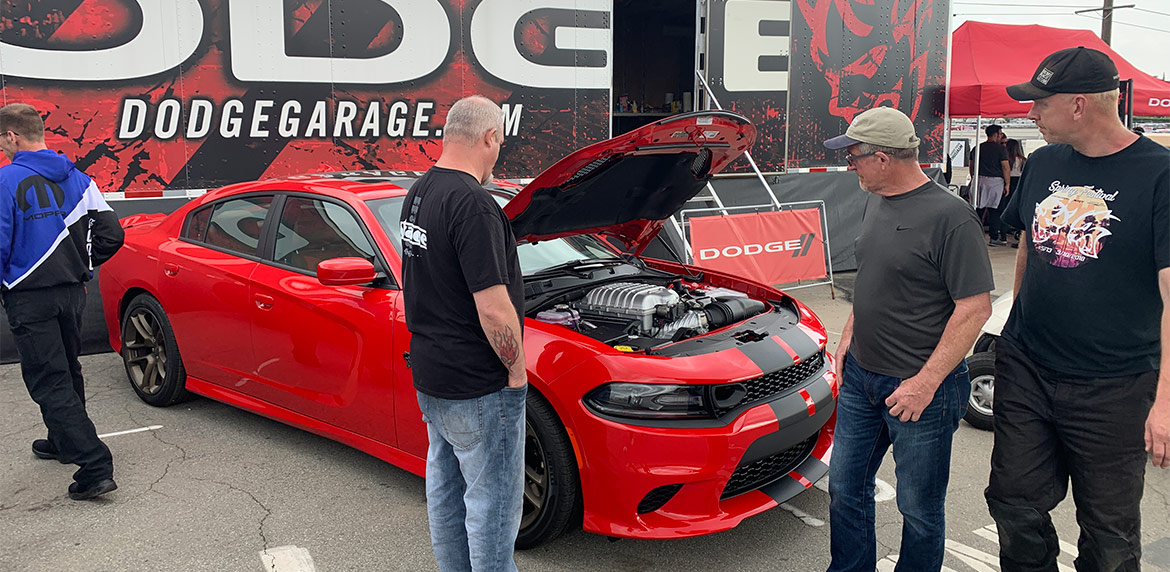 Having owned and raced quite a slew of late-model Mopar muscle, I was in awe with the activity and participation at the track. This year included over 60 vendors offering a host of accessories and go-fast parts that could trick out your ride while adding more power under the hood. Dodge had rolled in their intimidating display of powerful beasts, including the new 797-horsepower Challenger SRT Hellcat Redeye and its slightly tamer four-door cousin, Charger SRT Hellcat.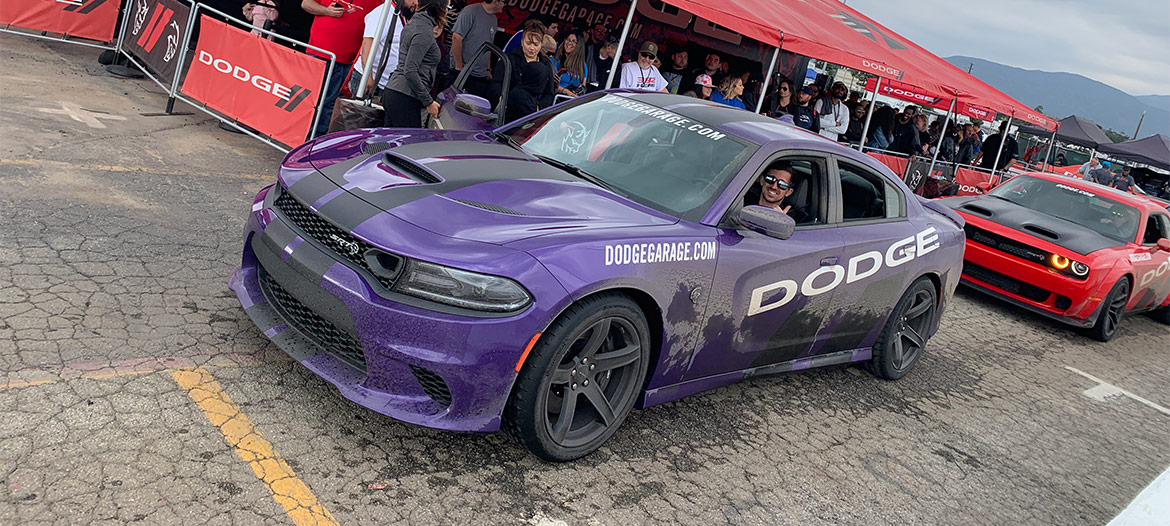 Attendees also had the opportunity to experience all that horsepower and handling awesomeness at the Dodge Thrill Rides display. Those mean exhaust tones and squealing tires begging for mercy brought in fans from every corner of the event for an opportunity to feel all that power. There were a lot of smiling faces getting out of Challengers and Chargers after each Thrill Ride because, well, who wouldn't?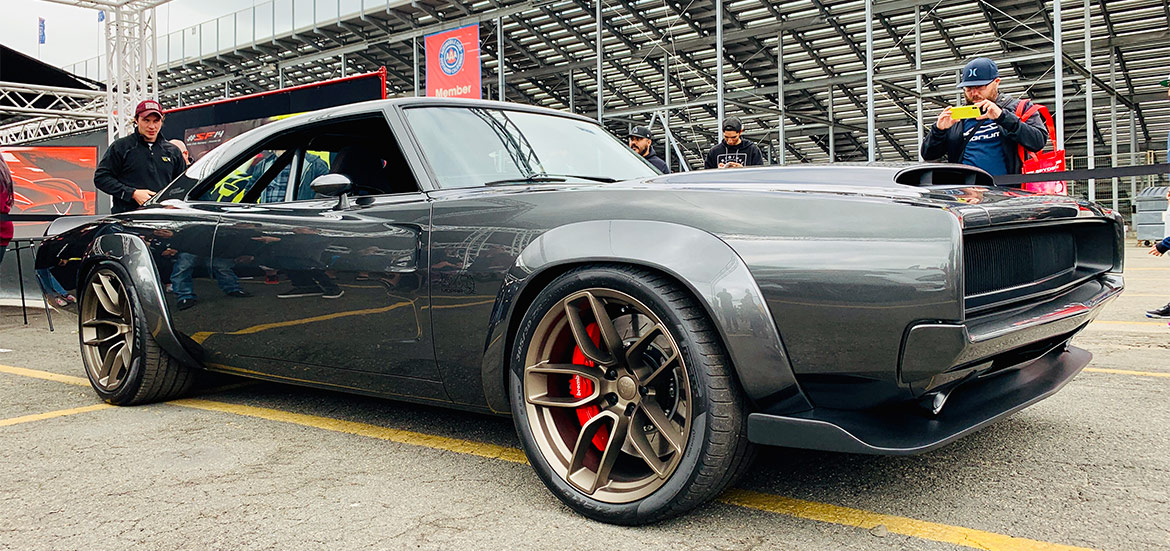 So what did Mopar bring to the party? Their 1,000-horsepower "Hellephant" Super Charger, of course. What I wouldn't do to take this beast on Hot Rod's Power Tour and Drag Week across the country and see what this beast can do. With its distinctive retro styling, updated chassis/suspension and, of course, 426 cubes under that long hood, I can see myself disappearing off into the horizon and breaking the sound barrier.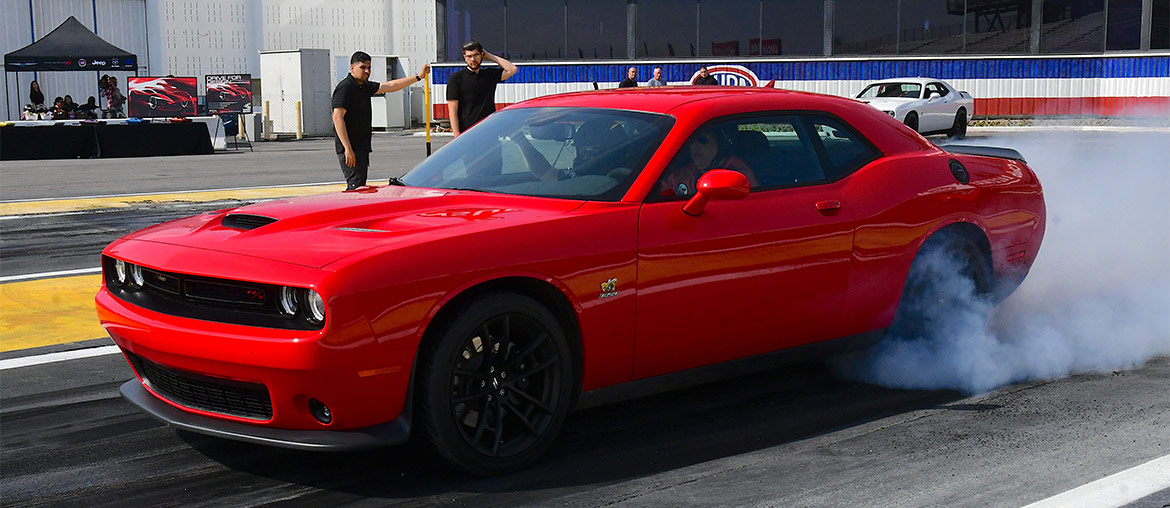 Since I was unable to talk anyone out of the keys for the Super Charger, I was still able to get my need for speed by making a half-dozen runs down the drag strip in a shiny TorRed Challenger R/T Scat Pack 1320. Being part of a media event the day before Spring Fest, I had the opportunity to climb behind the wheel and drag race Dodge's newest resident of Muscleville.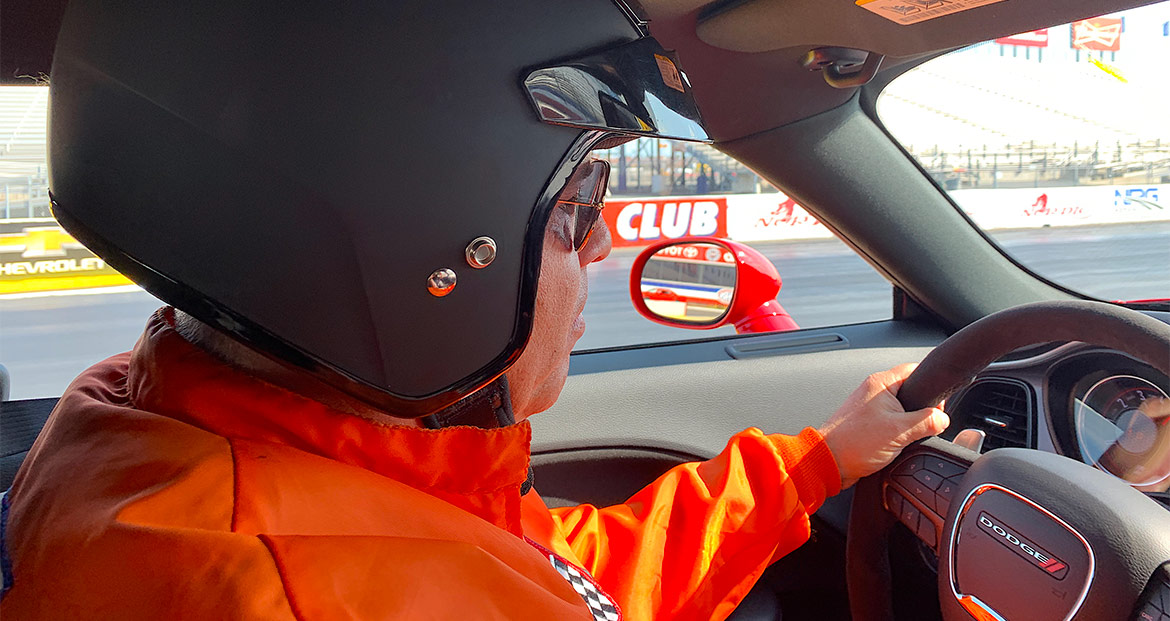 I may have to buy one of these things – Sublime please, hold the options.

I wasn't the only one who had fun blasting down the drag strip as many owners, both novices and experienced racers, had the opportunity to test their racing skills and see how fast their rides could cover the quarter-mile. From factory stock to massively modified vehicles, drivers stomped on the accelerator and gave Pomona Raceway's starting line a workout.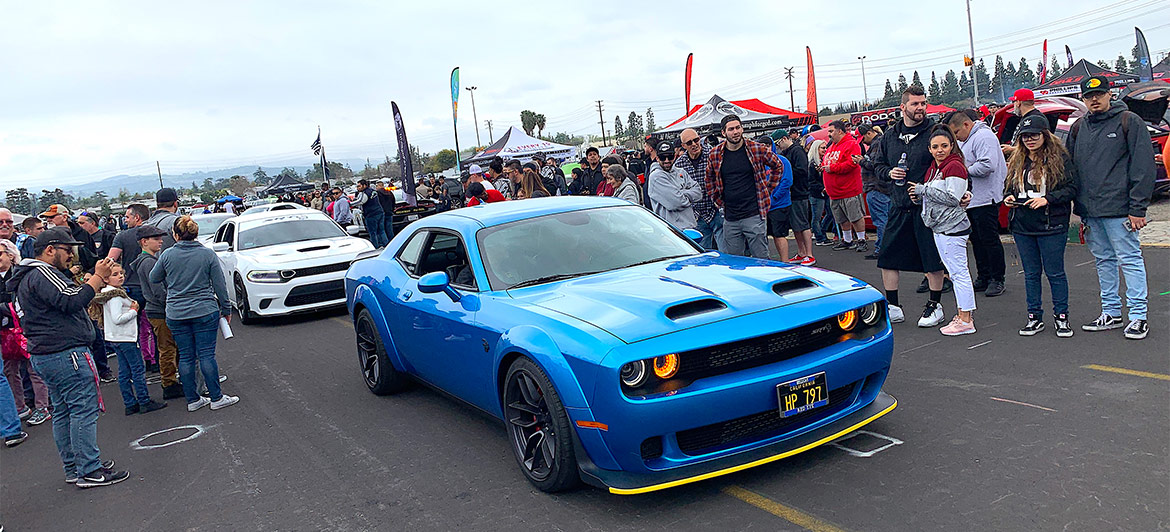 Looking out over the car show area, there was a sea of cars in a wide range of different modification levels. I never got bored checking out all the eye candy. From show cars sporting airbag suspensions sitting super low to street cars rolling on slicks and ready to attack the strip, Spring Fest 14 was like a giant bag of Skittles that had all the colors of the rainbow. If you're into the modern era of Dodge, Chrysler and Jeep® Brand vehicles, head west and you'll be rewarded at journey's end.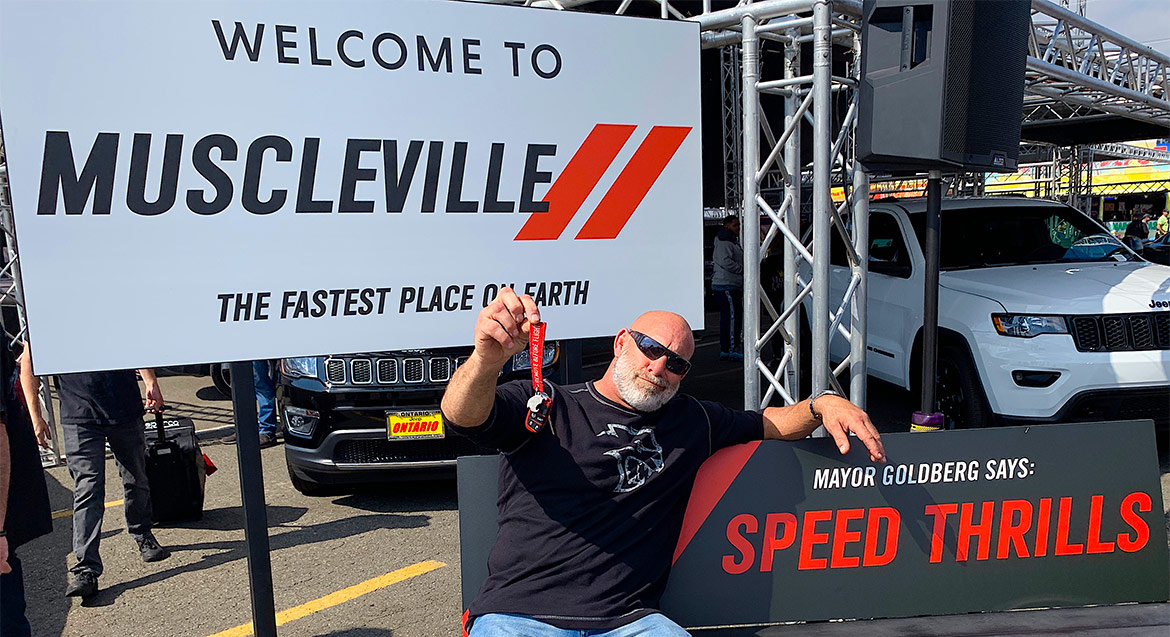 Comments
Comments