Pages From The Past: Corvette Killer – 1957 Dual Quad Dodge D500
3 years ago Heritage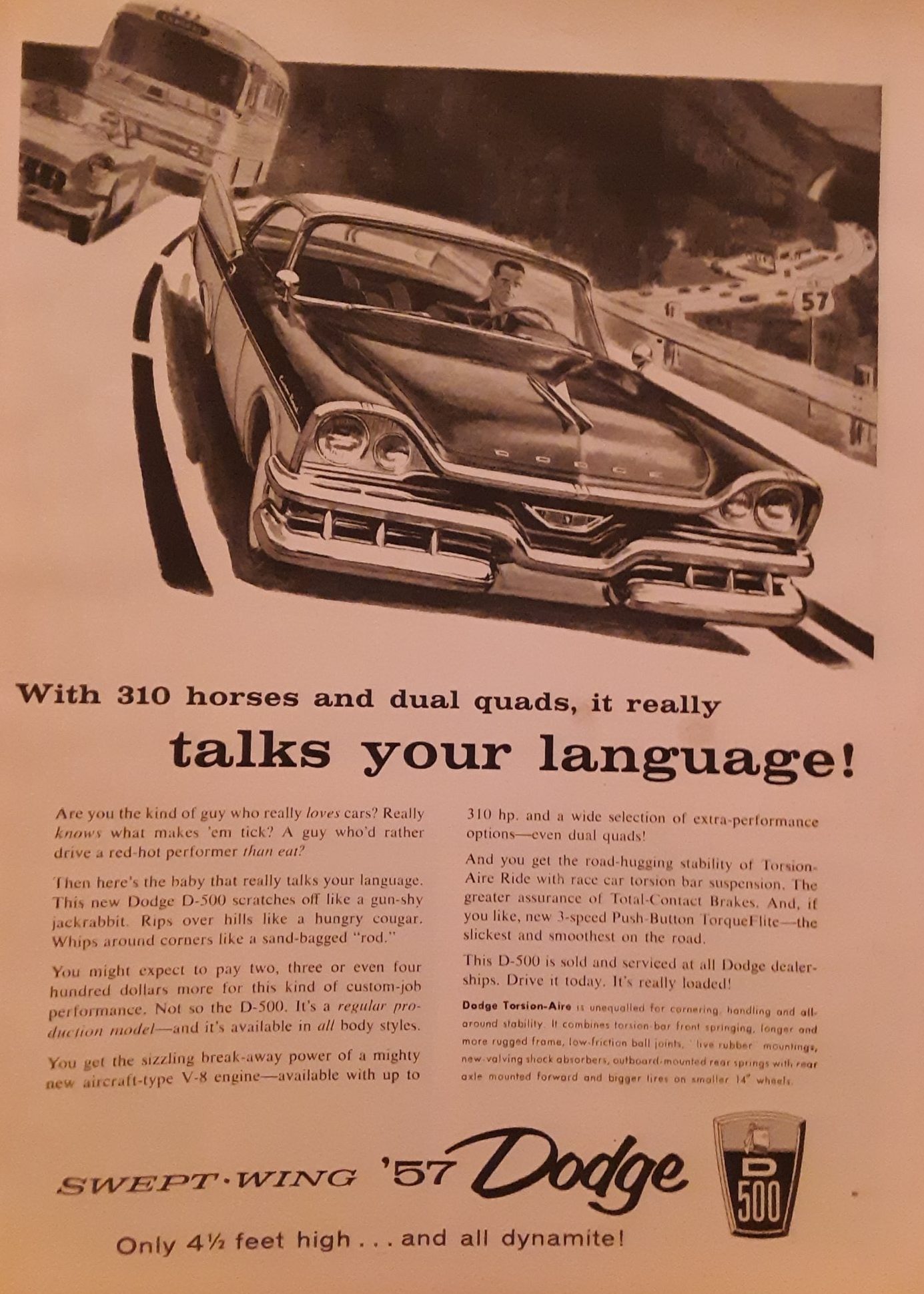 Look closely at this ad. Is that a Dodge passing a … Corvette? Yes it is, yes it is! Though a stylized illustration, there is no doubt the artist – and the Dodge marketing managers behind its creation – wanted to send a very clear and distinct message that Dodge was totally serious about high performance. And what better way than to depict your product spanking "America's sports car" on a steep mountain grade on "U.S. 57"?
Of course it took serious power to challenge such an established foe and Dodge stepped things up with this very public announcement that it was selling brand-new passenger cars with "dual quads" (that's twin four barrel carburetors for any newcomers to the automotive scene). The second time Dodge offered dual quads on a production setting (the first was the extremely rare D-500-1 of 1956), the 1957 engine was a direct descendant of the 140 horsepower 241 Red Ram HEMI® engine of 1953.
Named the D-500 for 1957, the little 241 of 1953 added 84 cubic inches thanks to a 0.26-inch overbore (from 3.43 to 3.69 inches), a 0.55-inch stroke increase and a subsequent 1.09-inch increase in block deck height (from 9.29 to 10.38 inches) and the 325-cubic-inch variant was born. Though a 325 cube V8 with less costly polyspherical cylinder heads and 245 to 260 horsepower (two barrel or four barrel carburetor) was offered as the Red Ram, the HEMI headed 325s – dubbed D-500s – were the performers.
The basic D-500 featured a single four barrel carburetor, solid cam with aggressive specs, 10:1 compression and 285 horsepower, it was the big Super D-500 that came with the dual quads touted in this ad – and which put the "Super" in D-500. Though exact production records are not known for the D-500 and Super D-500, it is agreed that a little over 500 were built, each with exclusive D-500 badges on the deck lid to let drivers of lesser cars know what just zoomed past them. And get this, these hammering HEMI engines could be had in any Dodge model, from the base Coronet to the mid-level Royal to the top-tier Custom Royal.
As for the rest of the car, 1957 was a breakout year. Chief stylist Virgil Exner's "Forward Look" design language finally blossomed with an all-new body that was longer, lower and wider than any previous Dodge. To carry this sleek, finned body capsule, the wheelbase was expanded three inches (from 119 to 122, the longest wheelbase since 1933), wheel and tire diameter was reduced from 15 to 14 inches to reduce profile height, and massive wraparound windshield and backlite glass appeared.
Another groundbreaking change was the switch from conventional coil spring front suspension to torsion bars. Lighter and capable of delivering a firmer ride without harshness, Chrysler Corporation embraced torsion bar front suspension all the way into the 1980s. The ad touts: "Dodge Torsion-Aire is unequalled for cornering, handling and all-around stability. It combines torsion-bar front springing, longer and more rugged frame, low-friction ball joints, 'live rubber' mountings, new-valving shock absorbers, outboard-mounted rear springs with rear axle mounted forward and bigger tires on smaller 14" wheels."
And about that new rear suspension, though traditional leaf springs were still employed, the chassis engineering team repositioned the axle location from the center point of the leaf to about one-third of the way back from the leading spring eye. The increased flex distance aft of the axle center line reduced axle shudder on washboard surfaces while the shorter front segment added stiffness. This stiffer leading segment acted much like a bolt-on traction bar and reduced wheel hop on hard acceleration. In fact, the roots of the highly successful Mopar® Super Stock leaf spring program began right here.
Getting back to the external appearance of this 1957 Dodge, Exner's answer to GM's fin fetish was as outlandish as it was attractive. At the rear, the righthand flank is topped by a large white delta-shaped fin, smartly angled a few degrees outward from vertical (GM fins were typically vertically oriented). Inside the cockpit to the left of the business-attired driver is one of Chrysler's more controversial features, the dash-top mounted rearview mirror. Meant to emulate the low-mount mirrors seen in European sports cars (and the Corvette) it added a certain flair, but was useless as soon as the back seat was occupied. Despite this flaw, most full-size Chrysler Corporation products retained this feature through the 1962 model year.
The front of the car features more of Exner's pet styling themes. Deeply hooded headlamps: check. Massive, chromed wraparound bumpers: check. Low profile pancaked hood: check. Speaking of which, the extreme low profile of the hood required novel engine air filter housings with a tubular passage mounted to the carburetor inlet then a quick 90-degree turn to meet a horizontally mounted filter housing. Though somewhat awkward from an air flow standpoint, it was the only solution to the low cowl and hood lines rendered by the stylists. And yes, dual quad Super D-500s used two side-mount air cleaner canisters. More compact paper element air filter units would arrive soon after to help solve these problems.
The quad headlamps are a bit of a trick. Note that the inboard circular openings are smaller than the outboards. Because many states still hadn't "seen the light" on Detroit's claim that four headlamps were brighter, and thus safer than two, for 1957, the stylists delivered the next best thing. The outboard headlamps are the usual 7-inch round sealed beams with integral high and low beams in use since 1940. To gain the look of modern quad lamps – which were rumored to be coming any day – stylists whipped up a pair of 4-inch-diameter lenses which contained small 12-volt turn signal bulbs and only illuminated when turning. The effect was legal in all 50 states, yet gave the illusion of cutting-edge modernity. But sure enough, for 1958, the federal government approved the use of four smaller 5-3/4-inch sealed beam headlamps – two for low beam and two for high beam and all 1958 Dodges were so equipped.
That wraps up our analysis of this exciting dual-quad-equipped Page From The Past, but before closing, sharp eyes will notice the "U.S. 57" highway sign to the right border of the illustration. Records show that U.S. Interstate 57 is indeed a 386-mile highway that runs through Missouri and Illinois. But get this … it wasn't noted on official road maps until 1959! No doubt its use here was meant as a play on the 1957 model year the ad promoted.
Until next time, Hasta Magnante.
PREVIOUS PAGES FROM THE PAST:
Ramrod – Dodge Launches The 1968 Charger R/T
Swinger – The Dart Gets Serious
Full of Spirit – The 1955 Dodge Custom Royal Lancer
Comments
Comments
Next