The Forgotten Challenger: 1978 Dodge Challenger
2 years ago Heritage
When the first modern-era LC-platform Dodge Challenger rolled off the Brampton, Ontario, assembly line on May 8, 2008, certain news outlets claimed it had been 34 years since Dodge dropped the original Challenger at the end of 1974, which was built on the E-body platform. Not so fast. As this magazine ad for the 1978 Challenger proves, today's beloved Challenger isn't the second platform to wear the name, it's the third.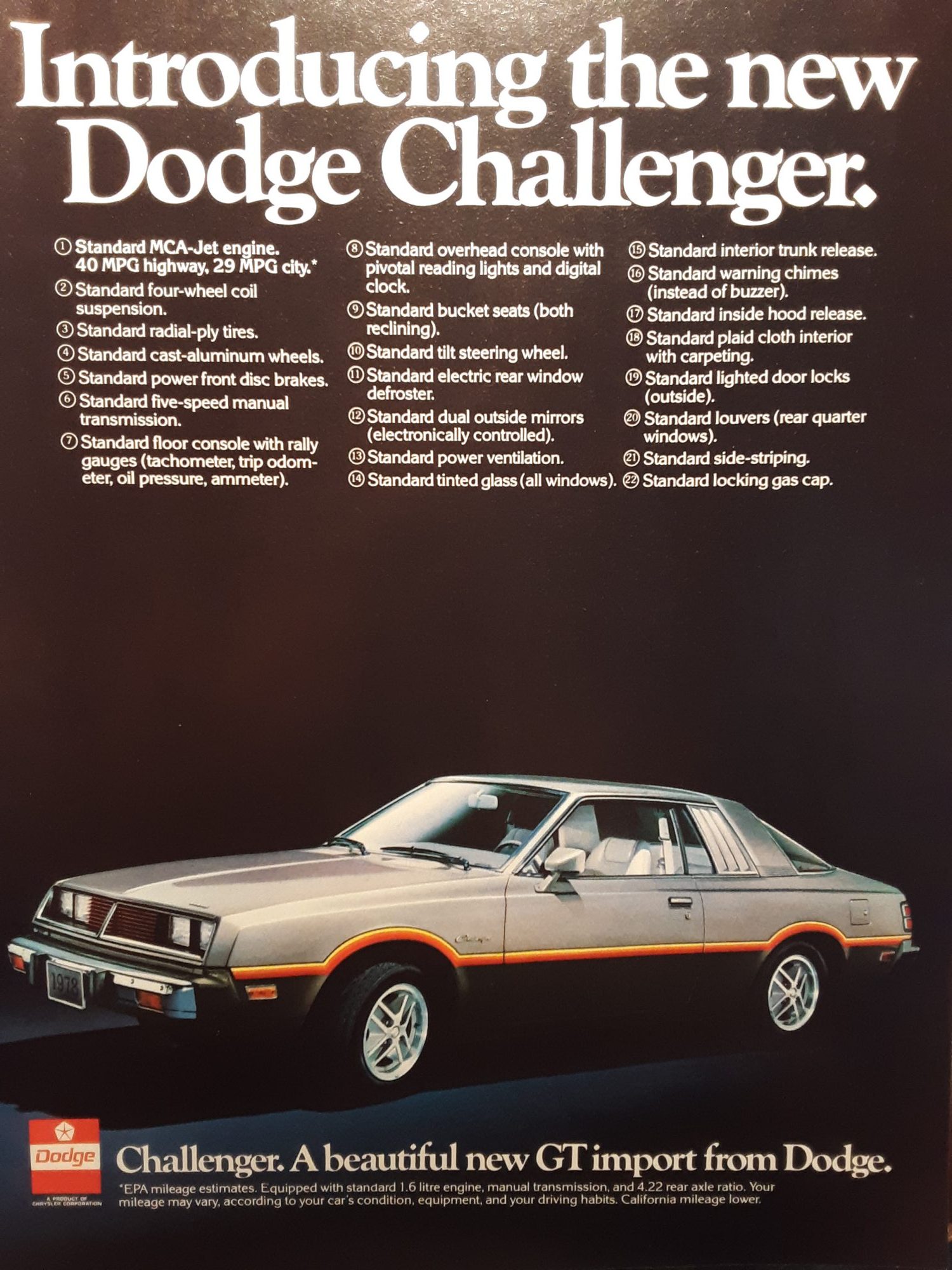 Based on Mitsubishi Galant Lambda, a Japanese two-door notchback built on a 100-inch wheelbase first sold in Asia in 1976, the second-generation Challenger followed Ford's Mustang II formula of 1974. That is, with the price of gasoline skyrocketing and government pressure to reduce exhaust emissions in the early 1970s, Ford scrapped its third-generation 1971-73 Mustang after just three years of production. The trouble with the third-generation Mustang was its size and weight. Being based on the large Fairlane midsize vehicle platform, the third-generation Mustang was much larger than any previous Mustang and despite up-to-date styling, it was out of step with consumer demands.
Needing a smaller Mustang quickly, Ford adapted its sub-compact Pinto platform to get the 1974 Mustang II. It worked, sales of the pint-sized pony car totaled 385,993, up from 134,867 of the massive 1973 Mustangs. While Dodge lacked a homegrown sub-compact model upon which to source a downsized Challenger platform, Dodge had partnered with Japanese automaker Mitsubishi on the 1971 Dodge Colt, a pint-sized Ford Pinto, Chevy Vega and VW Beetle fighter.
Though American shoppers got a limited number of Mitsubishi's models (with Dodge branding), the semi-fast back Galant – sold in Japan since 1976 – was not offered in the States. But after some simple restyling, the re-born Galant was ready to wear the Challenger nameplate for the 1978 model year as seen in this ad (a similar car wearing Sapporo markings was sold at Plymouth dealers in place of the Barracuda). While no effort was made to adapt styling cues from the previous Challenger model and there were no bumble bee stripes, shaker hoods or Dana rear axles, the Galant's split-grille, long hood, steeply raked windshield pillar and curved back lite gave it a sporty look worthy of the name.
Speaking of the name, Dodge gave the reborn Challenger the same chromed nameplates used on its American predecessor, right down to the matte black shadowed backdrop effect behind the scripted letters. And get this, while the term HEMI® Challenger was never used in Dodge marketing materials, Dodge did use the term "HEMI" to describe Challenger's optional 2.6-liter inline four-cylinder engine, as it had in earlier Colt advertising since 1971.
Though the Challenger 2.6-liter HEMI four-cylinder engine's 105 horsepower and 139 ft.-lbs. of torque were a far cry from the 1971 HEMI Challenger's 425 horsepower and 490 ft.-lbs., the '78 Challenger's 2,509-pound curb weight was some 35-percent lower than a 3,900-pound Challenger Street HEMI. While performance wasn't nearly as exciting, the smaller second-gen Challenger was capable of 0-60 acceleration in about 10 seconds. But thanks to its more advanced suspension, radial tires and lighter weight, cornering and braking were much enhanced over any nose-heavy E-body Challenger R/T.
Standard equipment on every second-generation Challenger were four wheel disc brakes, four-spoke aluminum wheels, four wheel coil spring suspension, full instrumentation (including tachometer), tilt steering column, reclining seats, overhead console and manual transmissions with five forward speeds. And let's not forget that every Challenger had rear-wheel drive, Chrysler's all-front-wheel-drive days were still a few years away.
Like most performance cars of the 1970s, the 1978 Challenger relied as much on stickers and stripes as it did on enhanced mechanicals. Still, sales were reasonably strong, and for its 1978 debut, 30,427 were sold (which includes an unknown number of Plymouth Sapporos). In subsequent years, records show fairly strong sales: 26,488 in 1979, 23,187 in 1980, 26,016 in 1981, 27,196 in 1982, 23,937 in 1983 and 836 leftovers in 1984 for a total of 158,087 units in a time frame that generally shunned high-performance cars. By contrast, the original Challenger sold a total of 165,437 units in its 1970-1974 lifespan. The best news is that the modern LC-platform Challenger is on its way to selling a half-million units since its 2008 launch.
Though the little four-cylinder Challenger portrayed in this vintage ad may seem silly today, we can't forget its role in keeping the performance flame flickering during some very dark times. If nothing else, it's a great reference point to see how far we've come in this day and age of Challengers built with anything from all-wheel drive (Dodge Challenger GT) to nine-second dragstrip ability (Dodge Challenger SRT® Demon) and everything in-between!
Comments
Comments