Pages From The Past: A Luxury Liner For the Road
2 years ago Heritage
What a difference a decade – or three – makes! In this month's Pages From The Past, let's examine an ad for the 1939 Dodge series D11 Luxury Liner. As mentioned, three decades later – in 1969 – Dodge magazine ads bristled with exciting news from the Scat Pack as 440 Six Packs, 383 Magnums, Super Bees, Coronet R/Ts, Street HEMI® engine-powered vehicles and those crazy winged warrior Charger Daytonas were the hot news.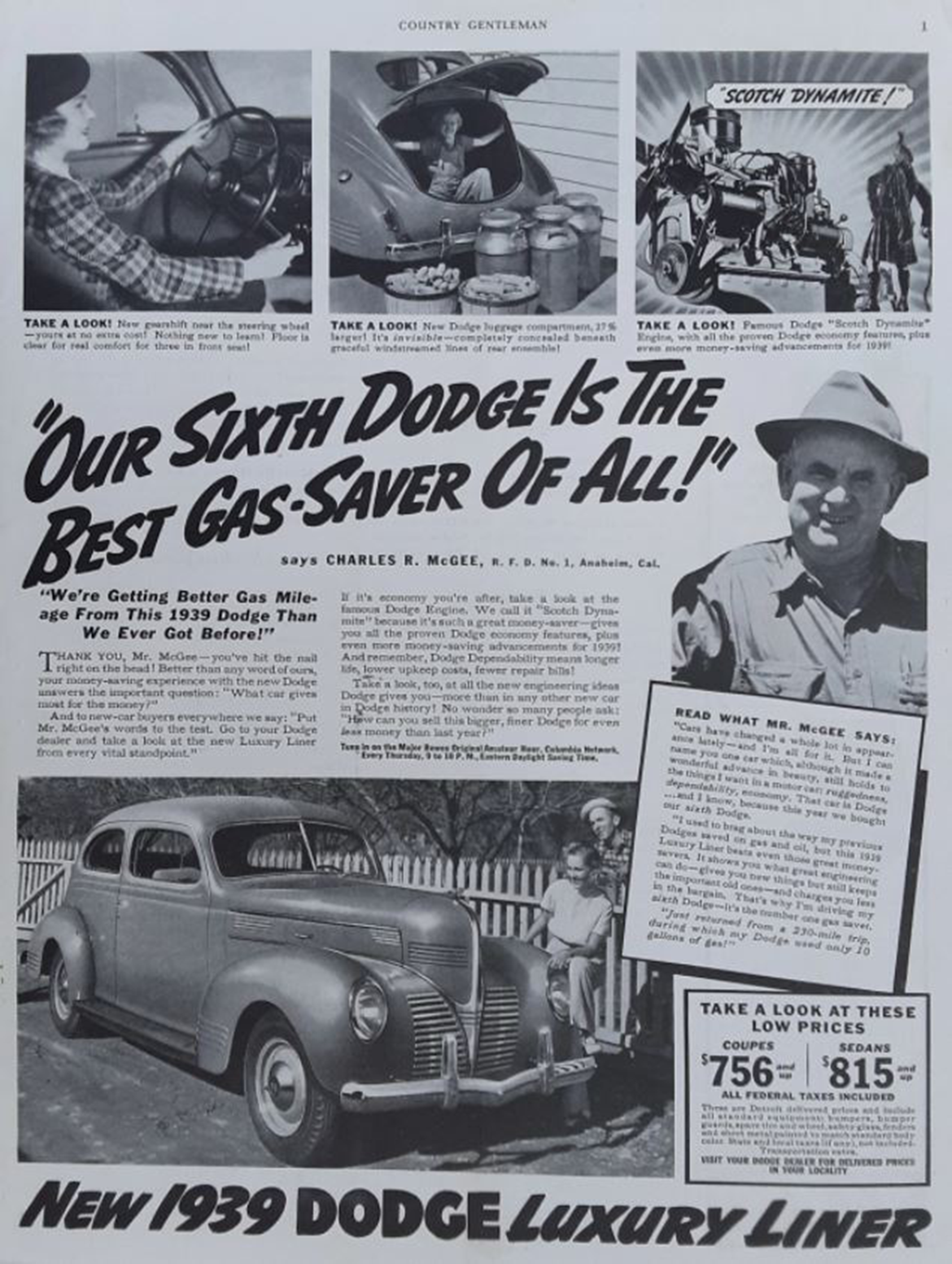 But let's remember that in 1939, America was only beginning to fully recover from the 1929 stock market crash and resulting Great Depression. So severe was the economic carnage, it took a decade for things to be set right.
1939 also marked Dodge's 25th anniversary as an automaker and a full restyle eliminated the exposed headlight pods – used since 1914 – for sleek headlamps integrated inside the front fenders, where they'd remain from then on. And though the basic "potato-shape with add-on fenders and exposed running boards" body styling continued throughout the industry, the gradual shift toward "envelope" styling was begun for Dodge here in 1939 as the lower door edges were flared outward to partially cover the running boards. It was a start…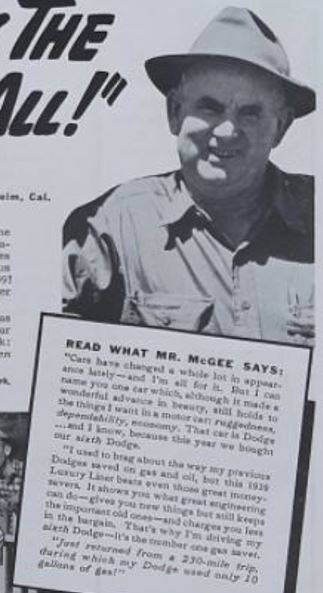 In this ad, Dodge used the "satisfied customer testimonial" theme to sell the goods. As the "impartial" Charles R. McGee of Anaheim, California, states (there's no claim Mr. McGee wasn't an ad man's polite fabrication): "Our sixth Dodge is the best gas-saver of all." The ad doesn't state when Charlie McGee bought his first Dodge, but it's certainly plausible if he began buying in 1914 and replaced each car after two years.
If that's the case, then Charlie was there to witness the first arrival of a heater (1921), all-steel body construction (1923), hydraulic brakes (1927), optional radio (1929), the famed Dodge "Ram" hood ornament (1932), safety glass (1933), optional "Silver Dome" aluminum high-compression cylinder head (1934), steel disc wheels (1937) and a jump in base horsepower from 35 (1914) to 87 (1938).
And about that 218-cubic-inch flathead six engine, touted as "Scotch Dynamite", which is not quite as snazzy as "Six Pack", but scotch is more potent than brew. But we digress. The ad claims the Scotch Dynamite six delivered best-ever fuel economy, which may truly have been the case with the only-choice three-speed manual transmission and 4.10:1 rear axle ratio backing the frugal six.
Don't ask for overdrive. That fuel-saving item didn't arrive until the 1953 model year when the growing interstate highway system allowed higher cruising speeds – speeds the low-revving six couldn't endure without overdrive. And later, as Fluid Drive appeared (1946), drivers sacrificed a significant chunk of fuel economy for driving ease.
Also new for '39 was a relocation of the manual transmission's gear shift lever from the floor to the steering column, as touted in the ad's upper left photo and caption. Ironically, by 1969, this three-on-the-tree shift location was shunned by the muscle car set who wanted four-on-the-floor.

Modern child safety advocates would get a real hoot from the center picture showing the young farmer's assistant sitting in the trunk. Though it helps prove the restyled body's 27 percent increase in cargo capacity, the hefty deck lid looks poised to slam shut. Remember, today's glow-in-the-dark emergency trunk release cable handles were not found in 1939 Dodge Luxury Liners! But again, this ad is from the days when medical doctors appeared in magazine ads to sell cigarettes.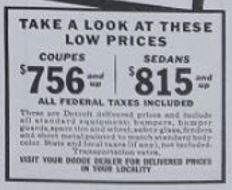 A final detail worthy of note is the publicized price seen in the bottom right corner of the ad. The fine print below the dollar figures reads: "Visit your Dodge dealer for delivered prices in your locality." a little item allowing a certain amount of wiggle room at the dealer level.
In 1939, the Automobile Information Disclosure Act of 1958 was still 20 years distant and the resulting Monroney Sticker (a.k.a. window sticker, named after Oklahoma Senator Almer Stillwell "Mike" Monroney) wasn't law. As a result, occasional scandals broke out wherein certain retailers added abusive sums to the factory price in an effort to "price gouge" unwary customers.
Dodge foiled such efforts by publicizing the base price for all to see. The two prices ($756 and $815) applied to two-door coupes and two-door sedans respectively. The model shown is the $815 five-passenger sedan with its rounded roof making room for a back seat. The $756 business coupe body had a smaller two-passenger greenhouse with no back seat and longer, flatter trunk lid.
Production totals for 1939 came to 12,300 two-passenger business coupes and 26,700 five-passenger sedans, plus another 32,000 five-passenger sedans with four doors (priced at $855). But those totals only account for the entry-level D11 Special model line.
Also available was the similar – but more luxurious – D12 Deluxe model line, of which another 115,474 were built (all body styles combined). In total, Dodge sold 186,474 cars in 1939, making it America's fifth largest manufacturer that year.
And this Page From The Past helped make it happen!
Comments
Comments