Forever Young
5 years ago Owners + Clubs
They say a couple who plays together, stays together. And when two people share the same passion for the car hobby, their relationship is even stronger. Maybe it's the sound of a big powerful engine sitting in front of you, the cool exhaust noise burbling from the tailpipes, the smell of the vinyl interior, or the way the sunlight bounces off the Sublime Green paint, it's a gearhead thing that bonds likeminded people.
For Mark and Betty Young of Lake Orion, Michigan, their love affair for vintage Dodge muscle cars is the something that brings them even closer. Mark owns a jewelry store in Oxford, Michigan, and Betty handles Supplier Training at FCA. Both of them have been into Mopar® vehicles most of their lives, but for Mark, it was when he laid eyes on his grandfather's brand-new 1964 Plymouth Sport Fury as a young seven-year-old kid that did him in and cast the spell for the rest of his life.
"That sound of that 727 for some reason just resonated with my young mind. From there, my first car was a 1965 Coronet 440 with a manual trans, followed by a '70 Super Bee when I was 17. It was B5 Blue and had 440 Six Pack and four-speed," said a reflective Mark Young.
So when an opportunity in early 1988 came up to purchase a rare and unique Mopar, the Youngs jumped at the chance. 1970 was the final year for the Coronet R/T and it was not a huge seller, especially the convertibles. This was also one of 296 examples that included all 426 HEMI®, 440 Six Pack, 440 Four-Barrel ragtops. What was really rare about this example was it was one of ten corporate promotional cars Dodge had built that were all identical (color, options, etc.) and had sequential VIN numbers – 401 to 410. The one that Mark and Betty Young purchased was number 406, quite a score.
The Youngs' buddy, Andy Kabarowski, found the Coronet R/T listed in an ad in The Detroit News under "convertibles". Mark Young had been looking for a Dodge Challenger T/A, but having had a Coronet Super Bee before, both Mark and Betty liked the body style and agreed that a convertible would make a nice summer weekend cruiser. They hopped in their car and headed down I-75 toward Toledo, Ohio, where the Coronet R/T was located. When they arrived, the old Dodge was in rough shape and barely drivable, but that didn't stop the Youngs from doing the deal and driving the Coronet R/T home. When they arrived back in Michigan, Mark crawled under the car, inspected the front suspension and was shocked to see the poor shape it was in.
"I should have been killed, but it's what we do for the love of vintage Mopars," exclaimed Mark.
With the Coronet R/T safely home, the Youngs started a restoration odyssey which took over three years to complete.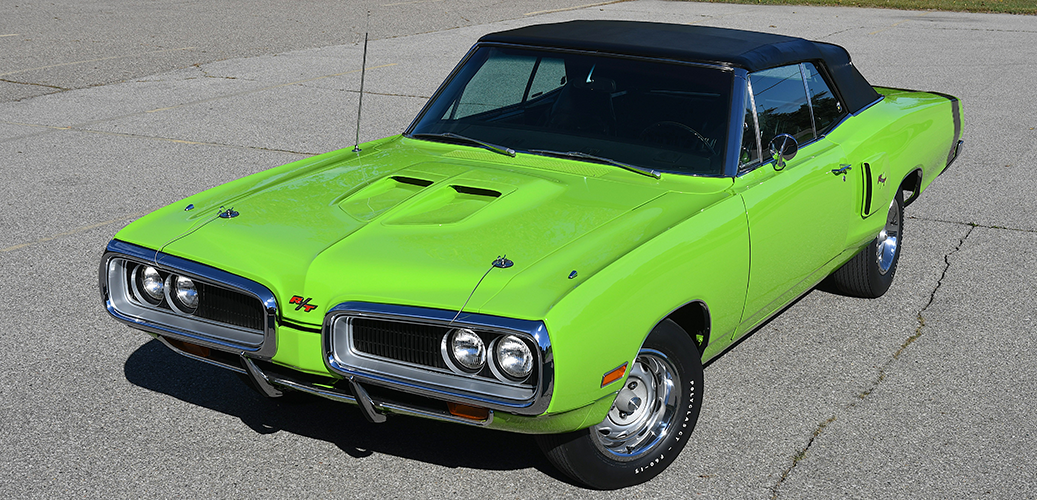 "You have to remember that a lot of reproduced parts like quarters and trim were not available at the time, so hunting down and paying was the game. Except for block machining and outer paint, we, with a lot of help from friends, did the resto back to build sheet specs, as we had come to realize this car was pretty rare," said Mark.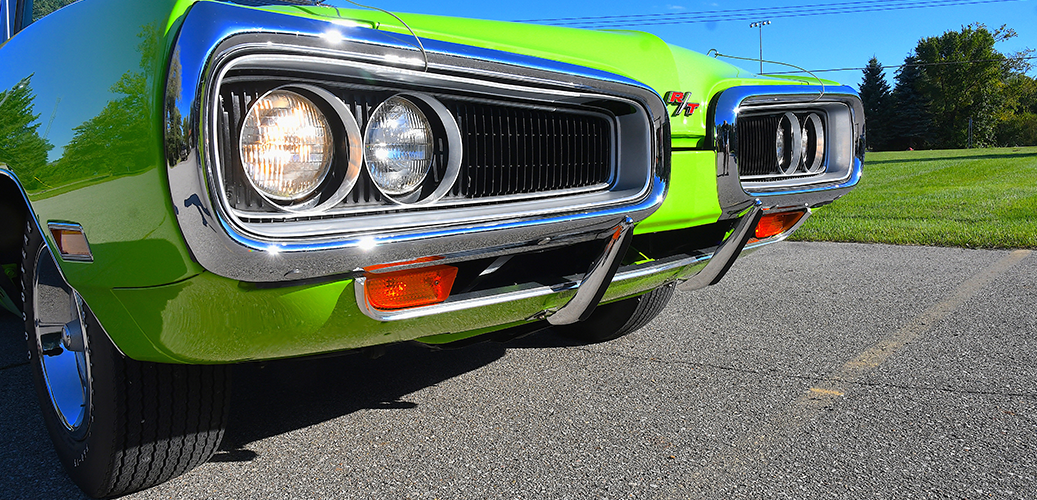 Despite these challenges, the Youngs went to work and the result is simply stunning. With its High-Impact Sublime green paint and black Bumble Bee stripe, this Coronet R/T convertible is stunning. The Youngs spared no expense in bringing the old Dodge back to its former glory of impressing the auto journalists and car show audiences like it did in 1970. It was also ordered by the Dodge Marketing/Promotions department to show off the numerous options available on the Coronet such as the hood pins, tinted 15-inch Rallye wheels, tinted glass, chrome remote mirror, chrome exhaust tips and other cool features buyers could order.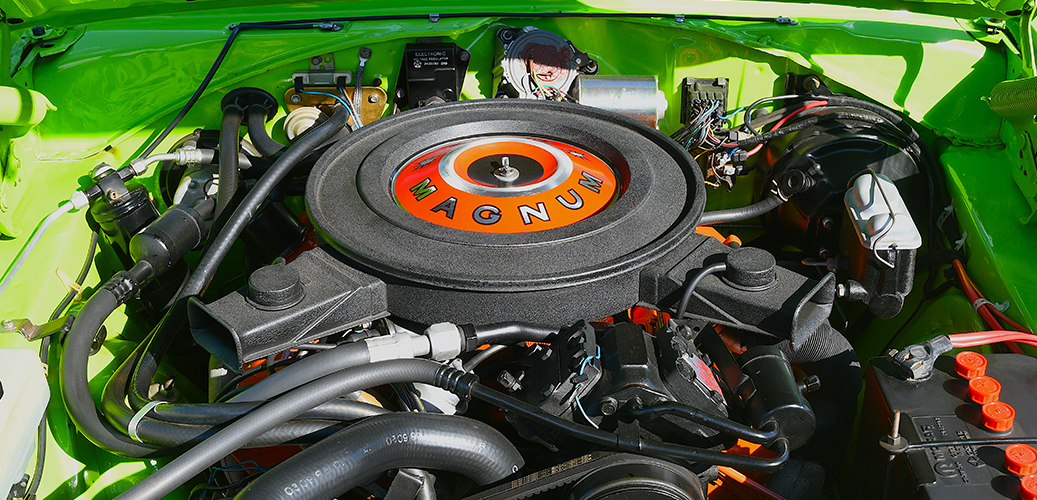 Under the Coronet R/T's sweeping Power Bulge Hood is the standard 440 Magnum V8 that puts 375 horsepower and 480 lb.-ft. of torque to the pavement. Beneath the dual snorkel air cleaner sits a 750 CFM, Carter AVS four-barrel carburetor that pulls air and fuel into the hungry big-block. Also included are a high-lift camshaft, oil pan windage tray, low-restriction exhaust manifolds and other performance goodies that gave the 440 Magnum its legendary bad boy reputation on the street and strip.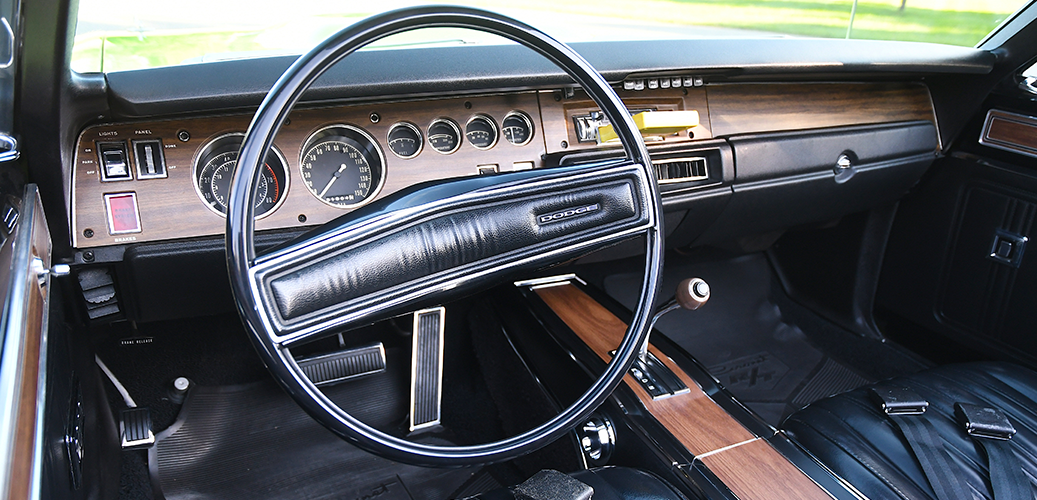 While some muscle cars had bare bones, taxi-cab-like interiors, the Youngs' Coronet R/T is pretty loaded with equipment and features usually found on luxury cars of that era. The interior has virtually every option box checked off from the 1970 Coronet sales brochure. These include high-back bucket seats, console, air conditioning, power windows, Rallye instrument gauges, tach/clock, rim blow steering wheel, AM radio w/eight track player, pedal dress up, power steering, power brakes and other creature comforts.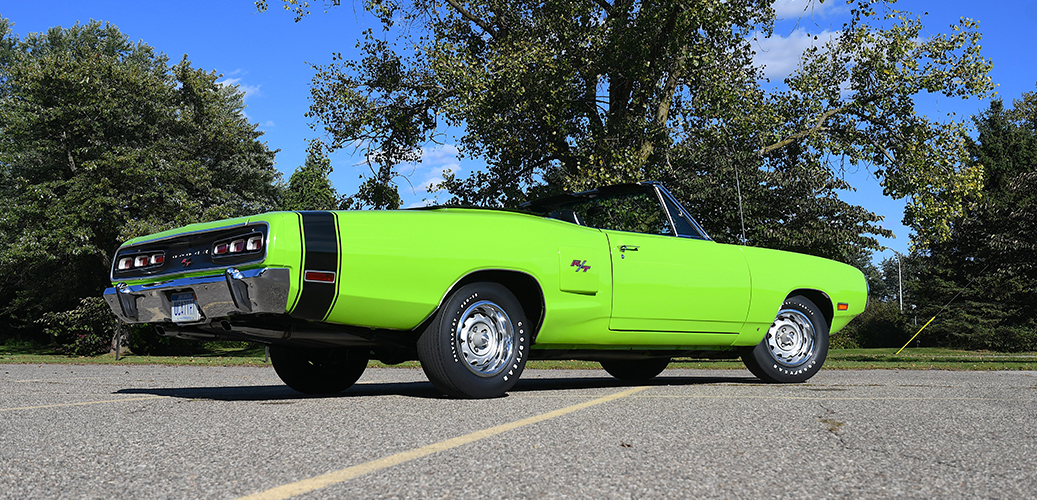 Since the restoration, the Youngs' Coronet R/T has been used for various promotions and was used in five episodes of American Muscle Car. It's also won well-deserved awards at some of the biggest Mopar shows including the Carlisle Chrysler Nationals, Mopar Nationals and many other events. Don't worry, though, this Dodge is not a show poodle, as the Youngs rack up over 400 miles a year on their Coronet R/T during the summer months.
Along with the Coronet R/T, the Youngs also have a 1973 Charger, a 1990 Dakota convertible (which is also rare) and a hot rod with a 440 for power. But, it was the Coronet R/T that's been the star, and they would not have been able to restore it back that way if it hadn't been for their family and good friends.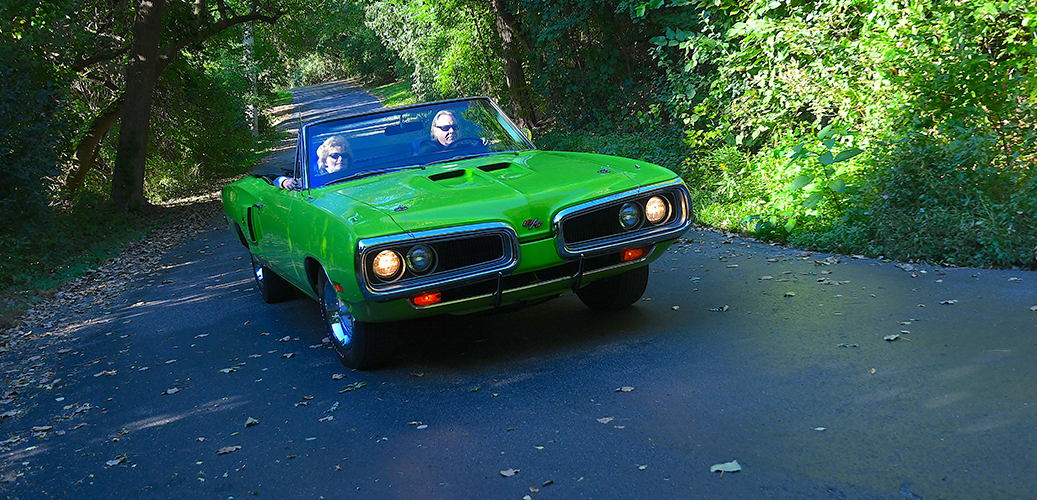 "I would like to thank my wife, Betty, who started the journey and put up with the dirt and car parts under the Christmas tree; my buddy, Andy Kabarowski, for technical and moral support; Jim Bielicki – Jimtech – for paint; and Bob Glaspie and John Begian for guidance; as well as Dodge for making a killer unique vehicle," said Mark.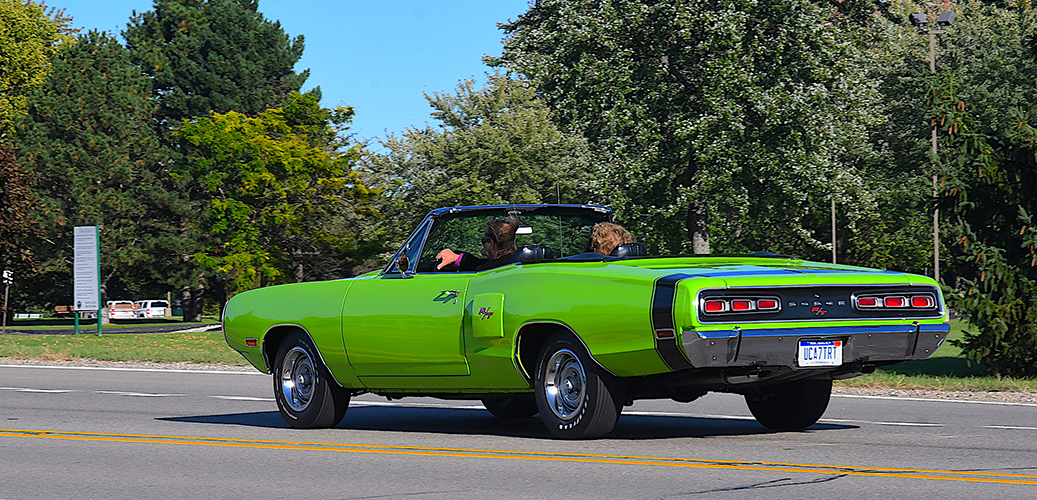 We'd also like to thank Mark and Betty Young for restoring an awesome and rare example from the Dodge Scat Pack. The DNA in their Coronet R/T lives on today in our Challenger and Charger SRT® Hellcat, Scat Pack and R/T models of carrying out that tradition of burning rubber while smiling ear-to-ear.
Comments
Comments
Previous