On the Wings of Love
3 years ago Owners + Clubs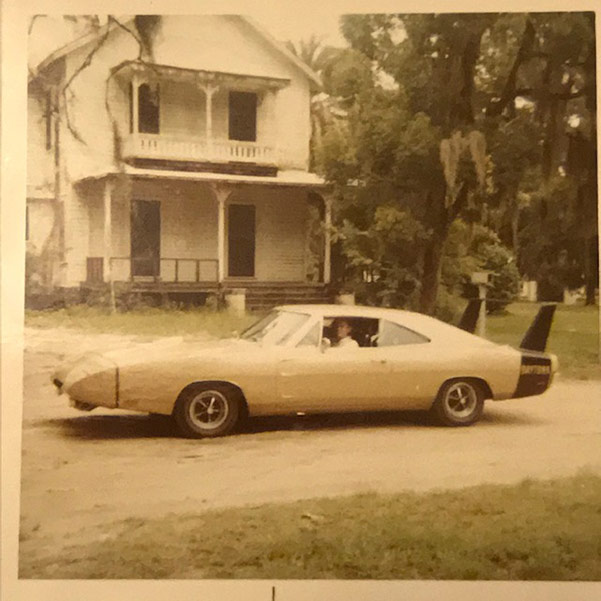 We can only imagine the look on Dee Swanson's face when her husband Carl pulled up in the driveway of their tiny duplex in Pensacola, Florida, in a brand-new 1969 Charger Daytona. On that fateful day in April of 1970, Dee had no idea that Carl took her 1968 Pontiac LeMans and used it as partial trade-in on a left-over Dodge Charger Daytona that had been sitting on the local Dodge dealer's lot for many months. "I was teaching high school English and was sitting on the sofa in our duplex grading papers, when I heard this rumbling in the carport. The entire duplex was trembling," reflected Dee. She can thank the Charger Daytona's standard 440 Magnum V8 that pumped out 375 horsepower for making the ground shake and announcing its arrival. "When I rushed to the door, I saw the Charger Daytona for the first time, and my reaction was not what Carl had expected," she said. "What is that?!?" Dee screamed to Carl in an angry and agitated tone of voice. "It's our new car," said a very excited and proud Carl. Dee was not happy as she was six months pregnant with their first child, but she didn't really have the energy to argue much further with Carl on how he was able to sell Dee's Pontiac without her permission. Eventually, the fuss died down among the Swanson household and Dee learned to live with a car despite its long nose cone and four-foot wing on the back. She was, after all, married to a naval aviator.
For the first few years, the Charger Daytona did not sit well with Dee. She did nickname it "Goldie", but there was still no love affair with the "Winged Thing" that sat in her driveway. Being the wife of a naval officer, Dee knows that orders from the command can comes at any time. And just like that, she and Carl packed up their belongings and left Pensacola for Pearl Harbor for a new assignment. With Carl serving his country at sea, Dee spent a lot of time with the wives of other officers serving away from home and still recalls an incident with the Charger Daytona she's never forgotten.
"As the wife of one of the junior officers onboard the ship, I was frequently asked to serve as the driver for various wives' events. On more than one occasion, Goldie left us stranded outside a restaurant or tourist site while she cooled down before taking us home. Because of the limited air intake of the Daytona's nose, her coping skills for driving in a warm climate were non-existent, so while she happily transported us to a wives' function in the early morning, required a reprieve before returning us safely home in the afternoon," reminisced Dee.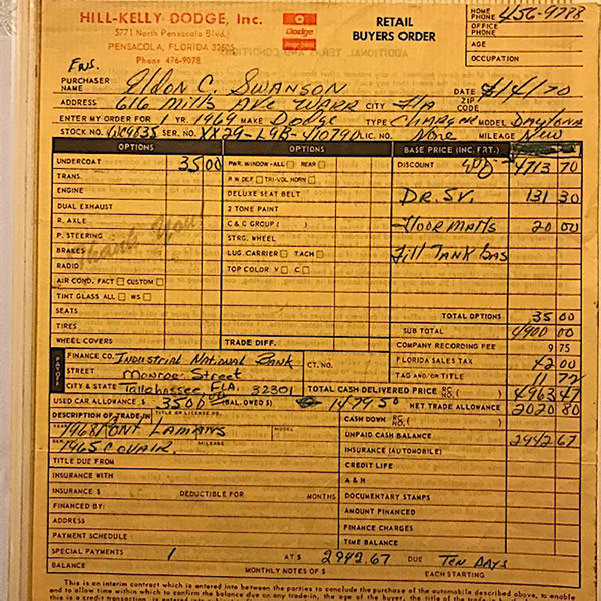 The reason behind creating the Charger Daytona was to win in NASCAR. The Dodge and Plymouth camps had their butts handed to them by the Ford and Mercury teams in their fastback Torino Talladega's and Cyclone Spoilers. The Blue Oval team had been cleaning house for most of the 1969 racing season, especially on the super speedways that saw speeds getting precariously close to the 200 mph. The man in charge of Dodge, Bob McCurry, greenlighted the Charger Daytona program when the engineers told him it would win races. The Daytona would also have to be available to the general public for NASCAR to bless the car and just over 500 street units were built to make it legal for competition and satisfy the NASCAR tech inspectors. Lucky for Carl, not so much for Dee, he bought one of these unique machines for the family car.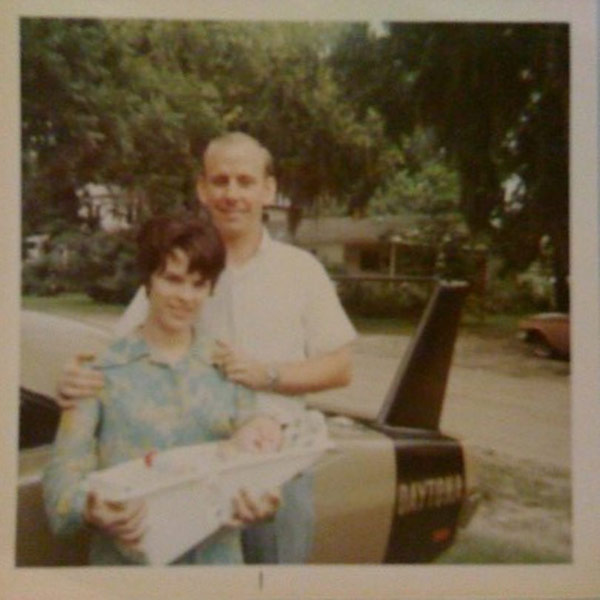 The Swansons were one of the few Charger Daytona owners that hung on to their rare piece since new. As Dee mentioned, living with the "Winged Thing" for years and driving it daily had its challenges; but eventually, she'd develop a fondness for the odd-looking car that was easy to find in a crowded parking lot. For what they paid for it new, the Charger Daytona has appreciated much more than any 401K or retirement fund. And for Carl and Dee Swanson, there's no price they can put on the memories they've amassed over the decades with the Charger Daytona.
"Through the years, I have come to love and, yes, even appreciate this dear old gal. As Carl mentioned, we brought all three of our newborns home from the hospital in Goldie; we have made several cross-country trips as we changed duty stations, and we have enjoyed attending car shows and driving on various racetracks," reflected Dee. "As I have said to others, I cannot truthfully say that I love Goldie, but I do love the man who loves her. He calls it his 'time machine' because when he sits behind her wheel, he is transported to another time – when he had more hair, less girth and a lifetime of opportunities ahead. What more can a man ask for from a car?"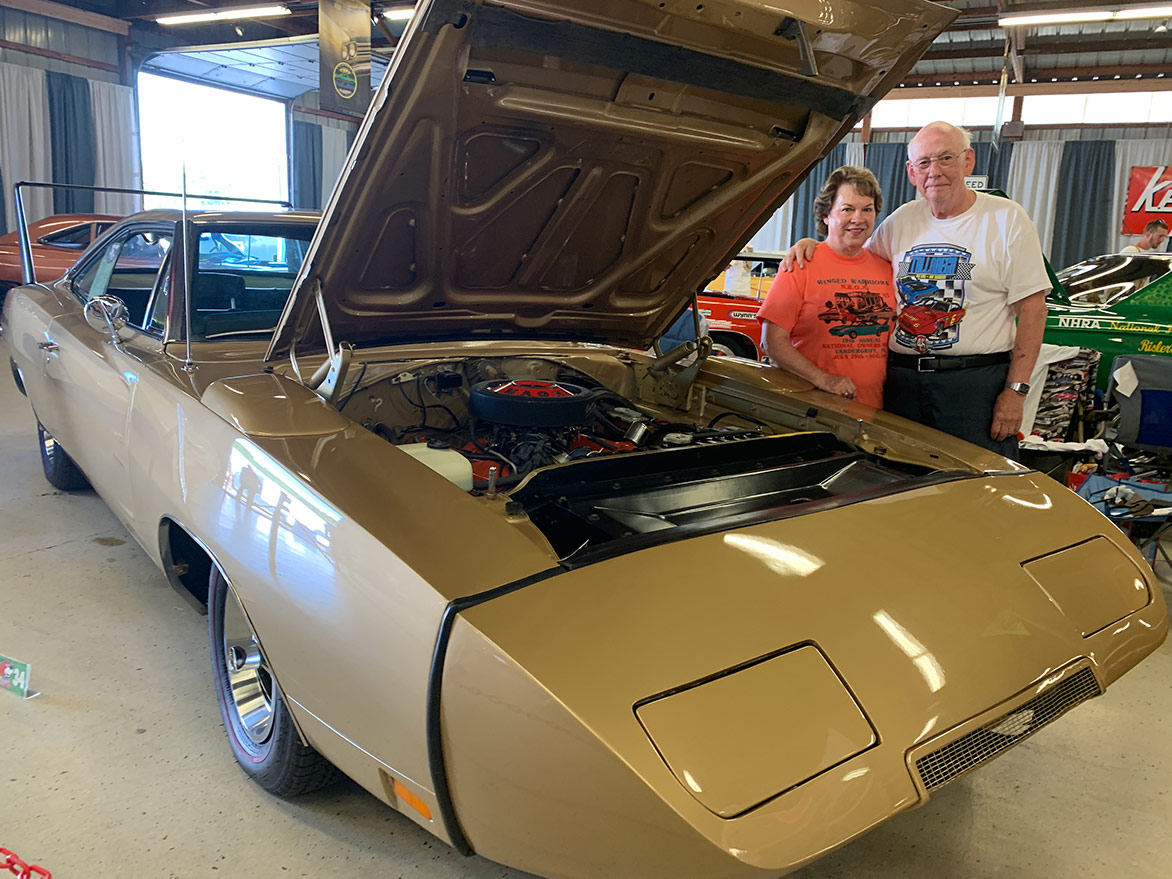 With Carl's navy promotions came new assignments and packing everything up heading off to a new posting. Unlike furniture and other material possessions that were left behind, lost or even thrown out, the Charger Daytona survived the many moves the Swansons endured. So thank you, Dee and Carl Swanson, for hanging on not just to a part of your family's past, but also a big part of Dodge's history!
Comments
Comments