Dodge/Mopar® Roll the Dice and Almost Double Down at NHRA Vegas Nationals
4 years ago Racing
Dodge/Mopar® drivers Matt Hagan and Leah Pritchett raced to runner-up finishes in Funny Car and Top Fuel, respectively, in elimination rounds at the NHRA Vegas Nationals at The Strip at Las Vegas Motor Speedway this past weekend.
Defending event champ Hagan opened race day with a first-round win over Tim Wilkerson. He clocked a 3.908-second elapsed time (ET) in his Pennzoil Mopar Dodge Charger SRT® Hellcat Funny Car, the quickest of the round. Next up for the No. 9 qualifier was Mopar Dodge Don Schumacher Racing (DSR) teammate Tommy Johnson Jr., and Hagan once again paced the field with a winning 3.919 ET.
In the semifinals, Hagan trailed early but was able to reel in Bob Tasca III with a 3.928/323.89 run, edging out his foe at the strip in a close race to advance to his seventh final round of the year and 54th of his career. The two-time Funny Car World Champion left first in the final round with a .037 reaction time to J.R. Todd's slower .058 mark and briefly maintained the lead before a dropped cylinder slowed Hagan's momentum and ended his drive for a fourth win on the season.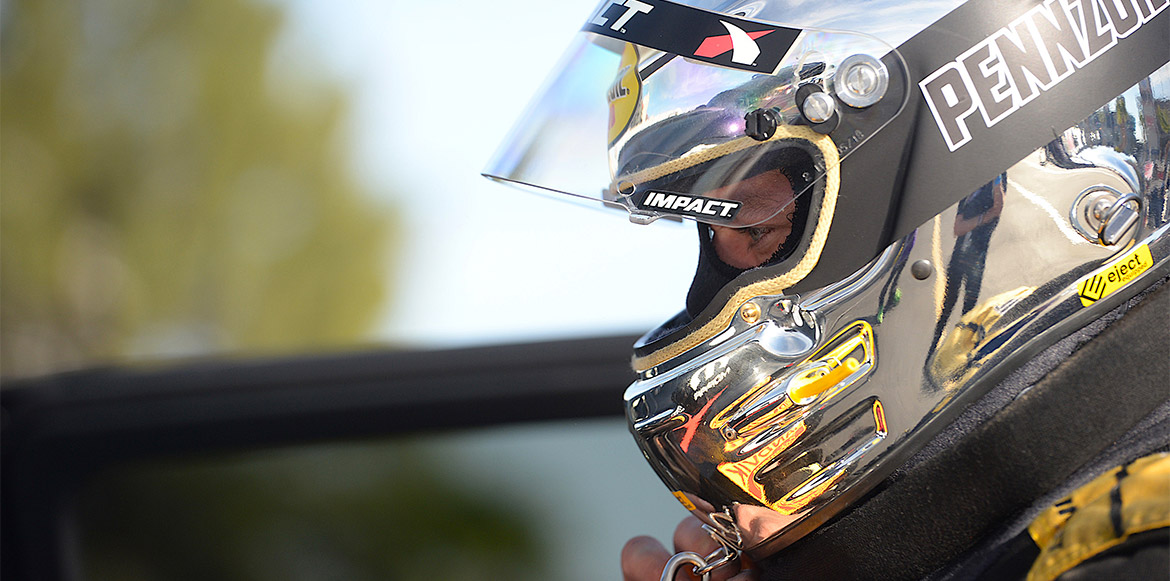 "It's unfortunate that we couldn't get that win light in the final round," said Hagan. "We had such amazing sponsorship support with the folks from Pennzoil, Shell and Mopar, and had so many key clients rooting us on here in Las Vegas. We have the SEMA Show this week here in (Las) Vegas and we wanted nothing more than to take the Wally trophy to the Mopar booth to show off with our Chrome Pennzoil Funny Car. At the end of the day, we went to the final round and it was a good day. That's just drag racing and sometimes we lose. It wasn't our day, but we'll go to Pomona with a strong racecar. I'm proud of our guys. They did great all weekend and we were just pressing hard trying to run in the high (3).80s and the track just wouldn't hold it."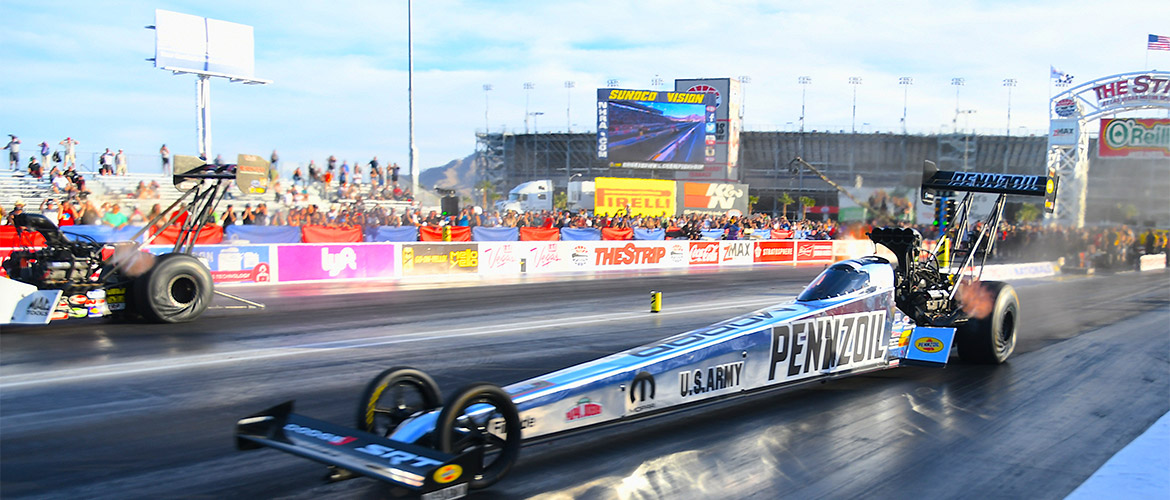 In Top Fuel, Pritchett qualified No. 4 in her chromed-out Pennzoil Mopar Dodge Dragster and started her Sunday by outrunning part-time racer Troy Buff. Next up against Blake Alexander, Pritchett laid down a winning 3.740 ET to Alexander's 3.968 pass. She drew teammate Tony Schumacher in the semifinals and had no trouble getting past him as she powered to her best run of the weekend (3.730 ET) versus Schumacher's instant tire smoker.
Pritchett lined up against newly crowned series champion Steve Torrence in the final. Eager to stop Torrence's streak of round wins, Pritchett was slightly overzealous on the line and double-stepped the throttle, immediately giving way to tire smoke as her opponent sped down the track for the round win.
"We have a really incredible racecar – the tune-up for Vegas, a solid effort and chance at a runner-up finish in the championship," said Pritchett. "To put a silver lining on it, we made it to the final with seven solid passes. The buck stopped at me and I take full responsibility for that, wanting so badly not just to put a stop to Torrence's reign in this Countdown, but more than anything, the win for this team is what I wanted most for them. Seven just incredible runs; finally, the issues we've been having with our superchargers and chassis, I think we've conquered those. So, if anything, a solid run for a good spot in the championship and a really good head start into 2019. The guys have really stepped up and this entire team has been really impressive to me."

Tony Schumacher qualified No. 9 and drove his Mopar HEMI®-powered U.S. Army Pennzoil Top Fuel dragster to a round-one victory over Scott Palmer. In the quarterfinals, "The Sarge" led from start to finish against Countdown contender Clay Millican, setting up an all-Mopar DSR battle against Pritchett. Schumacher was quicker in reaction time but smoked the tires shortly after launch and it was all Leah after that, ending the four-time Vegas winner's day.

Infinite Hero Pennzoil Dodge Charger SRT Hellcat Funny Car veteran Jack Beckman qualified strong in the third position and began race day with a 3.935 ET to outrun the Dodge Charger of Jim Campbell. In round two, Beckman trailed early against Courtney Force but rebounded to take the victory by about four feet with a 3.951/320.51 pass. Beckman moved on to a semifinals battle with major playoff implications against new points leader J.R. Todd. The 3.937/327.90 effort from "Fast Jack" was solid but not strong enough to best Todd's quicker 3.906 ET.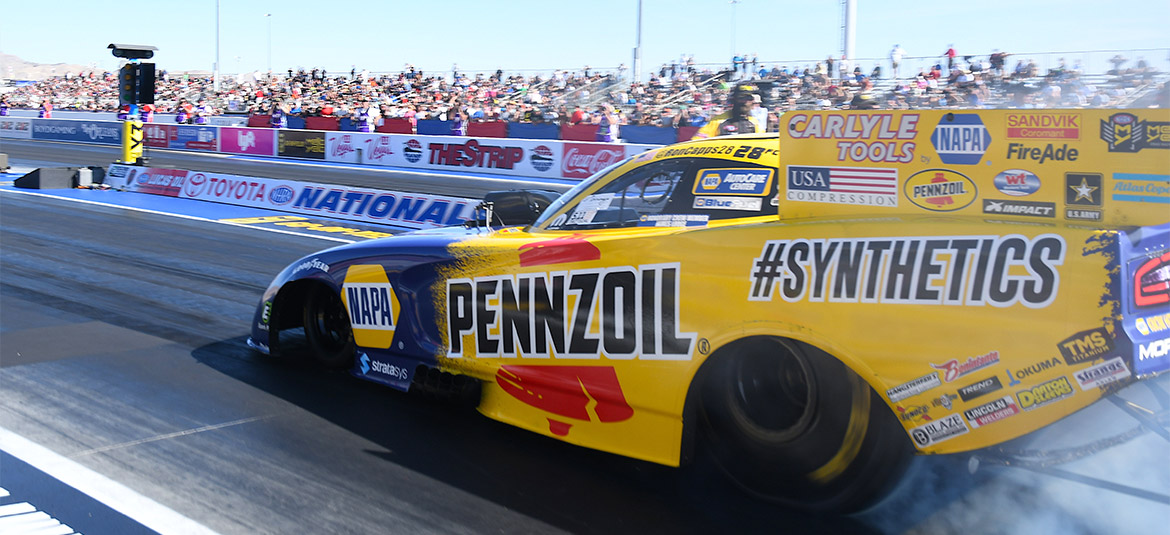 Ron Capps qualified No. 12 in his Mopar-fueled NAPA Pennzoil Dodge Funny Car and was able to overcome lack of lane choice and a slight starting line deficit to take down John Force in a fight between the most successful Funny Car drivers in NHRA history. In round two, Capps was foiled by Countdown spoiler Tasca III. Both drivers had identical reaction times, but Tasca eventually pulled ahead for the lead and Capps was unable to chase down his opponent.

After securing his third Funny Car No. 1 qualifier in a row, Tommy Johnson Jr. kicked off race day by driving to his career 400th round win with a defeat of Jeff Arend. Johnson faced stout competition in round two against teammate Hagan. Johnson was a bit too quick on the throttle in his Make-A-Wish Pennzoil Dodge, turning on the red light and giving Hagan the round win.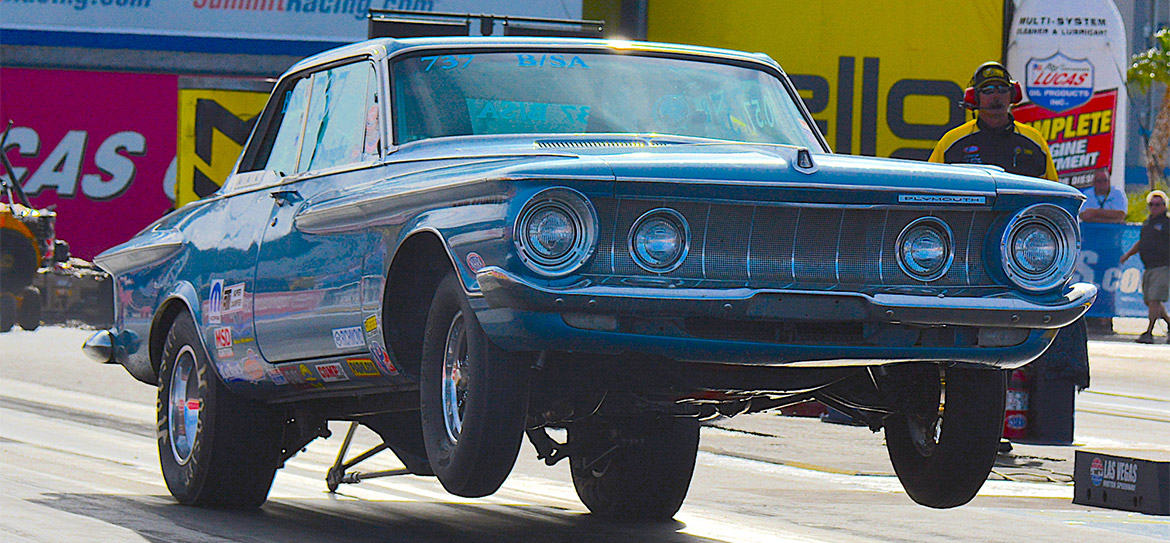 In the Sportsman classes, Dwight Machael of Las Vegas, Nevada, raced his 1962 B/SA Plymouth Sport Fury to a semifinal finish in Stock Eliminator. With the iconic 413 Max Wedge under the hood, Machael was looking strong all weekend until a redlight ended his chances of advancing into the final round. Over in Super Stock, Mike Cotten from Cave Creek, Arizona, drove his 383-powered 1970 SS/JA Plymouth 'Cuda to a round-four finish at Vegas. Cotten's 'Cuda was consistent on race day and was looking to go some rounds until a slightly tardy reaction time caused him to come up short against his opponent.
Both Sportsman drivers will receive the Dodge Top Finisher award for advancing the furthest in their respective classes.
Our Dodge/Mopar DSR Top Fuel and Funny Car teams will get next weekend off before heading to the final race of the 2018 NHRA Mello Yello season, the Auto Club NHRA Finals at Auto Club Raceway at Pomona, California, November 8-11.
NHRA Mello Yello Countdown to the Championship Points Standings:
Top Fuel
1. Steve Torrence – 2718
2. Clay Millican – 2487
3. Tony Schumacher – 2454
4. Leah Pritchett – 2394
5. Brittany Force – 2302
6. Antron Brown – 2291
7t. Doug Kalitta – 2259
7t. Mike Salinas – 2259
9. Terry McMillen – 2253
10. Scott Palmer – 2182
Funny Car
1. J.R. Todd – 2553
2. Robert Hight – 2479
3. Ron Capps – 2388
4. Tim Wilkerson – 2367
5. Tommy Johnson Jr. – 2362
6. Courtney Force – 2324
7. Matt Hagan – 2321
8. Jack Beckman – 2283
9. John Force – 2277
10. Shawn Langdon – 2204
Comments
Comments