Houston, We Have Liftoff
4 years ago Racing
Our HEMI® engine-powered rockets – fueled by nitromethane and making enough thrust to rotate the earth on it axis – will be lifting off from Houston this weekend. The Mopar® Express Lane NHRA SpringNationals Presented by Pennzoil is in town and our team of Don Schumacher Racing (DSR) drivers will be suiting up, climbing into their machines and getting strapped in for one hell of ride that'll break speed barriers as they blast off the starting line at Houston Raceway Park.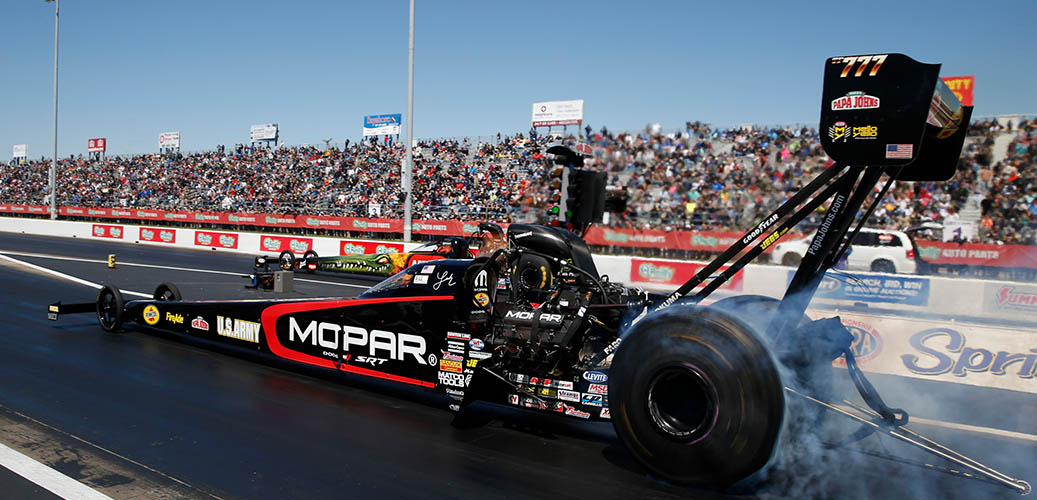 It was just last year at this race that Leah Pritchett set the Top Fuel E.T. record at Houston Raceway Park and captured the pole position. Leah would end up with a semi-final finish at the 2018 Mopar Express Lane NHRA SpringNationals. In 2017, Pritchett won the race, so she's hoping that history will repeat itself and she'll put her guided missile warhead on a trajectory straight to the winner's circle at Houston Raceway Park.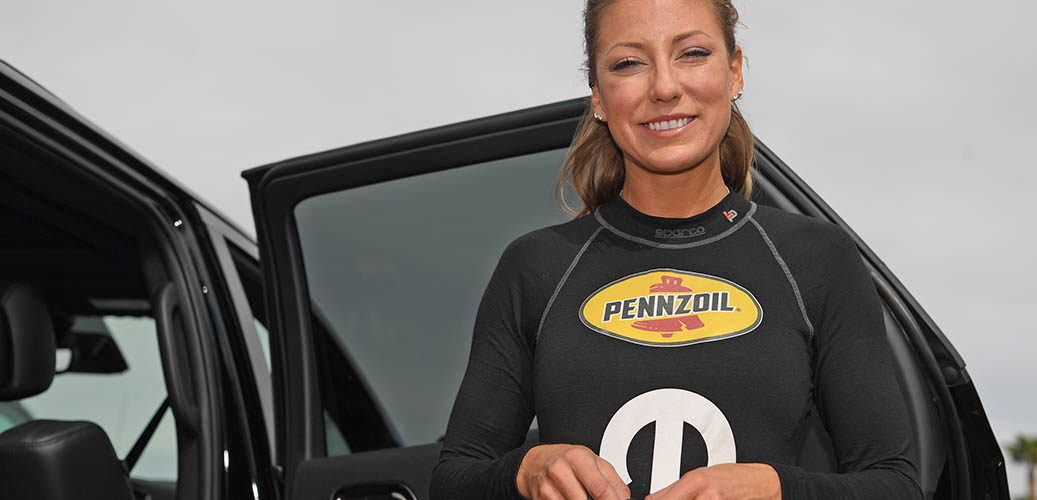 "Even at the celebration of Pennzoil and Houston partnering together at the track earlier this year, I could already feel the excitement building, knowing that collectively this race is going to be a huge deal," said Pritchett. "The transition of partners for the track and transformation of colors everywhere immediately created a sense of home turf. That's a feeling few get to experience, and I am incredibly thankful to be a part of that equation to represent Pennzoil in such a historic year. Pennzoil has consistently proven to be such an active partner in DSR's on-track success that performing on a track coated in their colors is just the next step of being a part of the Pennzoil nation. My sole focus in Houston is to bring home the Wally gold for our golden Pennzoil partners. I cannot wait to give this Pennzoil takeover everything we've got."
In Funny Car, Matt Hagan is pumped and ready to get his Mopar Pennzoil Dodge Charger SRT® Hellcat on the track and put the hurt on the driver in the other lane. He'd like nothing more than to park his mean SRT Hellcat in NHRA SpringNationals victory lane as it's been a while. It was at the 2010 race that Hagan scored his first career Funny Car win at Houston, so this track has special meaning to him. Now with 30 career wins, Matt's currently ranked fifth in points with six round wins this season and a victory this weekend would move him a couple of spots up the ranking.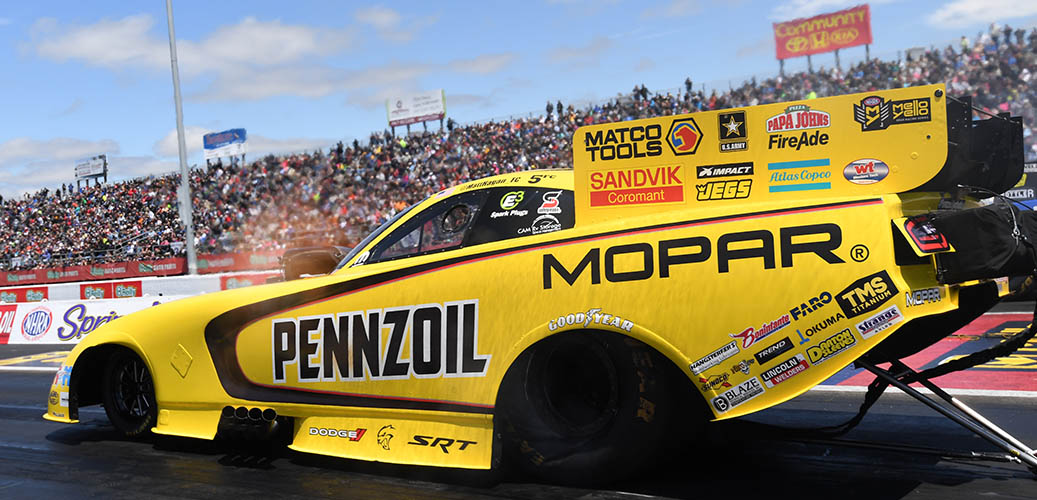 "I can't wait to get to Houston. It's a Pennzoil-sponsored track, a Mopar-sponsored race, I'm going to be back in the Pennzoil chrome car. To have those two brands as partners and to be able to run the Pennzoil brand in their backyard is going to be huge," exclaimed Hagan. "I cannot wait to hit the gas on this new yellow race track. I've been in Vegas the past few days and traveled over to Houston yesterday. I've got some really cool gigs lined up this week leading into the event – early morning TV shows, a tour of some of Texas' best BBQ joints. It'll be a busy week, got a lot on my schedule, but it'll be an exciting week and hopefully we can go out and win the race."
Fellow DSR Funny Car teammate Tommy Johnson Jr. is also ready to do battle this weekend. Coming off a runner-up finish last weekend in Vegas, he's currently third in points and knows his team has their Make-A-Wish Foundation Dodge Charger SRT Hellcat running like a well-oiled machine.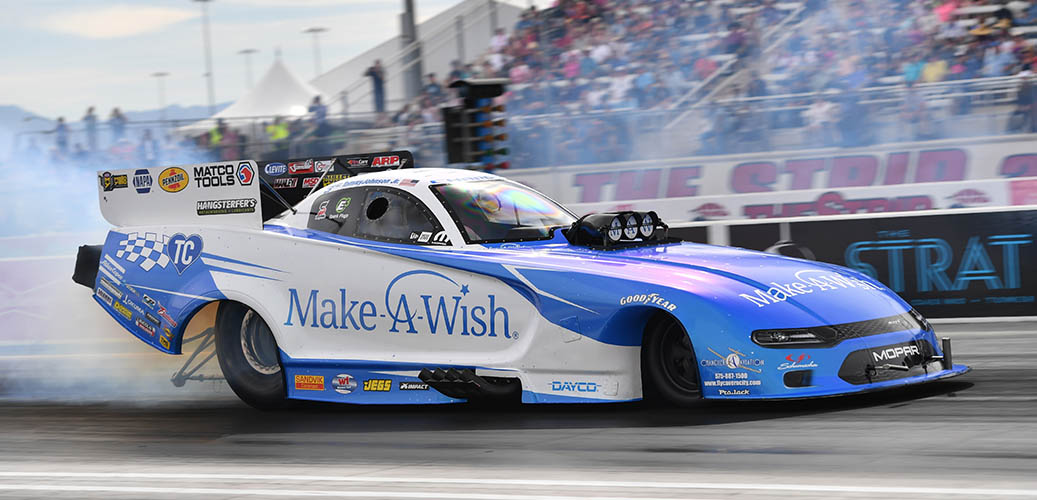 "Looking forward to Houston this week, especially since it's a Pennzoil and Mopar race," said Johnson. "The way our car is running, we seem to have put all of our early-season problems behind us and now we're coming off of a runner-up from the past race. Pretty confident a win is coming shortly. Our team is doing so well, and hopefully Houston is where we can get it done and collect the first of many Wally trophies this season."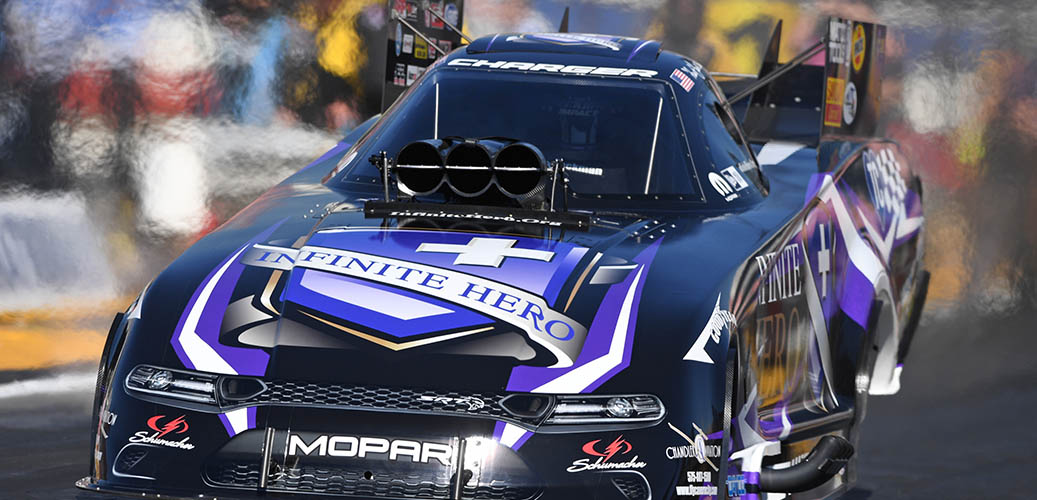 The other DSR Funny Car drivers, Jack Beckman and Ron Capps, are also ready to come out fighting as both are looking to step up their game. For Beckman, who's currently sitting in second in points with eight round wins, Houston Raceway Park has been very good to him despite being a runner-up in 2009, 2014 and 2015. Last year, he made it to the semi-finals, but he's not one to look back but rather to keep it in gear and move forward. The same can be said for Capps, who would admit that this year is not off to a stellar start as he is eighth in points; but things will improve quickly for him and the team. He's won this event in 2006, 2007, 2015 and most recently in 2017.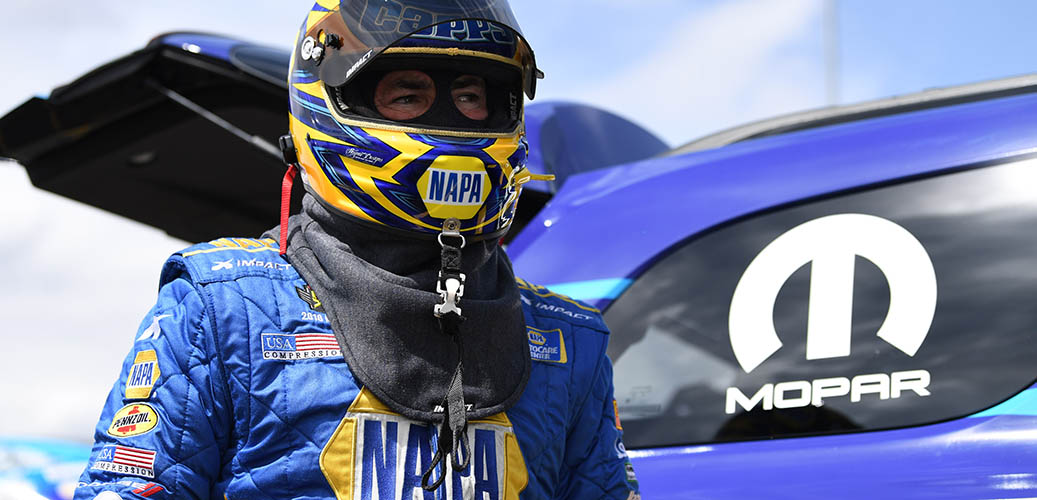 "We're excited about this year's race. Houston has always been great for us and I've had a lot of success there in the past. But this year, with Pennzoil as part of the race track and our partnership with Shell, Pennzoil and Mopar, we're looking to show off a little more than usual. There's nothing better than to get in the winner's circle when you have one of your sponsors at that race. That being said, we left the Four-Wide in Vegas with a lot of momentum. We feel a lot more comfortable with the changes to our tune-up; trying to get the engine and the clutch matched together better, and we're really getting a good feel for this Dodge [SRT] Hellcat body. Even though we lost a close race in the second quad in Vegas, we feel really good about the changes we made. I think this back-to-back race at Houston is going to be a real momentum builder," said an optimistic Capps.
The ignition countdown for the Mopar Express Lane NHRA SpringNationals Presented by Pennzoil at Houston Raceway Park will begin on Friday, April 12, with qualifying followed up by final eliminations on Sunday, April 14, starting at 11:00 AM local time. If you want to be a couch potato this Sunday, you can watch all the Top Fuel and Funny Car round-by-round racing on FOX starting at 3:00 PM ET.
Comments
Comments