Crunch Time – NHRA Finals
4 years ago Racing
It's do or die for Don Schumacher Racing (DSR) nitro racers Matt Hagan and Jack Beckman. They've hurled their 11,000-horsepower supercharged HEMI® engine-powered Dodge Charger SRT® Hellcat Funny Cars down drag strips from coast to coast all season long. Both drivers have seen their share of highs and lows, wins and defeats, celebration and anguish. But now, it comes down to the last race of the 2019 season, the NHRA Finals at Auto Club Raceway in Pomona. Here, every run – whether it's qualifying or eliminations – will have huge implications for both Hagan and Beckman and their Charger SRT Hellcats in their hunt for the 2019 NHRA Funny Car World Championship title.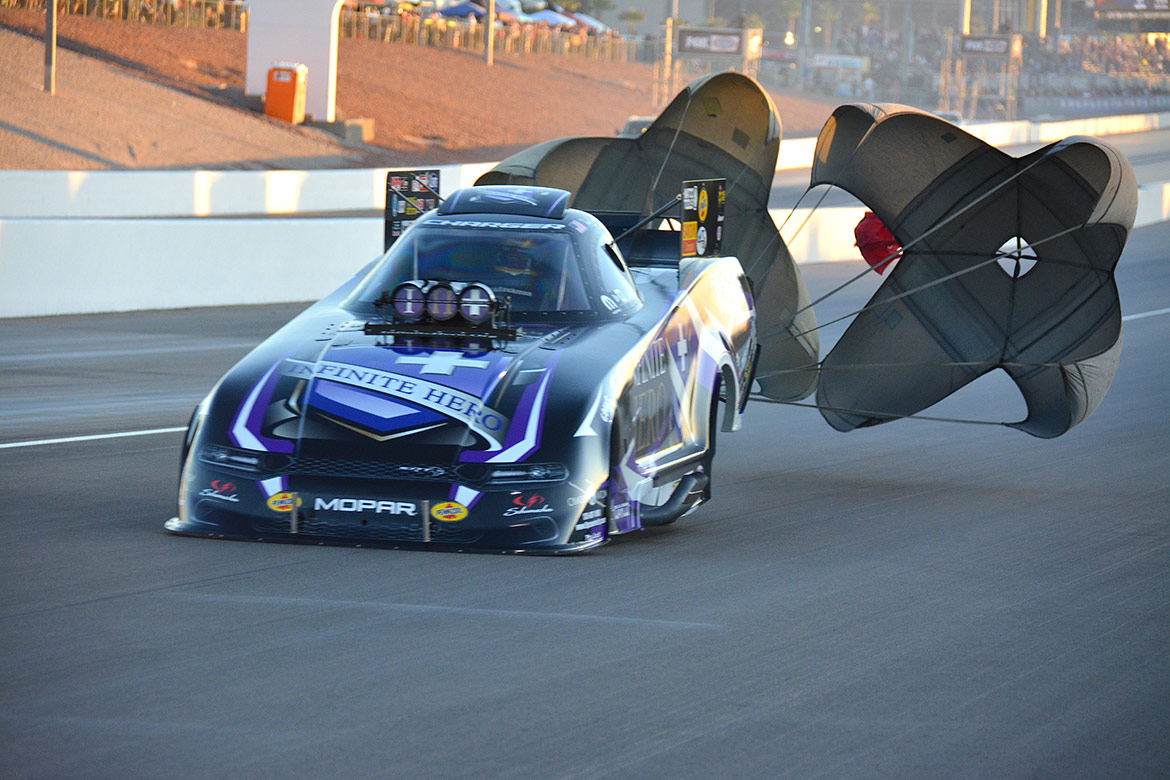 The guy Hagan and Beckman are chasing is two-time reigning Funny Car champion Robert Hight in his Camaro. He's currently leading the pack heading into Pomona and just needs 146 points to claim his third title. The Dodge Boys are right on Hight's bumper, with Beckman ready to snatch the lead if the Chevy slips up. With only a 46-point gap between Beckman and Hight, it's a real dogfight. Beckman can surpass Hight by gaining at least 17 points during qualifying and going one round further on race day. If Beckman makes up no ground on Hight during qualifying, he'll need to go two rounds further than him on race day. But for the 2012 Funny Car champ, he's not sweating the details, he has a great car and a hardworking crew.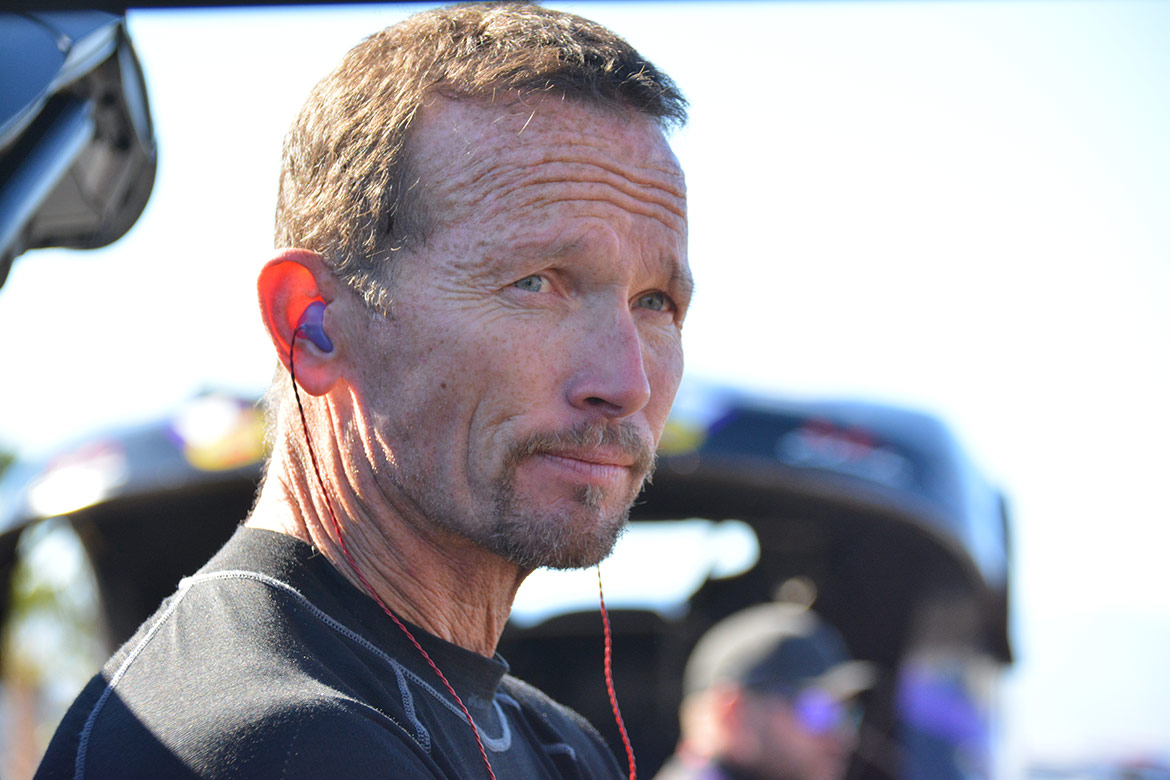 "It's pretty much business as usual for me. I've been keeping busy with my family, cleaning up in the garage, mailing stuff out to fans. I had a week where I almost didn't have to think about getting strapped into a racecar. Now that being said, I've got a ton of things that I'm responsible for at Pomona. I am participating in four different events, two Friday and two Saturday, and I'm emceeing two of them, so I've got to do some research, do interviews, be on the phone, make a trip up to Glendora before the race weekend, and that's not a bad thing. It keeps me occupied, keeps me focused on something aside from the pressure of the championship," said Beckman. "As far as things go when we get into Pomona, we have to do our best to optimize points starting with the first qualifying session. I think we've got a car that's clearly capable of doing that. We've been No. 1 qualifier three times in the last six events. I think right now we're clearly a front-runner to contend for the championship, not just in our points position, but in our performance lately. So, my job is to do my job. If we get another opportunity like we had in Vegas where we are paired up with (Robert) Hight early, we get a chance to control our own destiny. If we win the race and Robert is not in the final next to us, we win the championship. I'm not looking at Matt (Hagan) or John Force behind us because we want to finish first; we're not trying to defend the second-place position. So, our goal right now is to maximize qualifying points, execute perfectly on race day, and hope that the ladder falls in such a way that we pair up with Robert before the final round."
As you can see, Beckman's a seasoned professional and is mentally prepared to do what he needs to get the job done to put his Charger SRT Hellcat Funny Car in the winner's circle.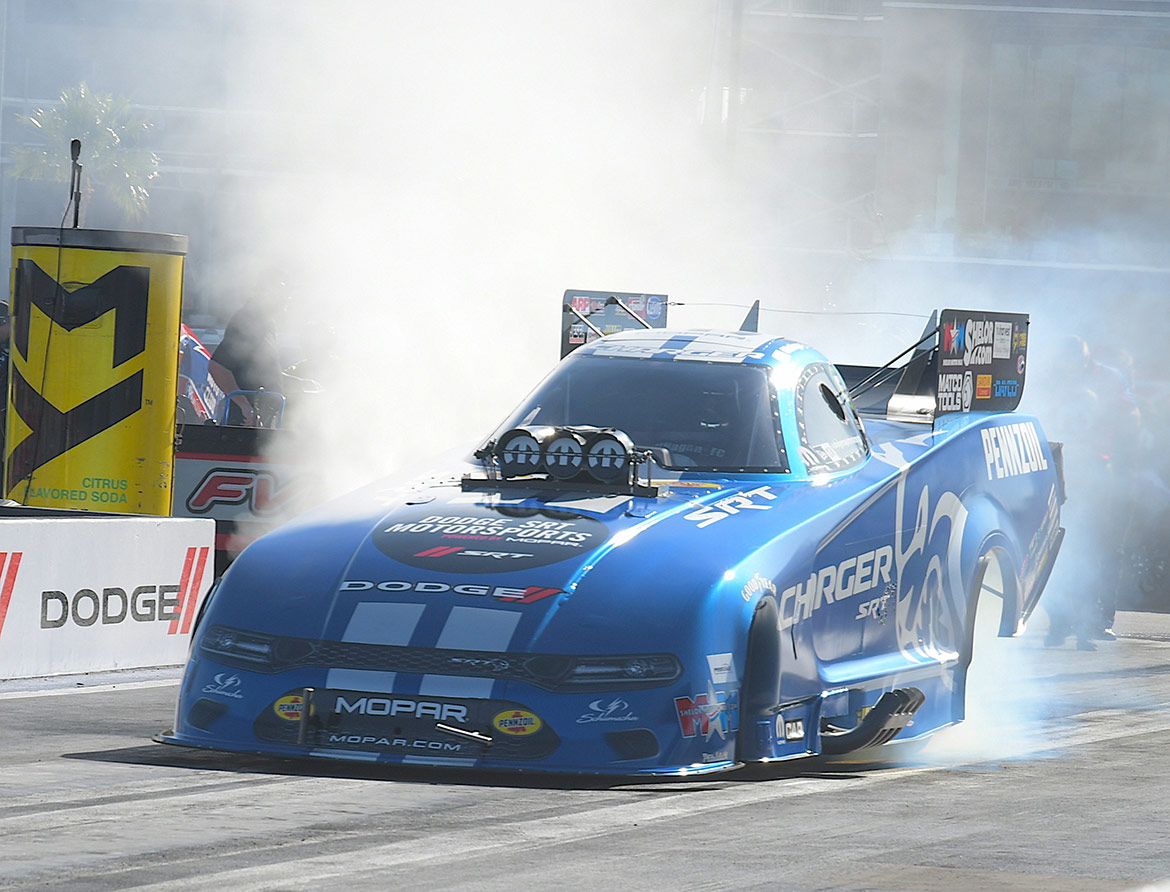 For his teammate Matt Hagan, driver of the Mopar® Dodge Charger SRT Hellcat Widebody, he's feeling very optimistic going into the last race of the season. Hagan's only 56 points behind Hight and can make up, at most, 23 points during qualifying and 120 on race day. Hagan can drive around Hight one of two ways: If he enters race day no more than 59 points behind Hight, he must go two rounds further than Hight. If he enters race day more than 59 points behind Hight, he must go three rounds further than Hight.
"We're happy to be in this position where we have a shot right now. The only thing we can do is control our own destiny; do the best job we can and let the points fall where they may," said Hagan.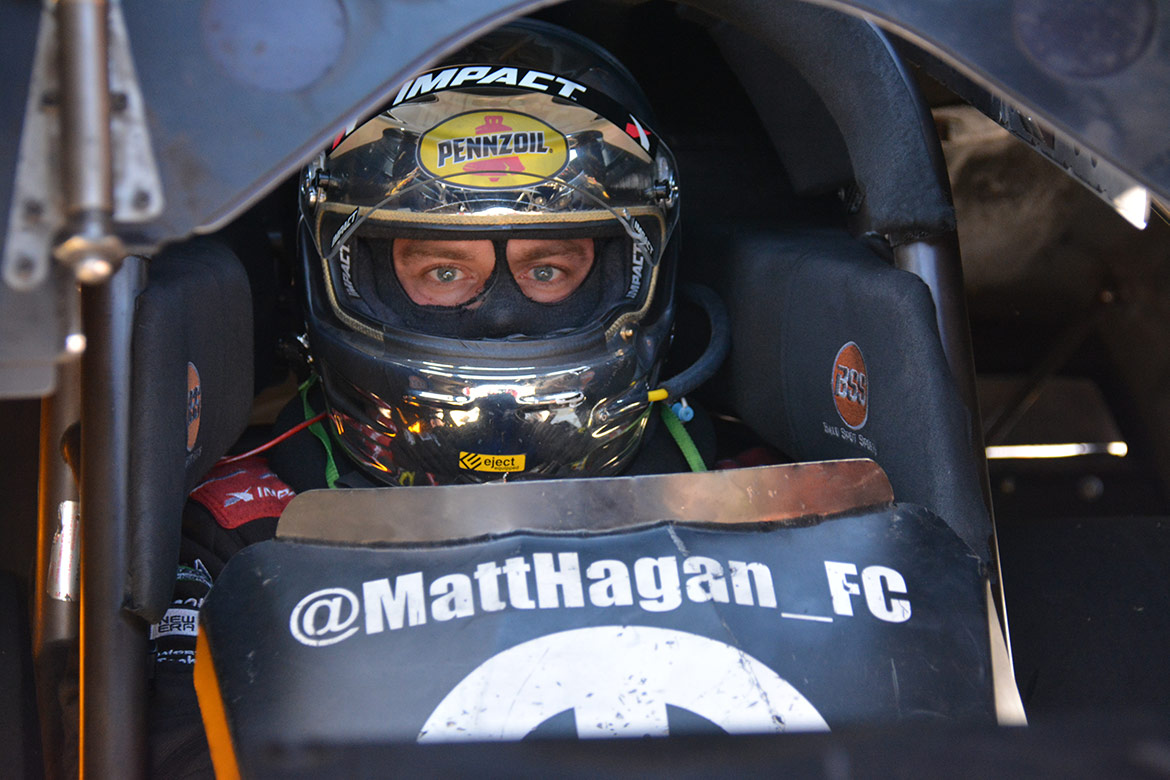 With two NHRA Funny Car world championships under his belt, Hagan's hungry for more. He and his team have fought hard this season and would like to add another victory to their already impressive racing resume. Championships always mean a lot to any driver and Hagan's not done yet in his quest for number three.
"Each championship is special in its own way. There's so much to gain and so much emotion. It's important for us to keep our sponsors happy, and for me, it's important that I keep the team happy. It's just a cool thing when you have a group of 10 guys, and you all share one common goal, and it takes everyone pulling their weight to achieve that goal. We've won four races so far this year, but winning a fifth race and the championship would be a great way to start us off next year. We want to be able to share in this moment with our partners, some have won with us before, and for others, it would be their first championship," commented Hagan. "Each season and each race is unique. There are always different challenges and circumstances, no matter the situation. I'm in a very different position than I was in 2011 and 2014, but no matter the season or situation, there will always be some sort of adversity you need to overcome in order to win it. Obviously, when you go into Pomona in first, that's a great feeling, but unless you have a huge points lead, you really can't breathe easy until you're standing on the stage holding the big trophy, especially now with it being points-and-a-half. I'm just happy we're in the position where we're still in the running and have a legitimate shot at coming out on top."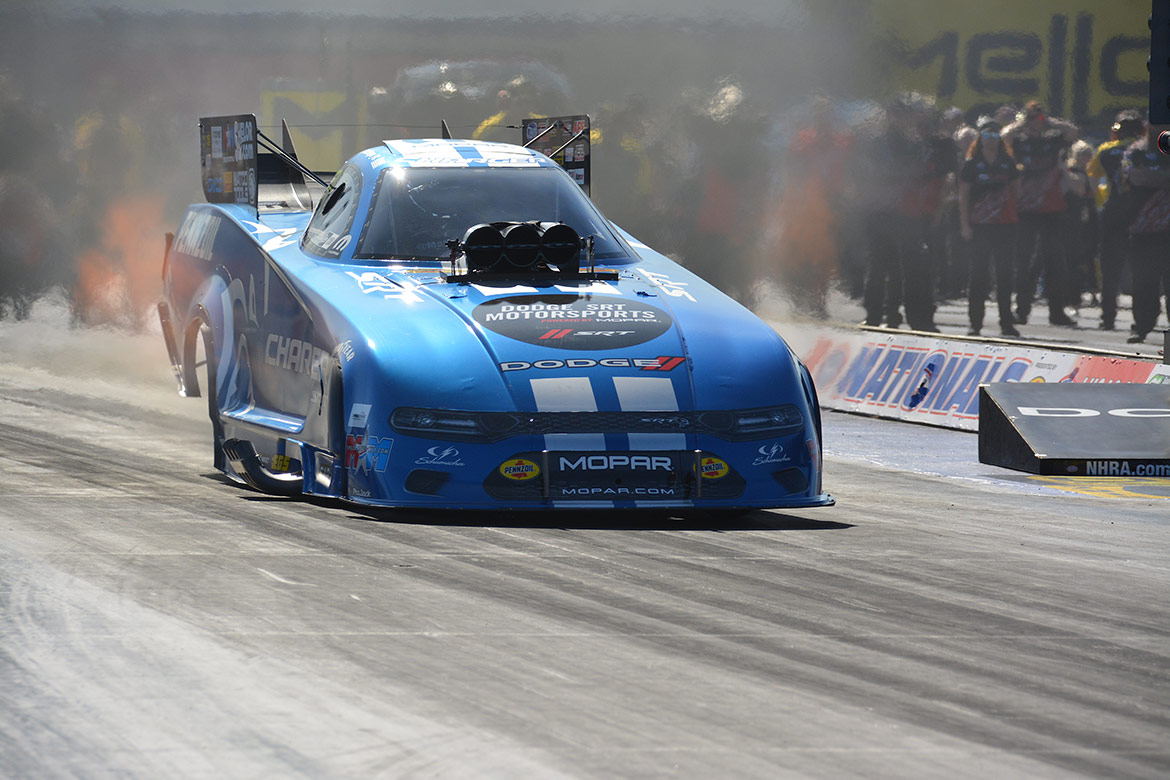 So, it'll come down to the last race of the year to see who'll claim the world championship. With some luck and skill, one of our Dodge//Mopar DSR drivers and their Charger SRT Hellcat Funny Car will claim that victory. You can share the thrill of victory or the agony of defeat by tuning into FS1 this weekend for all the racing action from the NHRA Finals in Pomona. Coverage begins Friday (November 15) with the Live Nitro Qualifying session from 5:30 pm to 7:30 pm ET with Sunday's elimination (November 17) starting at 3:00 pm and running to 7:00 pm ET. So don't miss the chance to get your last fill of burning rubber and nitro for the year and maybe see Dodge and Mopar claim another NHRA Funny Car world championship!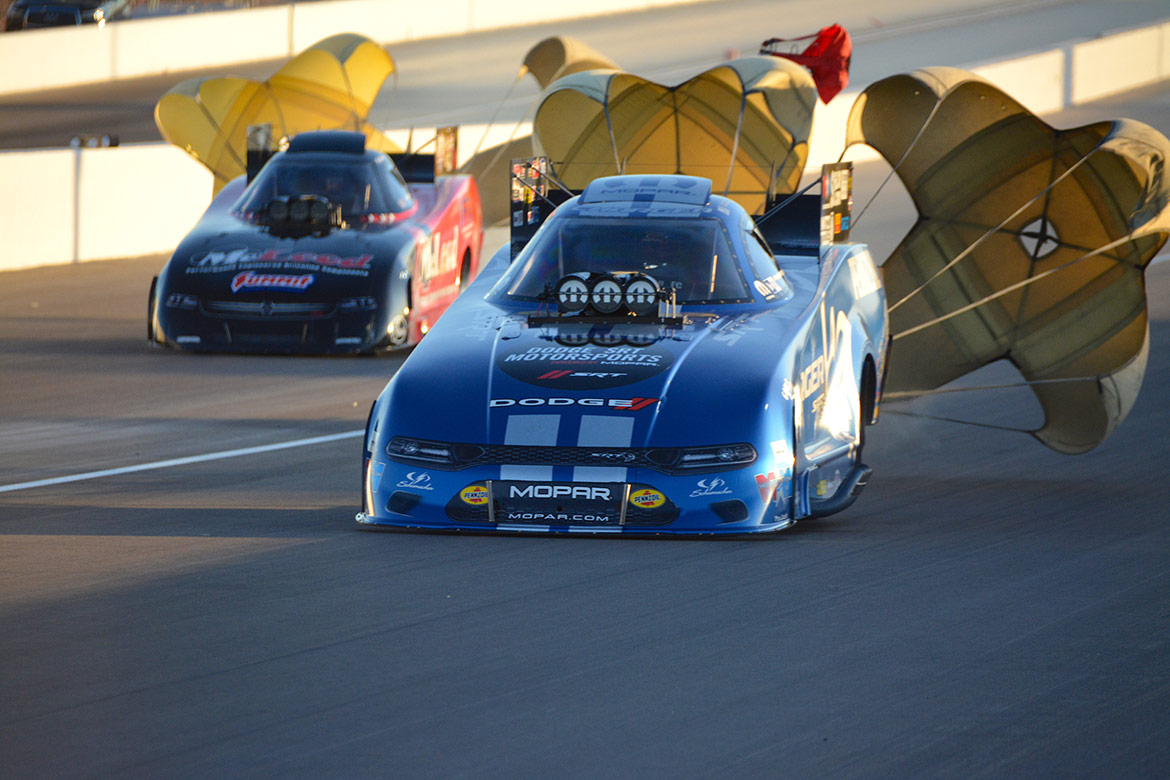 Comments
Comments