Excavating The Competition
2 years ago Gallery Racing
Mark Nowicki is the consummate Dodge//Mopar® Sportsman Racer. Since the early 1980s, he's taken a very focused and serious approach to building and driving some fast small-block-powered Dodge machines. Mark grew up in the Motor City, where he was a quick study learning how to build incredibly fast cars. He loved muscle cars and taking things apart to see how they functioned. In his late teens, while attending Centerline High School, he took a class in auto mechanics and competed in the 1969 Plymouth Trouble Shooting Contest, where he came in first place for his group.
It was there he was noticed by the service manager at Dick Green Chrysler-Plymouth, a sprawling dealership located on Gratiot Avenue on Detroit's east side and was offered a job immediately. Mark began to perfect his craft of wrenching on brand-new 383, 440 and 426 HEMI® engine-powered Road Runners and GTXs when they'd come in for warranty service. "Guys would buy these muscle cars to race them and end up breaking them, but they always brought them back so I could fix them," laughed Mark. While still In high school, Mark couldn't afford a new fast machine, but many of his friends had a slew of the latest high-performance hardware coming out of the Motor City. 440 Six Barrel Road Runners, HEMI 'Cudas, 383 Challenger R/Ts and more were regulars up and down Woodward Avenue. Since many of these cars were equipped with four-speed transmissions, it took the right touch and certain amount of driving skill when it came to powershifting while not missing a gear. Mark developed a knack for launching these high-powered cars on skinny street tires while hitting the shift points just right. That's exactly how he ended up behind the wheel of many of his friends' muscle cars when thing got serious.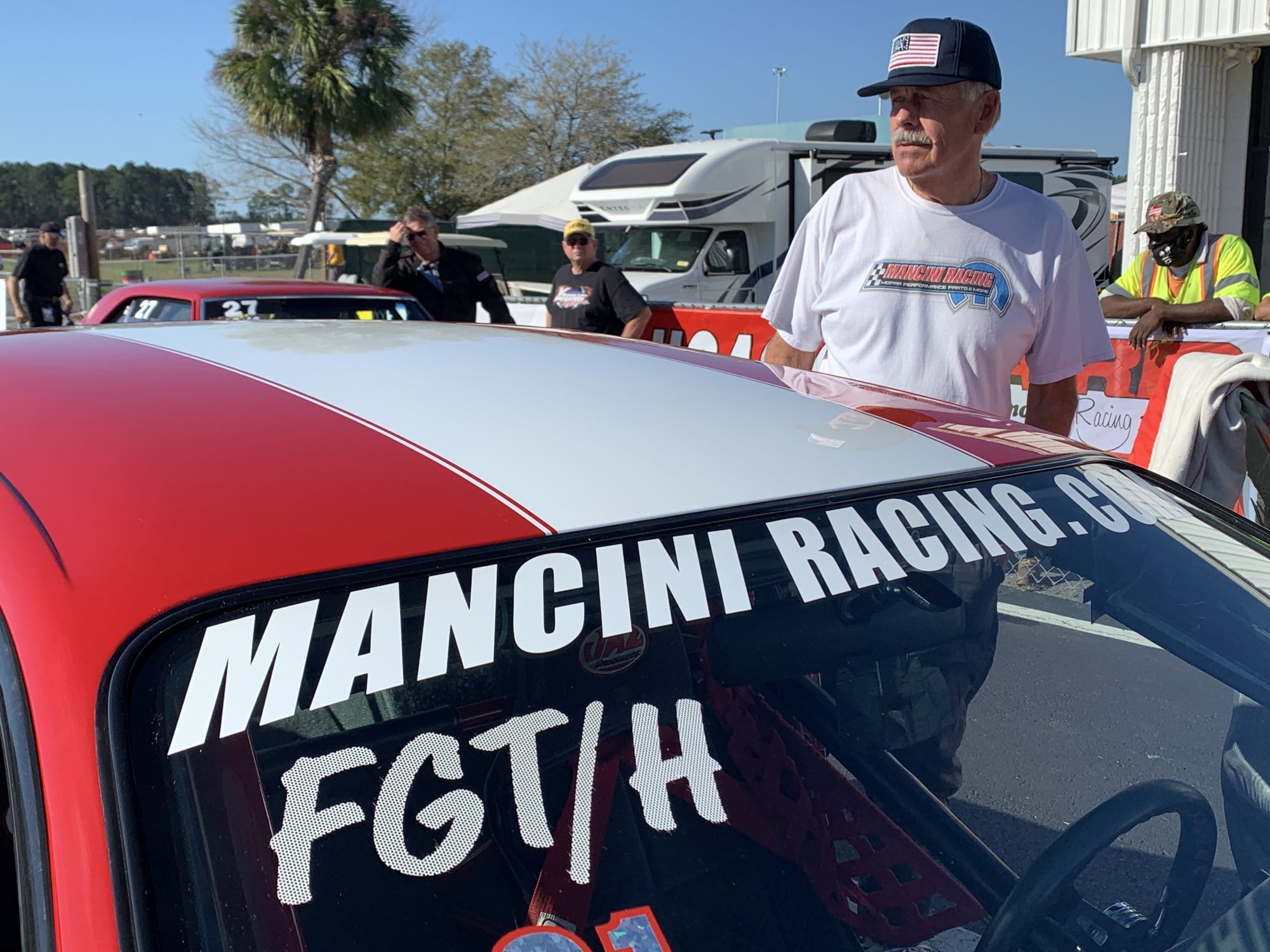 As Mark got older, his street shenanigans in the suburbs of Detroit ended as he and his childhood sweetheart, Elaine, got married and moved up to Gaylord, Michigan, to start a new business venture with Mark's brother Matt. Mark bought Elaine a fairly new but used 1973 Dart Sport 340 with a four-speed. It didn't stay stock for long as Mark hopped up the small-block and began grudge racing the local Chevy guys at an old, abandoned airstrip near Gaylord.
However, Mark wanted more and began doing extensive modifications to the Dart Sport in order to run in the NHRA's Super Street class. Based off a heads-up 10.90-second index, Mark knew the Dart 340 would need to be fast and consistent. He befriended some notable Mopar Super Stock racers and engine builders that steered him down the right path regarding the engine combination, chassis mods and suspension updates needed to be competitive in the Super Street class. Soon, the Dart Sport began to resemble a racecar with 14-inch wide rear slicks tucked into the modified wheel wells and skinny front runner tires. The car was painted red and white and called the "M&M EXPRESS," a play off the name of the company he and his brother started, M&M Excavating. With Mark's solid relationship to the factory-backed racers and Chrysler engineers, he met the Mopar marketing and advertising folks who felt his modified Dart Sport 340 would be the perfect vehicle to promote the Direct Connection program.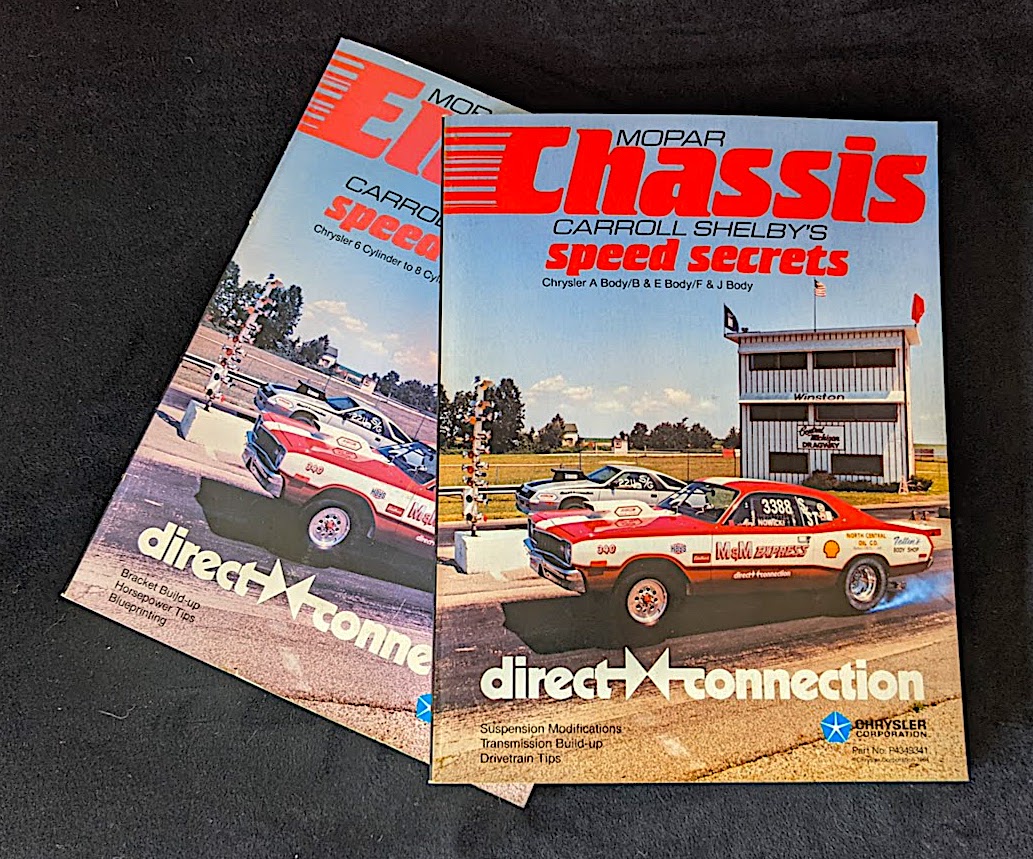 "Larry Shepard, who was one of the Direct Connection engineers at the time, and Bill Hancock, who ran Arrow Racing, suggested to the JRT ad agency my Dart 340 would be the perfect car to go on the front covers of the Direct Connection Engine and Chassis Manuals," said Mark. "We had the photo shoot at Central Michigan Dragway, I towed my Dart since it was a real racecar and one of the agency folks drove basically a stock street Daytona to the photoshoot. They glued on a plastic hood scoop and put a Direct Connection decal on the front fender to make it look like a racecar. We never made a pass, just set the cars up on jack stands to make it appear as two cars launching off the starting line."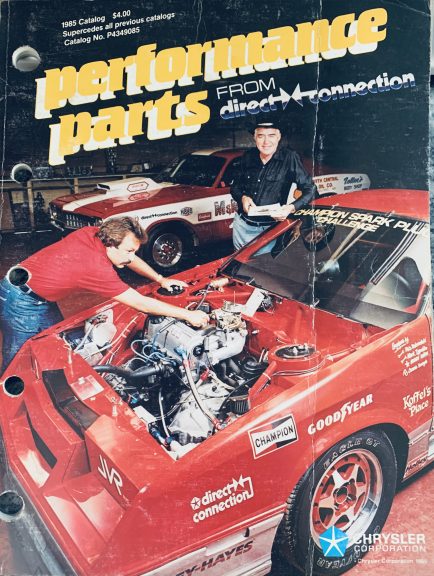 Mark's M&M EXPRESS Dart Sport was also on the cover of the 1985 Direct Connection Parts Catalog. He remembers that catalog photoshoot happening at Koffel's Place in Walled Lake, Michigan. During the shoot, Mark got to meet the legendary Carroll Shelby. "I spoke to Shelby a little bit, nice guy but he wasn't up on older Mopar door slammer drag cars," laughed Mark. The M&M EXPRESS Dart Sport was also featured in a full-page Direct Connection ad that ran in all the major performance enthusiast magazines like Hot Rod, Car Craft, Super Stock, Drag Illustrated, National Dragster and more.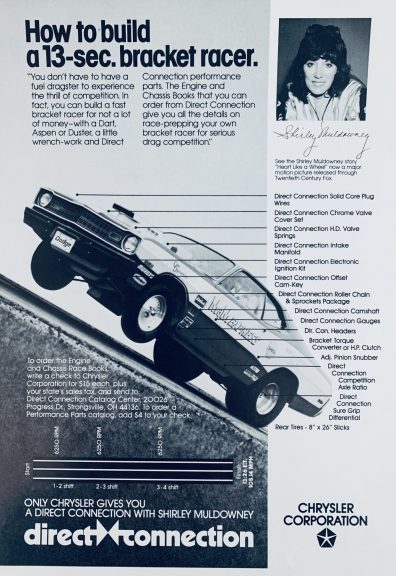 Throughout the 1980s, Mark's Dart Sport 340 was a dominant force in the NHRA Super Street class, claiming several wins and titles. While many of the competitors drove big-block Chevy Camaros or Novas equipped with two-speed Powerglide automatic transmission for consistency, Mark took them down with his high-winding Mopar 340 small-block. His driving style was also unique as he'd side step the clutch during the launch then powershift the manual trans at stratospheric RPMs. Mark's Dart Sport 340 was an oddity in a class composed of cookie-cutter bowtie machines. The M&M EXPRESS Dart was a favorite of the loyal diehard Mopar fans in the stands and got the attention of Mopar Part Distributor Mancini Racing, who continues to provide support for Mark to this day.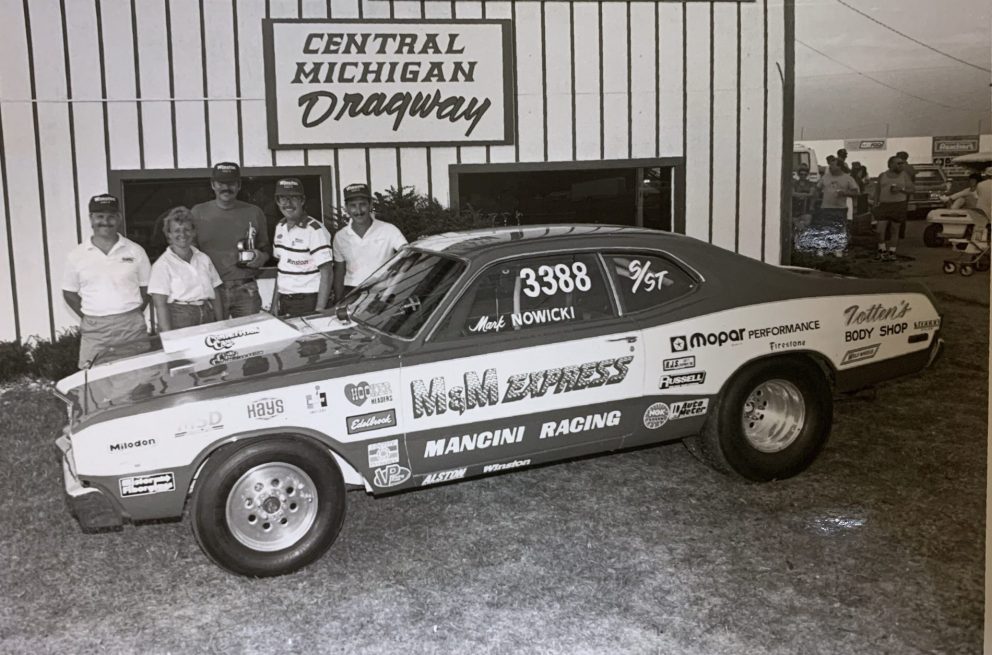 As the 1980s began to fade, NHRA was trying to get newer cars (two-door coupes) into the Super Stock class. While the Camaro and Mustang remained rear wheel drive (RWD), the Dodge Daytona was front wheel drive (FWD) from the factory. NHRA wanted all three major manufacturers to compete in this category with their current production cars and was willing to adjust the rules. Thus, NHRA created the Super Stock GT (SS/GT) class. This allowed older engines to run in the newer cars. They (NHRA) also allowed car builders to convert the FWD cars like the Daytona, to a RWD configuration. With support from Mopar and a commitment from Mark, he built one of the first FWD-to-RWD Daytona conversions.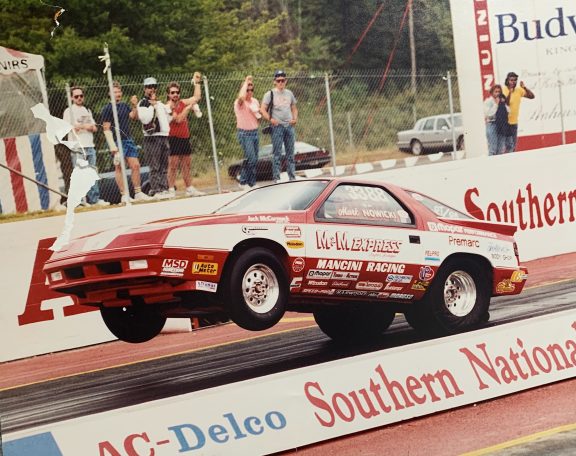 Since he was well adept at working on Mopar small-blocks, Mark's new SS/GT Daytona was powered by a 318, 340 or 360 Mopar small-block V8, depending on horsepower factors. "The Daytona was difficult to build since it was the first front wheel drive conversion. We had to design the rear suspension around a solid rear axle. We went through a few chassis builders assigned on the project and each wanted to reinvent the wheel because of the intense fabrication that was needed," noted Mark. "I ran the Daytona for quite a while, won class many times with that car and it served us well."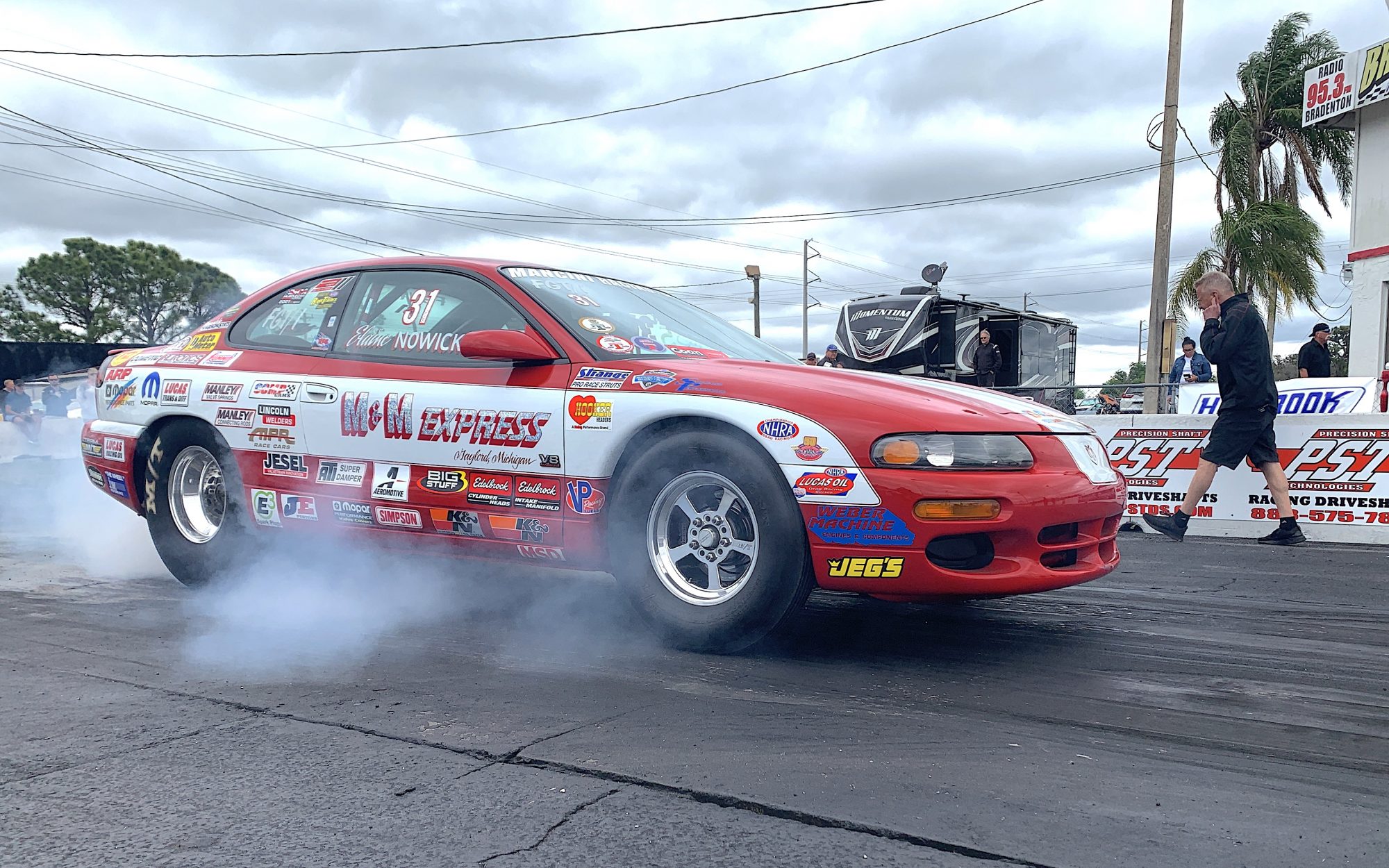 By the late 1990s, Mark felt the need to build a newer car so he procured a 1998 Dodge Avenger. As with the Daytona, the Avenger left the plant as a four- or V6 powered FWD car. With lessons learned from the Daytona, Mark turned to MPR Race Cars in Almont, Michigan, for a complete rear chassis modification to mount a solid rear axle in order to handle the power of the 360 small-block V8 going into the Avenger. However, the front suspension did present a challenge as the Avenger's stock struts and other components didn't work with the V8 K-member. Back then, NHRA SS/GT class rules dictated the use of a production lower control arms, but Mark's innovated thinking had him utilizing a pair of Viper units. Since NHRA was looking at these car more thoroughly, the tech guys began checking the front suspension more closely. When Mark debuted his new Avenger Super Stock GT car at the 1998 NHRA Gatornationals, he won the class, but got chewed out by the NHRA tech guys over the control arms and other items. The following weekend, Mark headed further south to an IHRA event in Bradenton and won the best engineered award. What a difference between the two racing sanctioning bodies despite similar rules!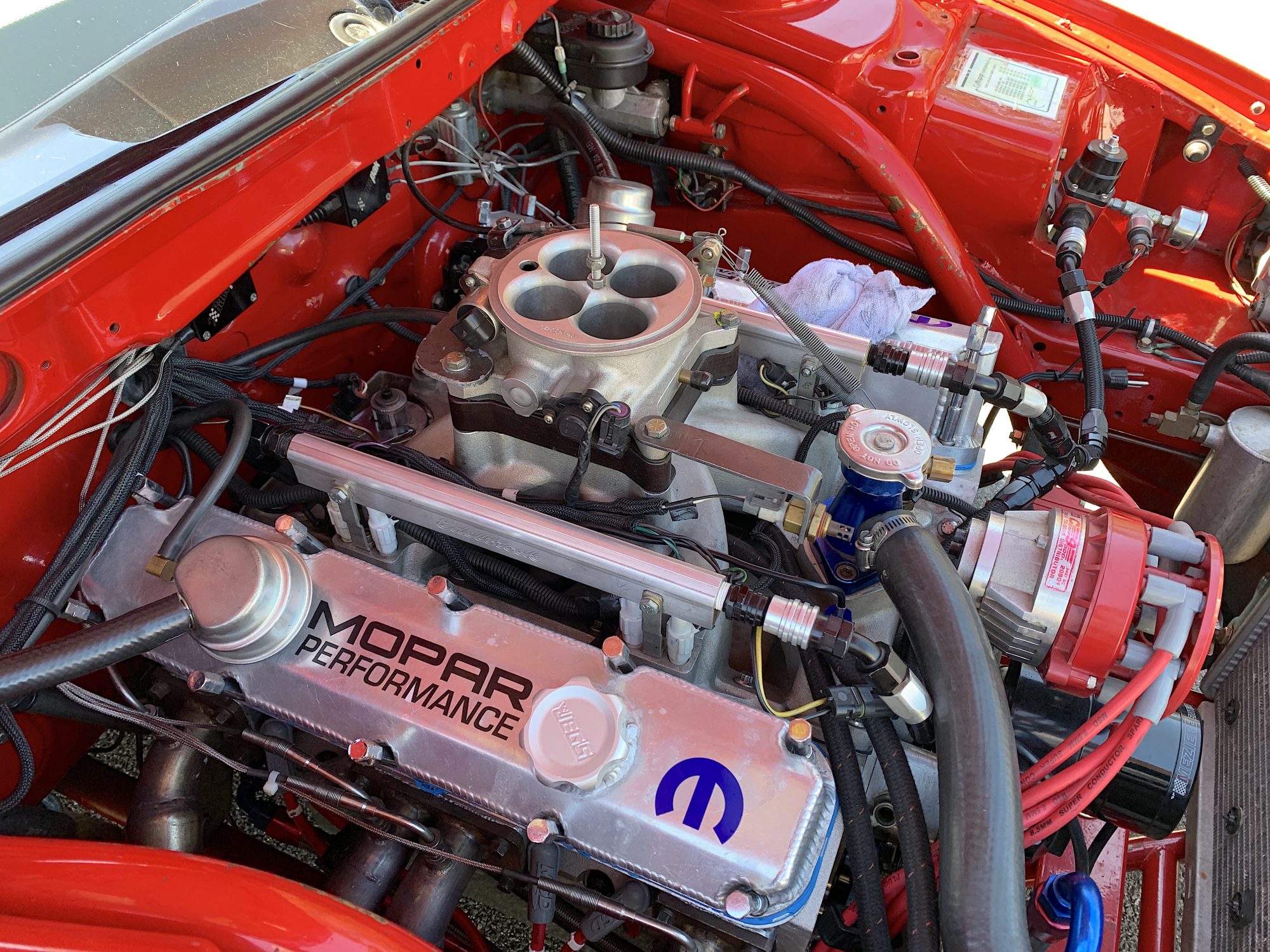 About ten years ago, Mark changed things up in his Avenger and went with a fuel injected 5.9-liter Magnum V8 Drag Pak engine combination. Being an old-school carburetor guy, learning the nuances of fuel mapping, timing and spark curves can be challenging. "It was trying to learn how to spell when not knowing the alphabet," stated Mark. Since then, Mark's Avenger has claimed more wins than he can count. He was even the NHRA Division 3 Super Stock Champion in 2020. And in March 2021, he won the Stock/Super Stock Combo Race at the NMCA Muscle Car Nationals in Bradenton.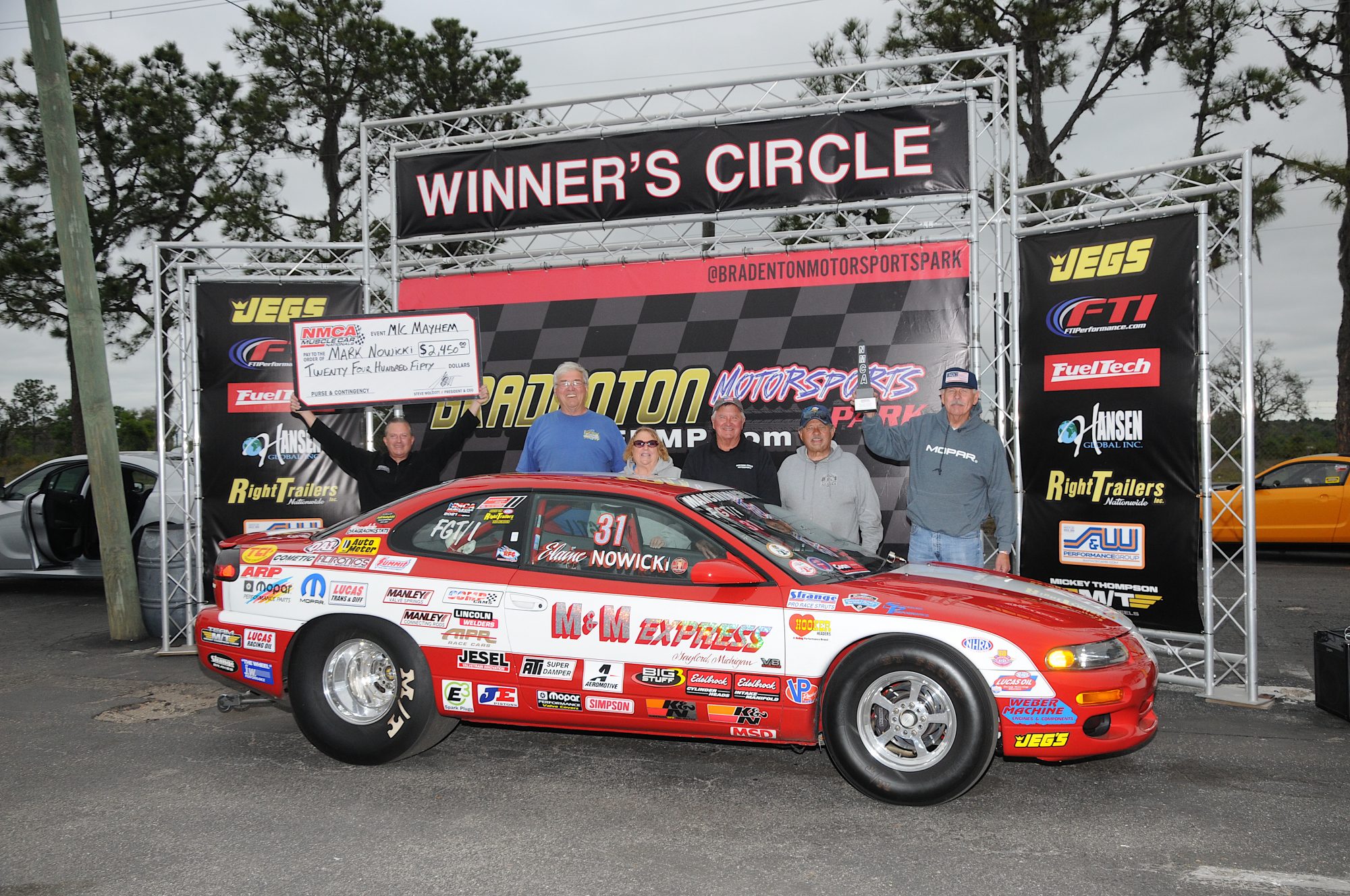 While Mark has pondered building and racing a new Mopar Challenger Drag Pak in Super Stock, he's quite happy with what he has. Even though his Avenger looks dated, the chassis and suspension still work great on any track. It's also super-fast for the class and deadly consistent as his Avenger clicks off low nine-second ETs. The piles of Mopar Contingency and Dodge Top Finisher checks he's received over the years is also proof as to not mess with a good thing, so don't expect Mark to get off the M&M EXPRESS anytime soon!
Here are more pics of Mark Nowicki's M&M EXPRESS Dodge vehicles.
Comments
Comments