Contenders for the Championship: NHRA Midwest Nationals Preview
2 years ago Racing
The "Countdown to the Championship" will continue this weekend at the NHRA Midwest Nationals, the third of seven NHRA playoff series events, at World Wide Technology Raceway near St. Louis on Sept. 24-26.
With all Don Schumacher Racing (DSR) drivers seeded in the top 10 and officially in the running for the championship title, every point against the competition is crucial. Here's what the drivers had to say after the NHRA Carolina Nationals in Concord, North Carolina, in preparation for the next race.
FUNNY CAR:
Matt Hagan, DSR Shelor Motor Mile Mopar® Dodge Charger SRT® Hellcat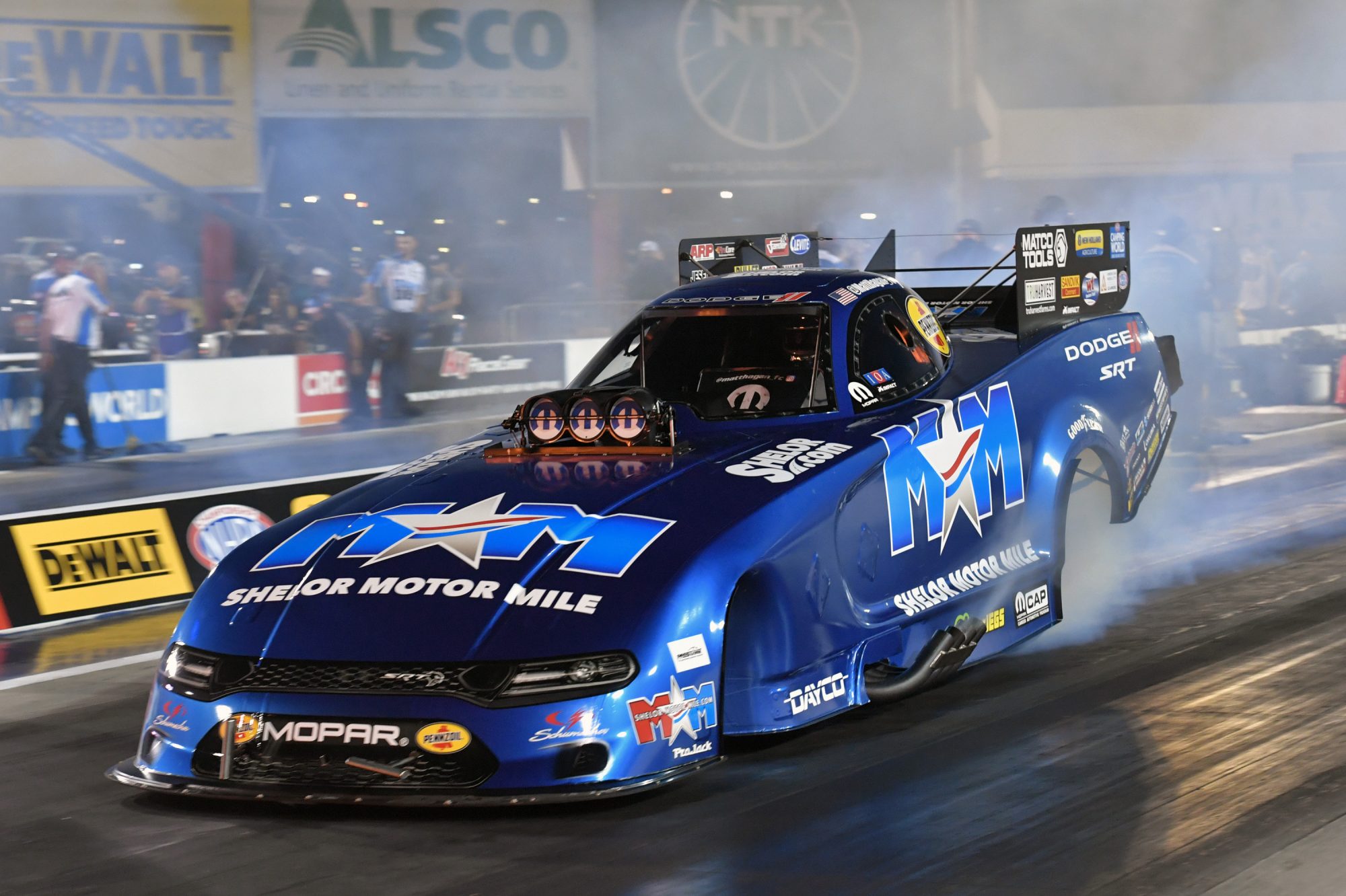 "I'm glad to be back, but I got beat on a holeshot in E2, and that's not ideal or what we were looking for. Dickie Venables and this entire Shelor/Mopar® team are doing a great job. We have a great racecar. We were low E.T. of that round and both qualifying sessions on Saturday, and we picked up six bonus points in qualifying. I just need to do my job on the starting line. That's uncharacteristic. I've been through a lot the past few weeks and need to bounce back next weekend at St. Louis. But, I feel really good about things. I've never won in St. Louis, so why not this year? Capps is a great driver and that's a great time, and we came up a little short. It happens. It's just not ideal during the Countdown. I have five races to redeem myself."
Ron Capps, DSR NAPA AUTO PARTS Dodge Charger SRT Hellcat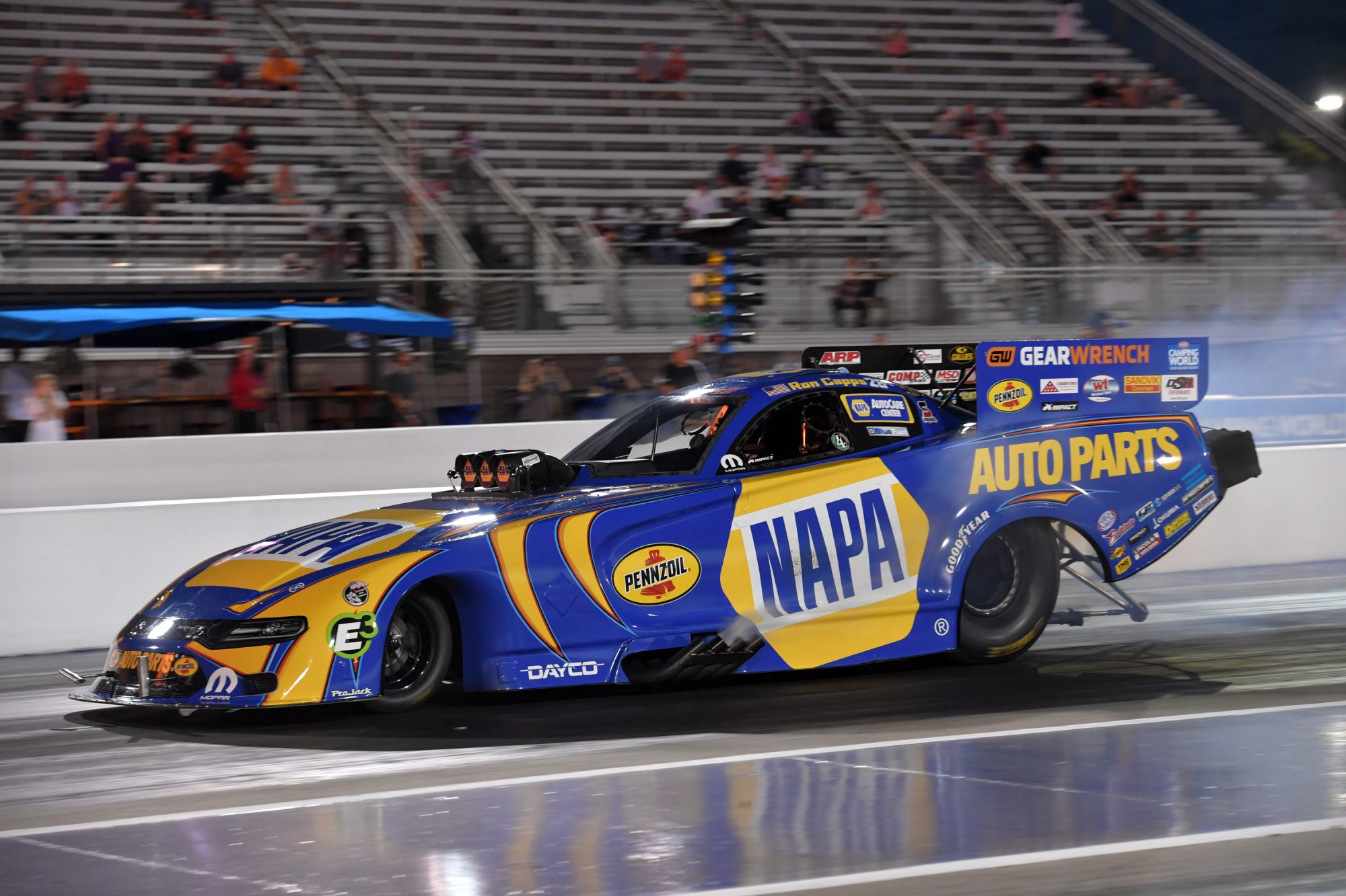 "Here in a couple of hours, we'll sit back and realize we had a great weekend. It's heartbreaking to have a chance at winning another race and extending the points lead. I really love the journey every weekend with these NAPA guys. Anytime you go somewhere and you have a great time on a trip, it is the journey you remember, and we have that almost every weekend. I love it when things are thrown at the team and the way the NAPA guys diagnose it, attack it and fix it. The next thing you know, we're back in the points lead and when you wake up Sunday morning, you hope to have a great day, but you just don't know. It's that feeling like 'do we have what it takes' and the next thing you know, you're having a great weekend with a chance to win and we were close today. Another great weekend by the NAPA AutoCare team. Just great calls with taking first pair of the first round. (Crew chiefs) 'Guido' (Dean Antonelli) and (John) Medlen, they made great calls all day.
"It's going to be fun from here on out. We keep saying that, and there's a great article in National Dragster that editor Phil Burgess did on how many times the points have changed hands this year, which tells you how great this category is right now and it really shows what these teams are going through. We can't wait to get to World Wide Technology Raceway at Gateway. We've had a lot of success in the past there and we'll need every bit of that mojo to hang on to the points lead."
Cruz Pedregon, Cruz Pedregon Racing Snap-on® Tools Dodge Charger SRT Hellcat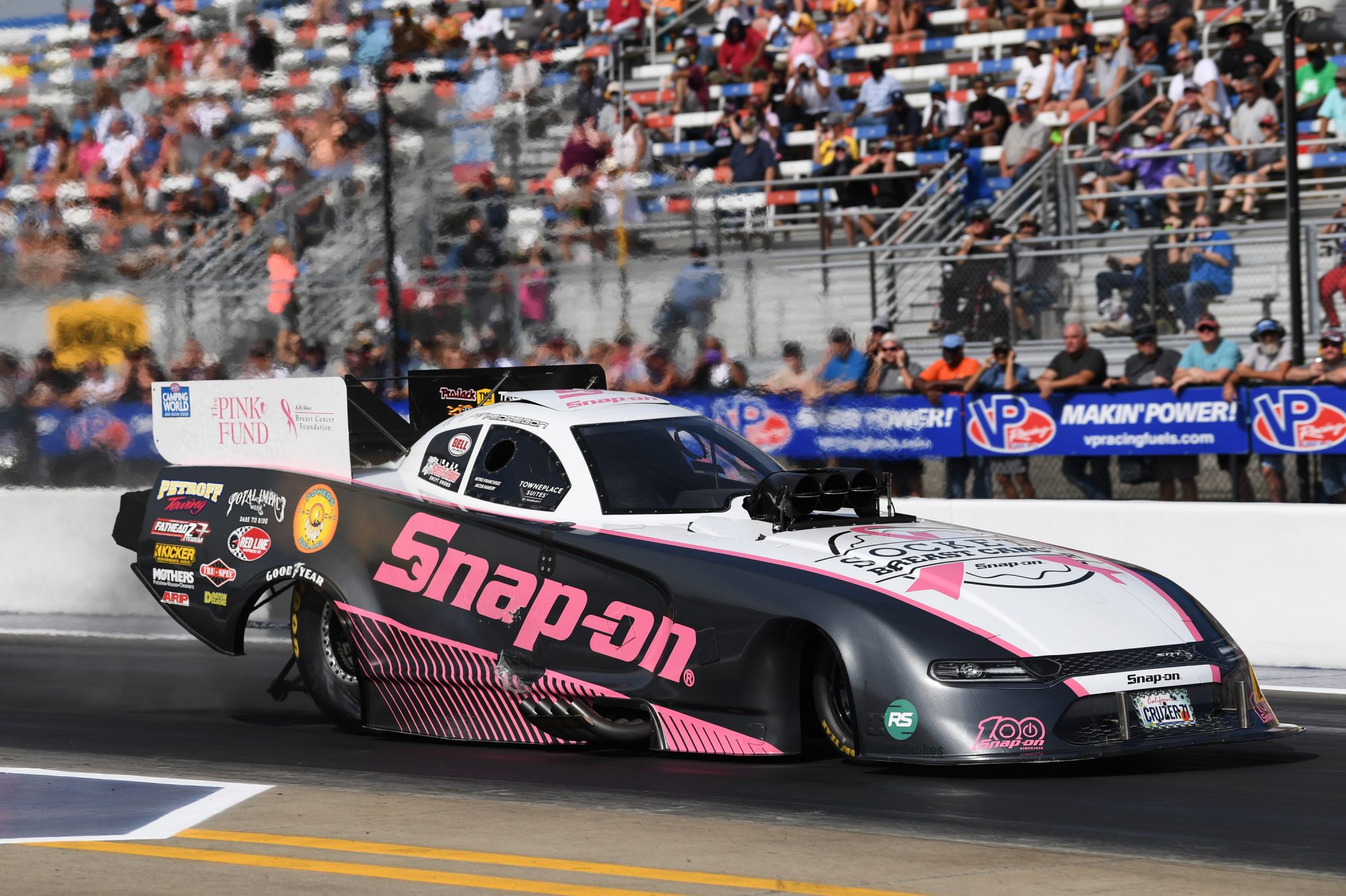 "Today was a really great day overall. I mean, to go to the final round in a Countdown race with the Snap-on® tools Dodge Charger SRT® Hellcat was really a great top to bottom. Qualifying third with each run being spot on, the team has been doing a great job, answering the bell and we've been solid and consistent with every run. We did push the envelope in the last session (Q3) and spun the tires, but it's like the old saying, if you don't take a chance, you don't really have one.
"The final round was a close race and could have gone either way. Tim (Wilkerson) ran a great 331 mph to our two or 325, so that made the difference there. It was a close race, 3.92 to a 3.95-second run and our reaction times were very close. Overall, I'm going to just say our second race into the Countdown is solid. We moved up two spots to fifth and we really are in the mix for the championship. That's a big deal for us. We're not even half a round out of fourth place. It would've been nice to get that win, but man, these rounds are tough. Everyone's really geared up at this time of year to really try to win and everybody's giving you their best shot. There's five races left and so a lot of opportunities there and a lot of great race tracks. It's going to start to cool off as fall is upon us as we head to St. Louis where last year I think it was in the 60-degree range and the track was super-fast."
TOP FUEL:
Leah Pruett, DSR Okuma Mopar Dodge//SRT Dragster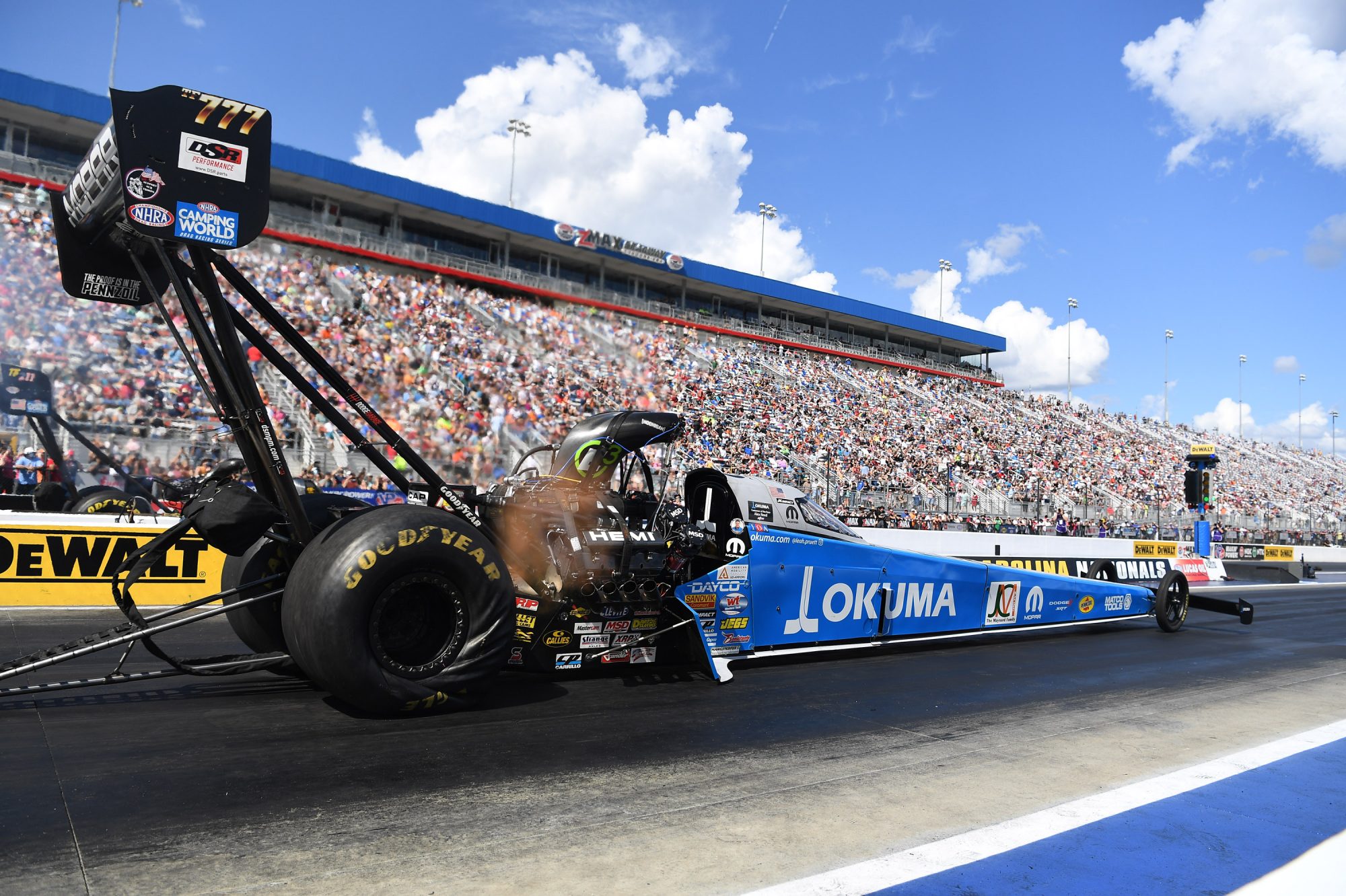 "As the Countdown to the Championship continues, we're leaving the second playoff race with a disheartening finish with that first-round exit, but it hasn't demoralized the team. We're definitely down on power and trying to find out where we're missing about 500-horsepower in our combination. We're gaining clarity on that right now and feel confident we'll get that sorted out before St. Louis. Our Okuma team had a runner-up finish in Sonoma, and that first-round exit here in Charlotte at their headquarters is not ideal. I hate that for all of their wonderful customers and employees that came out here to root our Okuma team on. This team has so much potential, and there is enough time left in the season for us to live up to it, and execute, and that's exactly what we plan to do. But, to say that this was one of our favorite days, it definitely was not. As a driver, running up against Justin Ashley, I think I've raced against him more than anyone else this year. I'm impressed with myself for being able to leave the line with him. Our team has been doing a phenomenal job but, unfortunately, we have a current missing link and we're doing everything we can to fix that. There's still a lot of racing left, and we're focused on gaining wins before the season ends."
NHRA Championship Points Standings:
Following the DeWalt Carolina Nationals Presented at zMAX Dragway
FUNNY CAR (season wins in parentheses)
1. Ron Capps (Dodge Charger SRT Hellcat) – 2,233 (1)
2. Matt Hagan (Dodge Charger SRT Hellcat) – 2,228 (2/1-TJ Johnson Jr.)
3. John Force – 2,208 (3)
4. J.R. Todd – 2,187 (1)
5. Cruz Pedregon (Dodge Charger SRT Hellcat) – 2,181 (1)
6. Robert Hight – 2,161 (2)
6. Tim Wilkerson – 2,161 (1)
8. Alexis DeJoria – 2,136
9. Bob Tasca III – 2,130 (2)
10. Blake Alexander – 2,064
TOP FUEL (season wins in parentheses)
1. Brittany Force – 2,274 (1)
2. Steve Torrence – 2,253 (8)
3. Justin Ashley – 2,200 (1)
4. Billy Torrence – 2,192 (2)
5. Leah Pruett (Mopar Dodge//SRT) – 2,146 (1)
6. Mike Salinas – 2,138
7. Antron Brown – 2,136 (1)
8. Shawn Langdon – 2,133
9. Clay Millican – 2,126
10. Doug Kalitta – 2,064
Comments
Comments
Next