Mopar® Sportsman Racers Roll The Dice At Dodge//SRT® NHRA Vegas Nats!
2 years ago Gallery Racing
Las Vegas, that oasis in the desert with its bright lights, 24/7 activity, bustling casinos and night clubs, promises the opportunity to strike it rich to many who trek to the Gambling Capitol of the World. The allure of beating the house at its own game draws the multitudes, with dreams of filling their pockets with cash. The same can be said for the many Mopar® Sportsman Racers who rolled the dice at the Dodge//SRT® NHRA Vegas Nationals this past weekend when it came to cutting a good light and running their dial-in during the intense eliminations. These seasoned competitors have many tools at their disposal to gauge their car's performance, but there's also a lot of luck that goes into each pass. Basically, it's a crapshoot when they're on the starting line and the amber bulbs on the Christmas Tree begin to count down. Leave too early, you've red lighted. Too late, and you've probably lost the race before your car has even travelled the first 60 feet down the strip. Like any wager, you want the chips to fall in your favor.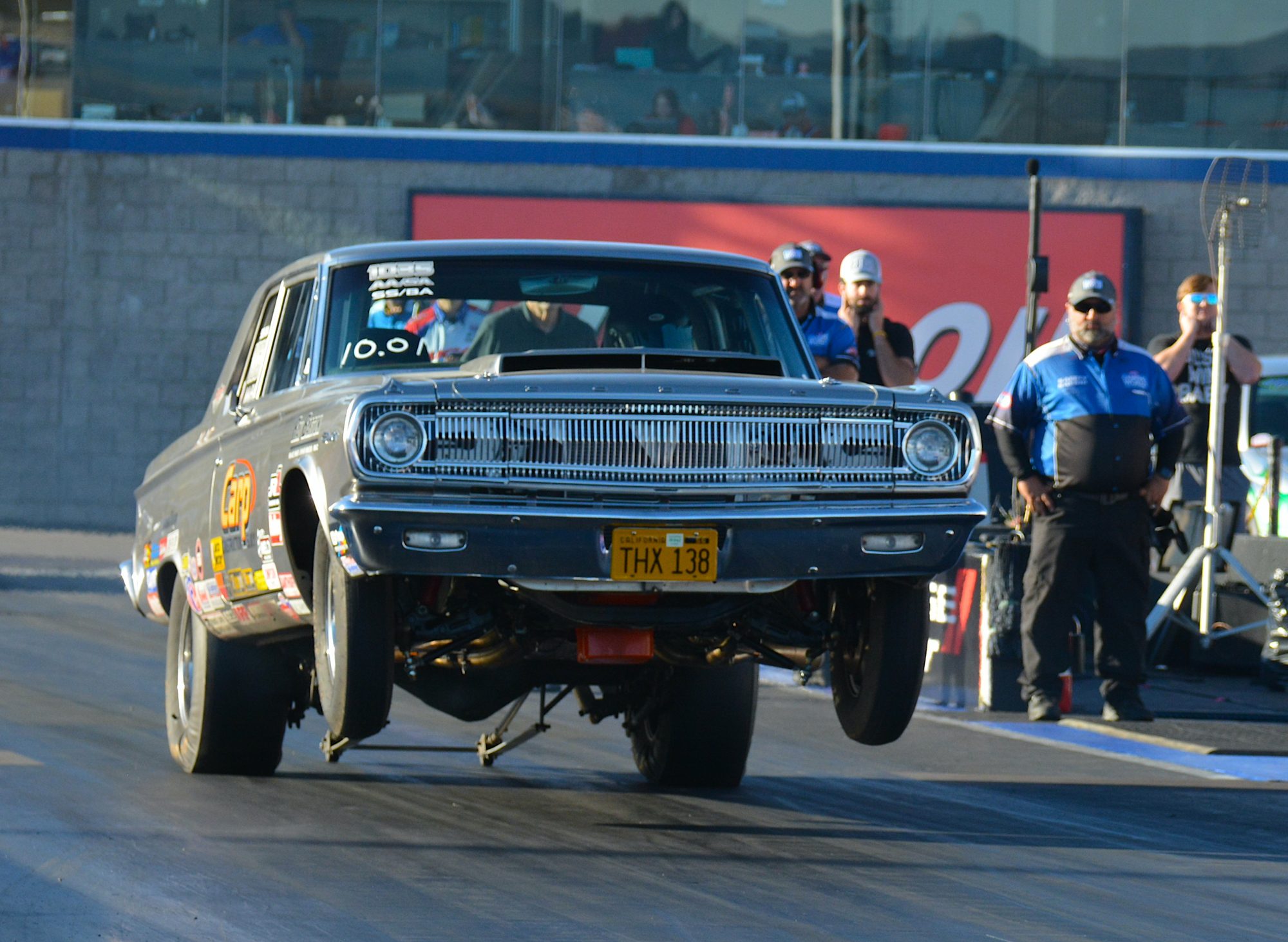 East Coast Mopar Stock Eliminator competitor Todd Hoven rolled the dice and brought his thumping and rowdy 1965 AA/SA HEMI® Coronet all the way to the Dodge//SRT NHRA Vegas Nationals from his home in Nazareth, Pennsylvania. He towed through three time zones and covered over 2,000 miles, but after many days on the road, Todd rolled into The Strip at Las Vegas Motor Speedway. This metallic silver machine might look sedate, but it's not. Especially when it puts down nine-second ETs. "I came all the way to Vegas to chase points as mathematically I have a chance to become the 2021 NHRA Stock Eliminator World Champion," said Todd. "I know it's a long shot as you have to drive very well and go many rounds, but I've ran a great season so far and I feel we have a great chance of winning both the Divisional and World Championships." The odds are in Todd's favor as he's raced that HEMI engine-powered Coronet since 2017 and knows how to make it run fast and consistent at drag strips all over the country.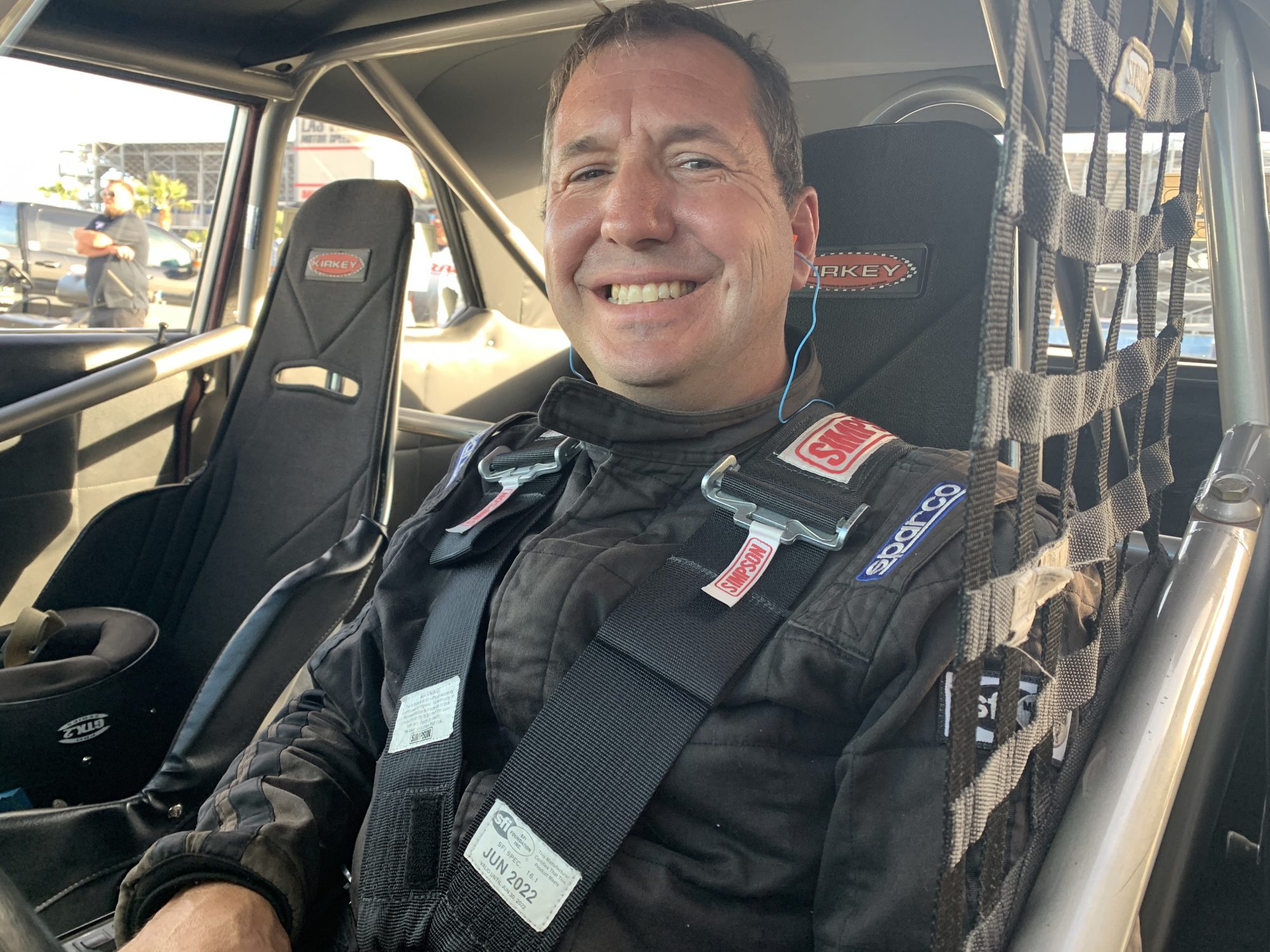 Once Todd and his nine-second HEMI engine-powered Dodge made it to the Stock Eliminator finals at the Dodge//SRT NHRA Vegas Nationals, he faced a tough batch of competitors who were ready to send him packing back to the Keystone State. During the finals, Todd faced off against former world champ Justin Lamb in a COPO Camaro. With almost identical reaction times, the race was door handle to door handle all the way down the track with Lamb just getting past Hoven at the finish line. By going all the way to the finals, Todd racked up more points and will be heading further west to the NHRA Finals in Pomona, California, in just over a week.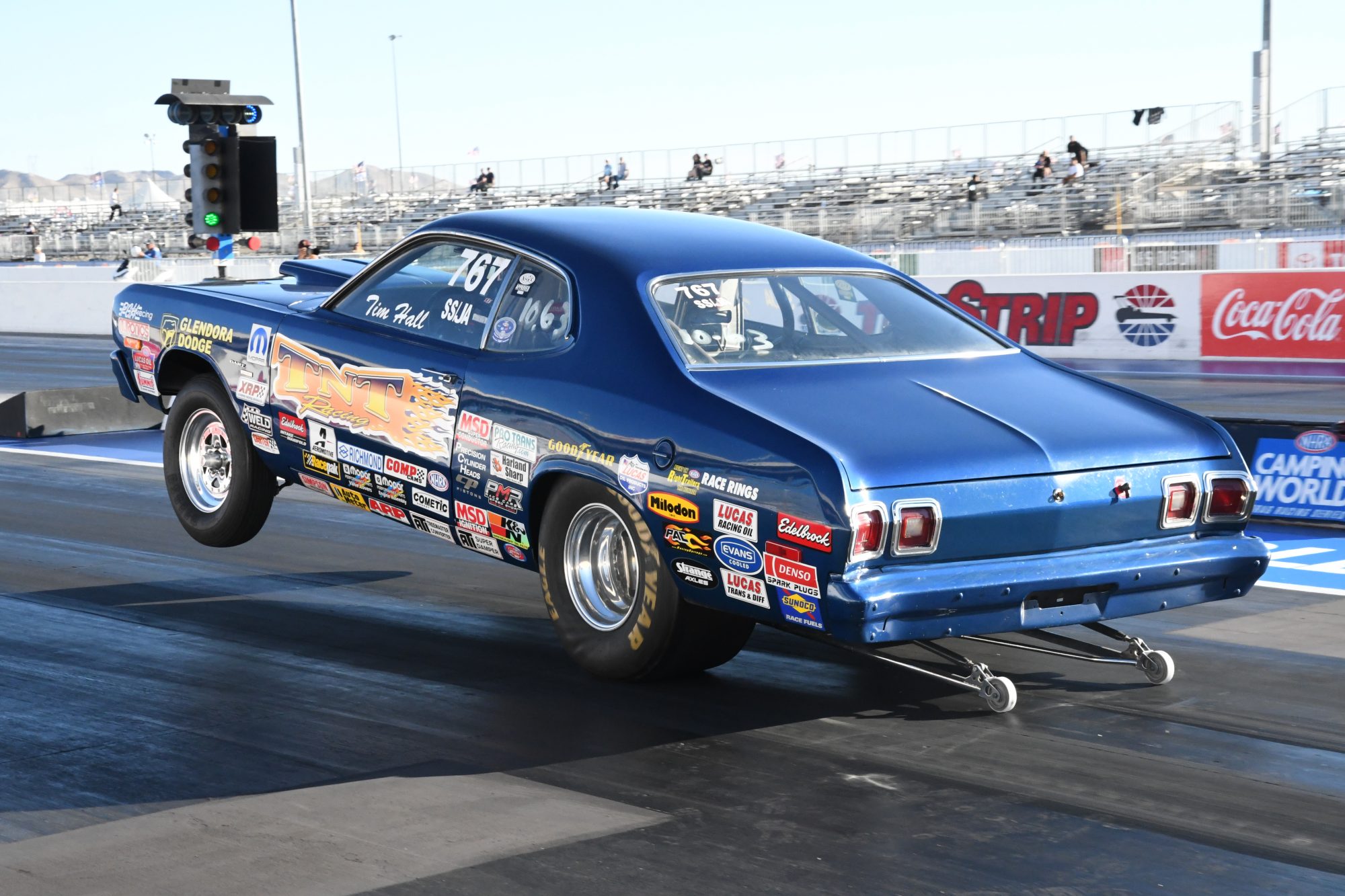 Another Mopar racer that went deep into the rounds of competition during the Dodge//SRT NHRA Vegas Nationals was Tim Hall in his 1974 Dodge Dart Sport Super Stocker powered by a 360 small block V8. The California resident was in the groove all weekend while racing in Vegas and had great reaction times during competition. Tim's car yanked the front wheel and pointed the nose skyward on every launch as his deadly Dart was more like a guided missile. Unfortunately, during the semifinals, his opponent had a slightly better reaction time and took out Tim on a holeshot. Tim will make the trek back to his home state and compete at the NHRA Finals in search of another opportunity to win an NHRA Wally.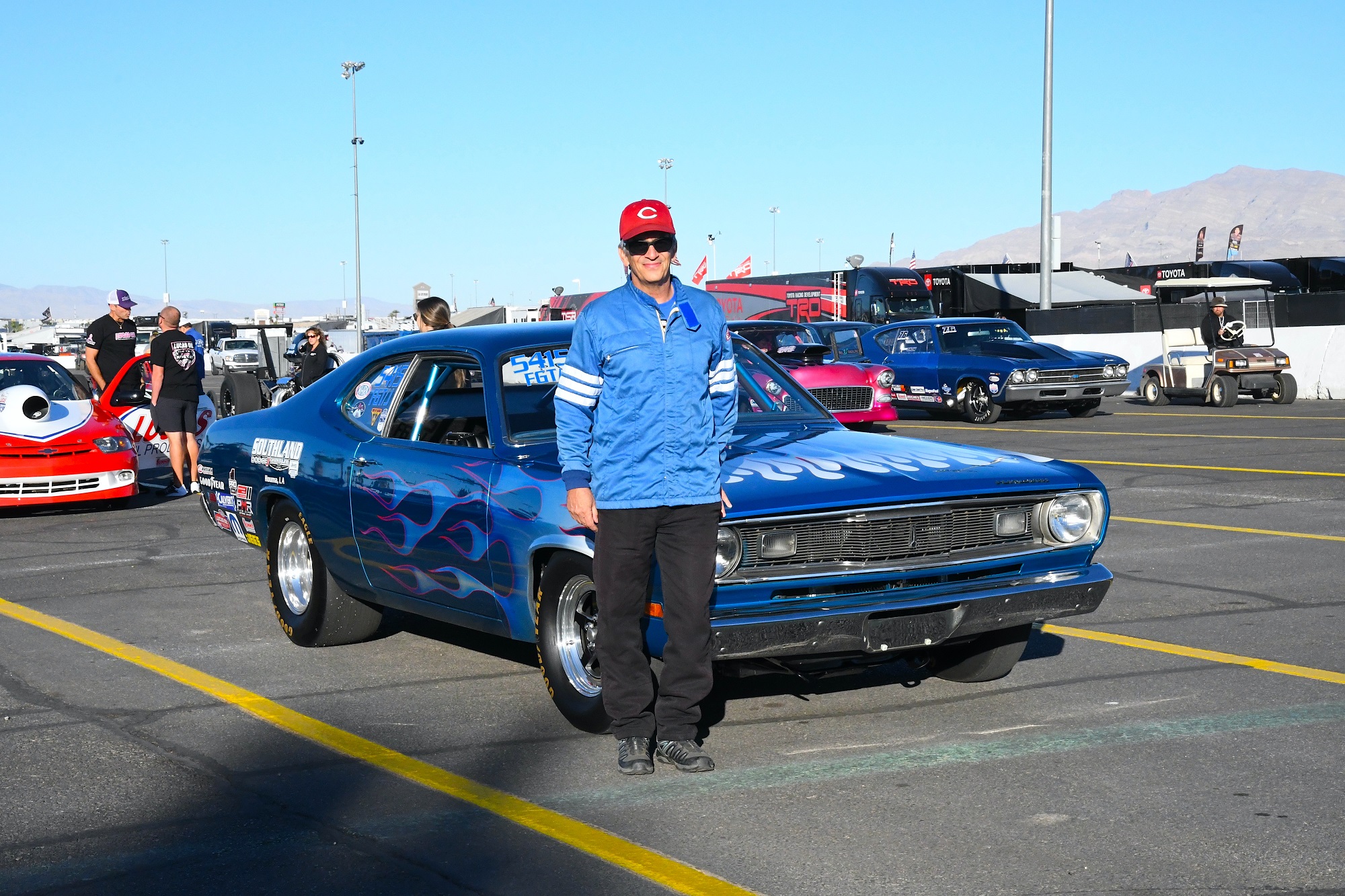 While outnumbered by the Ford and GM competition, Mopar Stock and Super Stock machines made their presence known during the Dodge//SRT NHRA Vegas Nationals and put on a great show for the fans in the stands while knocking down their rivals. One interesting combination we spotted was John Dourlet's 1970 Plymouth Duster. While it might not look like a nine-second racecar with its flat hood, chrome bumpers and other factory components, when John mashes the gas on his potent Plymouth, the side walls on the rear slicks wrinkle up as that power gets planted to the starting line surface. His Super Stock combination is very unique as he runs a fuel-injected 369-cubic-inch V8 Drag Pak engine. Because it was available on the 2009 Drag Pak, NHRA allows racers the install a modern engine into older vehicles for Super Stock, provided the powerplant is from the same manufacturer as the vehicle. "With the older body and newer engine, my Duster runs in the NHRA Super Stock FGT/J class and it's a blast to drive," smiled John. "Our weekend in Vegas was a bit troublesome at first, as I hadn't gotten down the track under great conditions. We finally made a good run during Saturday night, and we had something to work with in dialing the car for eliminations." While John's racing weekend ended at the quarterfinals of competition, he has the Duster figured out and will also head to Pomona to once again do battle with his fellow racers.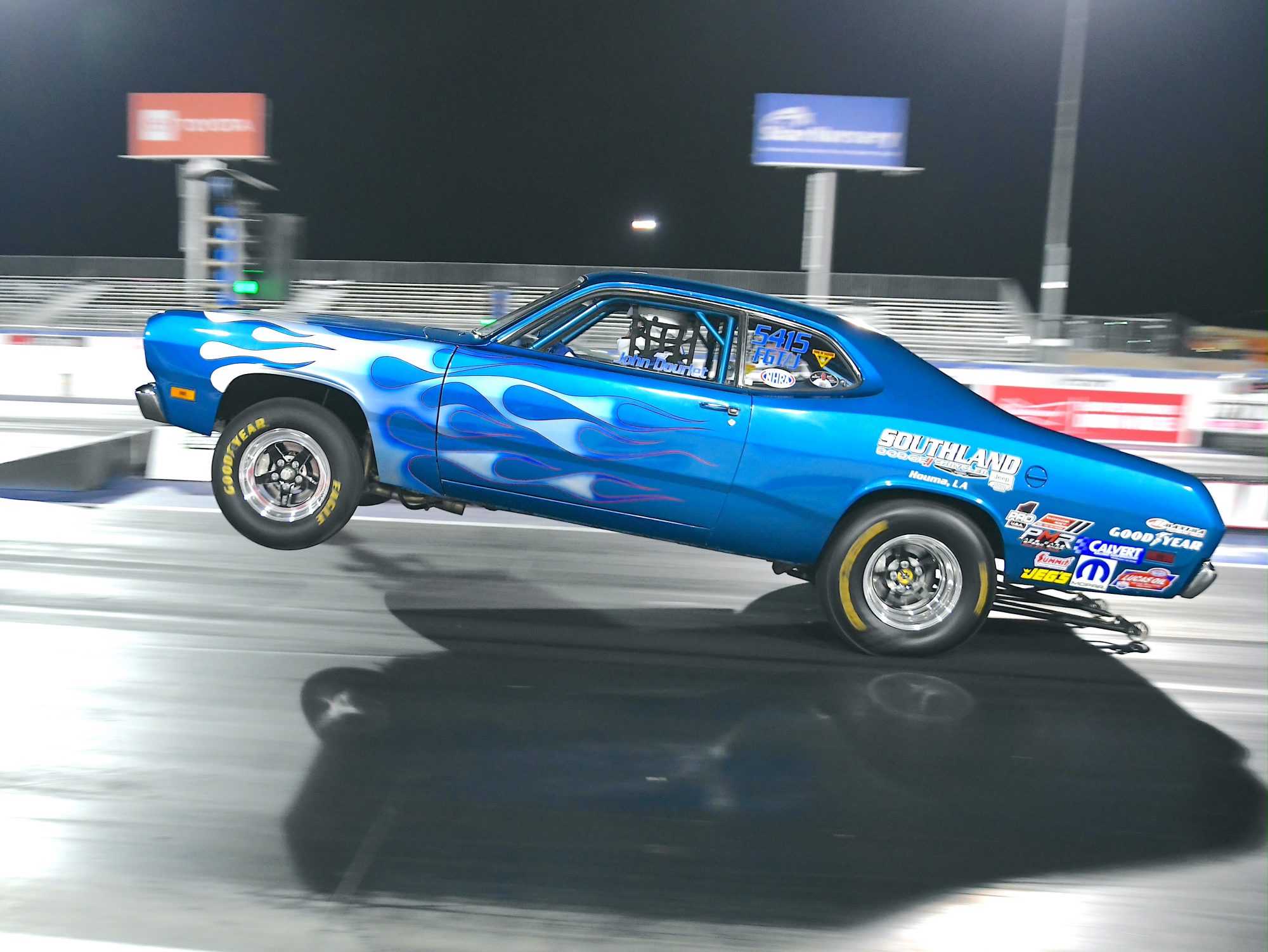 With only one more NHRA event left this year, this photo gallery of high-flying Mopar vehicles from the Dodge//SRT NHRA Vegas Nationals should feed your need for speed!
Comments
Comments