They're Both Legends…They're Just Different
5 years ago Reviews
It's been a good day, actually a better-than-good day! Taking a 75-mile cruise due west from the coastal city of Portland, Maine, through the heavily wooded back roads of New Hampshire would push any given day into "good" territory. Racing up, down and around Club Motorsports' 2.5-mile track, freshly chiseled from the White Mountains, also singularly qualifies that particular day as "good". Doing both in a 797-horsepower 2019 Dodge Challenger Widebody SRT® Hellcat Redeye? OK, it was a great day.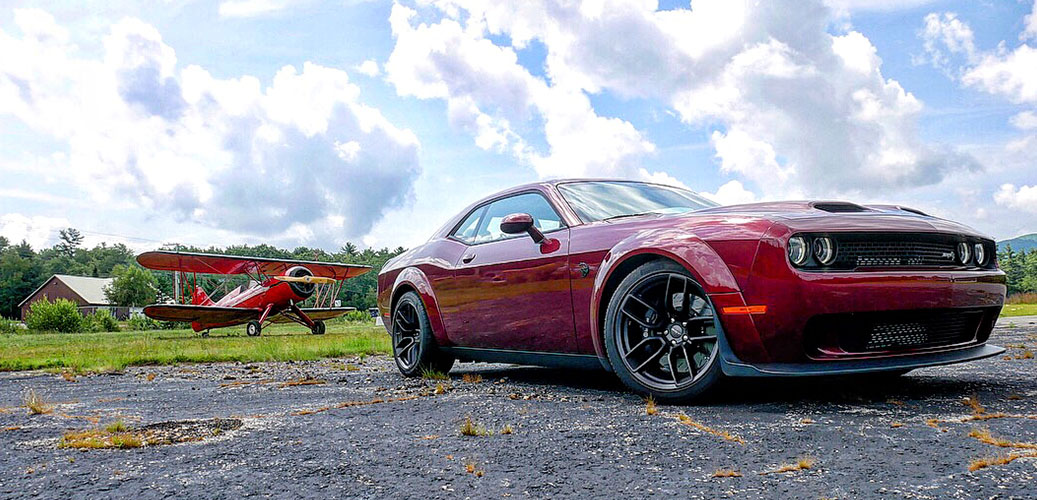 In fact, it was so fantastic that I completely forgot to ask myself the one crucial question I've had rattling around my brain since word of the SRT Hellcat Redeye came down: Is it a 2018 Dodge Challenger SRT Demon without a transbrake and a serial number?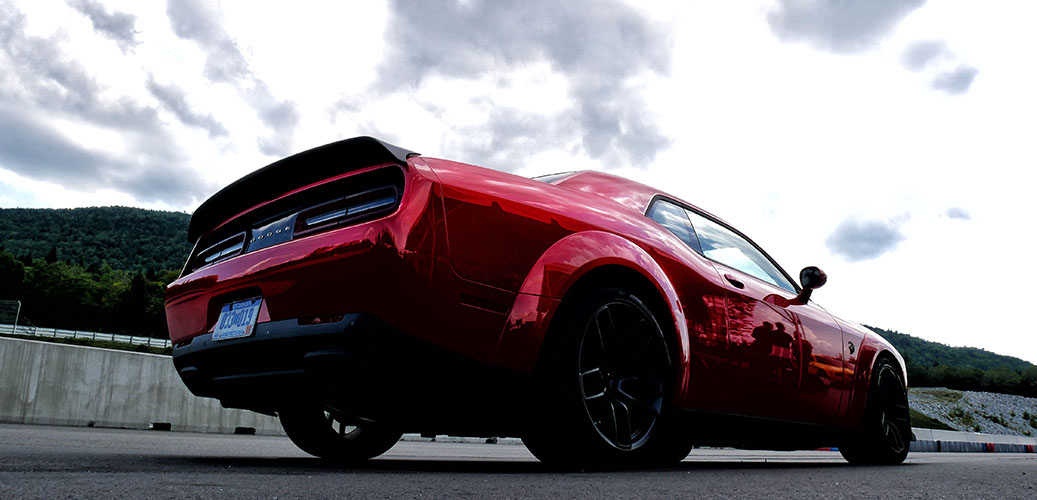 When the SRT Hellcat Redeye was announced earlier this summer, the first thing I did was look at how it stacked up to the one and done 2018 SRT Demon. From what was put on paper, it looked like the newest Challenger was an SRT Demon for the street. The SRT Hellcat Redeye is the happy recipient of what basically amounts to a, SRT Demon drivetrain. The dual snorkel hood doesn't let as much air in as the SRT Demon's biggest-ever Air Grabber wide-mouth scoop, and that's why the SRT Hellcat Redeye's blown 6.2L HEMI® is rated at 797 hp instead of 808. But it has all the same goods. Compared to an SRT Hellcat, it has amped up and strengthened internal parts: Power Chiller, After Chiller and Torque Reserve. The bigger 2.7L blower pushes out more boost, a higher redline, stronger driveline pieces, higher stall torque converter and the list goes on.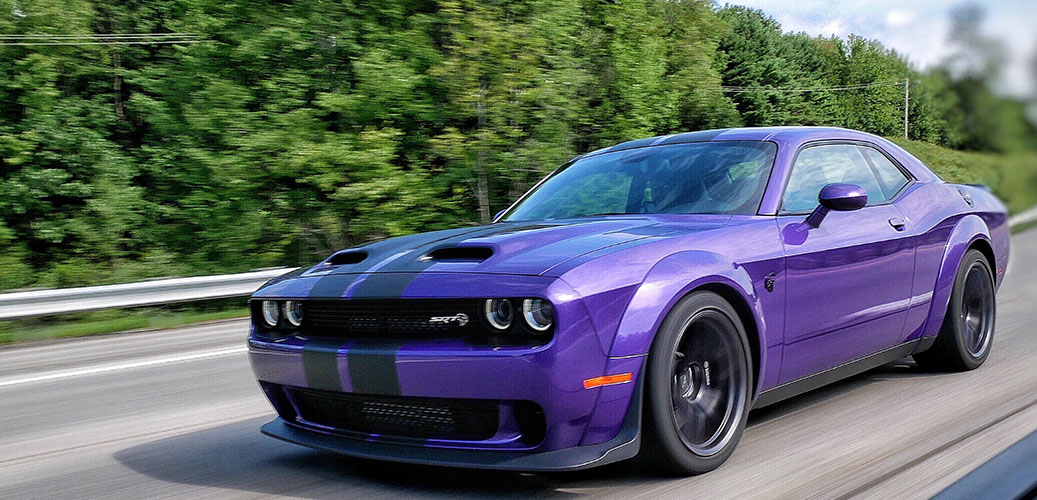 Drive an SRT Hellcat Redeye with your foot firmly on the gas and the car doesn't beat you over the head with its 797 hp. It's a smooth criminal without being excessive and yet fluent in the language of Grand Touring. The SRT Hellcat Redeye slinks along the curvy roads, polished to a level much higher than a car harboring this violent of a soul deserves to be. It's like the automotive version of Al Pacino's Michael Corleone, the Godfather, a brilliant mind tossed into brutality by his DNA, his nature. It's an iron fist in a velvet glove, speaking with eloquence while taking no prisoners. The interior of the car is luxurious while the whine from the supercharger is always there. It's a dangerous siren song that begs you to act the fool in a cloud of thunder, fire, smoke and sideways shenanigans. It takes a person of great integrity and gritty resolve to keep from being an accomplice to the trespasses against mankind that this car is capable of. The blower belt screams with authority as the pedal hits the floor, which happens more and more often as the day progresses. It's a golden eagle screeching an Athenian battle cry.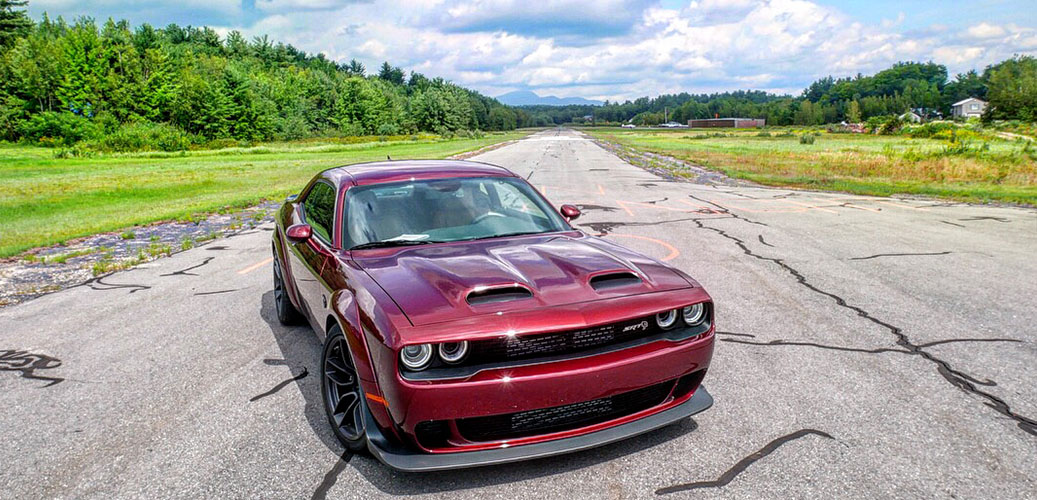 I was interested to see the dual snorkel hood in the flesh. It looks aggressive, especially attached to a widebody where the proportions shine. On the back end, the new Satin Black spoiler sits both wider and longer than the previous version, adding to the low and go look. To me, it's all about the widebody and its visual impact. It reminds me of the Viper ACR: the Viper in its base form is hot, but see it in an ACR trim and you just can't unsee it.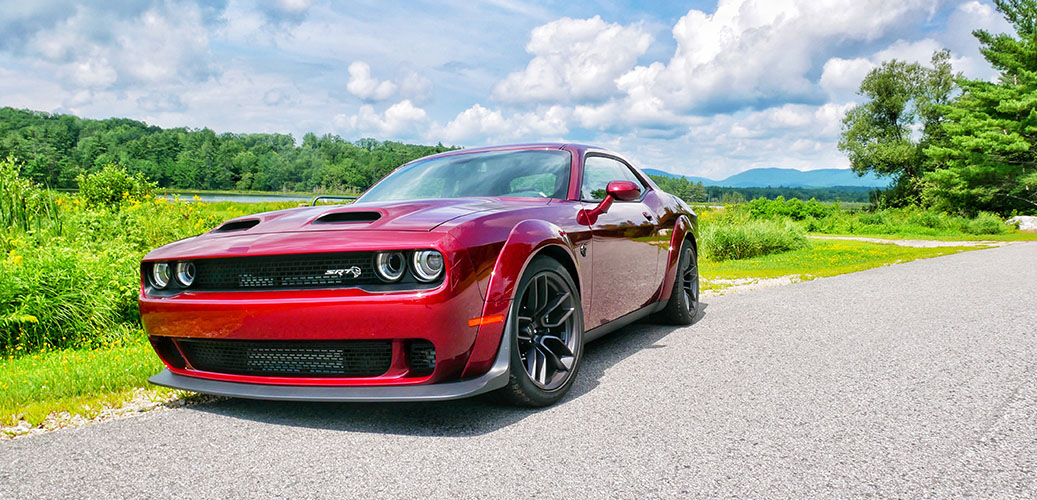 Style might be subjective, and maybe you disagree with my obsession with all things widebody, but there's no disputing the pragmatic side of the flared fenders, as they allow for wider tires and more grip. 305/35ZR20 Pirellis all the way around just wouldn't work on a narrow body car and 275s aren't long for this world affixed to any SRT Hellcat-on-up Challenger. The thick P-Zeros will still spin wildly if so desired, but they're infinitely more predictable than your typical, skinnier lo-pro rubber.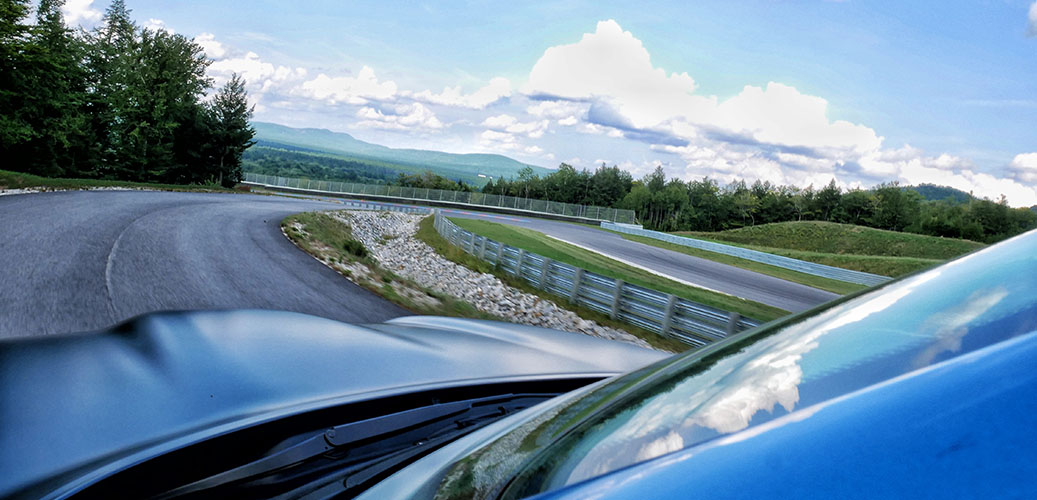 On the track, it's still impressive to me how much abuse the Challengers can take while performing at a high level. We could finally let the gorilla beat its chest a little bit at the absolutely stunning track at Club Motorsports. It takes a great deal of discipline to focus on driving when the truly stunning White Mountain range extends out from a track that rises and drops 250' of elevation. I was able to put in 5 sessions with 4 different Dodge/SRT driving instructors, each with a unique style, which was definitely a cool experience. I did 2 rounds in the widebody Scat Pack and 3 in the SRT Hellcat Redeye. I'm not a racecar driver, but I'd at least like to become competent enough to describe a car's on-track abilities in a more expert parlance than I'm currently capable of. I don't think "WAAHHOOOEEEEE" or various curse words are very helpful descriptions of the SRT Hellcat Redeye's road racing acuity. I can say that it was fun, and anybody that doesn't enjoy tracking this thing needs an automotive reset.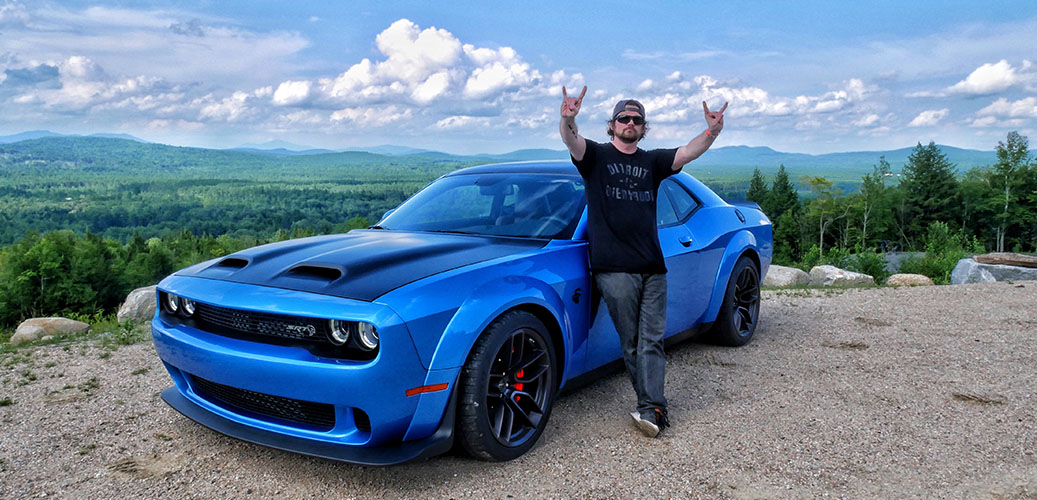 My homie John Fortuno of Springfest and @1fatchance fame split drive time with me to and from Club Motorsports. He picked an always smokin' Octane Red for the trip there. But I became smitten with a B5 blue version with a flat black hood with black Devil's Rim wheels and orange Brembo brake calipers and a soft brown interior. I couldn't get the combo out of my mind and grabbed its keys early to nail down a trip back with it.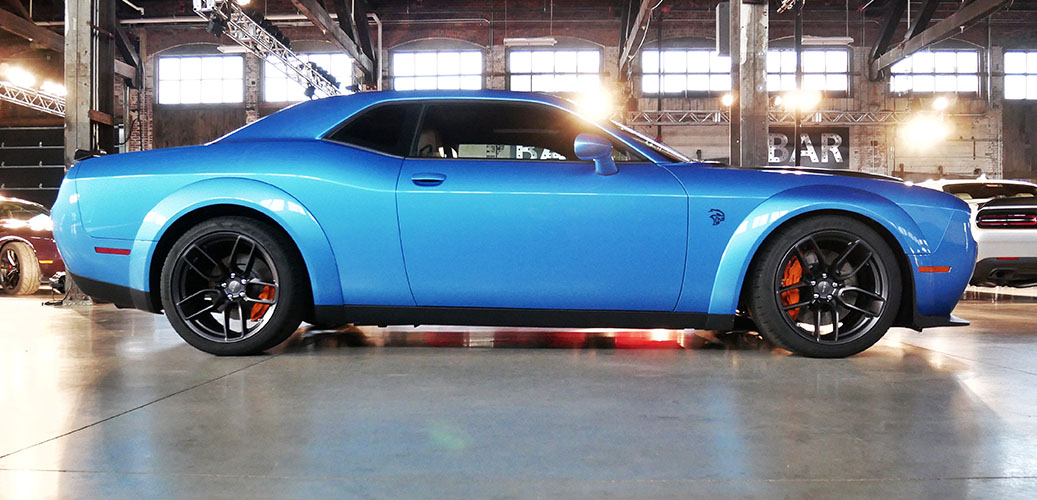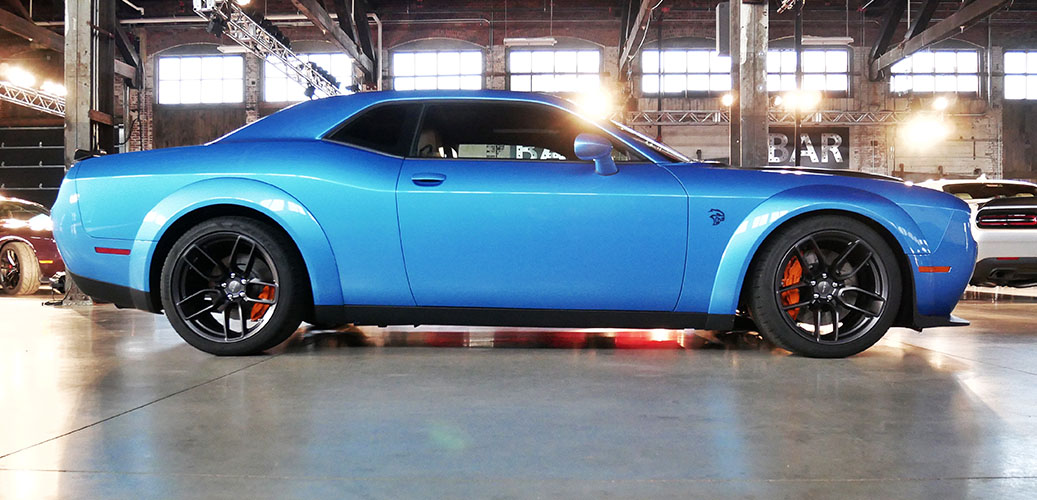 Shortly after leaving the track, I got a text from my buddy Ren asking how my time with the new car was going: "If you closed your eyes, does the Redeye feel just like your Demon?"
At which point I realized that I hadn't even thought about the SRT Demon yet. Going from a nuts and bolts comparison where at first blush they looked like twin brothers separated at birth, to spending an entire day with the SRT Hellcat Redeye on both the street and the track, I did not even think once about how similar the cars felt to each other. That's because they don't feel like each other…AT ALL!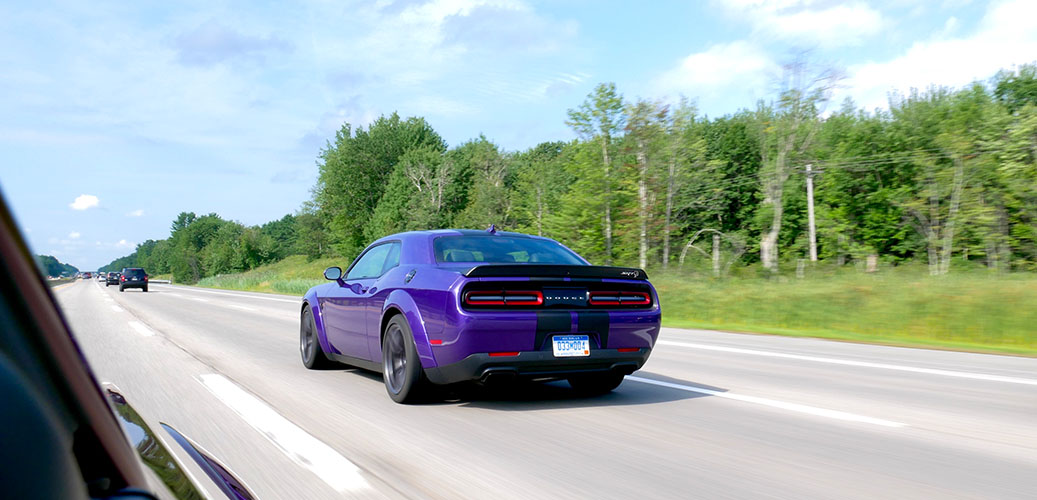 The SRT Demon is an unapologetic racecar built to push the boundaries of what an OEM can get away with under the guise of "street legal". Much like the Viper ACR, although probably a bit more, it handles on-road duties just fine. In fact, I drive mine as much as possible. The ride has an endearing old-school Caddy feel. "Floats like a butterfly, stings like a bee." The suspension, even in street mode, is much softer than the SRT Hellcat Redeye. The SRT Demon has different shocks, different springs and hollow sway bars, for example; everything was engineered for that front-to-back weight transfer from a dig. It has lightweight Brembos in the front and a shorter gear ratio in the back. There's virtually no sound-deadening. Even with opting for the 19-speaker sound system and leather interior, my car has a no-nonsense attitude. And I haven't even broken into my SRT Demon crate yet.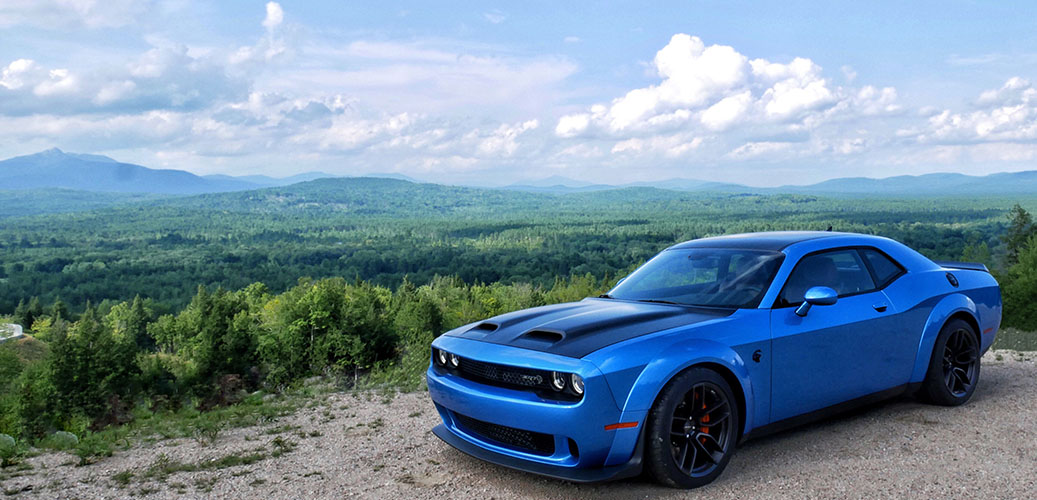 There's also something about piloting the thing with 315/40R18 Nitto drag radials front to back that just doesn't jive with any of your previous street driving experiences. Yeah, it picks up a lot of rocks and you need to be cautious in cold or wet conditions, but it's hard to imagine another car whose wheel/tire combo is so integral to its tone. The SRT Demon package as a whole is just unique.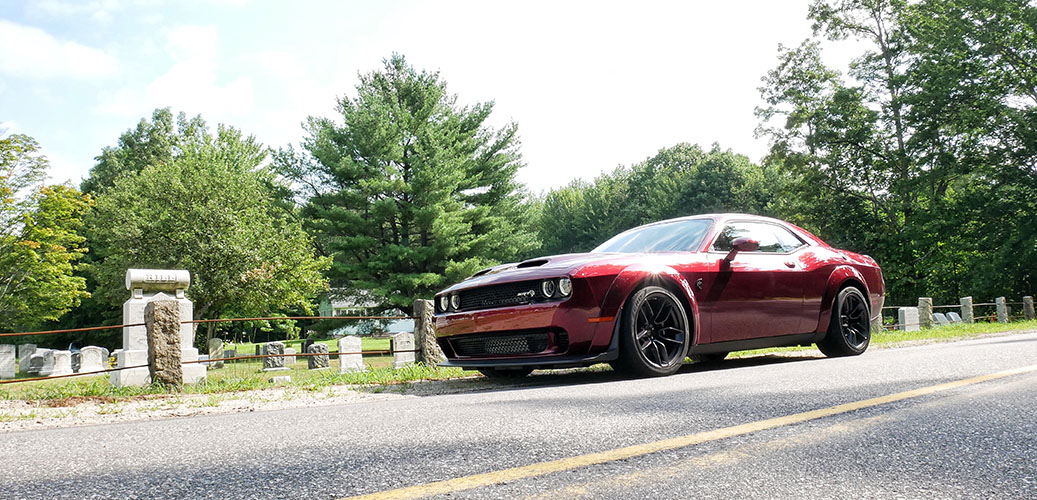 With all of the above and a street-friendly calibration where tip in and throttle out are super slick and much less abrupt than its brother, the SRT Hellcat Redeye takes the SRT Demon's heart and presents a very different disposition.
The Redeye feels like a Hellcat with more power…much more power. While it's heavier and down a few ponies, I think the SRT Hellcat Redeye might even beat an SRT Demon from a roll. Fortuno kept calling it "savage!!", but he's not comparing it to an SRT Demon. The SRT Hellcat Redeye harkens to Pacino in The Godfather, the SRT Demon echoes Pacino in the role of another antihero: Tony freaking Montana, Scarface. It's a chainsaw attached to an AR-15 welded to a grenade launcher wired on a mountain of adrenaline.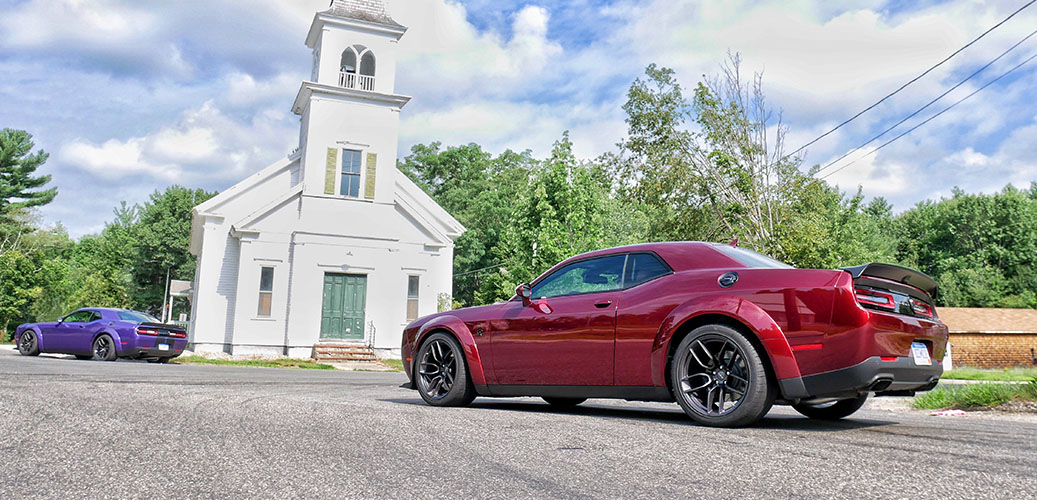 They're both killer. They're both legends. They're just . . . different.
Comments
Comments