Road Trip with the Durango SRT® – Part 3
5 years ago Showcase
While on Friday night we walked to Beale Street from the hotel to listen to music and people watch, Saturday, we kind of went more touristy. Darla and I hit Lanksy Bros., the "Clothier to the King," which is where Elvis Presley went to get his style. I'm now one very handsome button-down shirt richer. We also found a hilarious rooster mask, which is now my superhero alter ego.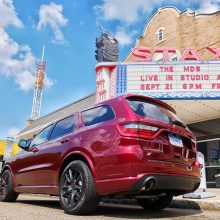 Stax Records is a Memphis thing, of course, so the next morning on our way out of town, we pulled the Durango SRT® up to the old theater on McLemore Avenue that used to house the studio and Satellite Records, but now is a museum. Performers like Isaac Hayes, Booker T. Jones and, my favorite, Otis Redding all put together albums at this place.
For the trip back north to Detroit, we again decided to split it in two, again stopping in Louisville. This time, however, the plan was to hang out in the town a bit. Sunday, we hit the city early in the afternoon. I put the Durango in track mode when we got off the freeway and blipped the gas pedal and flipped the paddle shifters up and down from stoplight to stoplight. The SRT's throttle response is vicious, in the best way possible. There's not much that satisfies a car guy's or girl's soul more than the orchestra of 8 cylinders exploding, pumping power and pushing noise through a berserker dual exhaust, it's opus bouncing off of tall buildings and echoing through overpasses.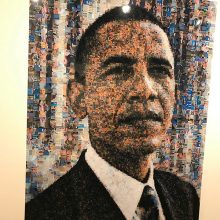 21C was our destination, and we rolled up to the industrial chic downtown hotel mid-afternoon on Sunday. Did I say hotel? I meant modern art museum. AND hotel. And to guests, the museum is open 24/7. NOW I saw what game Darla was playing when she booked this joint. It was about to be Night at the Museum 4: Darla has the Floor!
Our room had a neat neo-noir feel, with an uneven brick wall painted white, contemporary furnishings, a blacklight lit bathroom, and in the hotel directory it included directions for dealing with a possible zombie apocalypse scenario. I could imagine John Wick staying in the room next to us after his house was blown up. Once settled in, we shimmied down to Proof on Main, a slick restaurant on the hotel's first floor, one that's been host to people like Bill Clinton. At one point, Darla had a blackberry chicken liver pate pop-tart as part of her meal, and I made quick work of the giant ball of cotton candy that comes with every bill.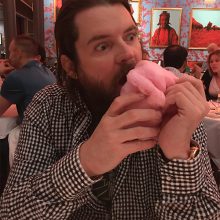 Post dinner, we perused the museum from bottom to top. I'm not the biggest fan of contemporary art, but the collection had a decent ratio of inspired versus inane work. During the day, it's free to see whether you're a guest or not, and I'd most definitely recommend checking it out.
This was not enough for Darla, however, as she set her alarm for 3:00 A.M. She enjoyed her Night at the Museum, and wanted the place to herself. I enjoyed not getting up and sleeping through until morning.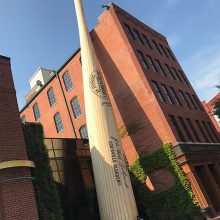 You can not like baseball and still know what a Louisville Slugger is. The baseball bat manufacturer is also in the downtown area, right around the corner from 21C. There are several exhibits, batting cages and a gift store right around the periphery of the factory. Currently, they're featuring props and memorabilia from one of Darla's favorite movies, The Sandlot, but we caught the "Big League, Little Bricks" show, where they presented Lego versions of baseball stadiums!
There's also a tour of the shop floor, which I can't say enough good things about. I've done it twice now, both times with guides that knew about the game, the bats, and had a sardonic sense of humor while interacting with the guests. Every step of the bat-making process is on display, from the wood blanks to CNC machine to paint rack complete with player signatures, you get to watch the operation. They even have an old-school lathe, and every now and then a player asks for a stick that was carved by hand. The gift store is a lot of fun, and there are all kinds of bats for sale, from mini bats to scrapped bats, to a finished bat with your own name carved in it! I might have bought one of the "scratch and dent" bats to keep in the back seat as personal protection.
Obviously, we were in Kentucky straight bourbon country, and the Jim Beam distillery is a short blast south on I65. In 2012, they updated their grounds to accommodate visitors who want to see the bourbon-making process, from the mash to the barrels to the rackhouse to tasting room. Did you know if one of the rackhouses goes up in flames, that a $100M loss! Therefore each building has a moat around it, to fill with water to keep the flames from spreading from house to house in the event of a fire.
You can even bottle your own fifth of Knob Creek, sealed with your thumbprint in wax! This was my second time there, and just like the first, I ended up acquiring a barrel. The first time I put it in the back of my Ram and bungeed down the tonneau cover, and the ride was not kind to the fiberglass top. This time I figured, what the hell, I should show off the Durango's carrying capacity! The giant Jim Beam barrel fit easily by just folding down the third row.
Speaking of capacity, remember those Ron Burgundy commercials that Dodge used to promote the all-new 2014 Durango? One of the (many) outrageous claims that Ron makes is that the ginormous glove box will fit SIX ball-peen hammers! Being a hammer enthusiast, I happened to have had six ball-peen hammers at my disposal. It would be irresponsible for me to gloss over this! Well, I crammed three of the hammers in and closed the glove box. I do feel that had the other three hammers been as short as the first three, they would have fit. So I guess the jury is still out…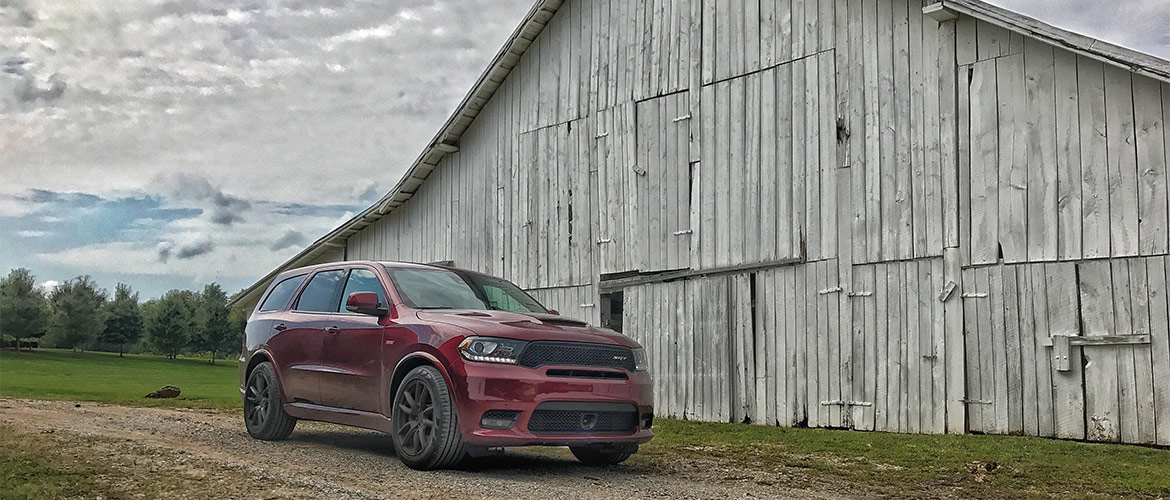 The '18 Durango SRT legit is a 12-second SUV. It feels every tenth that quick when the light turns green, but when it's time to cruise, the luxe cabin puts you in a baller state of mind. Plus, it really is just a well-proportioned, rakish machine, no small feat for a brawny seven-seater. They still catch my eye on the street, and the exhaust note is that perfect modern muscle V8 growl. The SUV really is a unique vehicle in that you aren't sacrificing fun for function, and with AWD and so much room for activities, the only limit to your experience is your imagination. Whether it's a spur of the moment bourbon barrel purchase, a night out on the town with six of your closest friends or a trip to the country with your dogs, the Dodge tackles it with elegant aggression. Try one one on and see how it fits!
Comments
Comments