Cider, Donuts and SRT® Hellcats
4 years ago Showcase
Football, cool air, hot apple cider and warm donuts. Not gonna lie, I love fall in Michigan. And sugar. I really love sugar.
We didn't invent cider mills, but man alive did we perfect them. Only the much more populated states of California and New York have more of them than Michigan. Growing up, being home schooled in West Michigan, I still remember field trips to the orchard and being fascinated by the apple-pressing process. My parents even had an antique press, a much smaller consumer version than you'd find in a mill, where the apples were top loaded, ground up and dropped into a barrel where you'd spin a big wheel on a threaded rod to push a press-disc down to smash the juice out. Mostly what comes back to me is a trip to the emergency room. Turns out when dad said, "Don't stick your fingers into the grinder, those blades are sharp," he was serious. There's a scar on my left trigger finger to prove it.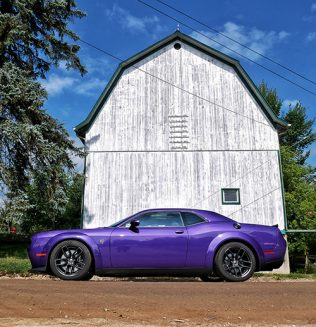 From giant farms with petting zoos and live music to small family-run presses with antique donut machines cranking out deliciousness, there is a mill to suit your tastes pretty much anywhere you find yourself in the Mitten. We live in Southeast Michigan now and a few weekends ago, I commandeered a Plum Crazy widebody SRT® Hellcat for a couple of days to seek out an orchard or two with my wife, Darla.
Darla also grew up in the wonderful world of cider and donuts. Three of her great uncles owned apple orchards. Her great uncle Truman, who once worked in a Chrysler machine shop and also designed recreational vehicles for a covered wagon company, owned and operated the Craft Cider Mill and Orchard on Gratiot Avenue in Mount Clemens, Michigan. Darla and her family loved spending time in the orchards, picking apples and mostly watching Uncle Truman press the apples on the old wooden mill. She says, "My brother and I were rock stars in elementary school each fall as we had fresh cider to share with our classes. Uncle Truman pressed cider until 2001 when the state of Michigan forced him to put a skull and crossbones sticker on his cider because he did not pasteurize. Thankfully, those laws have lightened up a bit these days and Verellen's Orchard and Cider Mill in Romeo, Michigan, now uses Uncle Truman's old cider press filters."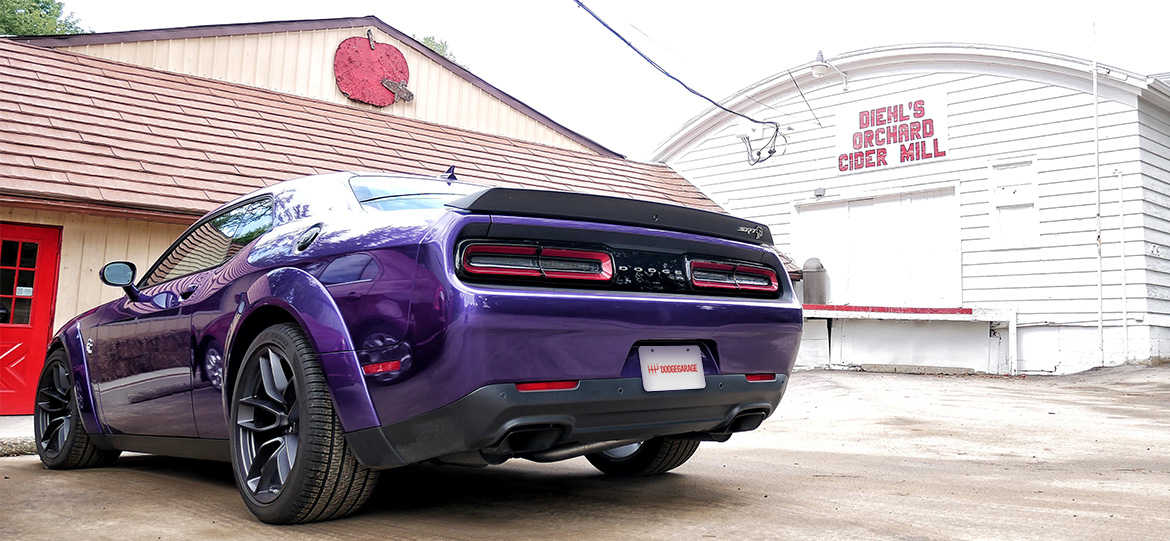 Diehl's Orchard and Cider was the first place we hit on Friday morning. Tucked down a dirt road in Holly, a village about an hour northwest of Detroit, it is worth the trek. Mike Diehl, a third-generation owner/operator, was making donuts in the back of their retail shop and cafe. We talked with him a bit as the dough went from his hands into the machine. From there, it was forced down through a spigot to form the donut shape, and then dropped into the oil and onto a conveyor. It was pushed around in a circle as it cooked, and then a mechanized arm filed it onto a slide. From there, Mike picked them up with a skewer and rolled them in cinnamon sugar before putting them into a bag and handing them to me. "Don't close the bag!" he said. "The donuts will stay crisp if you leave it open; they get soft and soggy if you seal them up." That's some good info right there.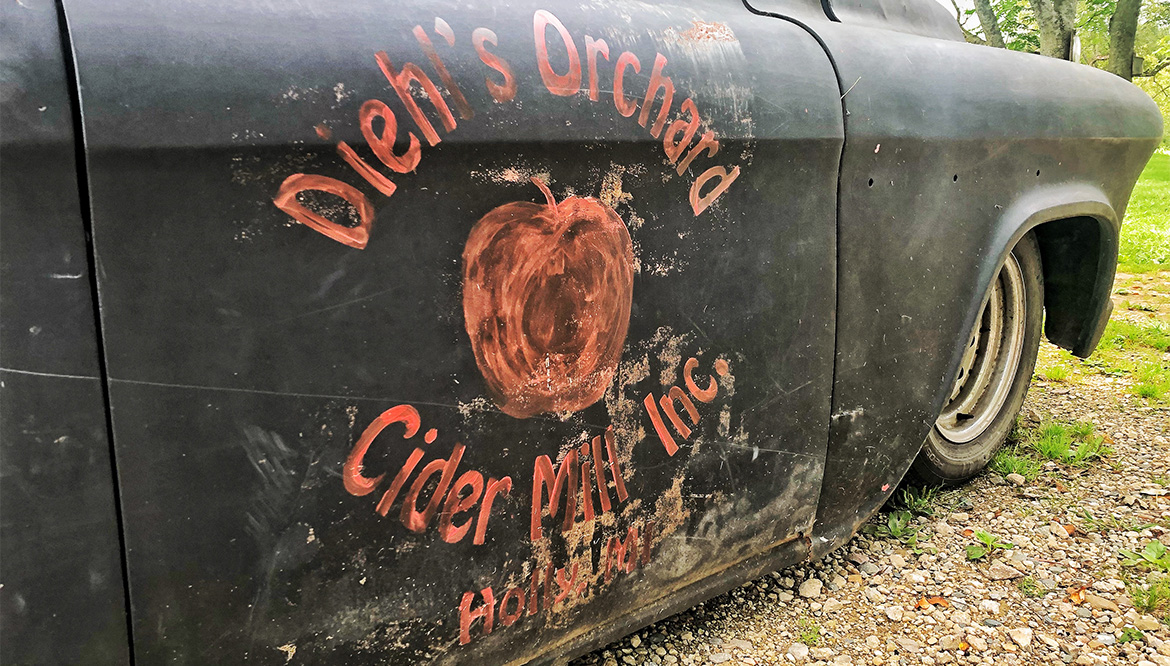 It turns out Mike is a car guy. "Don't leave until I can check out your Hellcat!" he said. Mike and his son, Nick, who also works at the orchard, took a second off the clock to see the 'Cat. After talking shop for a minute, Nick even offered to move his quads out of the background so I could pull the Challenger up next to the barn for a picture. Mike made sure we knew to go check out his half rat-rod/half pro-street '50-something Chevy pickup parked in his driveway next door.

The other cider mill we visited was in Plymouth, Michigan, on Saturday morning. The appropriately named Plymouth Orchards & Cider Mill is kind of on the other end of the spectrum from Diehl's. It's still a family-owned/woman-owned operation, but spread out over a bunch of acres outside of Ann Arbor. In the last few years, it's become a fully organic, working farm, and just this year, even added solar panels to help fulfill its power needs. Darla and I walked over to the petting zoo, because goats are awesome. Pet peeve alert (no pun intended): When the sign clearly says "Do Not Feed The Animals" DON'T FEED THE ANIMALS. Also, if you don't want your animals fed, DON'T PUT A SWIMMING POOL FULL OF CORN KERNELS NEXT TO THE ANIMAL PEN. It's kind of like having a "Do Not Touch the Car" sign leaning against a car that's got a hundred signatures on it and a dozen Sharpies on the hood.

The line to check out was long, but worth it. We grabbed some cider for home and cider slushies for the drive, and man were they good. I know I mentioned at the beginning about how much I like fall's cool air, but we were about a week early on that front. It was still in the mid-80s and humid as all get out, so those slushies hit the spot. And we also put one of the most underrated modern conveniences, vented seats, on blast. Every now and then, I have to take a moment to float outside of the moment and reflect on how bonkers the contemporary SRT Hellcats are. I know we know the numbers, the 10-second 1/4-mile, the 200+ mph top speed and, of course, the iconic 707 hp. But this dang car is so smooth, it's so effortless, it gets over 20 mpg with the A/C on full blast and just feels nice on the freeway. Darla has pretty severe vertigo, so my right foot stays pretty tame when she's riding with me. So that takes away what the SRT Hellcat is really known for, but even staying out of the throttle, the Challenger was a joy both around town and on the open road.

And it looks good while doing it. When we first picked the SRT Hellcat up, Darla wasn't so sure about the color. By the end of the weekend, Darla wanted a Plum Crazy Pearl ride of her own. It's one of those hues that just grows on you, and she's certainly a fan now. Let's face it, with the widebody and the blower + exhaust music, it's not like you're gonna go under the radar anyways, might as well own it!
Fall in Michigan. Cider, donuts and SRT Hellcats. Can't beat it.
Comments
Comments