Missing In Action Mopar® Vehicles
3 years ago Showcase
We've all read the headlines, heard the rumors or maybe even seen the cars. Whether it's a one-owner original or a carefully customized project, I can't even imagine the heartbreak of having your Mopar® muscle car stolen. As automotive security systems improve over time, the newest cars on the market are kept safe with modern features like GPS tracking, enhanced car alarms and modern key fobs; unfortunately, many old-school originals are still left unprotected. As a result, high-dollar muscle cars have become a common target for car thieves. With seemingly more and more classic Chrysler vehicles going missing every year, it's no surprise most cases become lost over time. Despite this, these three missing Mopar muscle machines remain unforgettable.
Steven Juliano's Mod-Top
Mopar man Steven Juliano was a big player in the classic Chrysler community and a prideful caretaker of some of the world's rarest cars. Among his eclectic collection was this stunning 1970 Plymouth Mod-Top HEMI® 'Cuda.

The Mod-Top option was a rare floral pattern offered on select Chrysler products from 1969 through 1970 that cashed in on the flower power fad. The option provided a psychedelic vinyl top and an interior available in blue, green or yellow.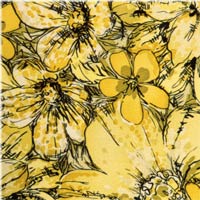 Only 84 of these botanical tops were stretched across the roof of a Plymouth in 1970. Of those 84, only 32 graced the bold body of a 'Cuda. Of those 32, only one car came with the almighty "R-code" HEMI engine. Needless to say, this 'Cuda is remarkably rare and valued at well over a million dollars. The one-of-a-kind Mod-Top 426-horsepower 'Cuda was stolen in May of 2016 straight from Juliano's New York manor. Despite years of dedicated care, it only took a moment to get ripped off. Rumors quickly spread that the car was headed to Queens, New York, yet nearly three years later, no further details have surfaced. With a vehicle as unique as this one, it's important to understand Juliano wasn't the type to just "own" a car. He felt he was more of a caretaker to rare parts and pieces of automotive history. Having a knack for Mopar vehicles and a soft-spot for the oddballs, he and the crazy 'Cuda seemed destined to be together.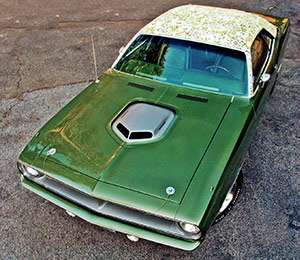 While we all have heard the horror stories of what happens to stolen cars, we Mopar vehicle fans can only pray that the flowered fish is being given a fraction of the care Juliano provided. Tragically, we lost Steven Juliano in September of 2018. He and his gorgeous 'Cuda are both greatly missed.
Kenny Wayne Shepherd's Dodge 1972 Charger

Muscle cars and rock 'n' roll, they seem to fit together perfectly. Like peanut butter and jelly, you just can't have one without the other. Rock 'n' roll legend Kenny Wayne Shepherd certainly seemed to think so when he built his radical resto-mod 1972 Dodge Charger. The murdered-out treatment and custom Chip Foose wheels certainly compliment the fuselage body style, while the late-model 392-horsepower HEMI engine and Viper six-speed transmission pack the punch. After making its debut at SEMA, the car lived a celebrity lifestyle; film features, photoshoots and a climate-controlled garage … ahhh, that's the life.
The car was awaiting pick-up for the filming of a Fast and the Furious spoof movie when it was stolen off the lot at a warehouse in November of 2013. The truck driver arrived to pick up the car as scheduled only to find it completely missing, along with four other vehicles. Security cameras proved a group of degenerates hopped the fence and drove off with all five cars just moments before the truck driver arrived. According to investigators, the thieves didn't appear to be the clever calculating types that would try to hock the car overseas; they were more the impulsive joy-rider types who were willing to risk it all for fifteen minutes of fun.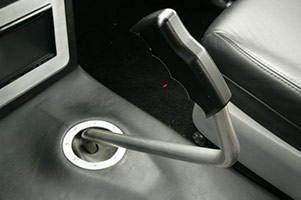 Despite the passing years, we still have hope that the Charger is quietly tucked away somewhere in the midst of bustling L.A. With distinctive features like shaved side markers, a custom pistol-grip shifter and one-of-a-kind Foose wheels, it can't be mistaken! Based on the markings left behind on a nearby 1968 Belvedere, it appears the thieves may have accidentally swapped paint with the parked Plymouth. This means the car we're looking for may be exactly as pictured, but with some dings, dents and yellow paint scratched across the body. Keep an eye out for this unmistakable Charger, especially if you live in the Los Angeles area.
Rick and Jackie's 1970 'Cuda
You didn't really think I'd recount these tragic tales of larceny without leaving you on a high note did you? While the aforementioned cars are still M.I.A., there is always a chance for rescue. Take it from the White family, who recovered their beloved 1970 'Cuda 13 agonizing years after it was stolen from their garage. Rick White bought the car with a 440 six-pack engine and 4-speed shaker transmission new; one of only 902 cars with its drivetrain options. He and his wife enjoyed it immensely, both on the street and on the track before it was cruelly car-napped back in 2001.
The couple passed out flyers and hunted through swap meets, but without a trace of evidence, the car remained missing for 13 years. That is until one day in 2014, when out of the blue, they received a letter from a tow company. The letter stated they were behind on storage fees and their 1970 'Cuda was at risk of being of auctioned off! Since the title was still in their name and the registration was under their address, the company sent the notice to the Whites instead of the man who had brought the car into the facility.
With the title and a police report in hand, it should be an open-and-shut case, right? Well, that's where the trouble starts. The state of Oregon has a statute of limitations of only three years and with no crime to convict, the police couldn't simply confiscate the car from the man in possession of it. One can only imagine the confusion, excitement and anxiety the couple felt in the midst of this complicated recovery. At the end of the day, law enforcement came through and reunited the car with its rightful owners. However, by the time the Whites finally got their 'Cuda back, it had been completely stripped.

A shell of its former self, the car was missing its original numbers-matching drivetrain, its interior, every component that made the 'Cuda special. After a debacle with police and the illegitimate owner, the Whites finally got back nearly every numbers-matching part to their car, but it still didn't do much good in pieces.
That's when local hero David Lentz stepped in. He and his crew donated their own time to fully rebuilding the Whites' fragmented fish. Within eight months, the team had the car back on the road to its rightful owners. Lentz decided not to repaint the car as he believed it would be wrong to cover up its history and make it look like any other restored 'Cuda. "The way it is now, it tells a story," he says. I couldn't agree more and I hope the owners enjoy every moment of reconciliation with their lost and found fish.
With over 100 cars going missing in the U.S. every day, it's no surprise most cases go cold. Despite the passage of time or the lack of investigation, there is always hope for recovery! The Mopar vehicle community is a tight-knit family, and that's where you come in! Keep a close eye out for hijacked hot-rods and remember, if anyone can find these missing Mopar vehicles, it's YOU!
Comments
Comments