Ahead of the Curve
3 years ago Showcase
Peter Filippatis and his '69 Dodge Charger have been ahead of the curve for a while. "I'm old muscle with new technology," he quipps. I think most of us still remember a decade or so ago when doing a resto-mod of any kind usually required some type of LS motor swap. The late-model HEMI® V8 engines were just coming onto the scene and they weren't even available to buy as a crate setup from Chrysler. The aftermarket was in its infancy. But hey, someone had to blaze the trail!
Peter was the guy.
To begin, he needed the car.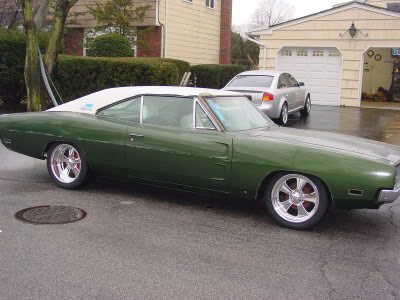 "The car was green, white vinyl top, white interior," said Peter. All of the metal on the car is original – floors, doors, everything. These cars were rust buckets – disposable after 5 years, you know. This one by chance has great metal on it. I bought it sight unseen out of Florida. I thought 'what's the worst that could happen?' Structurally, it was much better than I thought. It was 400 hours of bodywork and paint. All the work was done for fit and finish. Notice all the gaps are perfect. I shaved the drip rails. There used to be belt moulding, but I trimmed it and smoothed it out. I built it wanting the body super straight. STRAIGHT. When I built the car, I took a sharpie and would write all over it. I would write 'cut this, shave this, fill this in.' There is a bumble bee stripe with 'HEMI' script that pops in the sun. I didn't want it pronounced, so we went a couple tints darker than the original color." From the body to the paint, his favorite word is "subtle."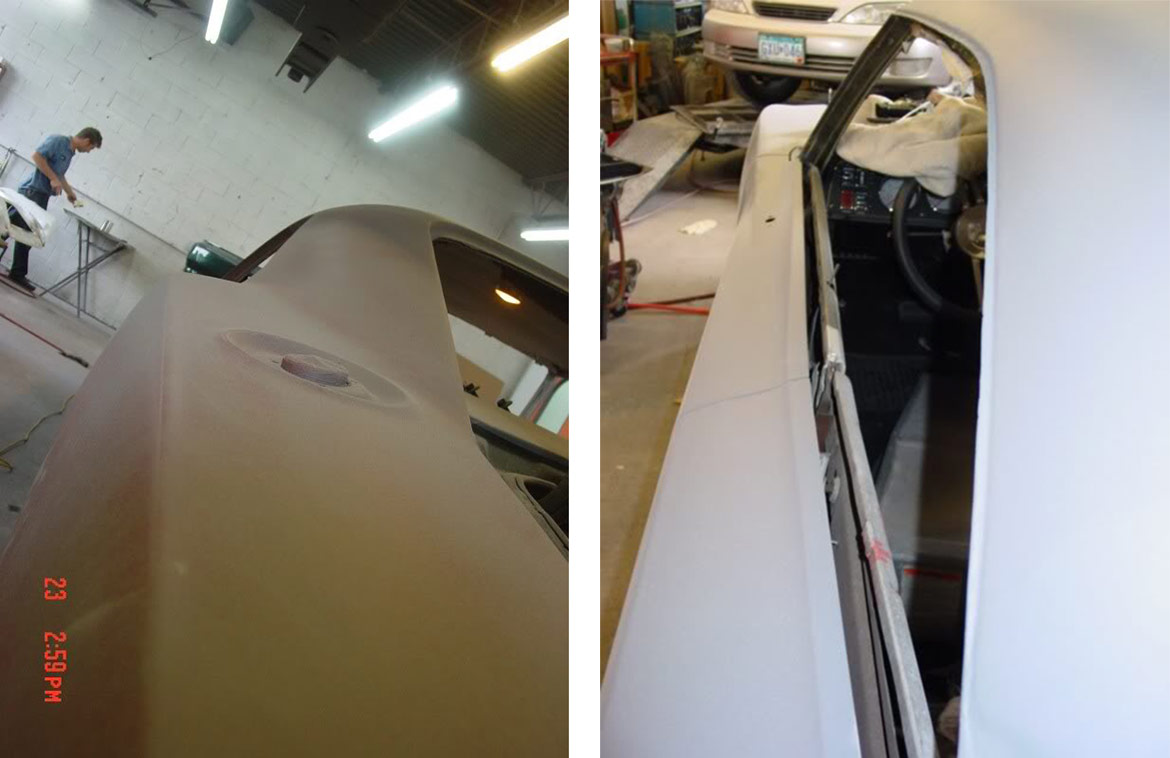 The Charger is stunning. My photos don't do the color justice. It's a slightly modified old GT40 hue that's magic in the sunlight. I think it was the Gulf blue before Gulf went with the now ubiquitous light baby blue. With that color, and the front spoiler off of a '69 Camaro, Peter wasn't afraid to think outside of the box. Nor did he cut any corners. How the whole package works together is the result of planning and execution.

The "fit and finish" motto didn't stop at the exterior.
"That motor looks like it belongs in it. You know what the best part is? Nothing was cut in this car [to make drivetrain fit]. Stock firewall location, transmission tunnel. Everything," said Peter.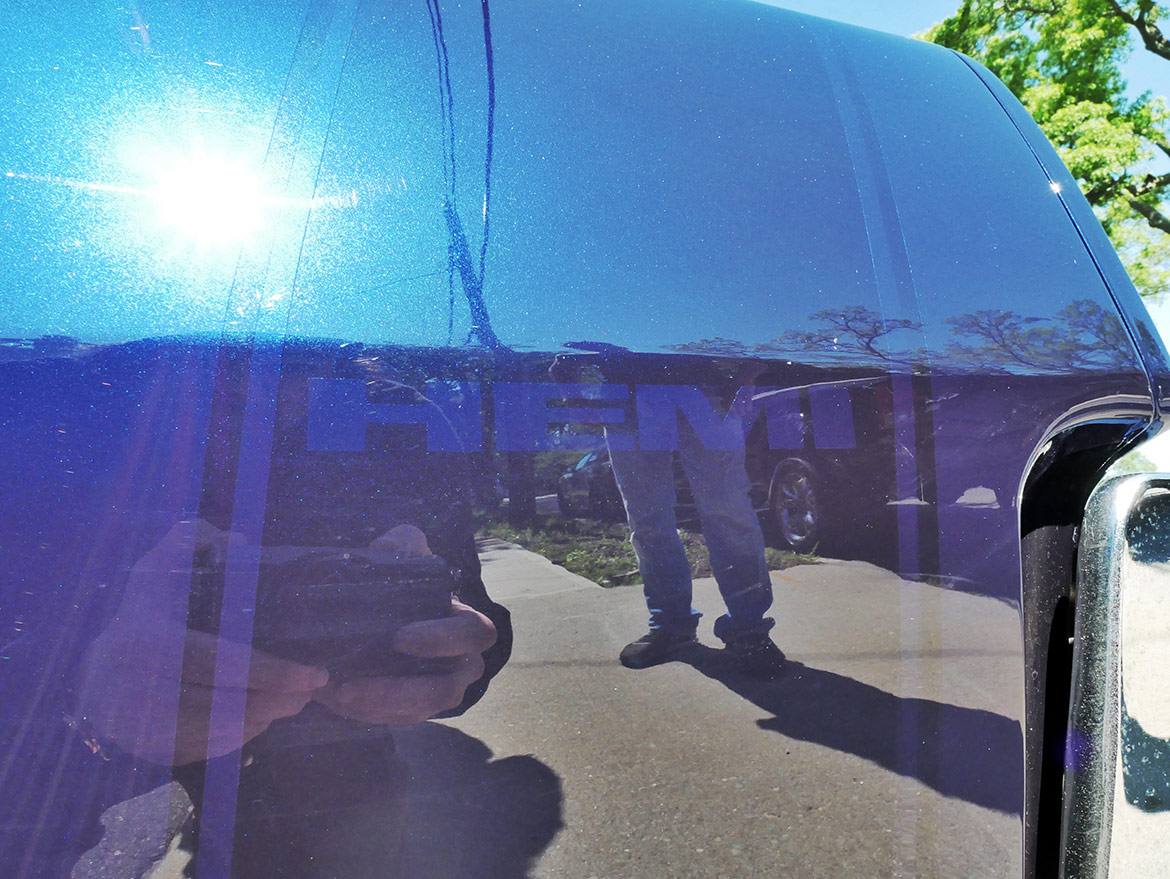 Usually, when the fit is so perfect, the bay was built around the engine. It wasn't possible in this instance.

"I installed the motor after I painted the car because the motor wasn't even available then," said Peter.

How he got the engine itself is kind of crazy, too! This was 2006, before you could go to Mopar.com to order any late-model HEMI engine your heart desires. But Peter knew what he needed.
"I bought the car thinking I wanted to do a fuel-injected motor," said Peter. "I didn't want a carburetor; I wanted an old car with a new feel. I'm a fuel injection guy, I'm not a carburetor guy. I grew up in the '80s, you know."
So the original 318 wasn't gonna cut it. It was time to upgrade to a fuel-injected V8, the 6.1L engine found in the early SRT® vehicles.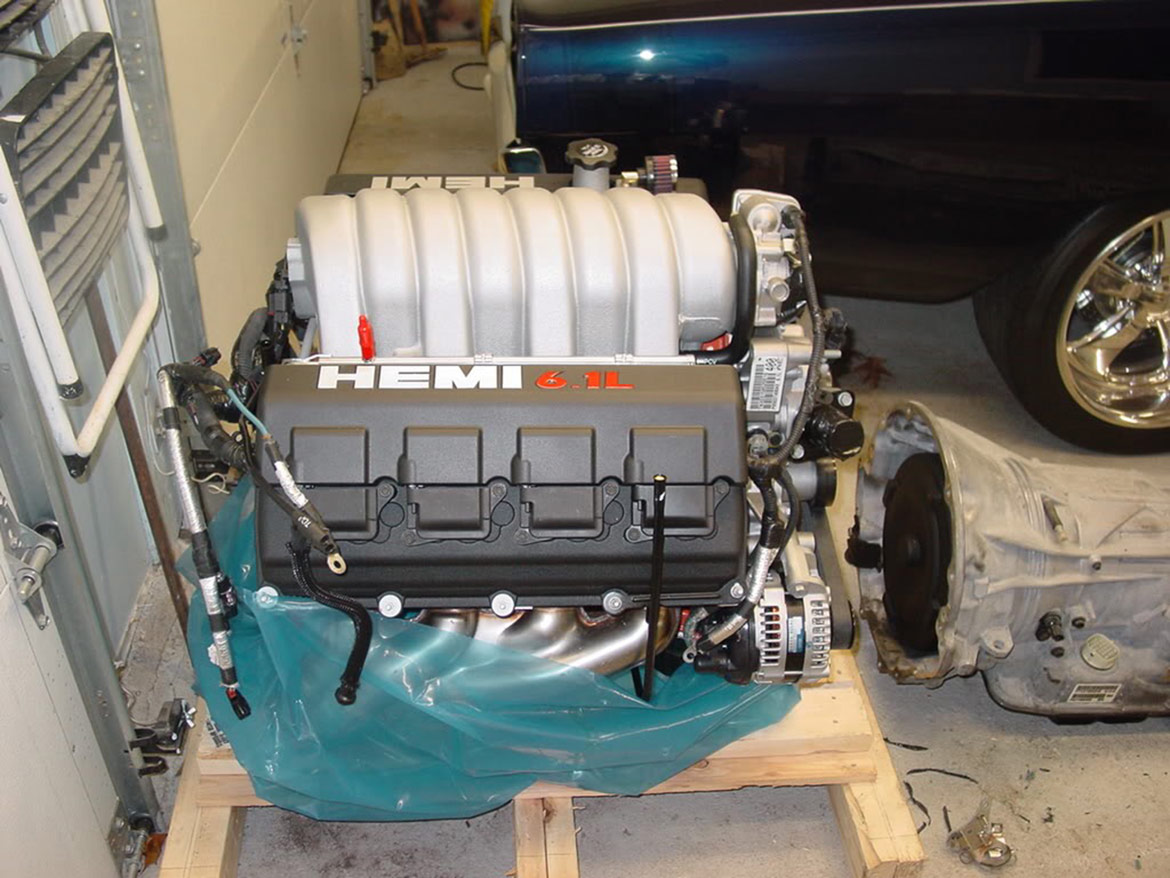 "I got the motor from Chrysler themselves. I was buying parts in '06, so I made a deal to buy a motor off the assembly line so I could show the car in their booth at SEMA. Right at that time, a major corporate change took place, so the car never went to SEMA, but I got the motor. They overnighted the motor to me on a crate. It was pretty cool, but then it was up to me to figure everything else out. Now, they have the Hellephant and different kits, but at the time, I didn't have any aftermarket support."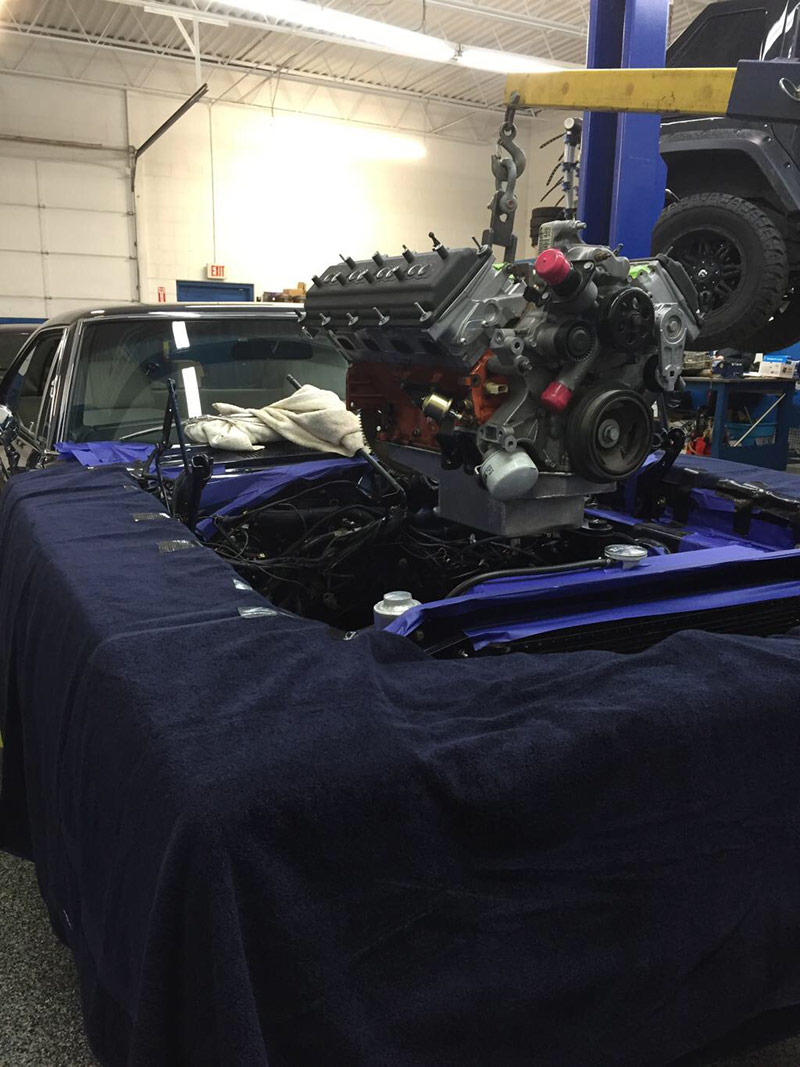 After Jimmy from True Street Performance installed the 6.1L, it was time to get it running. The leaps and bounds modern Mopar® performance has made in the last 13 years has been incredible; and in 2006, performance calibrating late-model HEMI engines was in its infancy. There were no years of experience to fall back on, and there was no "plug and play" solution. You had to find a tuner you trust. Peter went to AJ Berge, now the head of Hemituner Performance. They learned a lot about what you could get out of that motor.
"AJ at Hemituner tuned it with a 5.7 computer. Then, we put a 6.1 computer on it. Then, we dyno'd both to see which made more power. Then, I snapped the transmission in half on street tires because it's so violent when you want it to be," said Peter. The trans is now a built 4L60-E that "shifts like an F1. It shifts so fast." There are even integrated shifting paddles behind the steering wheel, which is still on the original column. How cool is that?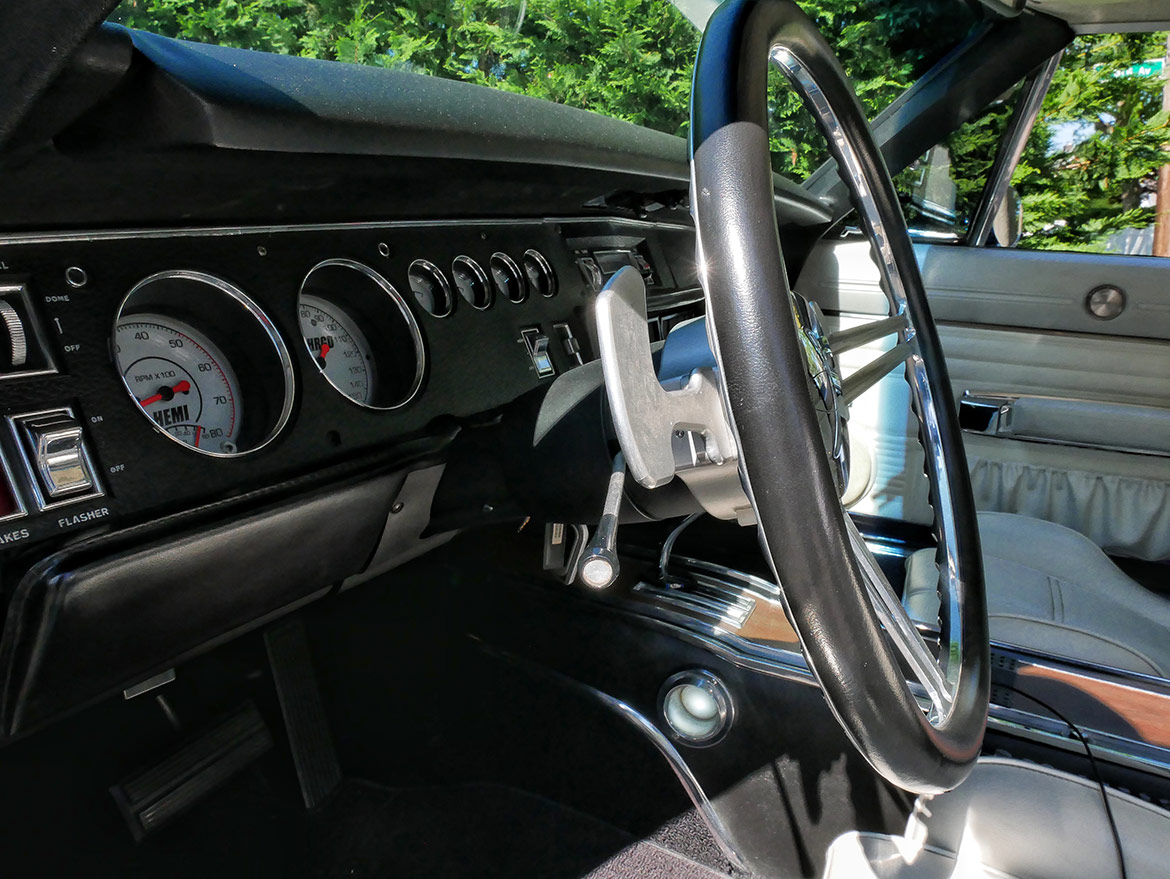 With TTI headers and a custom exhaust, the Charger screams. Things like a carbon fiber driveshaft, beefed-up suspension, 4-wheel disc brakes and a 3.90 rear gear ratio to go with the overdrive transmission give it a very modern feel. Peter is a master of attention to detail. Inside, he has new seats covered to match the rest of the interior. The wiring is all cleaner than factory, hidden away. It shoots cold A/C. There are power windows, power locks, a satellite radio, iPod® connecter and a killer sound system. Dynomat everywhere helps keep the cabin noise down. LED lights illuminate the custom, yet original-looking gauge cluster.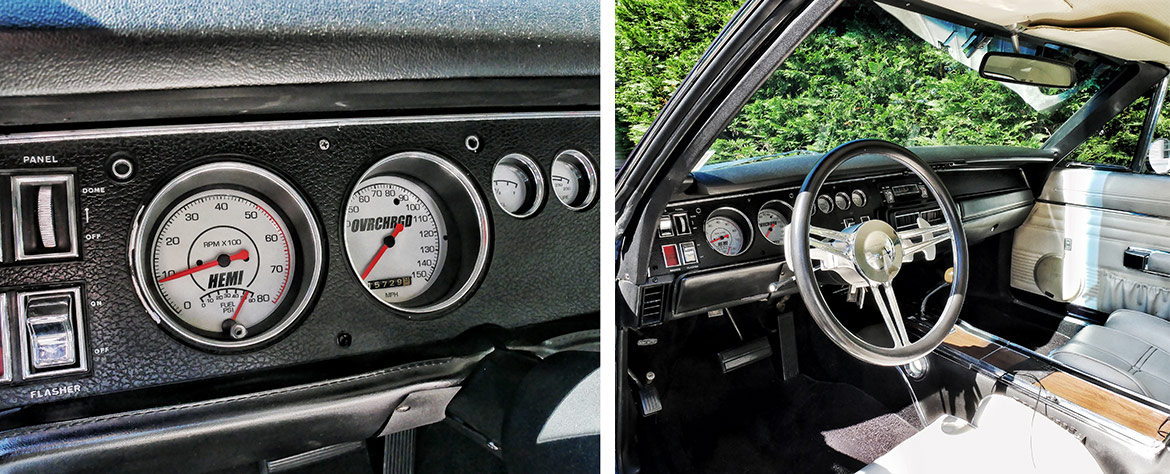 Peter took me for a ride. The power to weight ratio isn't far off from a Dodge Challenger SRT Hellcat's. There's a ton of torque. It's really, really quick and stops on a dime. Burnouts are glorious. And there are no rattles, no creaks, nothing "off" like so many of these projects have.
"It was up to me to get the finesse going," said Peter. "There are a lot of swaps going on, but the finesse is where everybody lacks. Attention to detail – no engine lights coming on."
"For the most part, this car is home built," Peter continued. "I go to SEMA every year and I see all these builds. I talk to all the top builders and ask how much shakedown time they have on the cars. They say 30 hours. I'm like 30 hours? They say all the stuff works, but it doesn't work. You can't just throw stuff together. They show cars at SEMA and maybe one other event. That's it. And stuff doesn't work on them all the time. And they're charging half a million dollars. I look at my build compared to theirs and my car works. My windows go up and down perfect. It doesn't squeak. It doesn't rattle. It feels better than cars 15 years newer. It feels right."

This is quite possibly the first resto-mod built with a "crate" motor right from Chrysler. One of the first Mopar resto-mods, period. It inspired and paved the way for a new generation of "pro-street" muscle cars.
He's been "dialing in" the car for years as he's driving it and has a healthy 16,000 miles on the clock.
"I was so early in the game," said Peter. "Now I see all of these builds and I'm like, ah it's cool. I'm like 8 years ahead of them. The hard thing is, where do I go from here?"
Comments
Comments