Mopar® Crypt Keeper
3 years ago Showcase
Don't ever refer to Mo-Par City as a "junkyard" – I did that one time.
Its owner, Larry Pontnack – in his trademark loud, growling voice and scowling face – corrected me in a hurry.
"This is a restoration yard, got it?!?"
Pontnack takes offense to anyone who refers to Mo-Par City as a junkyard. Like the barking guard dog roaming between the long rows of twisted and decayed hulks of sheet metal that once ruled Main Street, Larry's words were a stern warning that made me stop in my tracks.
"Got it, Larry, no problem, sorry."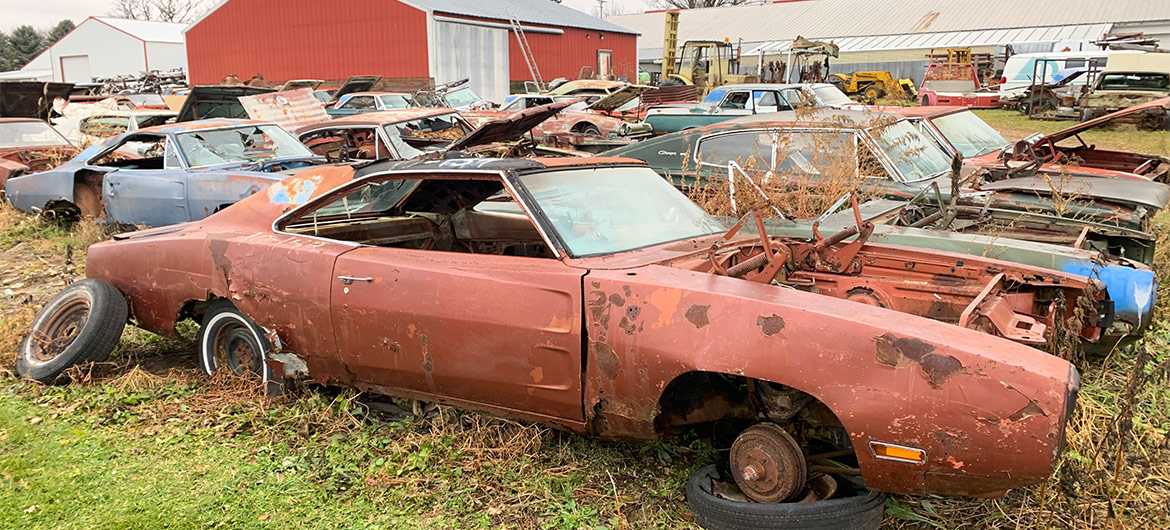 Larry's right. Many folks may look at Mo-Par City as another junkyard tucked away in the rolling fields of Illinois farm country, but they're wrong. These old Mopar® muscle cars from the past six decades might come here to die and rust back into the earth, but until there's nothing left but rusty powder to be swept up with a broom, there's valuable parts clinging on the skeletal remains of Challengers, 'Cudas, Chargers, Darts and many more. Make no mistake, the vintage Mopar hobby is still alive and well and hitting on all eight as there's still a need for rare used parts. If you're in the middle of a restoration and can't find a certain item that was discontinued decades ago, chances are Mo-Par City in Oregon, Illinois, will have it.
To find out how Larry ended up owning one of the biggest Mopar-only "restoration" yards in the country, we have to go back to the 1960s when he was a young drag racer competing all over the Midwest in the now defunct UDRA (United Drag Racers Association) circuit. His first Mopar vehicle was a 1963 Dodge Polara with a 426 Max Wedge that terrorized drag strips throughout Illinois. From there, Larry got even more serious about going fast and procured a 1967 "WO" Dodge HEMI® Coronet and then later, one of the original, factory-built, Super Stock HEMI Darts. Larry even had some fast street machines that doubled as "tow vehicles" for his racecars. This included a 1964 426 Max Wedge Dodge 330 with a factory aluminum front end. Imagine the vehicle you tow with being almost as fast as your racecar! Larry may not have ever had the full factory support of Sox & Martin or Dick Landy, like other Pro drivers back in the day, but he worked just as hard in winning races and going fast. In 1970, Larry teamed up with another Mopar drag racer, Larry Griffith. Griffith had some factory backing when he ran Super Stock and Pro Stock for Dodge back in the late 1960s and early 1970s, and Pontnack drove Griffith's second car. Later in the 1970s, Pontnack was behind the wheel of his 1965 A990 HEMI Plymouth Belvedere when he won the 1978 AHRA World Series Bracket Nationals at Byron Dragway. Pontnack went fast and consistent for many reasons, including the fact he'd attended numerous Mopar racing clinics and spoke to many of the Chrysler race engineers back in the day.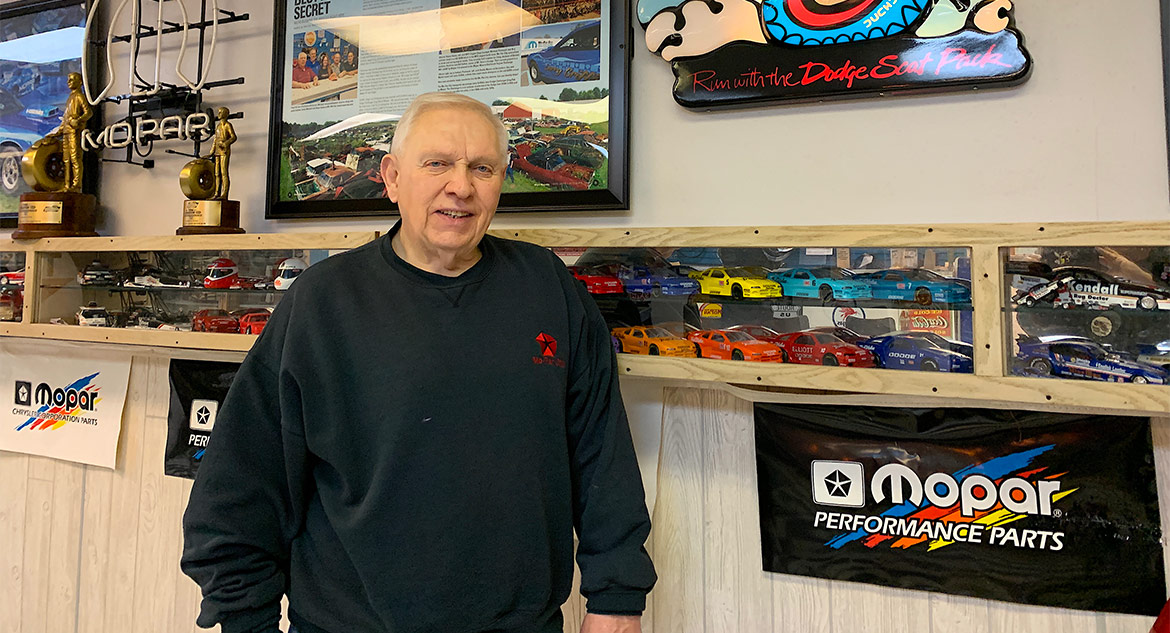 "In the 1970s, I used to go to the Mopar Direction Connection Drag Seminars in Highland Park and Centerline, Michigan," said Larry. "Tom Hoover, the Godfather of 426 HEMI, would teach us a lot things, but he always said, 'There's such thing as dumb questions,' we all learned so much from that man," reminisced Pontnack.
To help fund his racing, Larry saw the need to start selling new and used Mopar parts and founded Mo-Par City in 1974. He was building many projects for customers and needed to keep fresh parts on hand. These customer vehicles included racecars and fast street machines that terrorized the competition both on the street and at the drags. Larry began scouring salvage yards all over the country looking for old Mopar vehicles. "I started going to other salvage yards in which the owners had either passed away and/or were going out of business and began dragging these cars out of the mud and weeds," said Pontnack.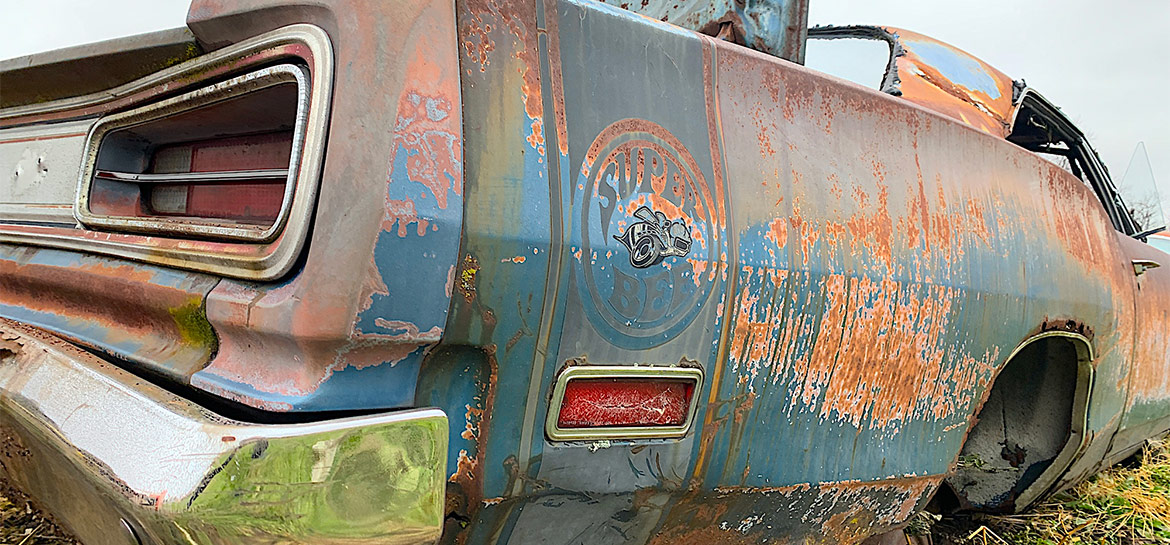 Throughout the decades, Mo-Par City has grown to 14 acres that include seven permanent buildings totaling over 25,000 square feet. Within their walls are Carter and Holley carburetors, along with tons of intake manifolds, air cleaners, cylinder heads, engine blocks, exhaust manifolds, transmissions, rear differentials, sheet metal, chrome trim and just about anything a restorer of a vintage Dodge, Plymouth or Chrysler would ever need. Some of the rare oddities in this collection include a 1962 Dart 413 Max Wedge and a 1963 Plymouth two-door post police car that had a 383 in it at one time. There's also numerous Road Runners and Super Bees that each have a story to tell. Helping Larry keep track of his massive inventory of vintage Chrysler parts and everchanging cars is Mike Miller. At 43 years of age, Mike's comparatively young in a hobby that's geared toward baby boomers north of their 59th birthday. Mike's hard work and Mopar knowledge is a huge asset to Pontnack. Miller has no problem climbing over, under or even sideways in the middle of winter unbolting a part off a rusted hulk for a customer. Mike's also an avid Mopar gearhead and knows where everything is in Mo-Par City's massive yard and sheds.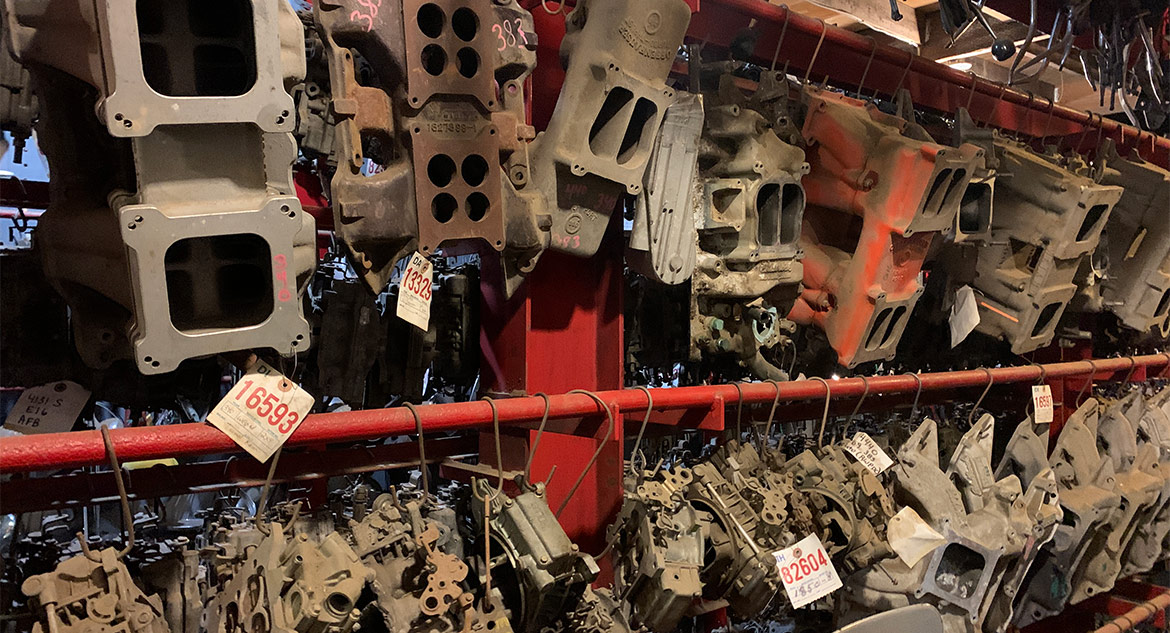 "Unlike some salvage yards that have parts for Ford and GM vehicles, we only handle parts for old Mopars," exclaimed Pontnack. "We don't mess with that 'junk' and stay focused on helping customers with old Chrysler, Dodge and Plymouth vehicles. Like Lee Iacocca said, 'We don't want to be the biggest, just the best,' and with over 780 vehicles spanning decades, it really gets your attention when you walk in this place. Over the last four decades, Mo-Par City has helped numerous Mopar enthusiasts restoring muscle cars with hard-to-find parts and technical assistance."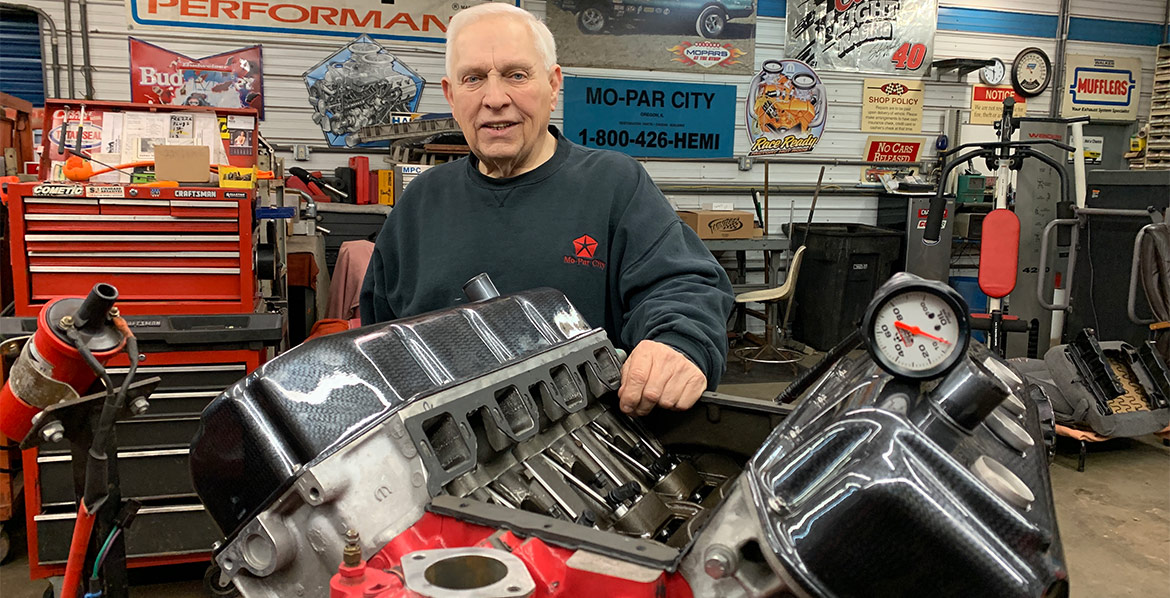 Pontnack's vast knowledge of all things Mopar has set many first-timers and even veterans of the hobby on the right path when it comes to restoration and even high-performance engines. Along with the yard filled with old Mopars and the buildings stacked with vintage parts, Mo-Par City had another side of the business known as the MPC Engine Shop. Here, second-generation Mopar racer Michael Pontnack carries on the family tradition of building Mopar small blocks, big blocks and HEMI engines for street and race enthusiasts. There's a complete machine shop and most of the work is done in-house. Despite being in his 70s, Larry's always on hand to make sure both sides of the business are running like a fine-tuned 440 Magnum.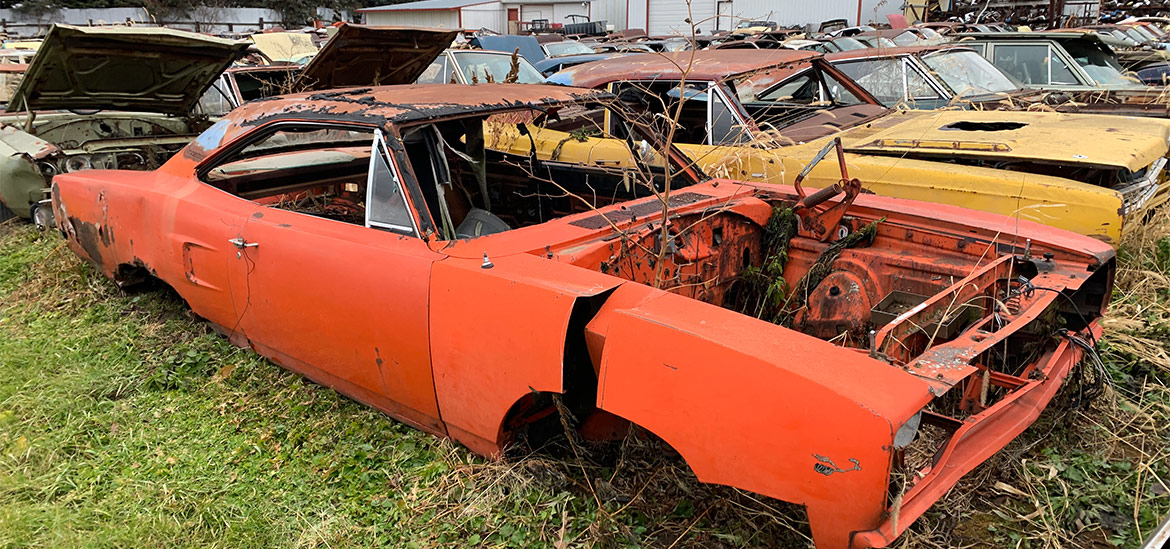 Larry is getting up there in years, so he's also contemplating turning the reigns of his mighty empire over to someone else to keep the Mo-Par City legacy humming along. It's a daunting task to say the least with many challenges. With Larry's son focused on the engine building side, he needs to find the right owner to keep these rare and unique parts and vehicles available to enthusiasts. With some luck, there might be a young gearhead out there looking to preserve what Larry began over 40 years ago and be the next-generation Mopar Crypt Keeper. Here's just a small sample of the treasures found at Mo-Par City.
Comments
Comments