Cars Under the Stars
4 years ago Events
This may sound un-American, but I'm not usually into fireworks. It might be because, at least in Michigan, some of the population thinks the "firework season" begins in May and ends in September; the rest of us have, you know, jobs that we have to get up for at 5am. It might be because I play with fire for a career. I've been known to set myself ablaze while welding. Or it could be, simply enough, that most dogs hate fireworks and I love my dogs. Be that as it may, I've sorta started to warm up to them.
The Detroit Tigers have a cool tradition where after every Friday night home game they put on an insane pyrotechnics show, shooting the rockets up from straightaway center field. My wife, Darla, loves it, and the last time we attended, we sat in the first row on the third-base line, which gave us an unobstructed view of the entire presentation. It's neat to be that close to the action, where your entire field of vision is filled with explosions of shooting stars and you can feel the concussions in your bones. This 4th of July (or the Sunday before, more accurately), about 30 miles up Woodward Avenue from Comerica Park (home of the Tigers), M1 Concourse put on a likewise visceral experience in what looks now to be an annual party.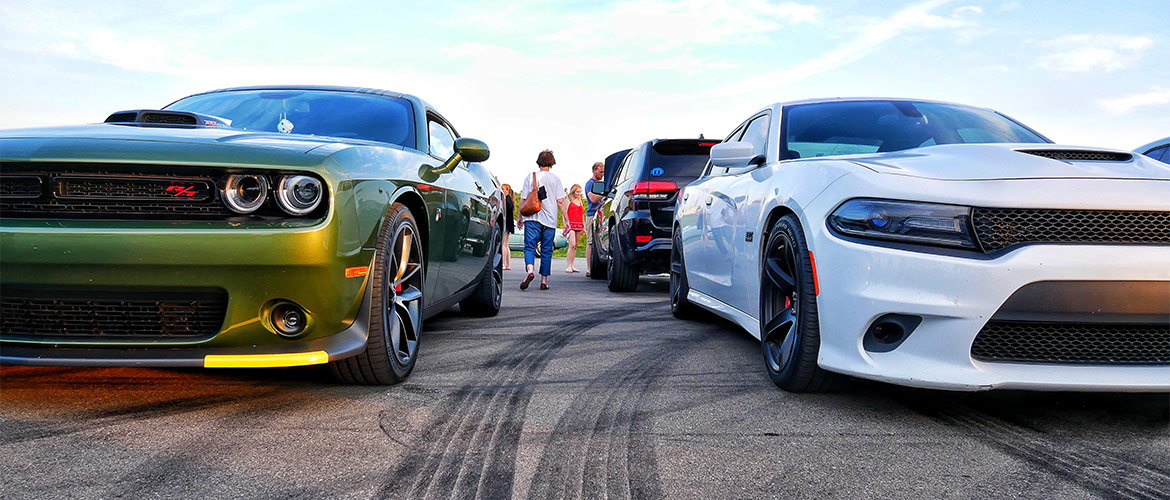 They call it "Cars Under the Stars". For $5 per vehicle, you could park on the track's skid pad. M1 really did it up with food trucks, drinks and live music. It attracted a bunch of really neat rides of all makes and eras, so many that the pad couldn't contain them all and the cars started lining up around an interior section of the track.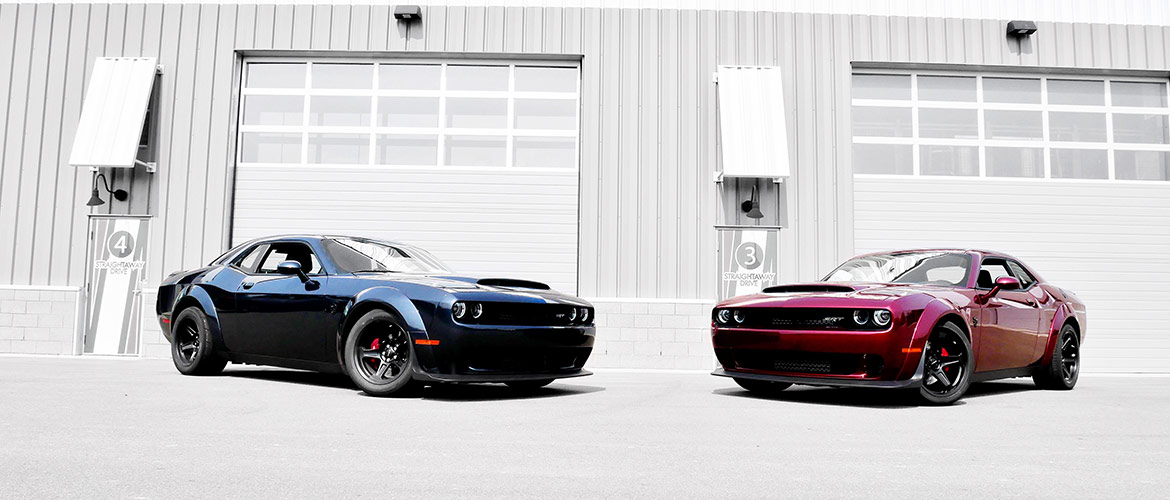 We drove the Dodge Challenger SRT® Demon up to watch the show from a friend's garage, and the view couldn't have been better! Much like the experience at Comerica, we had an unobstructed view of the whole shebang. The pyro crew set up on the infield towards the end of the long straightaway, basically right in front of us. Officials passed to park inside the garage, as we were pretty much directly under the show and there might be some hot embers floating around.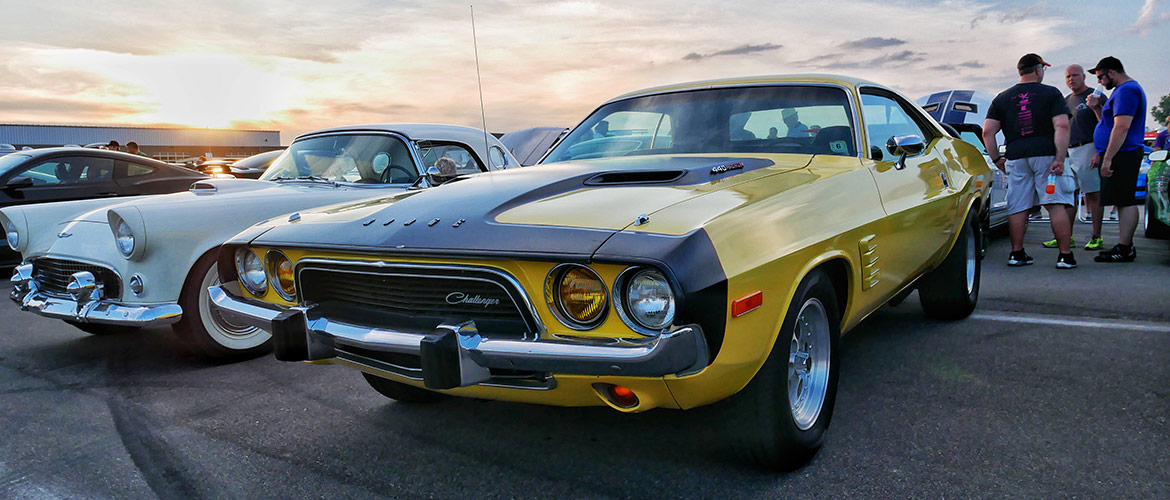 It was hot as Hades and the trek from our garage to the skid pad to check out the hot rods was a significant hike. Lucky for us, former Dodge and SRT boss and current Head of Design for FCA Ralph Gilles and his wife, Doris, were having a family reunion next door, and also they have a sweet golf cart/buggy! Doris was kind enough to haul our butts to and from the pad. The time of night was right for pictures and I tried to capture as many cool Dodge rides as I could find.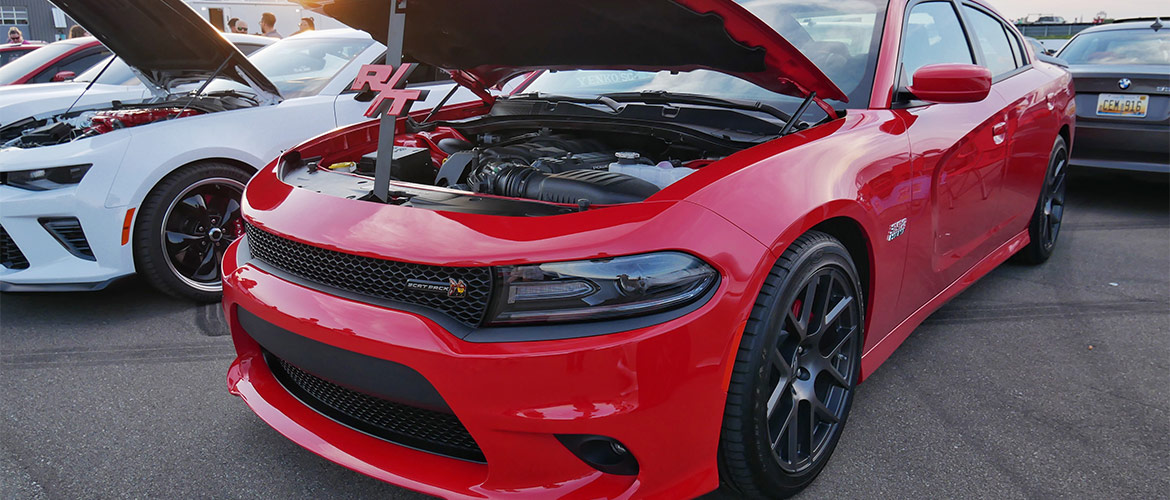 As the sun dropped under the horizon, we pulled chairs out of the garages to watch the fireworks. It was a terrific show, and a unique experience to view the blasts going off right over our heads. Afterwards, we stayed back and hung out with friends until the traffic died down. They actually did a decent job of getting everyone out in a timely manner, although they're looking to improve that facet for next year. Nobody wants to be in a line of cars at 10:30 on a Sunday night.
A good fireworks display is something that needs to be experienced, not talked about or watched on Instagram. A car show, however, can still be satisfying to watch through the lens of a camera! So here are some photos of Cars Under the Stars!
Comments
Comments