Hagan's Hammering HEMI® Scores Another Win at NHRA New England Nationals
4 years ago Racing
Matt Hagan and his DSR HEMI®-powered Mopar® Dodge Charger R/T Funny Car scored his second straight win of the season at the NHRA New England Nationals in Epping, New Hampshire. Hagan's machine was hitting on all eight as he was the No. 1 qualifier for the third time this season (33rd of his career) after clicking off a stellar 3.932 second pass at 320.20 MPH on Friday, it held up through Saturday's two final qualifying rounds.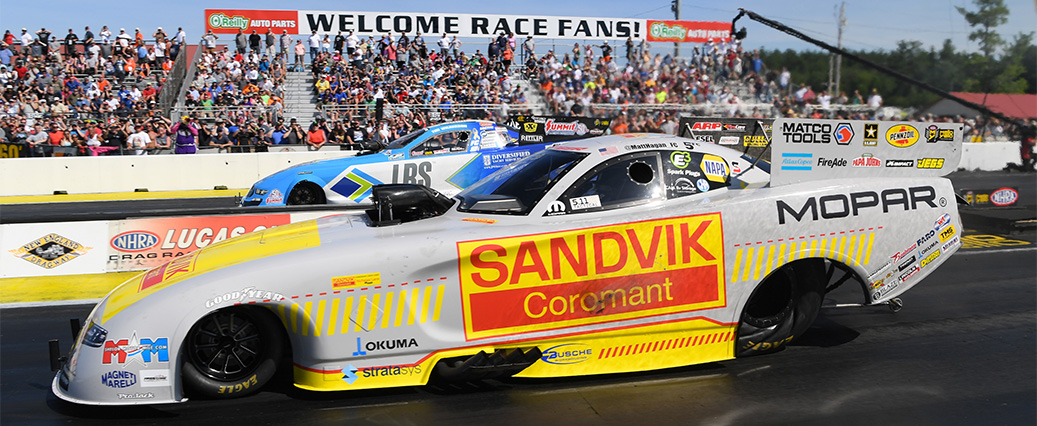 It was that consistent and "dialed-in" performance that gave Hagan the ever-critical lane choice when going up against his opponents on race day.
In the final round, Hagan went up against Tim Wilkerson in his Mustang but the Mopar Dodge Charger R/T was quicker off the line and led this race from start to finish. Hagan's car went straight down the groove at New England Dragway with a 4.156 ET at 292.01 MPH to Wilkerson's trailing 4.181 second run at 287.35 MPH. After winning in Norwalk, Ohio, last month, this is Hagan's second straight victory and his third win of the 2018 NHRA Mello Yello Drag Racing season. Hagan is now solidly in second in Funny Car points with 914.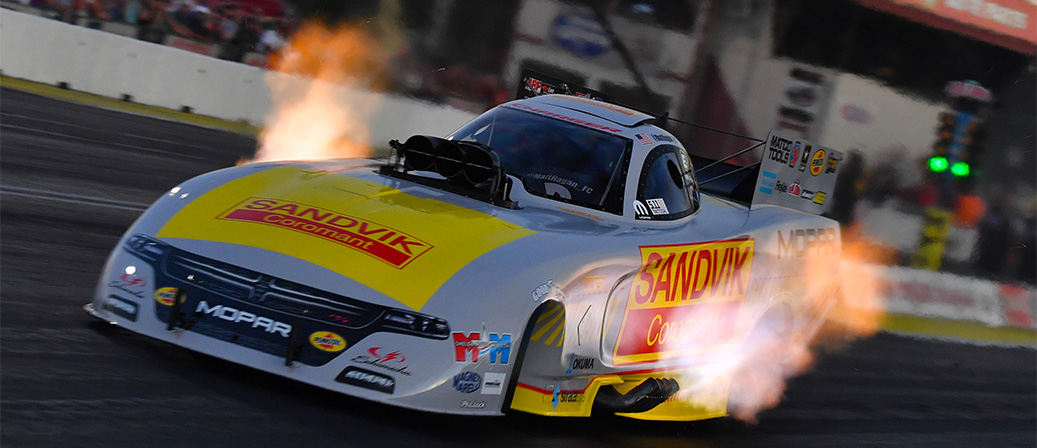 "We've just got a good racecar. I think the biggest thing is (crew chief) Dickie Venables," said Hagan, who gained almost 100 points on category leader Courtney Force over the course of the race weekend. "The guy is smart. If you give him enough runs and enough opportunities at whatever it is, he's going to figure it out. I think that's why he's been in the sport for over 50-some years. He's been doing it since he was hanging on his dad's leg. He's somebody that I want to keep myself around as long as possible. He works hard, this is his life and it goes to show on the racecar. There's also luck, that last lap it was like a dirt track. My rear-end was sideways and coming back around and I could hear (opponent) Timmy (Wilkerson) over there and you're looking around to see where they're at. That's what makes it exciting in a fuel Funny Car, man. You never know what you're going to get. I've never had the same lap back-to-back.
"This car has just been going down the race track. We turned four win lights on in Norwalk and we turned four win lights on here and we went down every lap in Norwalk and we went down every lap in qualifying here. We just pretty much have what you would call a bracket car in a fuel Funny Car. It's just responding well to what they're asking it to do. It makes my confidence grow. As a driver, it makes my lights come back around. I'm more focused on that and I'm not thinking about whether the car might come loose or what it's going to do if I have to slap the tires. I can get up there and tell myself 'leave on time, keep it in the groove, turn the win light on.' You're focused on what you have to do versus what everything else is going to do.
"I'm proud of my guys. They just haven't had any mistakes. This whole year, my crew has really not faltered. They haven't had any whoops. They've been doing a great job wrenching. They're very thorough on touching the parts and pieces and making sure they're going together."
In the Top Fuel class, Leah Pritchett advanced her Dodge/SRT®/Mopar Dragster to the semi-finals before fellow teammate Antron Brown beat her on a holeshot. Pritchett had qualified her Dodge/SRT/Mopar Top Fuel Dragster to her second consecutive No. 1 spot at the NHRA New England Nationals, ninth overall of her career, and was looking for another win.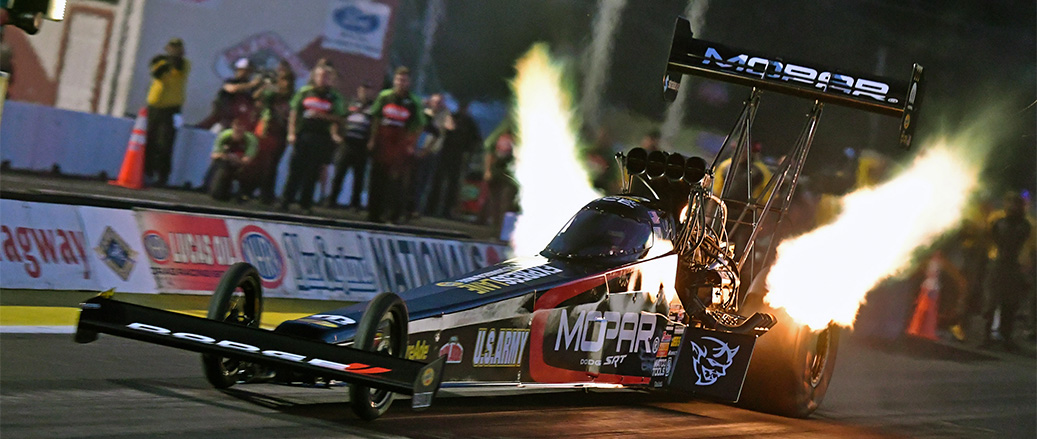 In the opening round, Pritchett squared off against Audrey Worm and Doug Kalitta and defeated them both handily with solid high three-second runs. She did have lane choice heading into the semi-finals, but came up short as Brown crossed the finish line approximately three feet ahead of Pritchett. She's currently fourth in the NHRA Top Fuel points chases with 820.
"Incredible racecar underneath me and an incredible team, no doubt," said Pritchett. "We were adapting every round to the situation, the competition just got more stout, tougher and tougher. I'm proud that we had our three DSR Top Fuel cars in the semifinals. I was feeling it today; the car was doing well. We kept backing the car up. I take the hit – you know, two hundredths late on the (starting) tree and a couple thousandths quicker off a car (against Antron Brown). When it's that close, that's when you look for those win lights, and the moment that you see it in the other lane, it's devastation. But when you do get the first two win lights like we got today, I'm very proud of that and proud for the Mopar team and putting that Mopar power on the ground. There are always different situations. We haven't run this combination before, we're playing with our starting line setup. I'm down on myself, not in a negative way, but (to) keep trying something different, just like my team does with the racecar. I went back and talked to (crew chief ) Todd (Okuhara), and he actually apologized for a change we made to the car that we hadn't done before, and I said, 'It doesn't matter, it is what it is.' In order to win a championship, we're all going to have to continue getting better at the same time. We're going to do it. We win and lose as a team. Onward and upward to Denver."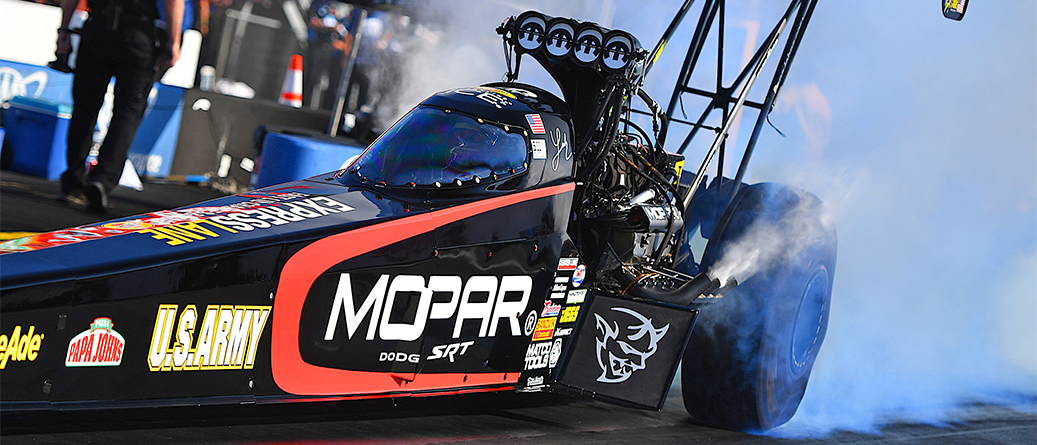 Our DSR Dodge/SRT/Mopar Top Fuel and Funny Cars will get next weekend off before kicking off the annual "Western Swing" at the Dodge Mile-High NHRA Nationals the weekend of July 20-22 at Bandimere Speedway in Morrison, Colorado.
Comments
Comments