Carolina Couple Dominates the Local Show Scene with Dodge Muscle
9 months ago Gallery Owners + Clubs
The vast majority of Dodge owners who we feature showcase their muscle cars in a motorsport setting – typically drag racing or road racing – but modern Challengers and Chargers don't just dominate the racing world. The big, bold styling of today's Dodge muscle cars yields great aerodynamics, but that styling also leads to some beautiful cars that appeal to car show judges, as has been proven by Patrick Ammons and Anna Konya. This couple from Conway, South Carolina, has a pair of Dodge muscle cars that have been modified in their own way, allowing the two to rack up car show wins all over the southeastern United States.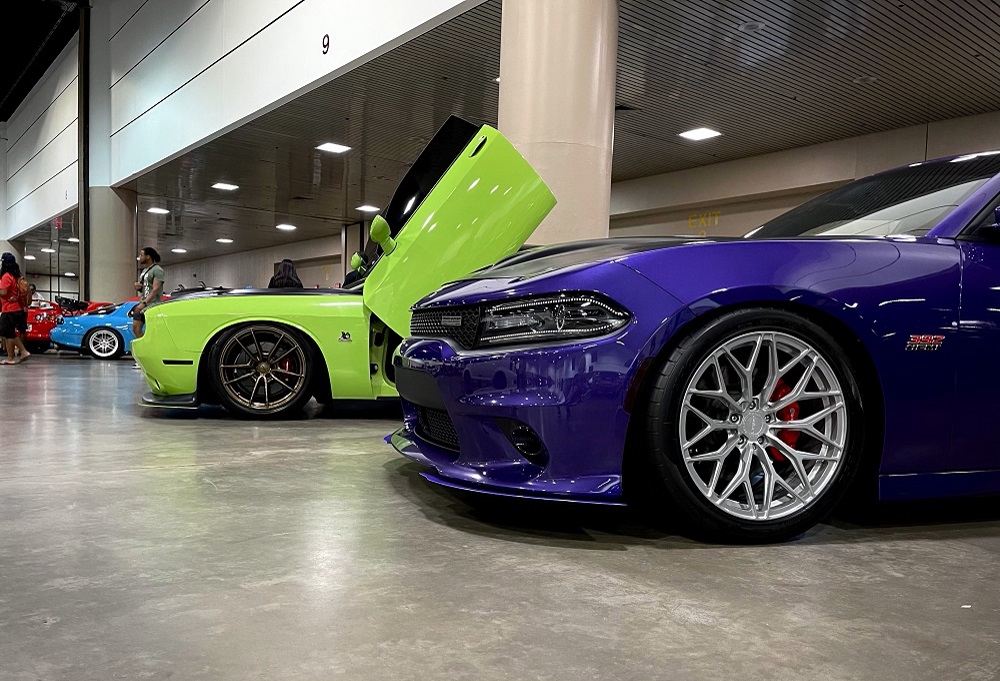 In just 2021 and 2022, Patrick and Anna took home a total of 174 trophies, with her Challenger leading the way with 92 pieces of hardware and his Charger claiming 82 titles over those two years. There were 730 days total in 2021 and 2022, so with 174 trophies won during that time, the couple averaged a win every 4 days … so at least one of them took home a trophy just about every week. In seeing their success online, I reached out to the couple for more information on their Dodge muscle cars and their time in the show scene.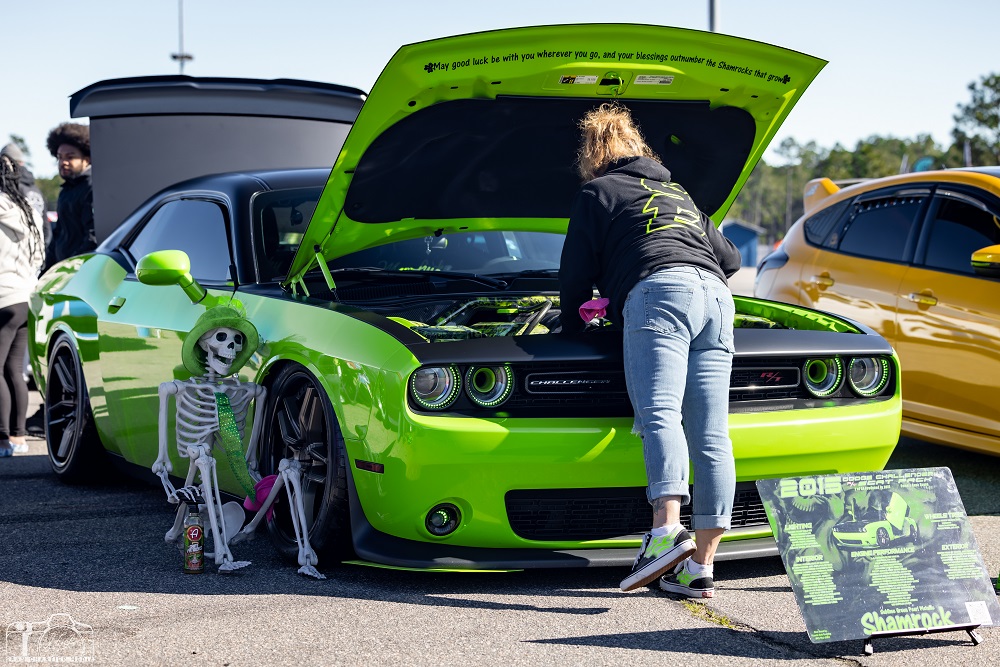 In speaking with Patrick Ammons, I learned that the Challenger and Charger shown here are the most elaborate builds that he and Anna have owned. Prior to the Challenger, Anna had a Camaro RS that had a few basic visual upgrades while Patrick had a 2014 Charger SRT8 that served mainly as a street-and-strip car, but he did occasionally take it to shows.
When Anna bought her Challenger R/T Scat Pack in January of 2019, it represented her triumphant jump to Dodge from the GM world. At first, it was primarily a daily driver, so she planned to add some basic upgrades to make it her own, but she never planned on the car becoming such an elaborate build. When Patrick bought his Charger R/T Scat Pack in June of 2019, he wanted the car to offer better drivability than his 2014 Charger, but he wanted the best of show-and-go from his four-door muscle car. However, as we can see from the pictures here, both of these cars are heavily modified and both drivers have plans to do more.
Anna decided to go bigger with her build at the Klean Exhibition in Greenville, South Carolina, in 2019. At that point, she had a full custom leather interior, underhood dress-up, aftermarket wheels and a beefed-up sound system, but in seeing the competition, she knew that she would need to do more in order to compete in the indoor car show scene. This revelation led to her adding the vertical doors, the air suspension setup, the custom wrap and new wheels.
As for Patrick, when Anna began building bigger, he made some moves of his own to stay ahead of his competition (and to keep up with Anna). He added the interior carbon fiber components, the Lighting trendz halos, the engine bay lighting, the grille lights, new subwoofers and an air suspension system of his own.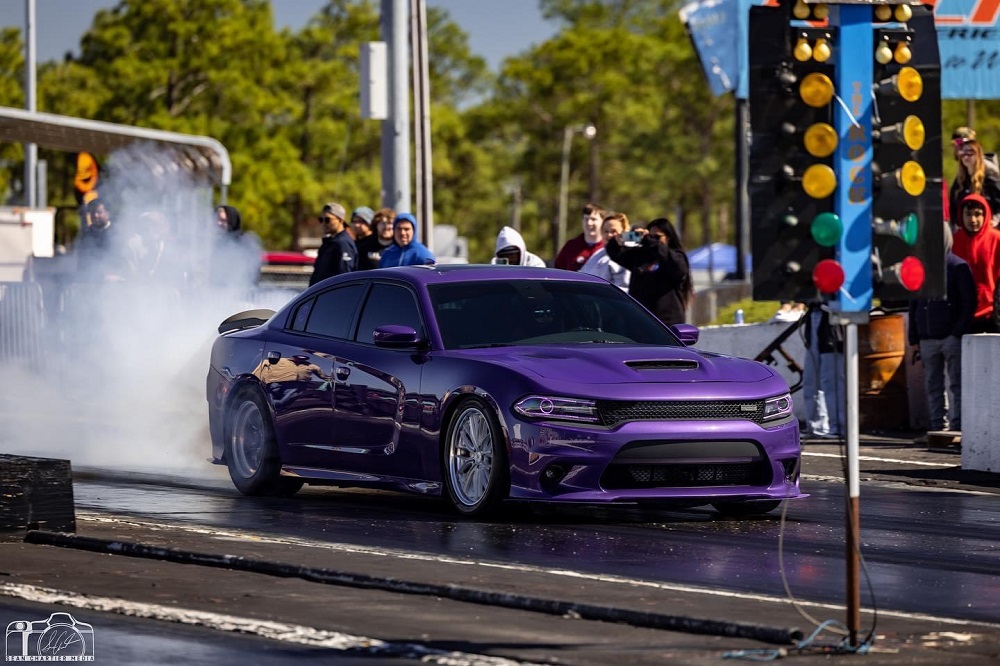 It should be noted that in addition to being an award-winning show car, Patrick's Charger runs solid numbers on the drag strip, with his best time to date being an 11.36 – emphasizing the show-and-go abilities of this gorgeous Plum Crazy Dodge.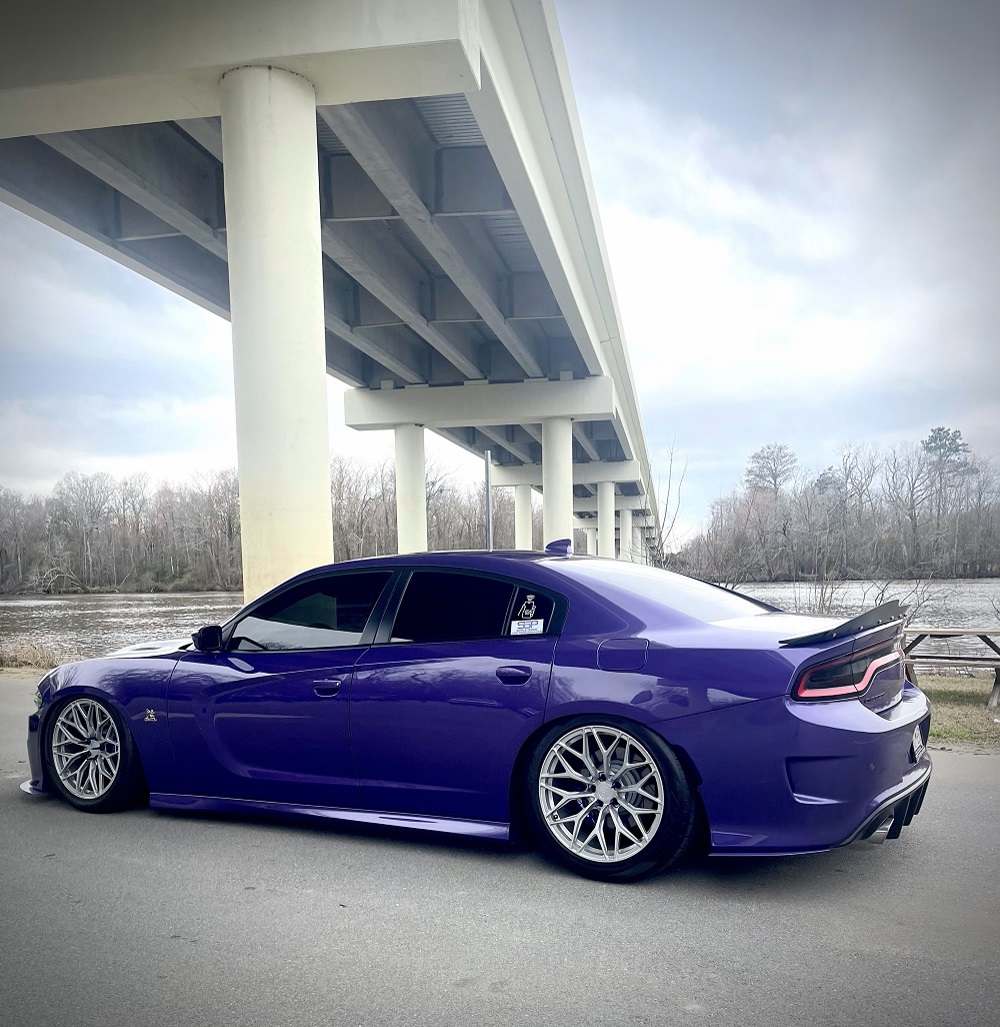 The current iteration of each of these vehicles have stacked wins around the southeast, serving as some of the sharpest modern Dodge show cars in the online community. The list of upgrades to each of their vehicles is too extensive for us to discuss everything, even briefly, so we have included a list for Patrick's Charger and Anna's Challenger below.
Patrick Ammons' Charger Modification List
Performance / Suspension
P-1SC Procharger supercharger
Procharger race intercooler
Procharger big red open blow off valve
Air lift front and rear strut and bags with 3p management hydrodipped air tank
Driveshaft Shop one-piece aluminum driveshaft
Hotchkis front and rear sway bars
HP70 built transmission by Sipple's Speed and Performance
Per4mance Development rear diff brace
AAD Performance billet rear toe arm links
AAD Performance billet upper control arms
AAD Performance billet trailing arms
BMR suspension rear strut tower brace, hydrodipped
Walbro 400 fuel pump
Tuned with HP Tuners
Exterior
VFMBX10 forged Velgen wheels
SRT® Hellcat Redeye hood
Satin black wrapped hood by Coastal Auto Restyling
Lighting Trendz flow series halos
Lighting Trendz flow series engine bay lights
Lighting Trendz flow series grill lights
Downforce Solutions front half splitters
Downforce Solutions wickerbill with procharged cutout
Downforce Solutions rear half splitters
Purple painted Brembo brakes
Purple spiked lug nuts
Scat pack badge with purple accent
Ikon Motorsports rear diffuser
Tinted side markers
Tinted rear lights
Carbon fiber fog light covers
Engine Bay / Interior
Hydrograhics by Outlaw Hydrograhic
Status Racing GTX purple racing seats
Status Racing purple 5 pt harnesses
Braum Racing harness bar
Carbon fiber steering wheel with purple stitching and purple 12 o'clock stripe
American Brother Designs oil catch can
American Brother Designs PCV cover
American Brother Designs baffle cover
American Brother Designs throttle body cover
American Brother Designs hood shock covers
American Brother Designs purple door pin locks
Family customs carbon fiber firewall cover
ABS cover wrapped in carbon fiber vinyl
Lloyd's Mats custom Plum Crazy Purple floor mats
Scat Pack start stop emblem
Scat Pack dash badge
Scat Pack steering wheel badge
Purple interior bulbs
Purple trunk bulbs
Purple puddle light bulbs
Skar Audio SDR 10D2 subwoofer with custom box
Carbon fiber steering wheel
Carbon fiber steering wheel accents
Carbon fiber door panel accents
Carbon fiber window control covers
Carbon fiber door lock covers
Carbon fiber vent covers
Carbon fiber sunroof cover
Hydrodipped dash cover
Hydrodipped center console cover
Hydrodipped rear center console cover
Spectre Performance carbon fiber washer fluid cap
Spectre Performance carbon fiber coolant reservoir cap
Spectre Performance carbon fiber oil dip stick cover
Going forward, Patrick plans to have the bottom end of his engine built to handle more boost from a Procharger F1A blower, with the goal of 800 rear wheel horsepower.
Anna Konya's Challenger Modification List
Universal air bags
Airlift Performance 3P Management
Dual 444 Viair compressors
4 gallon air tank with custom hydrographics
Lambo door conversion kit by Vertical Doors
Top half partial wrap in satin black with carbon fiber pinstripe by Coastal Auto Restyling
Velgen wheels, Lightweight Series in Gloss Bronze
Hankook Ventus V12 Evo275/40/20 tires
Dual Skar 12" subwoofers with custom enclosure in the trunk with an amplifier
Auxiliary battery to run all lights
Legmaker carbon fiber cold air intake
Tazer by Z-Automotive
Petty's Garage strut tower brace
Engine bay dressed up in custom hydrographics
Billet oil catch can and covers (powdercoated in Sublime Green)
ABS cover wrapped in carbon fiber
Carbon fiber firewall and ABS cover by Family Customs
Custom leather interior by Katzkin with double diamond stitching in lime green
Carbon fiber inserts and covers
Sublime Green floor mats by Lloyd's Mats
Custom Shamrock trunk liner with airbrushed clovers by Grand Design Mat
Green LED floor and interior lights
Custom headrest brackets by Grocery Getter Racing
Carbon fiber steering wheel
Custom half-splitters, wicker-bill and rear diffuser by DownForce Solutions
Tinted windows, tail lights and side markers
Life-Time ceramic coating by System X
Powdercoated intake rings
Lighting Trendz halos and wheel lights; LED engine bay/trunk lights
Chasing underglow lights by OneUpLighting
Carbon fiber inserts and covers
Anna plans to add some power to her Challenger soon with a new camshaft, headers and full exhaust, along with upgrading her suspension system with hardlines for the trunk-mounted air system.
We mentioned at the top of the piece that these two Dodge drivers claimed 174 trophies during 2021 and 2022. With that many wins in a short time, we can't possibly list them all, but I asked Patrick and Anna which are their biggest wins over the past two years.
Patrick's Charger won Best Domestic at Import Facebook in Rockingham, North Carolina; Best Modified Charger at Mopars at the Rock 2011-2022; Best Engine Visuals at the Klean Exhibition in Daytona, Florida; Best Domestic at the Klean Exhibition in Savannah, Georgia; and Best Dodge at Import Evolution in Columbia, South Carolina.
Anna's biggest finishes include Best Dodge at Import Evolution in Jacksonville, Florida; 2nd place Dodge and Best Female-Owned Vehicle at Import Evolution in Columbia, South Carolina; 3rd place in the Domestic Class at Slammedenuff in Charleston, South Carolina; and Best of Show at Mopars at the Rock.
If you are interested in seeing more pictures of these cars or following along in their 2023 car show season, you can do so on their dedicated Facebook pages – The Shamrock Challenger and Twisted Hemi.
Comments
Comments