Saving a Charger From an Oklahoma Twister. Or, How I Bought My Car
5 years ago Owners + Clubs
Five years ago today, I set out on a trip to Oklahoma City, a distance over 800 miles away in a one-way rental with two good buddies. At the time, I had a 2005 Dodge Magnum which I loved (you can read about my first trip to the drag strip here), but with the miles rolling past 160,000, I had the itch for something new.
I thought I would be able to find a used Charger from the 2011-2014 body style (then the current design), but the Minnesota used car market proved to be difficult, and I believe that the "Cash for Clunkers" had a big hand in that, but that's a story for another day.
I ended up searching online for 2011 and up Dodge Chargers, and while I didn't specify new or used, I did select R/T (meaning it had to be a V8), and I capped the price at $25,000.
To my shock, I found 3 new 2013 models with a sale price of $23,495, and a sticker price of $30,990! I couldn't believe it, so I emailed the dealership and they did confirm the price was right, not a gimmick, and I could walk in and buy that car at that price.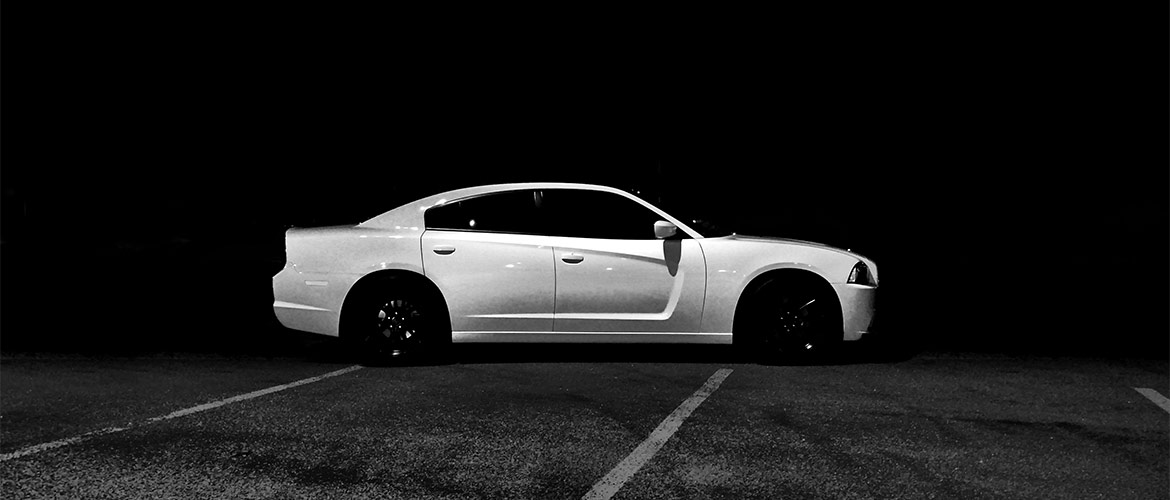 I immediately got excited, so I asked to put a deposit on the car. The salesperson said they don't do deposits on internet deals. I couldn't believe that could be the case, so I pressed the issue again and they still wouldn't budge. I would have to make the 800-mile trek down there on blind faith. Normally, there's no way I would do such a crazy thing, but they had three identical, bare-bones R/Ts that would work for me. It was time to roll the dice.
The next move was to message my buddies and see if any of them wanted to split driving duty. I don't think I had finished the thought process through Facebook Messenger before two good friends, Matt and Alex, agreed to tag along. The plan was to leave Friday right after work and cannonball down I-35 from Minnesota and arrive in Oklahoma just in time for the dealership to open Saturday morning. It was still bugging me that I couldn't put a reservation on the car, so I called Friday before they closed, just to make sure the car was still there. I figured if they didn't sell it Friday night, I could just sit on the car to prevent someone else buying it Saturday morning. The car was available. I joked with the salesperson that she better have a Red Bull waiting for me, as I was getting ready to head down that night.
I met up with my friends at Budget Car Rental, which happened to be about two blocks from my downtown condo at the time. I had arranged to rent an economy car, since being the cheapass that I am, I wanted to spend as little on gas as possible.
When the agent handed over the keys, they were to an Explorer. Now, on a normal rental, that's an OK no-charge upgrade, but I was after fuel economy. The guy at Budget was immune to my protest, "I'm not giving up one of my good rentals to never see it again. Take the Ford or the 15-passenger van". Yeah. We took the Explorer.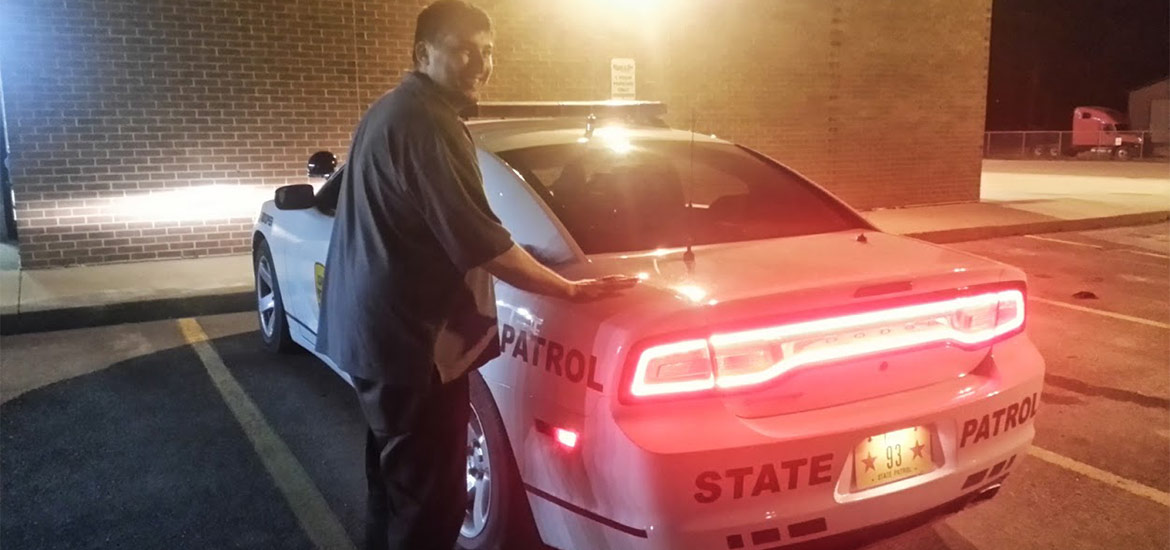 We hit the road south. We stopped for gas in southern Iowa and there was a Dodge Charger State Trooper sitting outside in the same color as the one I was getting and also without a spoiler! We had to snap some pics and chat with the trooper. He was a cool dude and played along with our "arrested" photo shoot. I probably should have asked him to flip the cherries…
Somewhere around southern Iowa, we were trying to figure out why everyone was brighting us. The Ford had daytime running lights, but the last renter had turned the automatic lights off. It wasn't until right before Kansas that we realized that the headlights were off! Oops.
After yet another fill-up of gas, caffeine and questionable gas station snacks, we were back on the highway with Oklahoma as our bullseye.
We arrived in Oklahoma City at 5:30 a.m., so one of my buddies decided to introduce me and the other road warrior to that late night/early morning delicacy: Waffle House. Everything you've ever heard about Waffle House is true, that's all I'll say…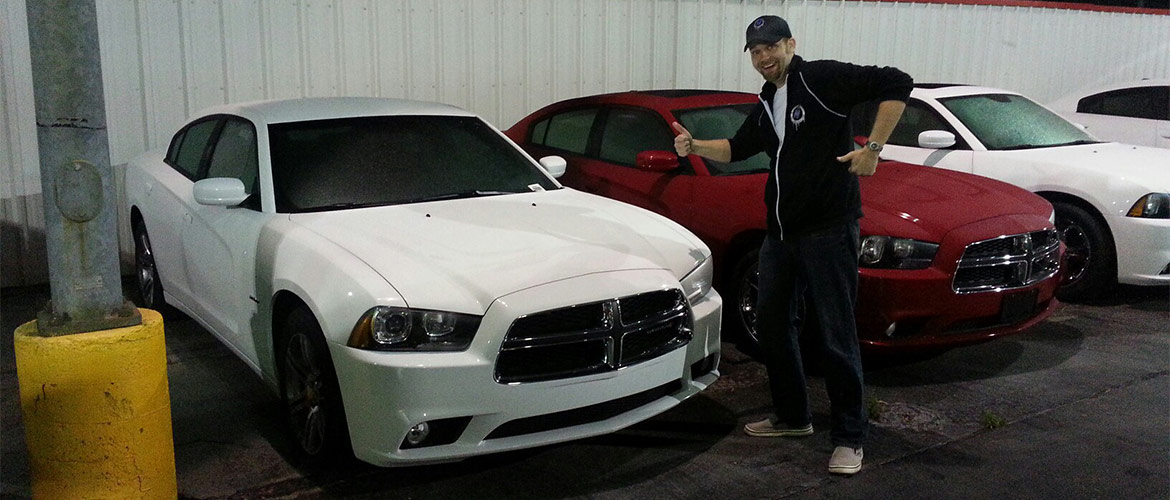 After finishing breakfast, we rolled into the dealership parking lot around 6:30 a.m. I immediately had to search the place, looking for "my" car. My first thought was to peek in the building's windows to see if it was detailed and ready to go. I checked through just about every window and didn't see the car. Finally, we checked the lot. In a line with a bunch of other Chargers, there it sat. Dirty and probably hadn't been moved since it came off the transport. Normally, something like this would upset me, but the trip wasn't in vain; they had the car!
At this point, the adrenaline and caffeine started to wear off and we decided to snooze until the dealership opened for the morning. Around 8 a.m., the service department opened, well before the salespeople roll in, so we snooped around a bit. They had a Viper on a hoist, and it's always neat to see the underside of a exotic like that (shut your mouth, a Viper is too an exotic).
When my salesperson showed up, she had a look of shock on her face. Yes, I wasn't a co-worker messing with her. Now came the mad scramble to get the car ready, get my paperwork prepped and exchange a check for a set of keys. While we were waiting for my chance to meet the finance manager, my salesperson wanted to show me around the car. Being the complete car nerd that I am, and having been on LXforums.com for the past six years at that point, I was doubtful this was a worthwhile endeavor, but she persisted and I was too tired to protest.
After a bit of a wait and some hassle that would be a great story over beers, the deal was finally done – the car was mine! It was now after 1 p.m. and my chances of getting home at a respectable hour were shot. We decided to make it worse and visit a few local attractions/historical sites in the Oklahoma City area.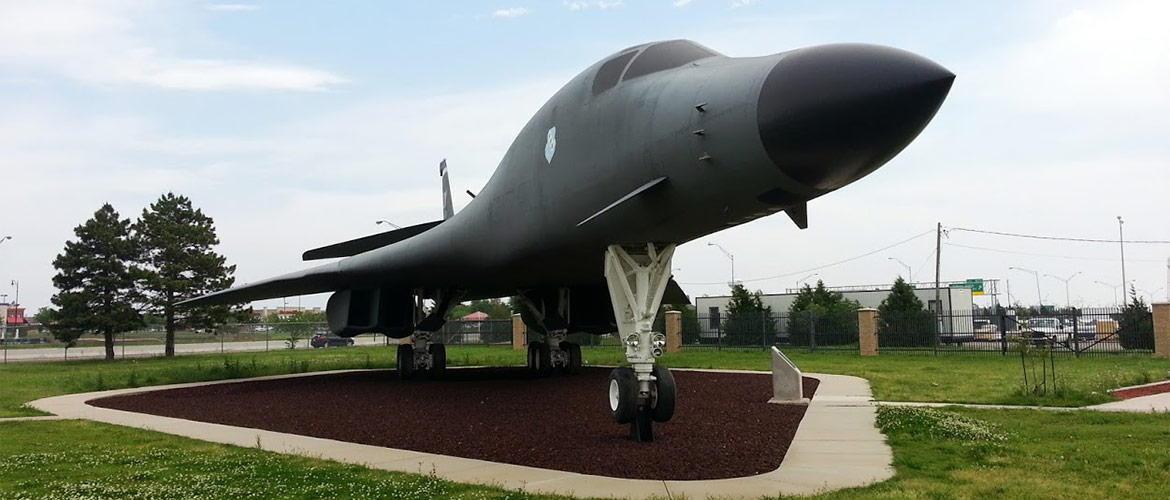 First up was Tinker AFB. Being in Civil Air Patrol as a teen, I had to make this stop and see the planes on display. Getting to see the planes was really cool, and I don't think I've ever seen a B1 Lancer up close before. That's really an amazing plane, and probably my favorite bomber of any era. The thought of those planes screaming just feet above the treetops gives me goosebumps. What a wicked machine.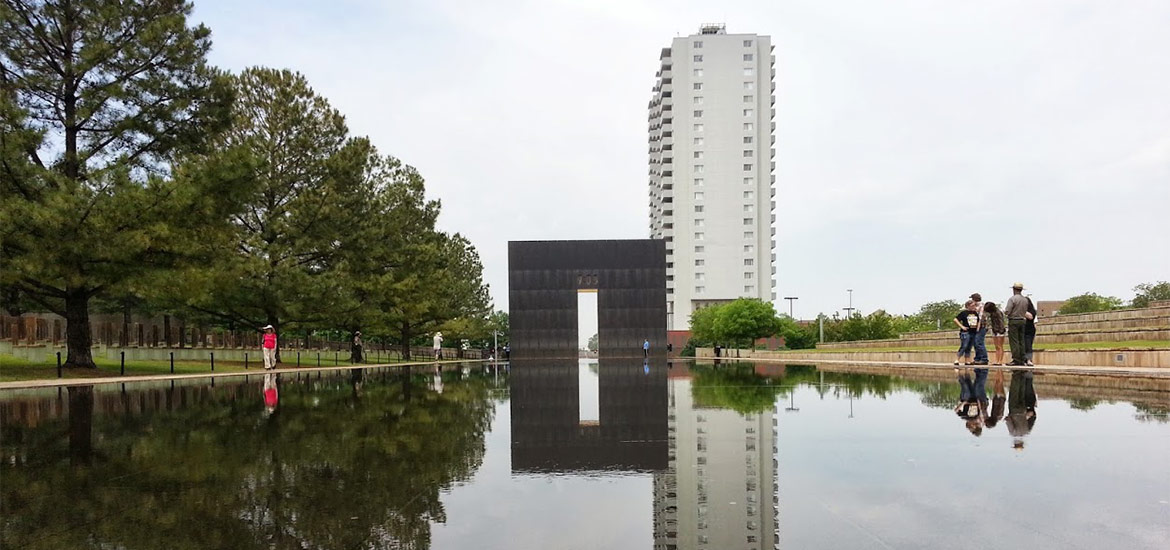 Next, we visited the Oklahoma City National Memorial. That horrible event happened what seemed like a lifetime ago, but I can vividly remember when the news broke. It was a somber and surreal experience being there. I've never been to the 9/11 memorials, but I imagine it's a similar feeling.
The one thing we noticed while we were there was the heat and humidity. The temps were around 90° and the humidity was off the charts. Minnesota gets humid in the summer, and this felt like those summer days, where the heat and humidity spikes and you know a storm is a-brew'n. Being in a brand-new Charger, I didn't want to press my luck with an Oklahoma thunderstorm, so this motivated us to get a move-on.
Every stop we made, it felt like we were minutes from getting pounded by some crazy storm. A quick check of the radar confirmed this; the path behind us was getting dumped on by heavy rain, hail and even tornadoes. It was a massive outbreak, and one for the record books. The following day, the dealership I bought the car from got devastated by hail. My salesperson's mother lost her house to a tornado. It was a nasty storm that chased us all the way home to Minnesota. Back home, we got so much rain in a short amount of time that our underground garage started to flood! If you're a weather nerd like me, it was amazing and terrifying at the same time. Total sidebar here, but here's the wikilink to the storm.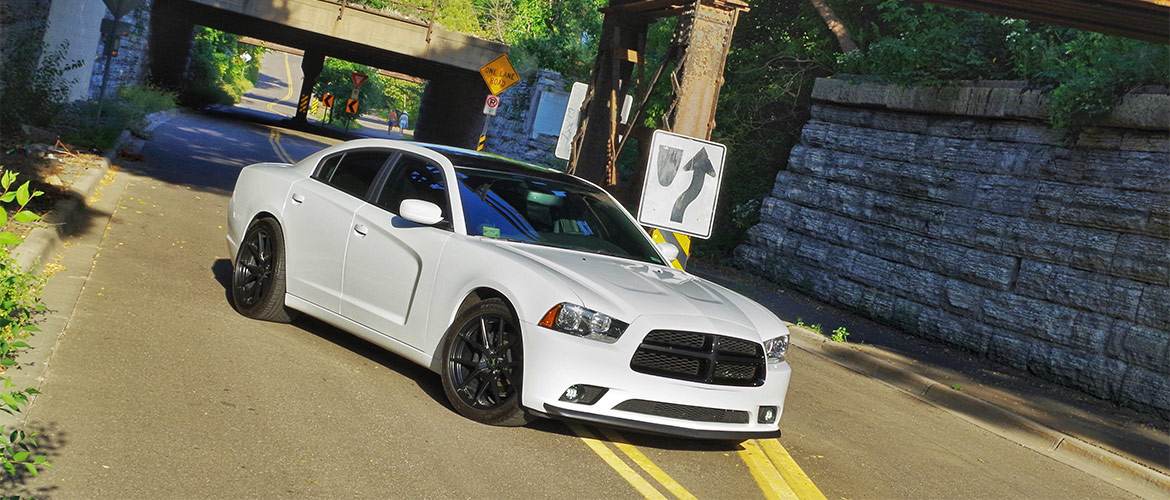 I can't remember exactly where along our trip this happened, but it was flat and no one was in sight for miles in front or behind us. Having enough miles on the car at this point (started at 37 miles), I felt it was safe to test it a bit. I put my foot into it and we were blasting down the highway. We crested a hill, and that's when I spotted two cop cars pointed towards the highway. I somehow managed to not soil my pants, and slowed the car down considerably and that's when we could tell they were parked without anyone in them. They were inside the weigh station. My heart was racing and all I could think of was the long walk from the middle of nowhere to back home in St. Paul, Minnesota. In those fleeting seconds between spotting the cruisers and seeing them empty, the thoughts of having my car impounded and getting arrested were racing through my head. I can tell you that I drove well behaved for every mile behind the wheel after that.
We rolled into St. Paul around 1 a.m. on Sunday morning and at that point, I'd slept for maybe 2 hours in the last 36. I said my goodbyes to my buddies that made the trip, then pulled the car into the parking garage. I took the elevator up to my floor and I honestly don't remember making it to my bed. I could have fallen asleep in the hallway for all I know.
The next morning, I was too excited to try and get any more sleep than about the 5 hours I managed to get, so I sprung up and brought the car to a full-service car wash. I had three guys in that car that hadn't slept in a long time. Let me just say that the car was ripe. I didn't want to show the wife and kids the car until it had been cleaned up as I didn't want that smell to be their first impression of the car. Once home from the wash, I took the kids out for a spin. You'd think I'd be sick of driving, but I wasn't. In fact, I was so excited to celebrate the Charger that we decided to take another interstate ride, this time across the border to Wisconsin.
The kids loved it, my wife loved it, the Charger was a hit! The tech inside the car was so much more than a generational leap from the Magnum RT that I would be retiring soon. I couldn't wait to start playing with it, so that night, I swapped over my Challenger SRT® wheels, pulled all the badges off the car and Plasti-dip'd the grill (replaced with a Blacktop grill about a year later).
It's been 5 years to the day since I bought that car and I still love this car as much (maybe more) as the day I bought it. However, I have a sneaking suspicion that another epic trip to get a car is in my future and I know where to find some drivers to come with me.
Comments
Comments