DSR Nitro HEMI® Top Fuel Dragsters and Funny Cars Ready to Get Some Kicks on Route 66
5 years ago Racing
It's the start of summer, but for the supercharged HEMI® Top Fuel Dragsters and Funny Cars running out of the Don Schumacher Racing stable, things have been heating up for months. As the NHRA season gets close to its halfway point, the DSR teams head to Route 66 Raceway this weekend just outside Joliet, Illinois, and a holeshot away from the iconic "Mother Road" that millions of travellers have taken from Chicago to Santa Monica going back to the late 1920s. For the fans looking to experience the 11,000-horsepower thunder, the 21st annual Route 66 NHRA Nationals will once again be the backdrop for our teams to pound the drag strip.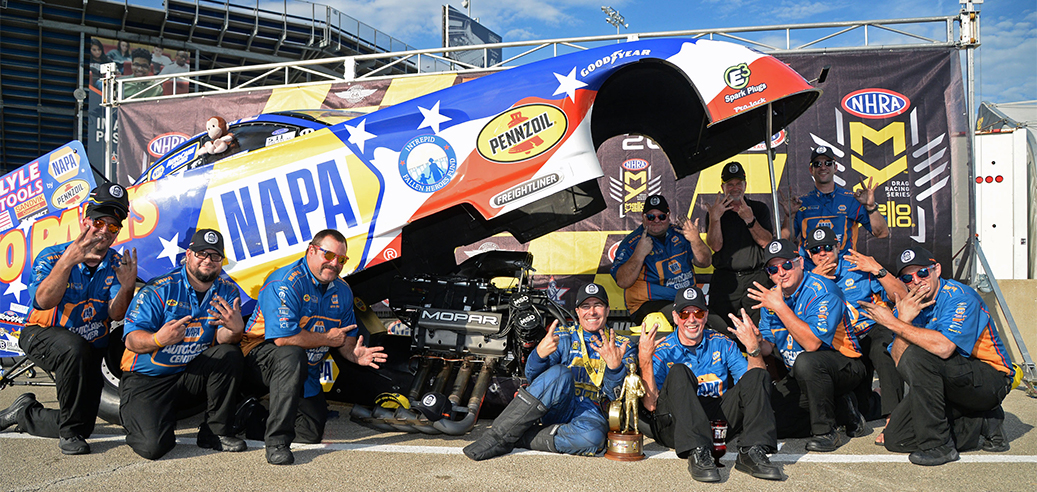 During last year's event, Ron Capps drove his NAPA Mopar® Dodge Charger R/T Funny Car to the winner's circle; however, it was even more emotional for the DSR Teams. Terry Chandler, one of DSR's biggest supporters and sponsors, had succumbed to brain cancer just before the 2017 Route 66 NHRA Nationals. Terry worked with Mopar Funny Car drivers Tommy Johnson Jr.'s and teammate Jack Beckman's teams and put charities such as Make-A-Wish and the Infinite Hero Foundation on their cars as a way to give back. Her loss was felt throughout the pits among many drivers and crews.
Going into this weekend's race, the DSR teams are more determined than ever to work harder and start racking up more points to secure a 2018 Top Fuel and Funny Car NHRA World Championship. Since Capps is the defending Funny Car event champ, he would like to repeat, but there'll be 15 other racers in his way.
"Heading into our race at Route 66 in the Chicago area is something I always look forward to, and I know that the crew chiefs know that the race track surface there is something you can sort of take out of the equation. That means great side-by-side racing for the fans," said Capps. "We have sort of been in experimentation mode the first third of the season with our NAPA racecar. My crew chief, Rahn Tobler, and our NAPA AutoCare team decided to go back to what we ended the 2017 season with and instantly it showed us that it was a great move. I'm really pumped about these races coming up, starting with the Route 66 NHRA Nationals and throughout the summer."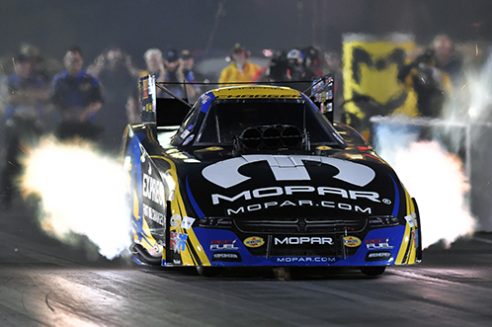 For his fellow Charger Funny Car stable mate, Matt Hagan, driver of the Mopar Express Lane Dodge Charger R/T, the three-time event winner (2010, 2013, 2014) would like to add another victory on his already impressive driving resume.
"I think we're closing the gap on Courtney Force. They've had quite a bit on everyone," said Hagan. "We went to Topeka, and even though we went out second round, we're running right there with her now. With (crew chief Dickie Venables) knowledge, and the way our car runs, we ought to be very, very competitive now. Chicago has been kind to me. Set some world records there, and won that race a couple of times. Hopefully, one of these races will pay off. Eventually, the win lights will come on, but I think our crew is headed in the right direction with their tuning thought process. Our setup is moving in the right direction, just still trying to find more traction and downforce for this new track prep. I feel good about rolling into Chicago with the gains we made in Topeka. We're running right there with the best of them."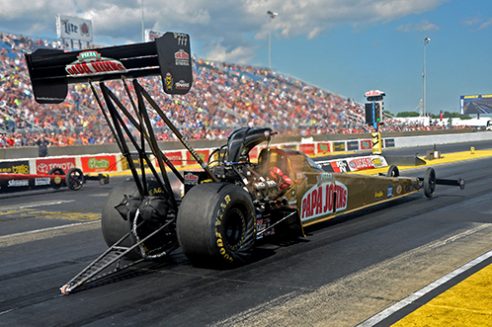 Over in Top Fuel, Leah Pritchett has had a season of extreme ups and downs. She recently won a few weeks back at NHRA Southern Nationals in Atlanta, but has never claimed victory at Route 66 Raceway. Leah would like to change that stat this weekend.
"As the only DSR driver to not have a victory claimed at Route 66, it would be an honor to join my teammates with that accolade," said Pritchett. "First, we need have our strategy on-point for qualifying well in conditions different than race day, although all seem to be cool and call for incredible numbers that can be posted, making incredible times for the fans. Joliet brings back a sense of gladiators. You're stepping into an arena. It's your time to shine. I love seeing how happy their fans are."
You can catch the final eliminations from the Route 66 NHRA Nationals this Sunday, June 3, starting at 5:30 pm ET on FS1.
Comments
Comments