The One That Never Got Away – Original Owner 1970 HEMI® Challenger R/T
3 years ago Owners + Clubs
How many times have we heard the tale of the one that got away? Not a girlfriend or boyfriend, you can replace those. No, we're talking about a cool muscle car that was part of your youth a time long ago. It was more than metal, rubber, vinyl and gas. The car was part of your personality, it was your buddy and confidant. It made you a hero when you laid down two long black stripes on the pavement when you stabbed the gas pedal. The hoodlum friends you hung out with loved it and your parents hated it. As with most of these stories, the muscle car owner grows up, heads off to college, gets married, kids come along and soon the street machine is no longer practical. The multi-carbureted big block that drank a gallon of expensive high-octane fuel for every seven miles traveled is not the most pragmatic mode of transportation.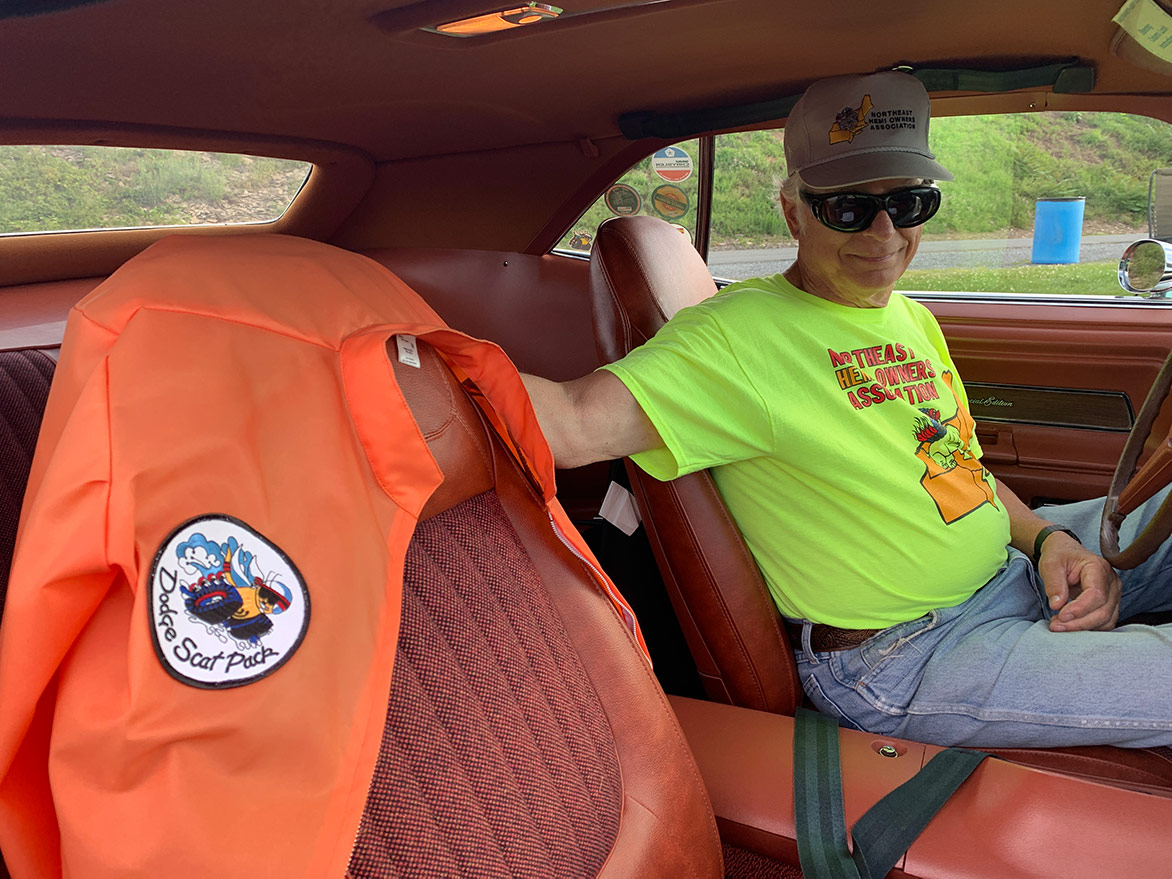 For Joe Medwick of Lancaster County, Pennsylvania, he made sure his badass 1970 Dodge HEMI® Challenger R/T SE that he purchased brand new didn't slip away from his grip. While many of his peers succumbed to family pressure of selling their muscle cars during the era of high-insurance rates, oil embargoes and long lines at the gas pumps that included fuel rationing, Joe hung on to his rare ride for almost 50 years. He bought the Challenger R/T in late 1970, but like most tales, there's a bit of a backstory. The dealer wanted the Burnt Orange Challenger R/T SE off the showroom floor. It had been sitting for months and was eroding any profit the salesman could make on this car. Joe was driving a 1968 Charger R/T powered by a 440 Magnum and his local dealer had been bugging him to trade in the Charger and take the Challenger. Joe wasn't in need of a new car, his Charger R/T performed flawlessly. But since the dealer was desperate to move the Challenger as the 1971 models would be showing up soon, Joe threw a lowball offer at the salesman, which was quickly rejected. Later on, the salesman took Joe's bid and the HEMI Challenger R/T was his. It took Joe giving the dealer about $2,000 cash plus his 1968 Charger R/T, but the deal was done. As Joe likes to put it, "Whenever I traded a car in, I wanted to trade up. Well, you can't really go further up from a HEMI car!"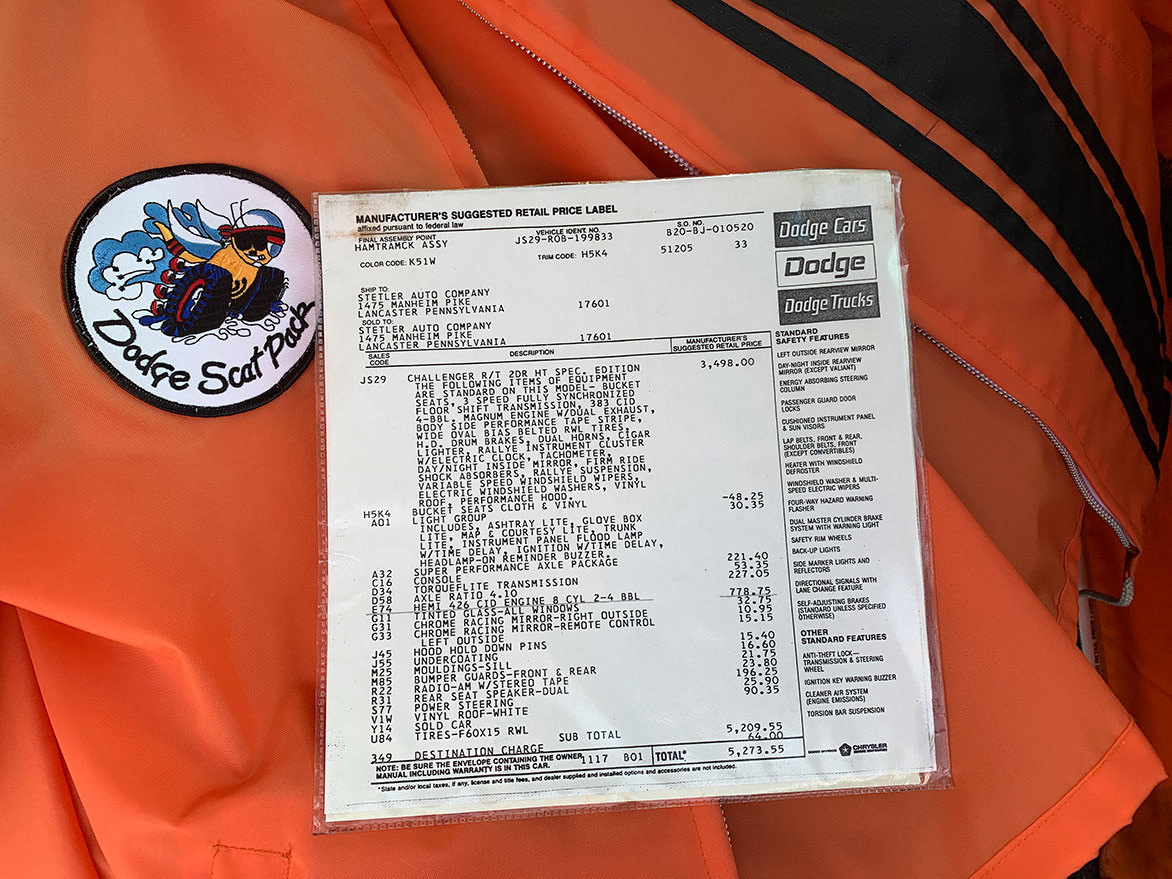 Joe certainly traded up. His shiny Burnt Orange HEMI Challenger R/T SE was fairly well optioned for muscle car standards. First, it was ordered by the dealer with the "Special Edition" package, which included a white vinyl roof with a special "SE" emblem on the pillar, a smaller "formal" rear window that provided more privacy for the driver and passengers, special bright trim moldings along the front splash pan, door, hood and upper quarter panel, edge of decklid, and other areas that make the Challenger look more country club member and less like a street brawler. On the inside, the SE package included an overhead aircraft-style console with warning lights (a futuristic option for 1970), partially carpeted door panels, and optional leather bucket seats. Along with the SE package, the other major options which were pricey for the time include the 426 HEMI engine ($778.75), 727 TorqueFlite® automatic transmission ($227.05) and the Super Track Pack, which is the 4.10 Dana axle ($221.40). These options pushed the Challenger's final sticker price to $5,273.55. That was a big chunk of change for 1970, but Joe came out the winner in this deal.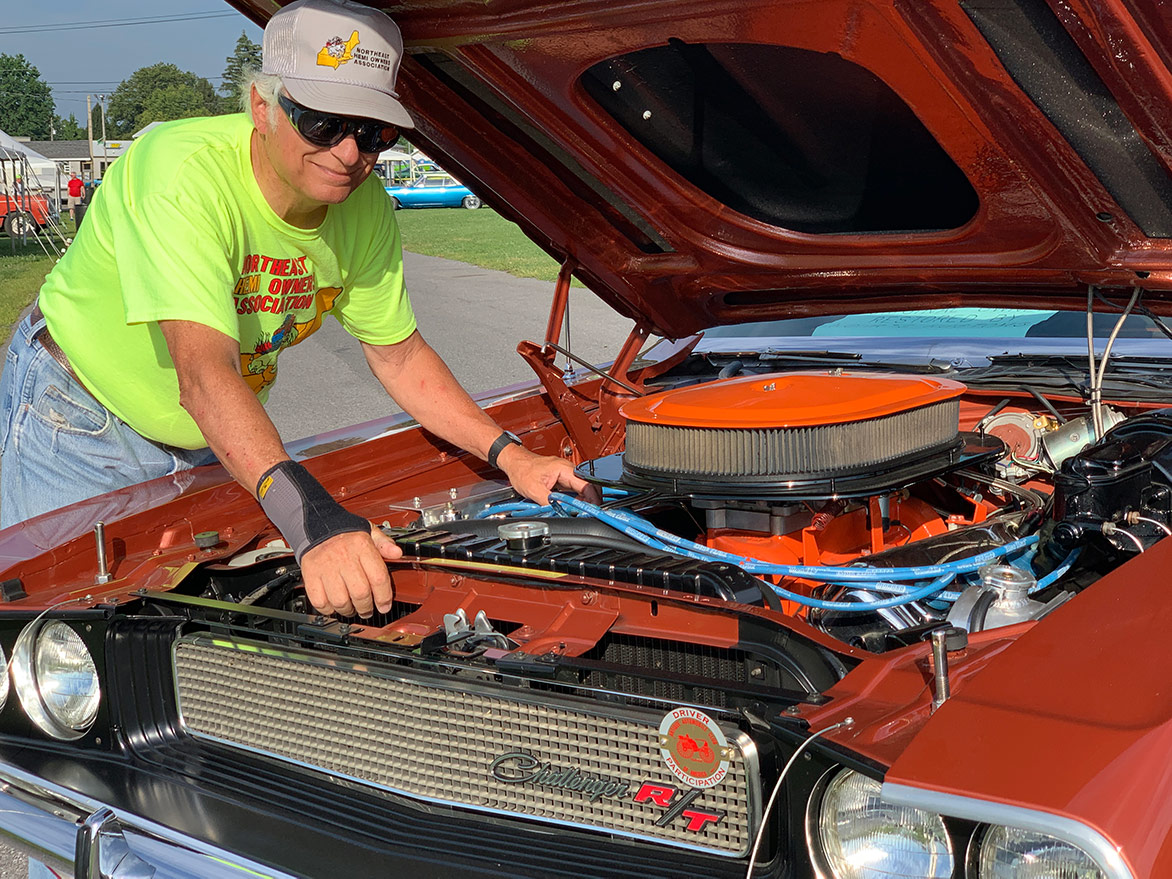 Like most muscle car owners of that era, Joe began making mods as soon as the Challenger was in his driveway. First to be bolted on were a set of Ansen mags (same ones he has on the car today) and then high-performance parts under the hood to extract even more power from the mighty HEMI engine. Joe also wanted a more aggressive hood with a bigger scoop to feed the HEMI's dual four-barrel Carter AFB carbs a steady stream of cool, fresh air. He bought this cool fiberglass aftermarket hood over the counter at his local speed shop decades ago and has resisted the temptation to bolt the stock Challenger R/T performance hood back on the car. Joe also took the Challenger to the drag strip and clicked off low 12-second ETs with ease after the modifications.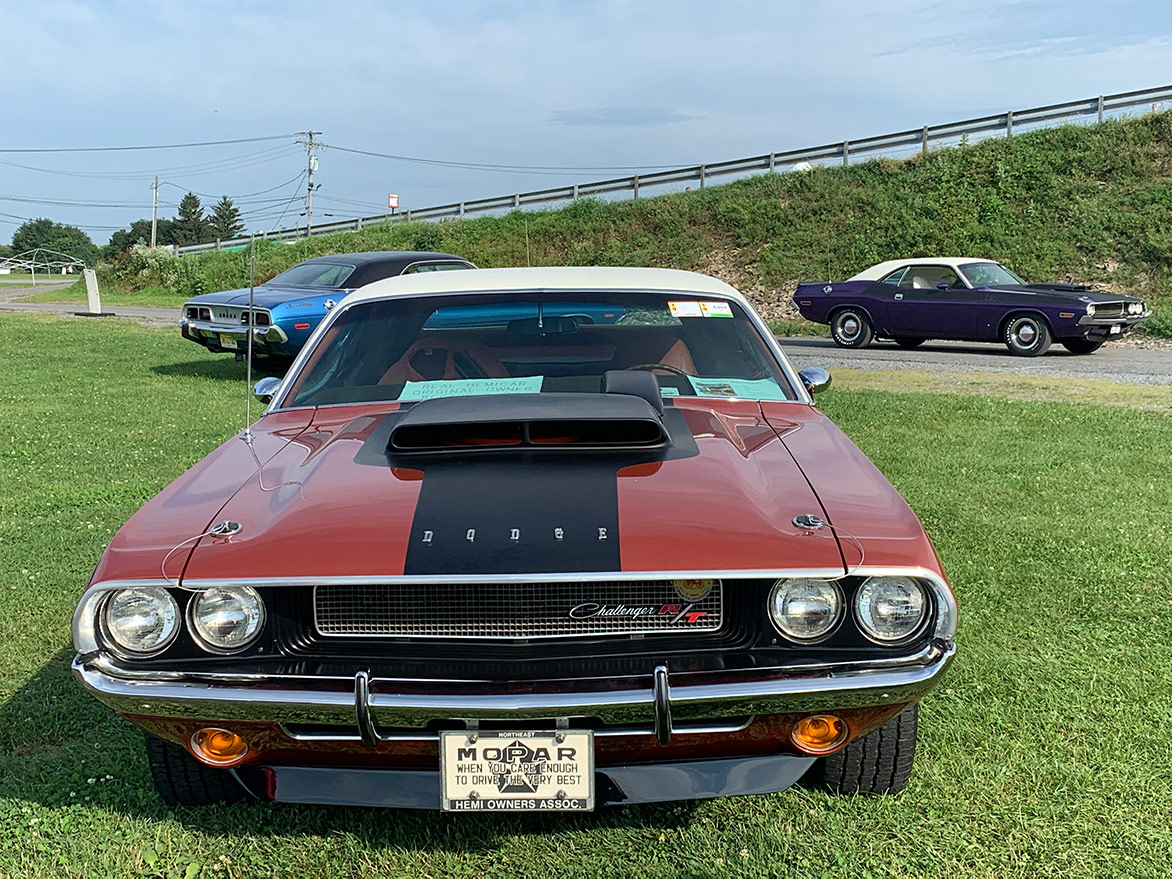 Joe drove the Challenger every day from 1970 to 1975. This included many harsh Pennsylvania winters that meant scrapping snow off the windshield and mounting studded Goodyear Polyglas GT Town & Country Snow Tires back on the factory wheels so he could drive the HEMI Challenger through the winter months. Remember, these were just cars back then and for many, it was their daily driver until they stopped running, rusted out, were sold or traded in. Joe could see the snow- and salt-covered roads were taking their toll on his precious Challenger and parked it in 1976. About a decade or so ago, Joe enlisted the help of Dennis Kohr of Kohr's Kustoms in Myerstown, Pennsylvania, and did a complete top-to-bottom, front-to-back restoration on the Challenger. Because you can never have too much power, Joe had the 426 HEMI rebuilt and increased its displacement to over 500 cubic-inches. Now it's pushing over 700 horsepower and even though Joe's doesn't hit the drag strip that much these days, he still likes to shake the pavement at cruise nights and car shows.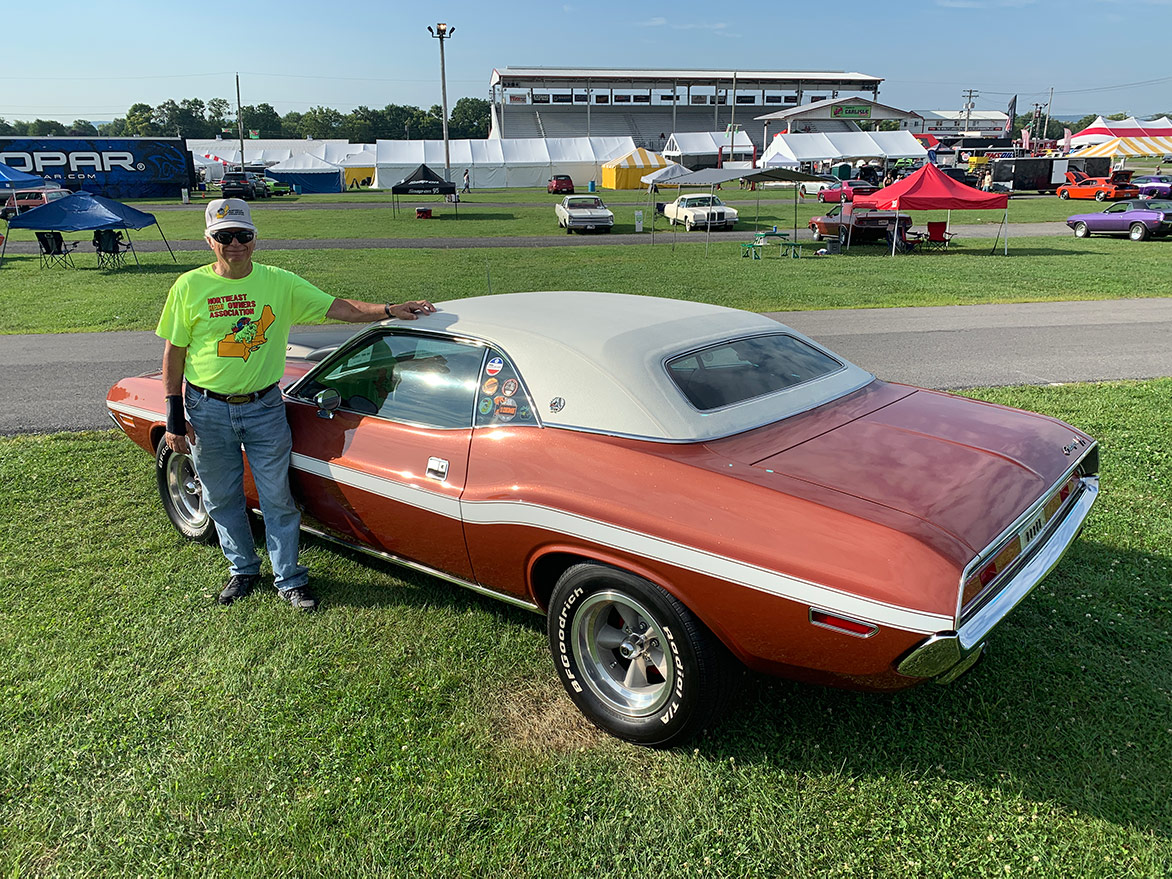 Joe's also been active in the Mopar® car club scene and has been a member of the National HEMI Owners Association (NHOA) going back to 1976. Because HEMI muscle cars were always unique and scarce, parts and info were hard to come by. The NHOA club was formed by a group of passionate HEMI enthusiasts looking to network with other owners for parts and information. Joe has made some lifelong friends through NHOA that he cherishes today.
Joe and his Challenger have been together now for almost 50 years, that's longer than most marriages last. Maybe it's because he has the insight to hang on to a good thing, maybe it was another reason. All we know is Joe will never let this one get away.
Comments
Comments