Dodge Muscle Flexes Its Strength at the NMCA All-American Nationals
3 years ago Events
It was picture perfect weather conditions for racers as they got behind the wheel of their Challenger SRT Demons, Redeyes, Hellcats, Scat Packs and other Dodge muscle machines at the 2019 NMCA All-American Nationals at Summit Motorsports Park. Favorable air temps combined with a starting line that had a lot of bite made for some quick and fast elapsed times during the Dodge//Mopar HEMI Shootout.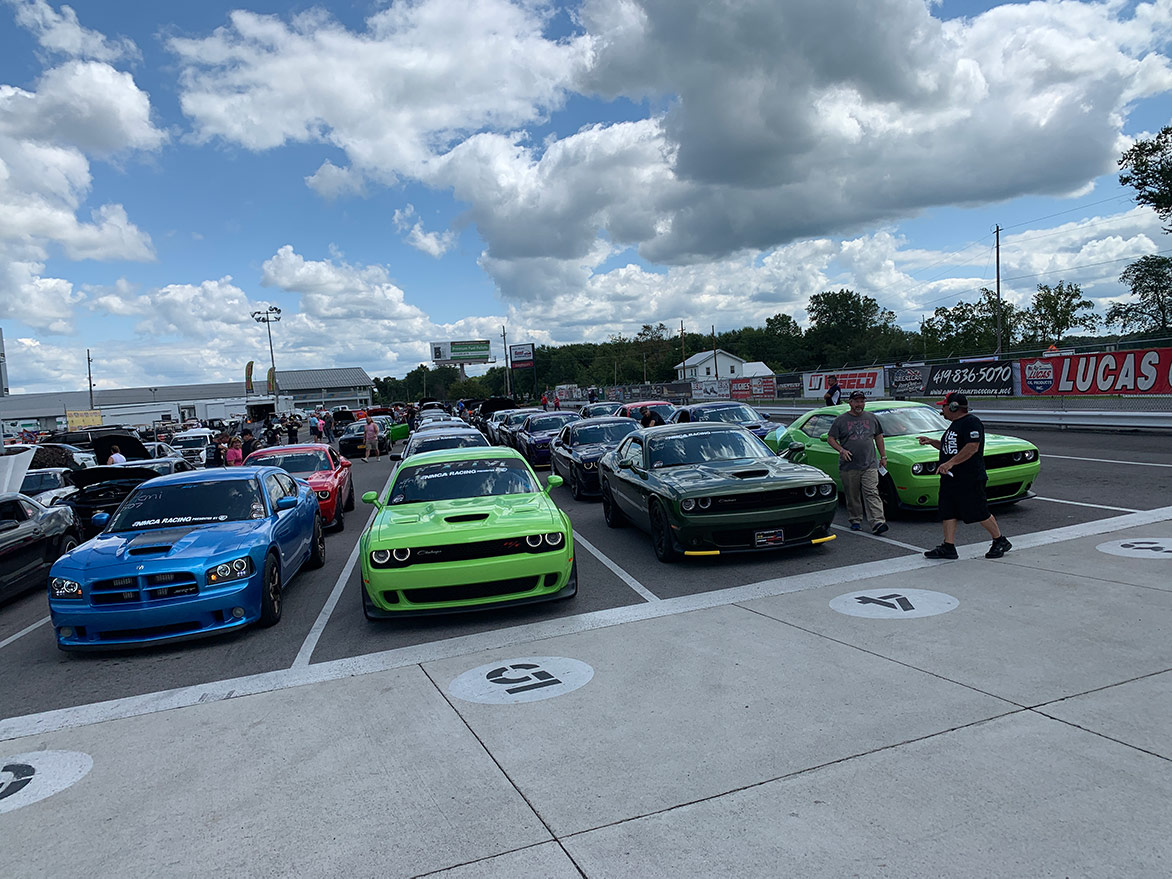 With over 75 pre-registered entries for the class, the staging lanes were packed with Challengers, Chargers, a few Durango SRTs, and even a Jeep Grand Cherokee Trackhawk. They may have different nameplates, body styles, engine combinations, and the owners might be from all over the country, but they all share a common goal – to see how fast their Mopar vehicles can get down the quarter-mile.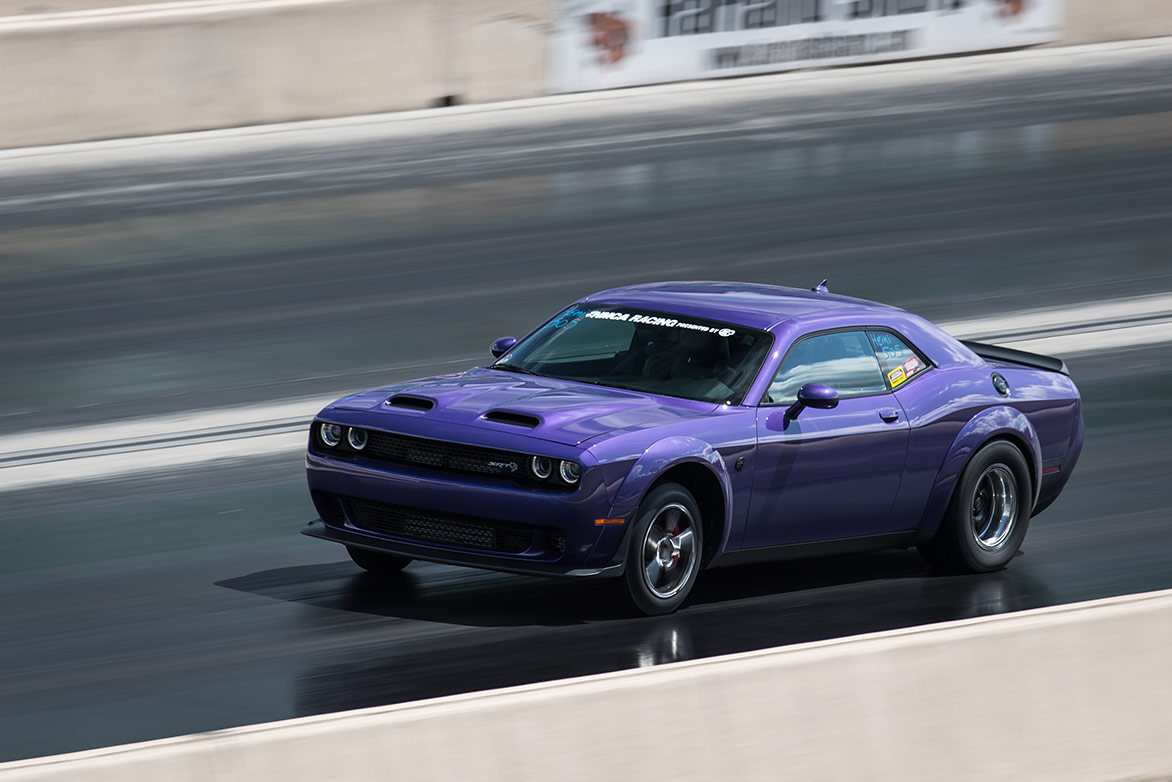 Leading the charge was Mark Carlyle in his Plum Crazy 2019 Dodge Challenger SRT Hellcat Redeye Widebody. He blazed the track with three scorching runs with an average of 9.399 seconds and with speed close to 150 mph. However, his good friend and business partner, Jason Fetter in his White Knuckle "DemonKiller" 2019 Challenger SRT Hellcat Redeye, nudged out Mark by a mere .001 seconds. Jason's three run average was 9.398. Talk about some close racing, these guys might be buddies, but when they line up next to each other on the strip, it's total warfare. What's really amazing about Mark and Jason's Redeyes is they're still running the stock superchargers, full interior, and are street driven all the time. Yet they're just as fast as many Demons.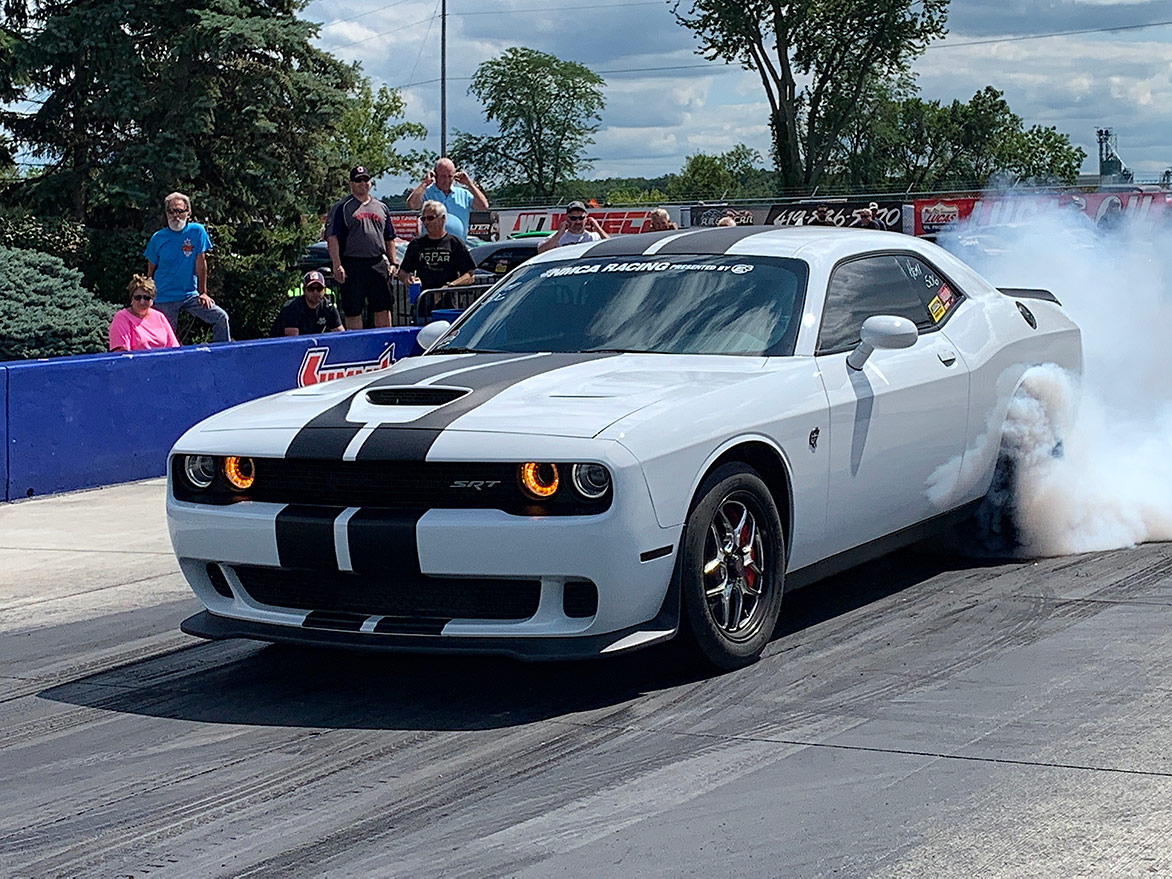 Both Mark and Jason's high-horsepower Challengers were running lightweight aftermarket wheels and drag radial tires to help their Redeyes plant all the power on the starting line. Speaking of power, the 797 horsepower, 6.2-liter HEMI in both their fast machines have never had the valve covers off.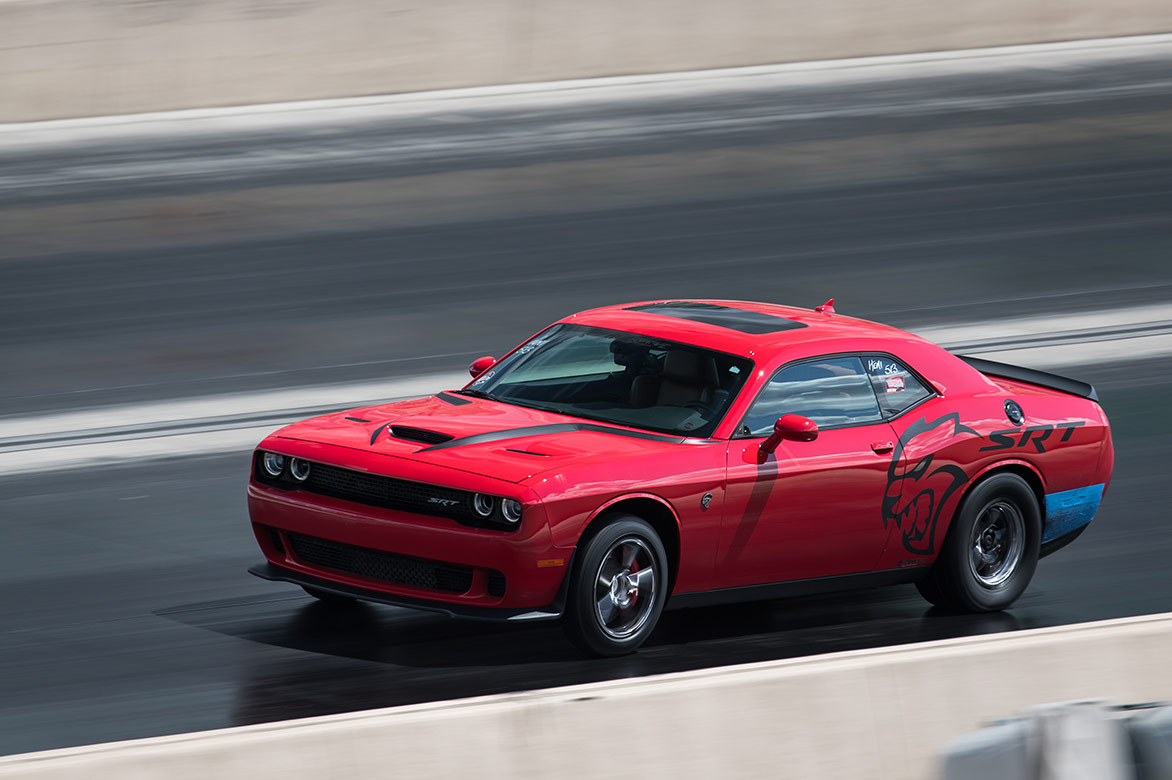 Another fast mover in the NMCA Dodge//Mopar HEMI Shootout was second generation Mopar racer John Keyes from Vernon, Michigan in his 2016 Challenger SRT Hellcat. He clicked off a string of high-nine and low ten-second passes with a three-run average of 10.10 seconds to claim the overall winner spot in the hotly contested event. John's father, Jim Keyes, is a former NHRA Super Stock racer who campaigned a 1967 Dodge HEMI Coronet and a 1968 Plymouth HEMI Barracuda for many decades. The father and son team use the NMCA Dodge//Mopar HEMI Shootout as an opportunity to race together.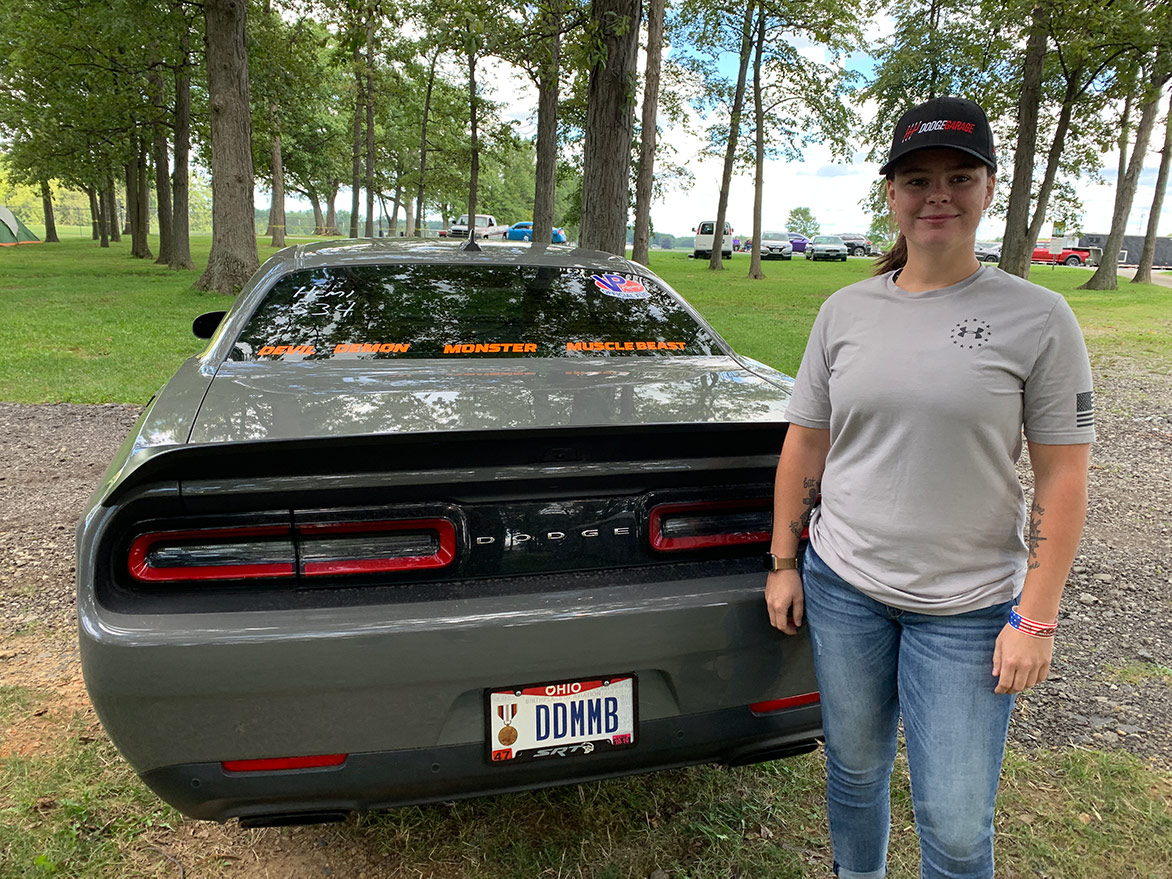 While cruising the pits at Summit Motorsports Park, we ran into a really cool participant competing in the NMCA Dodge//Mopar HEMI Shootout. Her name is Jessica Richards, she's 24 years old and was racing her Destroyer Gray 2019 Challenger SRT Hellcat Redeye. Jessica might be young, but she has plenty of experience with fast modes of transportation. The Sheffield Lake, Ohio resident has raced motorcycles and when the Challenger Redeye was announce last Fall, she knew she'd have to have one. Her parents were also happy to see her go from two-wheels to four. While deployed overseas for the U.S. Navy, Jessica went to Dodge.com and configured her Redeye. At first she was on the fence with the color, but when Jessica returned stateside and saw Destroyer Gray in person at her local dealer, she fell in love with it immediately and placed her order. When Jessica rolls into the drag strip or car show with her Redeye, she gets a lot of looks and a barrage of questions. One she hears all the time is "Is that your boyfriends or dad's car…?" Jessica laughs and then informs them the Challenger Redeye is her own, she sees many jaws drop. Jessica has tons of great stories about her Redeye and we captured all those on video. Look for it to be posted on DodgeGarage.com in the near future.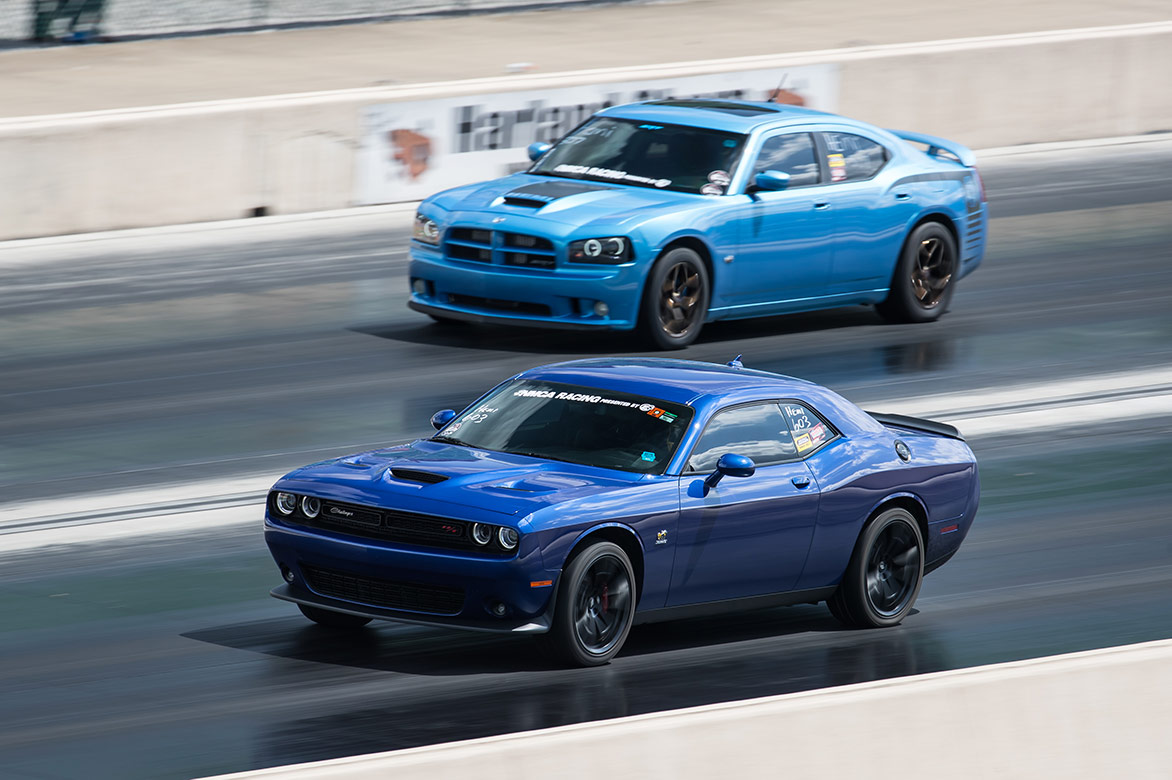 If you're looking to take your late-model HEMI to strip, the next NMCA event will be the World Street Finals at Indianapolis Raceway from September 19-22, 2019. This is the final Dodge//Mopar HEMI Shootout for the year so don't miss this opportunity to hit the strip, punish the tires, and laydown a good ET before you put your Dodge muscle car away for the winter.
Comments
Comments