Tommy Johnson JR's Wish Doesn't Come True at NHRA Four-Wide Nats
5 years ago Racing
Tommy Johnson Jr.'s hopes and dreams of scoring a victory at this past weekend's Charlotte NHRA Four-Wide Nationals simply ran out of horsepower before the finish line. His Make-A-Wish Foundation Dodge Charger R/T Funny Car made it to the final quad, where he faced other racers who survived the previous two rounds that saw engine explosions and carnage strewn on zMAX Dragway's manicured surface. The two-time Charlotte NHRA Four-Wide Nationals event winner (2015, 2016) was ready to add another victory to his illustrious racing career, which includes 15 Funny Car wins and two in Top Fuel.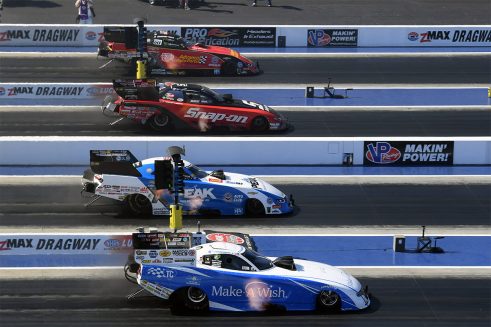 "It's just a challenge for everybody out here today," said Johnson. "The change of the track prep has really thrown the crew chiefs for a curve. We saw a lot of carnage and a lot of teams struggling to get a hold of the track. We made a nice run in round two and had low E.T., and we kind of thought we had a handle on it. Then, once we got out there for the final, it was really running well but broke the tires loose. We'll have to figure it out. We'll see if we can't keep chipping away."
The Charlotte NHRA Four-Wide Nationals also threw a gut punch at Leah Pritchett in her Dodge//SRT® Mopar Top Fuel Dragster and teammate Matt Hagan in his Charger R/T Funny Car. Both drivers had their share of catastrophic engine explosions, but it was Hagan who suffered a massive blower explosion that broke the carbon fiber body in half and sent it towards the sky before floating back to earth.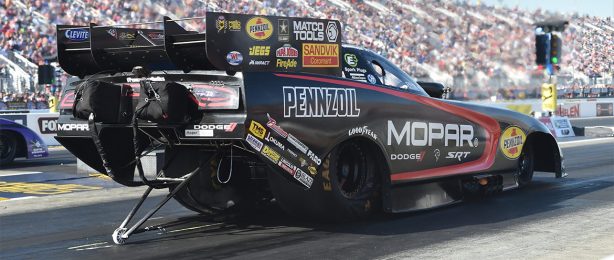 "A little tough, not the Sunday first round we wanted," exclaimed a frustrated Hagan. "Obviously, NHRA needs to address the track prep situation. There's a lot less grip out there and that's why everyone's smoking the tires and blowing up. Hopefully, they can get this situation figured out."
Leah Pritchett could relate to Hagan's painful first round loss.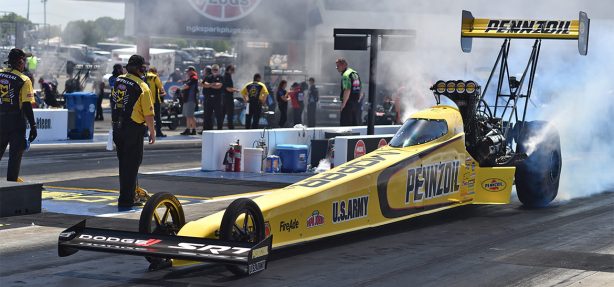 "It's definitely been one of those frustrating weekends for us," said Pritchett. "We so badly wanted to put a win light up there for Pennzoil, Mopar® and U.S. Army. We went out there with a conservative setup to get us down the track. The car in our lane before us had a large explosion and NHRA did a good job preparing the starting line and the part of the track where they saw it the most necessary. We are 98 percent confident that as soon as our car reached the part of the track where the preparation stopped, we ran on oil. We lost traction and I pedaled the car. You drive this event different. When you are racing four-wide, you are going to pedal it no matter what because you just don't know. I'm in lane one and I have no idea what's going on in lane four. You are just cringing inside that car trying to get it to hook up knowing that I'm doing a lot of damage here and the only consolation is if we're able to put on a win light. Unfortunately, we weren't able to do that. Everything up to that point, we felt completely confident in. So we take that, we learn, and we go on to Atlanta."
DSR Charger R/T Funny Car drivers Ron Capps and Jack Beckman faired slightly better at the Charlotte NHRA Four-Wide Nationals. Both drivers advanced to the second quad of eliminations but still had their fair share of issues.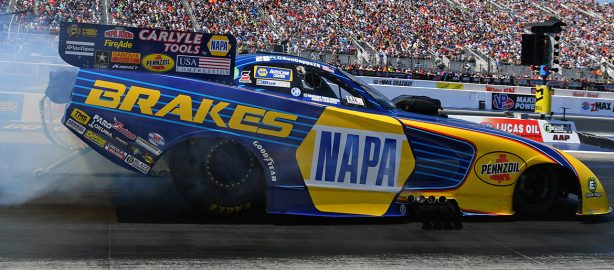 "The car was running great the second round," said Capps. "Obviously, the first round was a battle of attrition, having to pedal it and keep it off the centerline and wall. Our NAPA Brakes team advanced to the second round. It was running right down through there and for some reason, the oil-sending unit shut off the ignition. We're going to have to figure out why it did that, but it's a little heartbreaking to have something just shut the ignition off. It's there for a reason, because in years past, some drivers didn't know when to shut them off when something was going wrong, and it's helped that. We have less oil downs now, but it can also cause the same thing we saw today where it just shut (the ignition) off halfway down the run, so we'll figure it out."
For Jack Beckman, qualifying was a struggle for the Infinite Hero Foundation Charger R/T Funny Car. Beckman started race day from the No. 13 spot and without the option of choosing a lane. In round one, Beckman defeated Bob Tasca III and Shawn Langdon with his 4.427-second pass. In the second round, all four drivers encountered issues, but John Force and Courtney Force were able to outrun Beckman's 4.717-second effort and advance to the final elimination quad.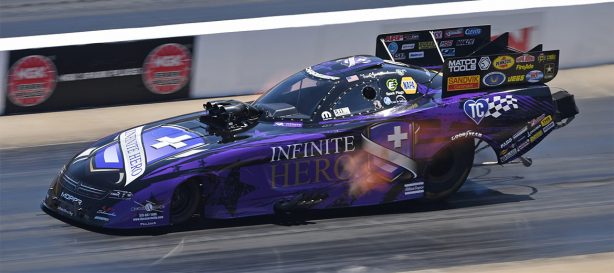 "I don't think I've seen this much carnage in one round of nitro racing in my entire career, and even as a fan; it was just kind of a freak deal," said Beckman, who still remains in the Funny Car points lead heading to the next race. "I think it was a combination of good air, spraying a little bit less percentage of the traction compound, and the fact that it's four-wide. We have to race for second place, which we never do, and you'll get back in it more often than you normally would and that's the nature of the beast."
Speaking of the next race, the team will head south to Commerce, Georgia, for next weekend's 38th annual Southern Nationals at Atlanta Dragway. It's a long season, but the DSR drivers and crews are up to the challenge in chasing a world championship.
Comments
Comments
Previous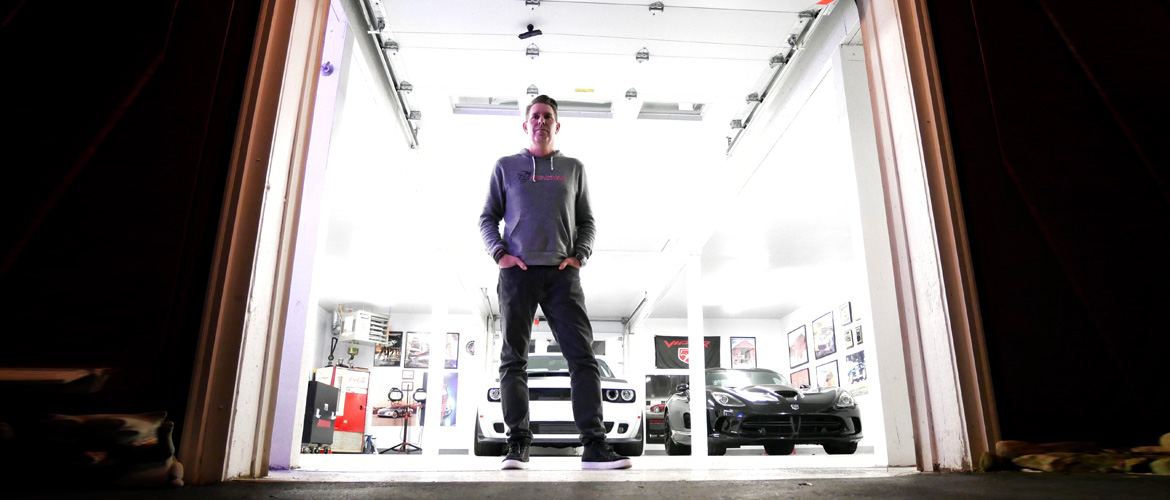 Next