HEMI® Power Rumbles and Roars into NHRA Thunder Valley
5 years ago Racing
The sound of supercharged HEMI®-powered machines will echo through the majestic and scenic Tennessee mountains during this weekend's NHRA Thunder Valley Nationals in Bristol. Not only will the fans be treated to side-by-side nitro-breathing dragsters and Funny Cars blasting down the strip, muscle car enthusiasts will also get to see the wheelstanding Mopar® Dodge Challenger Drag Paks of Leah Pritchett and hometown favorite Allen Johnson in the Battle at Bristol in the SAM Tech Factory Stock Showdown class.
Leah Pritchett's Don Schumacher Racing (DSR) teammate and former Pro Stock champ Mark Pawuk will also make his Factory Stock Showdown debut in a Challenger Drag Pak at this weekend's NHRA Thunder Valley Nationals. She also has competed in her Drag Pak machines for the third time this season. Pritchett has guided her 354-cubic-inch HEMI-powered Mopar Dodge Challenger Drag Pak to the No. 1 qualifying spot at the most recent Factory Stock event in Charlotte, and has raced to a win and a runner-up appearance in the last four events in her Top Fuel dragster.

Despite racing two totally different racecars, Pritchett feels by doing double driving duty, it makes her even more competitive. With six career wins in Top Fuel, Pritchett is hoping to claim her first Factory Stock Wally trophy this weekend.
"It is Bristol, baby," said Pritchett. "I always look forward to running in the Thunder Valley. We've got some good track history and data there, with a runner up finish last year. We have a fair amount of momentum happening right now, and even though Bristol presents a unique and difficult atmosphere for tuners, making as much Mopar power and putting it to the track is what I'm looking forward to for this team. Additionally, we've made some suspension changes to our Factory Stock program and, of course, gearing changes to compensate for the altitude."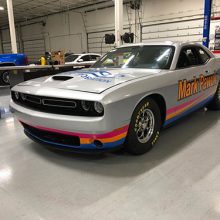 Pritchett's new DSR teammate, Mark Pawuk, who announced his Factory Stock entry at the NHRA Charlotte event in April, will also make his Drag Pak debut at Bristol.
Pawuk's Mopar Dodge Challenger Drag Pak is also a welcome addition to DSR and Pritchett feels this will benefit the program with additional run data collection and sharing of information between the two cars.
"We feel this program is getting stronger with every race. It will be (teammate) Mark (Pawuk's) first race in FSXX, and I typically never weigh on the side of having any more particular experience in a car or class than a teammate, but I look forward to being the best teammate possible to Mark. He did great during licensing, as expected, and I look forward to his competition-side showing through as we both battle through that stacked field," commented Pritchett.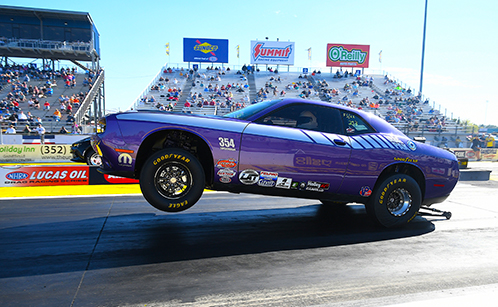 For Mopar Dodge Challenger Drag Pak competitor Allen Johnson, the hometown favorite and longtime Mopar Dodge driver who hails from nearby Greeneville, Tennessee, he'll join Pritchett and Pawuk in the mix for the Factory Stock Showdown win. For the 2012 NHRA Pro Stock World Champion and his father and crew chief, Roy Johnson, it has been a learning process.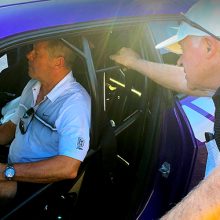 The chance to shakedown their Drag Pak in recent test sessions at Bristol has the duo feeling optimistic as they head into Father's Day weekend.
"We were able to make 16 runs in testing at Bristol, and that's got us feeling really positive heading into this weekend," said Allen Johnson, who stepped away from Pro Stock competition at the end of the 2017 season. "We think we're a lot closer to where we need to be than where we were after the first two Factory Stock races.
"It's always good to be home at Bristol and see all our old friends. No matter what class we're competing in, the fans there have always supported us and had our backs."
You can catch all the ground-pounding HEMI machines as they rumble at the NHRA Thunder Valley Nationals this weekend on FS1 with the live Friday (June 15) night nitro qualifying session beginning at 6:00 pm ET and Sunday's (June 17) final eliminations starting at 7:30 pm ET.
Comments
Comments