Road Trip with the Durango SRT® – Part 1
5 years ago Showcase
With human beings, it is absurd, no matter how hard we try, to fit us into neatly defined boxes. We're wild creatures with minds and hearts that rarely stay put for a day, let alone a lifetime. Our needs, wants and wishes fluctuate moment by fleeting moment. It's one of my favorite things about existing, although it can sometimes devolve into frivolity. English poet William Cowper espouses the former and warns against the latter in this excerpt from his 1785 piece called "The Task", a bit which starts with perhaps the most quoted yet misrepresented idiom this side of the Atlantic:
"Variety's the very spice of life,

That gives it all its flavour. We have run

Through every change that fancy, at the loom

Exhausted, has had genius to supply,

And, studious of mutation still, discard

A real elegance, a little used,

For monstrous novelty and strange disguise."
To paraphrase another Englishman, Winston Churchill, the Dodge Durango SRT® 392 is a hot rod, wrapped in a luxury SUV, wrapped in an enigma. It's a loaded question to ask exactly what it is, but it's easy to tell you what it is not: an appliance. There are fascinating incongruities that eventually reveal themselves, but frivolous they are not. It has a spirit that both muscle car and late-model luxury aficionados will appreciate. Variety is the very spice of life and it need not cost your fortune, your style, nor for you to keep that inner Don Garlits at bay.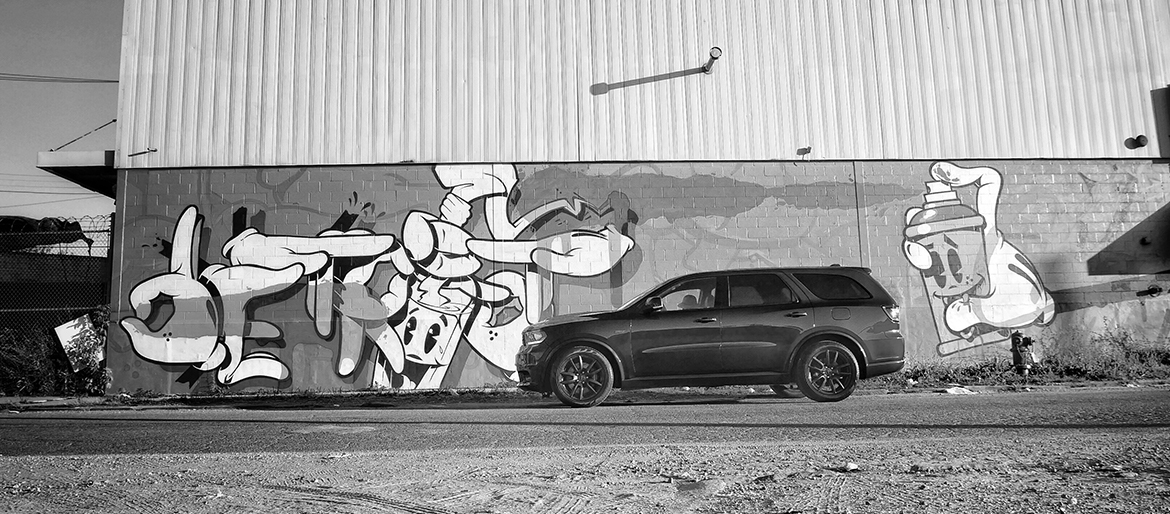 Any whiff of boring went out the window while watching the Octane Red Durango SRT pull up to the guard shack. Being that both the headquarters and the prototype shop for one of America's largest Department of Defense contractors, General Dynamics Land Systems, is on my side of the gate, security is pretty tight. I walked up to the guards to let them know the drivers were dropping the Durango off, and to get a temporary pass to let me bring it in. They aren't typically well versed in cars, but they're always fascinated by the fun stuff I drive. "What is that color!?!?" was the immediate reaction this time. It wasn't the last I'd hear that during our travels with the SUV; in fact, nearly everyone we came across had something to say about the metallic red that just pops in the sun.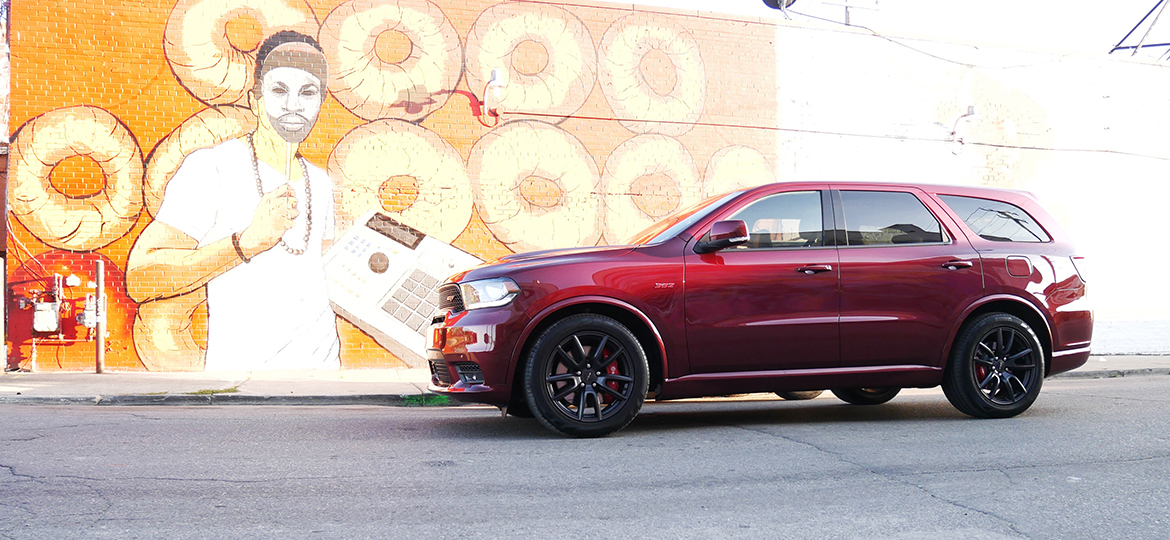 I honestly wasn't sure what to expect sliding while into the pilot's chair. I sort of figured it would be a less sporty version of the Jeep® Grand Cherokee SRT. That would make sense, as the Durango SRT is measurably bigger (even if only slightly) than its Jeep cousin in every dimension and weight and is powered by an identical drivetrain: the stout, naturally aspirated, 475 hp/470 ft.-lb. 6.4L 392 HEMI® mated to a ZF TorqueFlight 8 speed.
I figured wrong. Despite sharing such similar building blocks, in its soul, the Durango SRT is very much the "7 seat SUV version of the Charger Hellcat" that former Dodge head honcho Tim Kuniskis touted it as. The exhaust note is already Black Sabbath's "War Pigs" at idle, but mash the hyper-responsive gas pedal and it summons Tony Iommi shredding "Paranoid" through the rear exhaust. That was the first sign that this was a different kind of animal. There were many miles ahead, so I figured I'd just let the thing sort of reveal itself to me.
The plan was to leave work, stop by the loft to pick up my wife and pack up the SUV, then head south to get a head start on our trip to Memphis. I'd been out of the country for work and hadn't really driven much for 3 months, so "chomping at the bit" would be an understatement. Quality time with Darla while on the open road was going to be a much-needed holiday.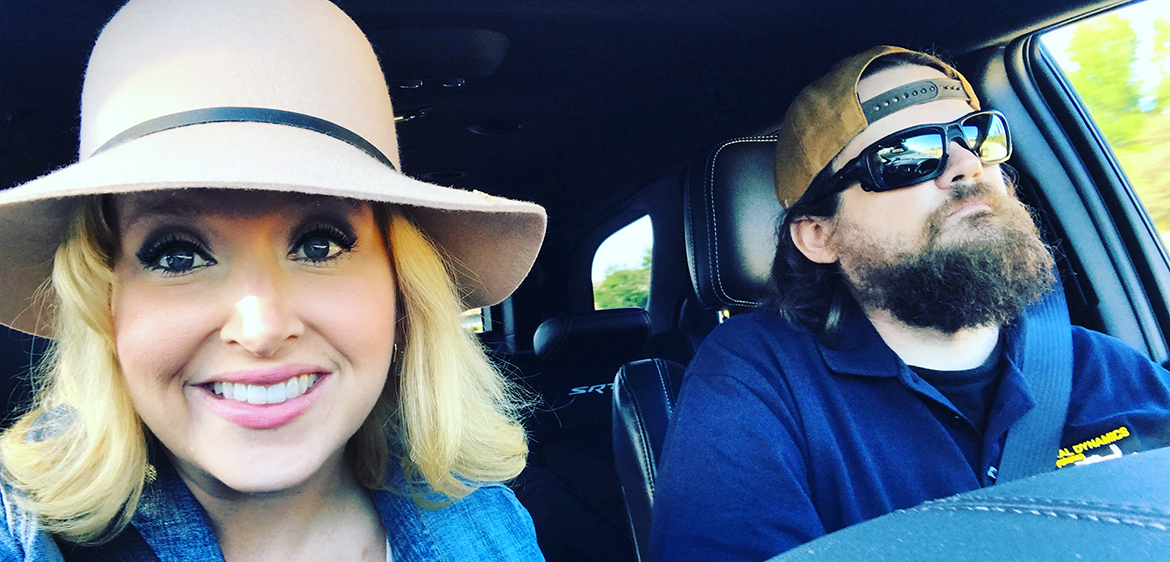 But first, I have a hard time leaving Detroit without taking photos. I love the aesthetics of the city, the creative energy, the gritty attitude. Eastern Market always has some killer murals for a backdrop, plus Supinos Pizza is right there. Can't start off a road trip without fuel. Delicious, thin crust, fuel.
There was no need to pack light. We filled up the 2nd row with our luggage and a cooler full of snacks, with room to spare. I couldn't help but think we needed to really test the cargo capacity at some point. I just wasn't sure how. Yet.
We made it to Louisville that night to grab a few ZZZs before an easy 6-hour drive to southwest Tennessee.
Cowper's word use in the aforementioned section of "The Task" speaks to me. So I had a little fun with it.
"Variety's the very spice of life,

That gives it all its flavour. We have run

Through a very monstrous Exhaust,

That has had Hemi genius to supply,

And, studious of mutation still, espouse

A real elegance, in a little used segment,

For a bit of a novelty for muscle loving girls and guys."
Comments
Comments