Mopar® Dodge//SRT® NHRA Notes & Quotes: Sonoma Nationals
4 years ago Racing
Ron Capps, NAPA Dodge Charger R/T Funny Car No. 5 Qualifier – 3.972 ET
"Great weekend. We've made huge strides lately. Coming out of Denver, we had a lot of confidence, that was one of the best Denver showings we've had in a long time. To come here and unload and have that consistency right off the bat, it just kept giving (crew chief Rahn) Tobler more and more confidence. The biggest thing was the two runs in the heat, and those three bonus points each run. Those are the biggest for us for a couple of reasons. Tobler was able to get a feel for the car for Sunday and try some things.
"This was another great weekend in points for us. We really felt like we were going to be in the winner's circle today. Anytime you race Robert Hight and (his crew chief) Jimmy Prock, it's a big matchup. We got out there, it moved around a little bit and spun, and they got by us. This is the time of year where we know we need to get into race form for the Countdown and it starts with the Western Swing. I joked about a month ago that we were over 300 points behind the leader and I said, 'You watch, we're going to make a run for it,' and it'll be three years in a row if we can get the points lead going into the start of the Countdown. We made a big jump today, and we're going to keep collecting those Mello Yello points."
Tony Schumacher, U.S. Army Top Fuel Dragster No. 4 Qualifier – 3.747 ET
"It was a good points day. You know, I've had a pinched nerve in my shoulder. I can't even move my right arm. To get to the final and cowboy through it all, I'm glad it's done. I'm twitching everywhere. My right side is in agony, I've had people working on it all day. Need to get that taken care of before next weekend at Seattle.
"We made up points on the leader and two positions. You know, I can say that nobody else has any business writing any speeches, yet, because this team has proven time and again that we know how to figure it out by the time it matters. That was an unfortunate 20 points that we didn't get in that final. We ran so well yesterday that we felt like nobody was going to beat us today. We got a few lucky breaks, which we haven't really had, and when you start running well and getting breaks, that's how you win championships."
Leah Pritchett, Palomar Builders/Mopar Dodge Top Fuel Dragster No. 2 Qualifier – 3.727 ET
"We had some really good momentum coming into race day, by far. Qualifying No. 2, three pretty great passes. The team worked extra hard Saturday night repairing from Q4. Like anything, you wish you could put your thumb on why something like that happened, but I feel like I was in a little different mental state today, knowing that we clinched our way into the Countdown. Trying to elevate my level of performance to practice for the Countdown, I just anticipated the tree and I thought the route I went was the route I needed to go.
"Ultimately, though, a testament to the attitude of this team is, the moment that it happened and the amount of support I have from them has made it pass over sooner than I could've ever even imagined. As Joe Barlam, one of our great crew chiefs, says, there are two ways to deal with it and one of them is to get over it. I'm disgusted, by all means, but to live and die by the sword, you have to know where the sword's at and today I found it. So, hopefully, from now on, we can just keep cutting it up. I could be salty here as anything here by the ocean, but the way Jeb (Allen, weekend sponsor), our partners, the team and I have handled today's early exit shows a lot of fortitude and we can only build on it."
Tommy Johnson Jr., Make-A-Wish Dodge Charger R/T Funny Car No. 7 Qualifier – 3.988 ET
"It's been a tough season. We've struggled and have not been as consistent as we'd like, but we're starting to gain some traction and we're starting to get the car real consistent and become really competitive. We went to the semis and would have liked to have gone further, but really happy with how the car is starting to come around. I think that's super important because there's just three races left before the Countdown and it's the right time to start making some headway. So, I'm really happy and look forward to going to Seattle and continuing."
Matt Hagan, Southwind Builders/Mopar Dodge Charger SRT® Hellcat Funny Car No. 4 Qualifier – 3.956 ET
"Had a really good opening lap but a little loose in the second round. We need to move into Seattle. We've done well there a time or so and always seem to qualify there pretty well. So let's focus on that. This [race] is behind us now. [Ron] Capps might end up going around us now in points but it's going to be a battle down to the end no matter what."
Jack Beckman, Infinite Hero Dodge Charger R/T Funny Car No. 2 Qualifier – 3.929 ET
"Our car didn't run what it should have run second round and that's disappointing because I really think we have a car right now that can hang with anybody. That being said, even though it didn't run as quick as we wanted it to, we actually still made a decent lap, which tells me that we're at a point in our tune-up window that even if we miss it, we still have a very, very good racecar. So onward and upward. We'll pack up and five days later in Seattle, we'll unload and win that one."
2018 NHRA Championship – Point Standings after Round 15 of 24 (Season wins in parentheses)
NHRA Funny Car
Courtney Force – 1197
Ron Capps, Dodge Charger R/T (1) – 1032
Robert Hight – 1024
Matt Hagan, Dodge Charger R/T (3) – 1001
Jack Beckman, Dodge Charger R/T (1) – 967
J.R. Todd – 863
Tommy Johnson Jr., Dodge Charger R/T – 819
John Force – 807
Shawn Langdon – 680
Bob Tasca III – 656
NHRA Top Fuel
Steve Torrence – 1168
Tony Schumacher, Mopar Dodge HEMI® (1) – 1031
Clay Millican – 1025
Leah Pritchett, Mopar Dodge HEMI (2) – 989
Doug Kalitta – 951
Antron Brown – 809
Terry McMillen – 728
Brittany Force – 697
Scott Palmer – 617
Richie Crampton – 608
Comments
Comments
Previous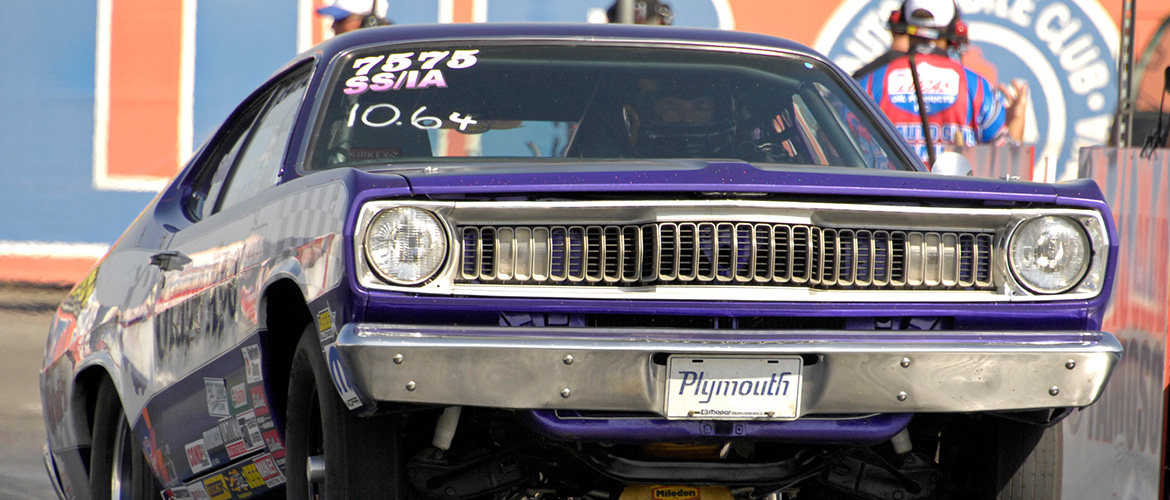 Next