DSR Takes Zero Downtime in the Off-Season
4 years ago Racing
It seems like just yesterday when our nitro-guzzling, 11,000-horsepower HEMI® engine-powered machines thundered down the strip at Auto Club Raceway in Pomona, California, during the NHRA World Finals. For the drivers and crew of the Don Schumacher Racing team, competing in the 24-race NHRA Mello Yello schedule that takes them cross-country for a 10-month stretch can be grueling and rewarding all at the same time. This season, the teams are in for the long haul in search of the 2019 NHRA World Championship. Despite strategy changes from each driver's team, the NHRA season will kick off the same way it has over the past 50-plus years, at Pomona's legendary track.
The last race of the season is always a nail-biter, not just for the drivers, but also the crew chiefs and the whole team. When the championship is on the line and within approximately 3.8 seconds, they know if they'll be victorious, or hanging their heads low in the shadow of defeat as the chutes get pulled on another NHRA Mello Yello Drag Racing season.
When the season concludes, there is no "off-time" for the crew chiefs and their crews. Once the Christmas gifts get exchanged and New Year's resolutions are made, it's back to work in the massive facility of Don Schumacher Racing (DSR) in Brownsburg, Indiana. These guys know the clock is ticking for the season-opening NHRA Winternationals in Pomona, California, in February. There's little time to relax as the "to-do list" on each car contains many pages. From engine overhauls, to chassis/frame modifications, and even fitting new Funny Car bodies, there's a ton of work that needs to be done.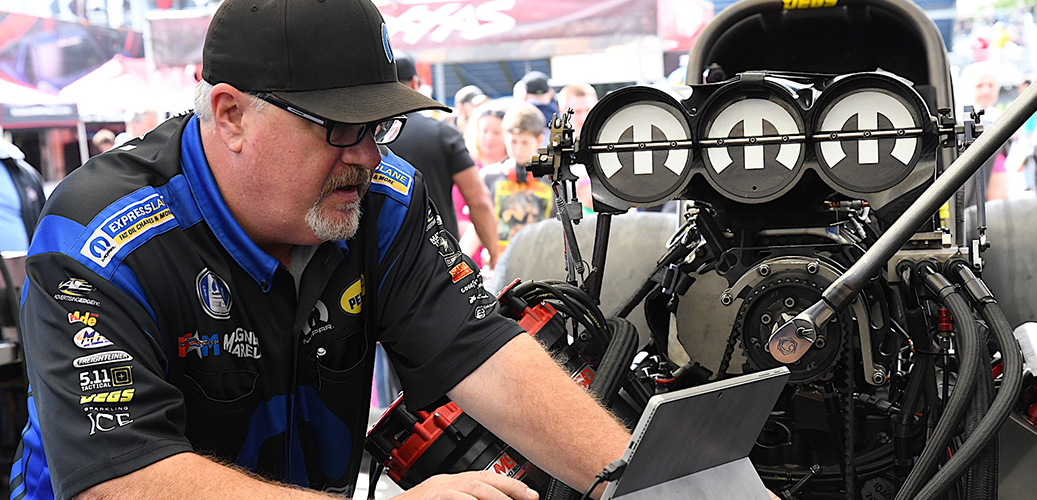 We had a chance to chat with Don Schumacher crew chief Dickie Venables, whose job is to make sure Matt Hagan's nitromethane Dodge Charger SRT® Hellcat Funny Car is functioning to optimum ability. It's more than just how much timing, spark and fuel they throw at the HEMI® before the run. Dickie needs to look at track and weather conditions and get the clutch lock-up just right. One slight adjustment either way on the air-gap can cause the massive Goodyear slicks to boil in a plume of smoke at the hit of the throttle.
"This winter, the Mopar® Express Lane team actually had a normal off-season as far as going through all of our equipment. First and foremost, we went through every part of our Dodge Charger SRT Hellcat Funny Car and getting it ready for the new season. In addition to that, we inventoried and tested the various power tools, stands, engine parts and, of course, our transportation equipment," said Dickie. "So for us, this off-season was pretty much a normal winter as we didn't have any really big projects."
As the 2018 season was in high-gear, the Mopar Express Lane Charger SRT Hellcat Funny Car sort of stumbled, but Dickie and the crew guys dug deep and made some major strides in consistency as the season was approaching the traps. One thing that's important to any crew chief is the level of teamwork of the guys who work almost 24/7 on getting the Funny Car where is needs to be.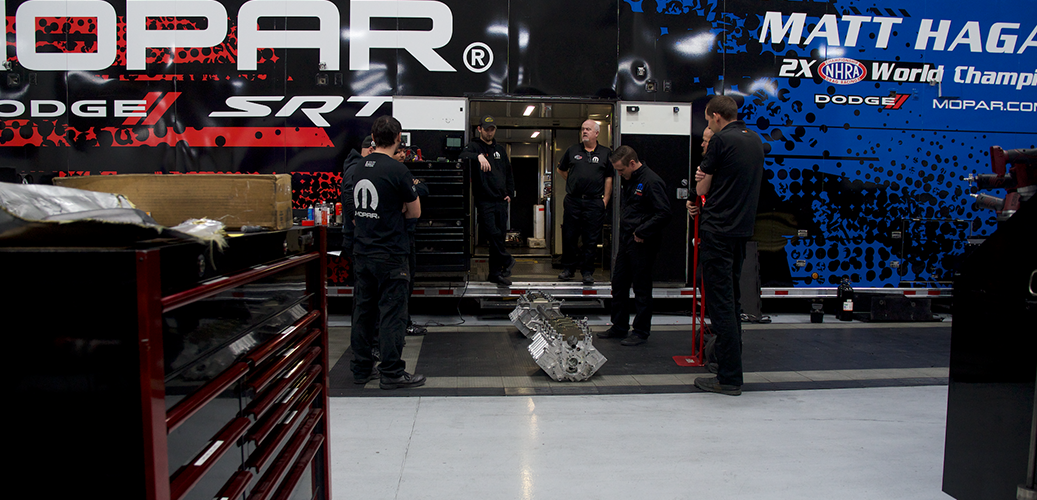 "Fortunately, we have all of our same team members, which is always a good thing. It's been a while since we've had any changes in personnel, and it's a team that has really stuck with us. We will all be back in 2019 to start off the season in Pomona and that's a really good thing," said Dickie.
In regard to any new mechanical tweaks to the Mopar Express Lane Dodge Charger SRT Hellcat Funny Car, Dickie and the crew are working on some items to make the machine more repeatable when Matt Hagan plants his foot on the accelerator.
"We're going into the season with the same car we ran the back-half of 2018 with. We made some clutch changes towards the end of last year and we're kind of looking forward to working with the five-disc clutch and getting it dialed in. We did freshen up the front-half of the chassis, so we're looking forward to testing and see how it does. We made some strides late last year, so we're just going to continue where we left off," commented Dickie.
Some drivers and crews have favorite races and/or drag strips. For the legendary NHRA Winternationals that's always claimed Pomona as its own, Dickie has fond memories of heading west and kicking off the season.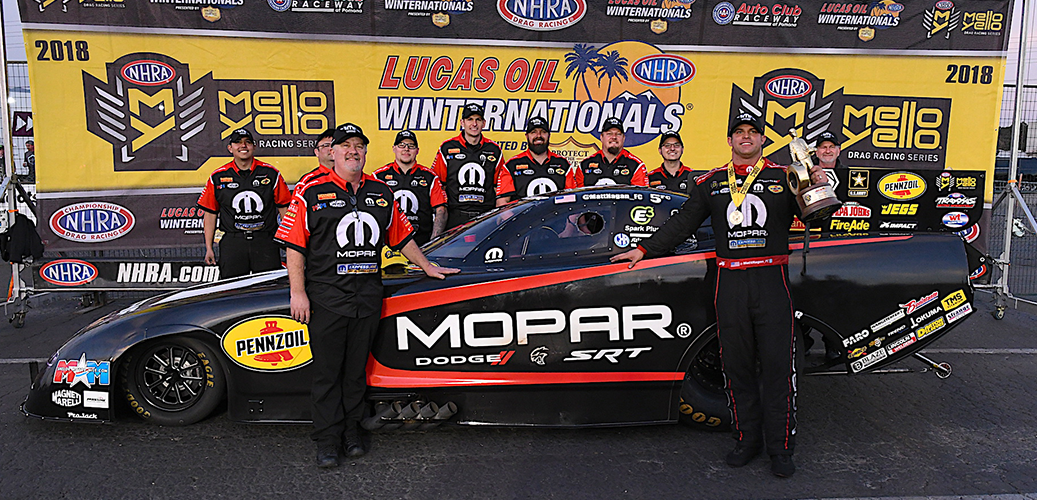 "Pomona is always a good race for us and we've always done well at that track. As a matter of fact, the Mopar Express Lube Funny Car won the Winternationals the last two years in a row" said Dickie.
For Todd Okuhara, crew chief of the Dodge/Mopar/Pennzoil Top Fuel Dragster driven by Leah Pritchett, he's constantly looking at ways to make Leah's HEMI engine-powered rocket ship faster. With the intense NHRA race schedule, Todd, like the other DSR crew chiefs, uses the off-season to regroup and begin planning for the next year.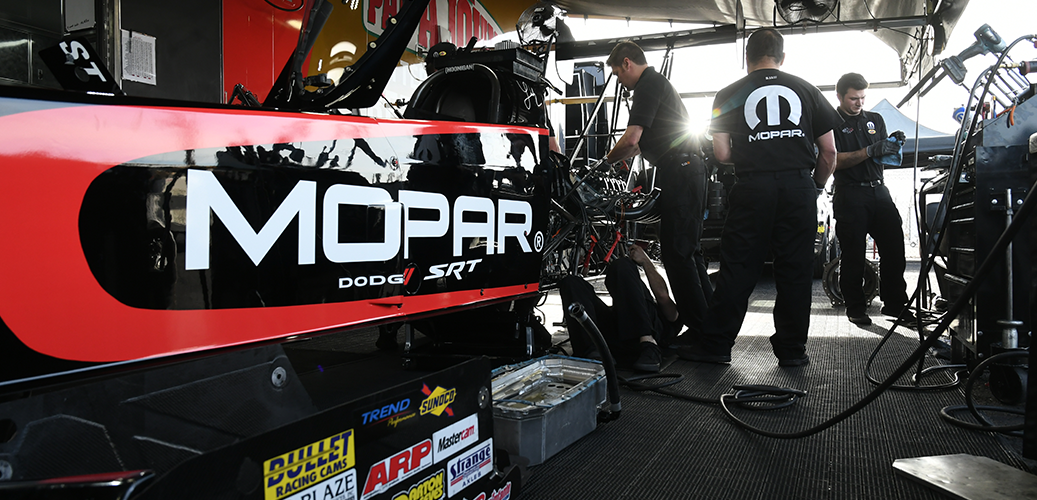 "During our off-season, all we did was try to refine what we did towards the end of 2018 and make it better," said Todd. "Our car was running good for most of last year, we just want to continue where we left off performance-wise and be a little smarter on race day. We lost our system crew chief in the off-season, but added Neal Strausbaugh from the Infinite Hero Charger Funny Car. I've known Neal since we worked at Snake Racing and I'm pretty excited to be working with him again."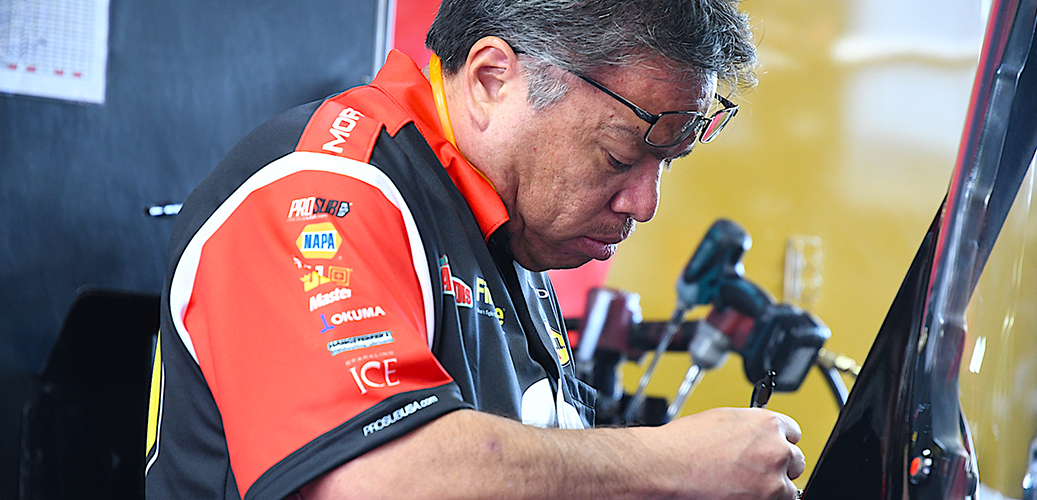 For Todd and the rest of the guys, they'll be removing old parts and adding new ones to make Leah's dragster even faster and consistent. Remember, every round of competition counts for points, and if you're racing for an NHRA World Championship, everyone who touches the car needs to be on top of their game.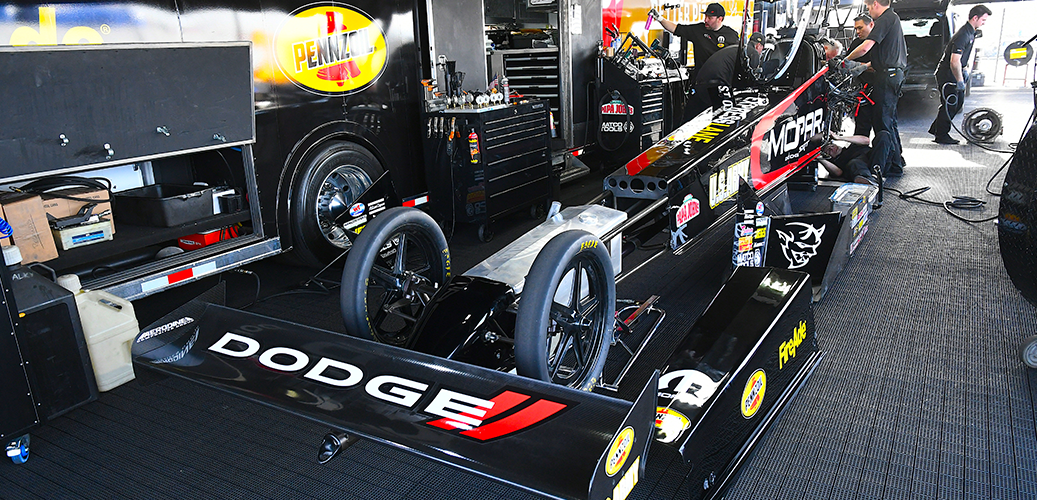 "We added a new front-half on the car for this year and all the teams have gone to a new fuel system that has taken roughly 10 pounds off the car that we'll want to test at some point. Our hope is to move that weight off the car and put it in better and more efficient places on the dragster.
With the NHRA Winternationals on the horizon, the team is looking forward to once again making some noise on the grounds that many consider the birthplace of drag racing.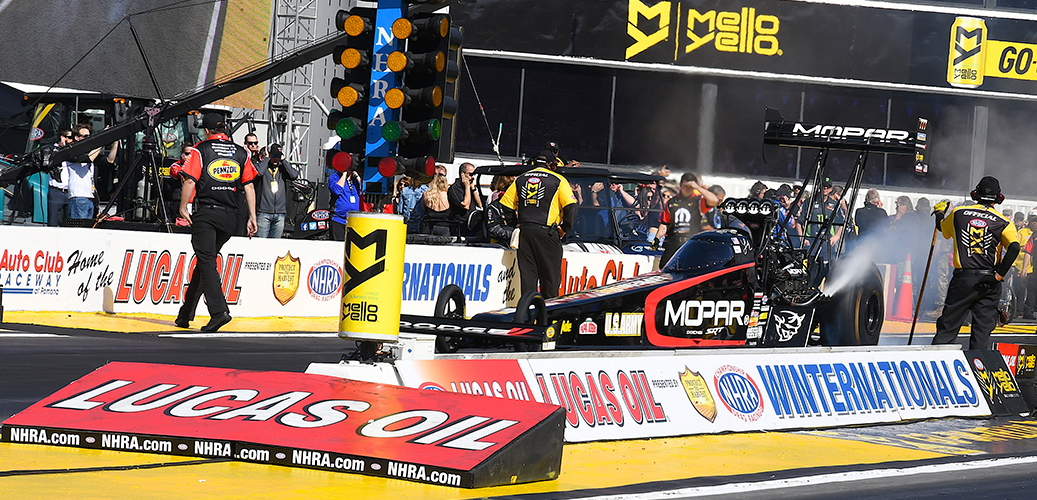 "We're always looking forward to Pomona and you get the whole off-season to think about things you want to try and do differently from the previous year and get to implement and see if it all works. So, yes, we're excited about that," commented Todd.
The 2019 NHRA Winternationals will begin on Thursday, February 7, with Sportsman qualifying, and will conclude on Sunday, February 10, with final eliminations for Pro and Sportsman classes. If you're hanging out at home, FS1 will have all of Sunday's (2/10) racing action starting at 5:00 pm ET.
Comments
Comments