Blazing Hot Temps & Even Hotter ETs
5 years ago Racing
The season-opening NMCA Muscle Car Mayhem brought in tons of horsepower as participants attacked the quarter-mile strip at Bradenton Motorsports Park in southwest Florida. Like the temperature, the racing was hot as a record number of SRT® Demons, SRT Hellcat Redeyes, SRT Hellcats, Scat Packs and other HEMI® engine-powered machines came out to compete in the NMCA Dodge / Mopar® HEMI Shootout.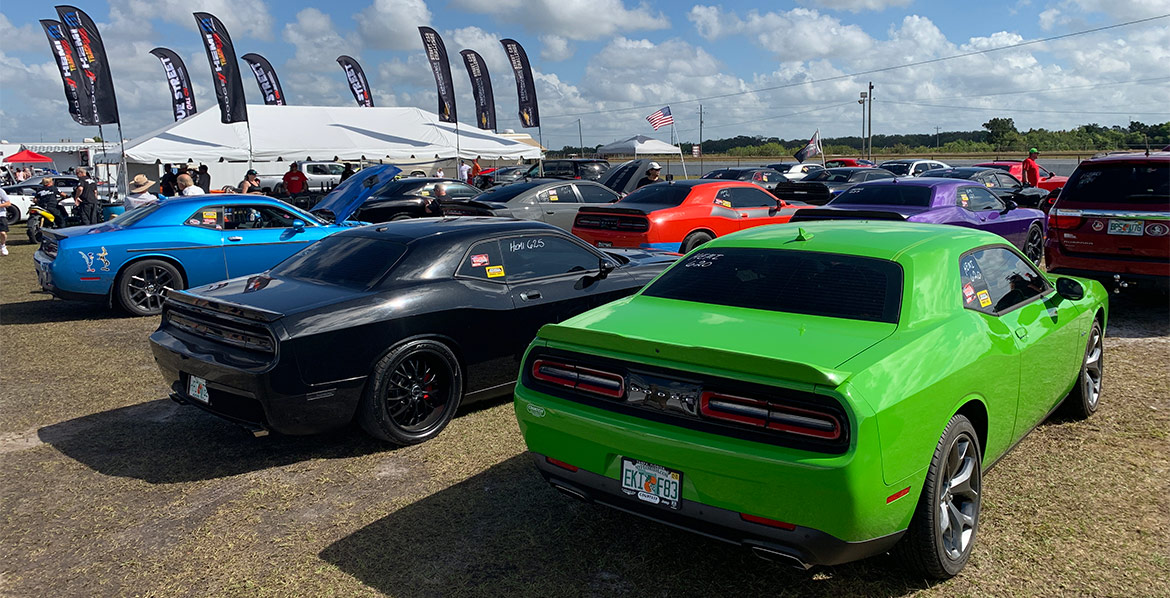 Now in its second year, the NMCA Dodge / Mopar HEMI Shootout is gaining even more traction as we saw packed pits and staging lanes with enthusiasts eager to put their foot down and see how fast their cars would go. Among them were a mix of first-timers and seasoned grassroots racers, but they all had the same goal in mind, make a great run and get a personal best ET. We also noticed a camaraderie among the participants and in many instances, we saw many experienced racers working with rookies and sharing knowledge from launch techniques to proper tire pressure settings for good traction.
Remember, this is a like-minded community of Dodge gearheads that share the same passions and goals.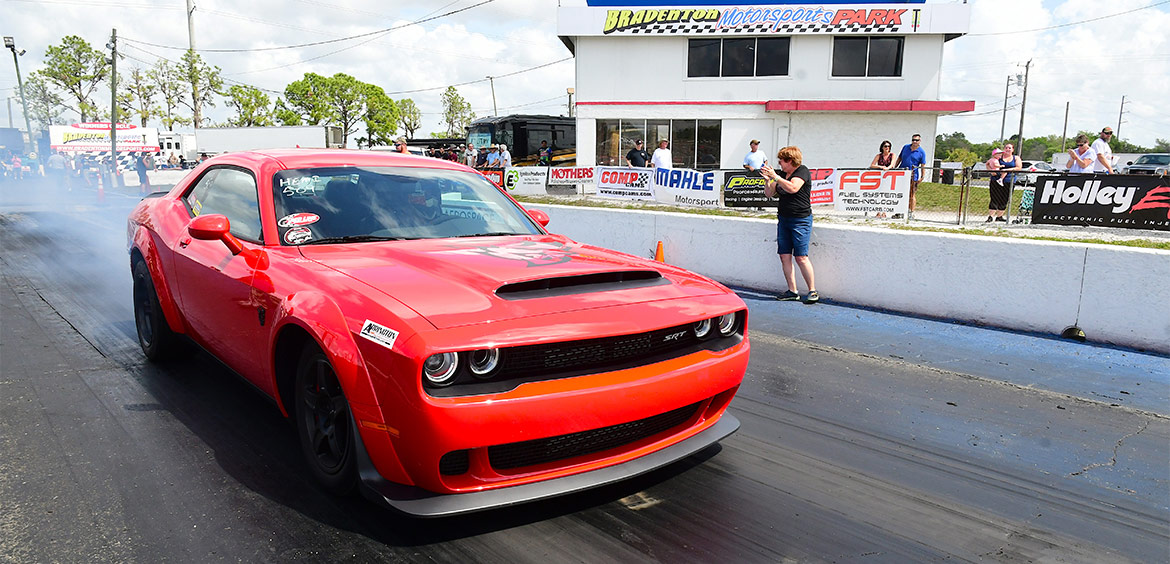 One racer who's always ready to help other Mopar vehicle owners get the car down the track is Bill Lee Jr. from Palmetto, Florida. He races a 2018 Challenger SRT Demon owned by Steve Best and for the second year in row, was the overall winner in the NMCA Dodge / Mopar HEMI Shootout at Bradenton. Bill also won the Arrington Performance Quick 8 the following day, which further solidified his skills at running consistent times. Bill knows the right balance of applying the SRT Demon's 840 horsepower to the pavement during the launch without obliterating the rear drag radials in a cloud of smoke.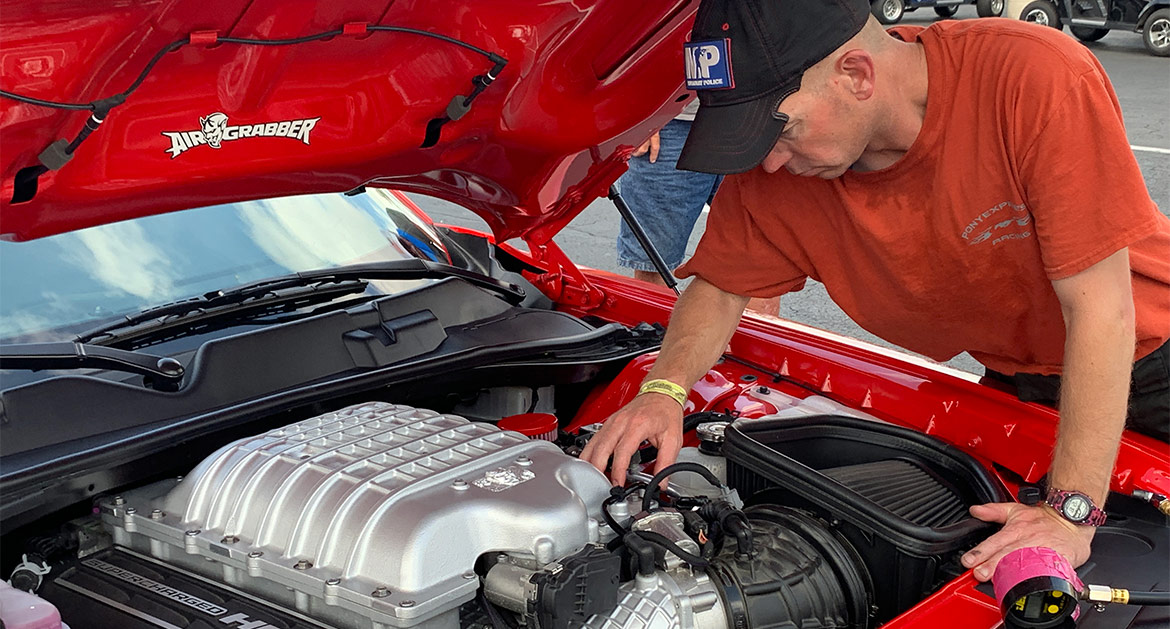 "I started drag racing Junior Dragsters when I was nine years old and eventually moved up to racing cars when I turned 16," said Bill. "Now that I'm 35, I try to help anyone. Cars such as the [SRT] Demon and [SRT] Hellcat can be intimidating and I don't want anyone to feel that way when they come to the race track. With the Dodge / Mopar HEMI Shootout, it amazes me how friendly everyone is and they're all willing to share information. I can tell you that coming in from the outside, the Dodge family of enthusiasts has accepted me as one of their own."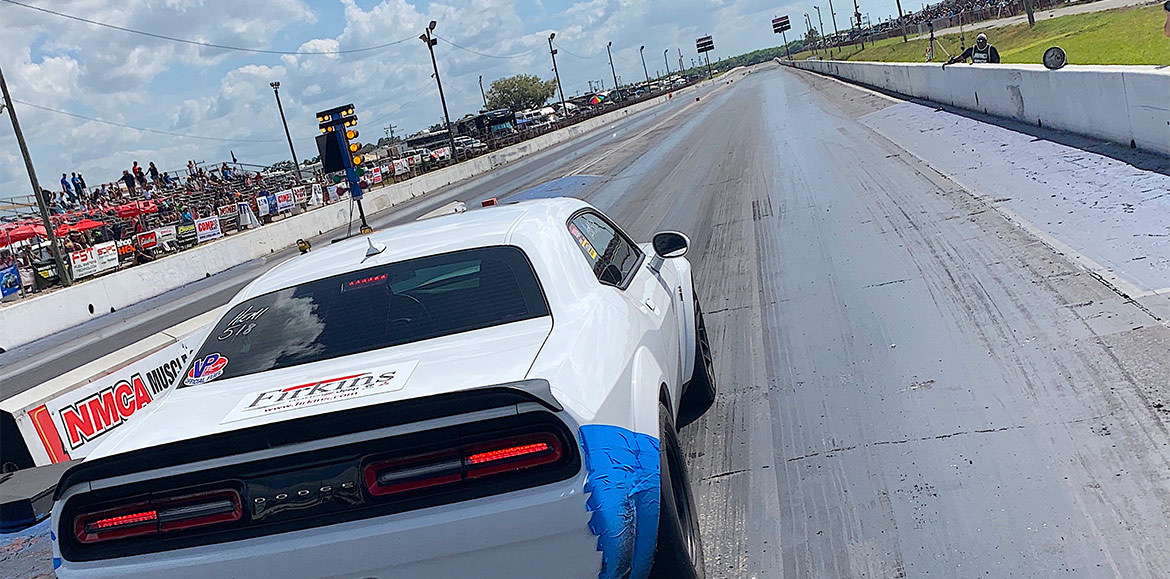 Gage Burch from Bradenton, Florida, was also clicking off some fast times with his 2019 Challenger SRT Hellcat Redeye. Other than a set of drag radials for maximum traction, Gage's White Knuckle machine was bone stock and put down a strong 10.97 ET to claim victory in the 11-second bracket in the Dodge / Mopar HEMI Shootout. Gage pointed out there's a lot more left in the SRT Hellcat Redeye's 6.2-liter supercharged HEMI engine as he intentionally was racing it super conservatively and clicked off a pair of low 11-second runs to win his class. In good air and going all out, his SRT Hellcat Redeye can run low 10-second quarter-mile times.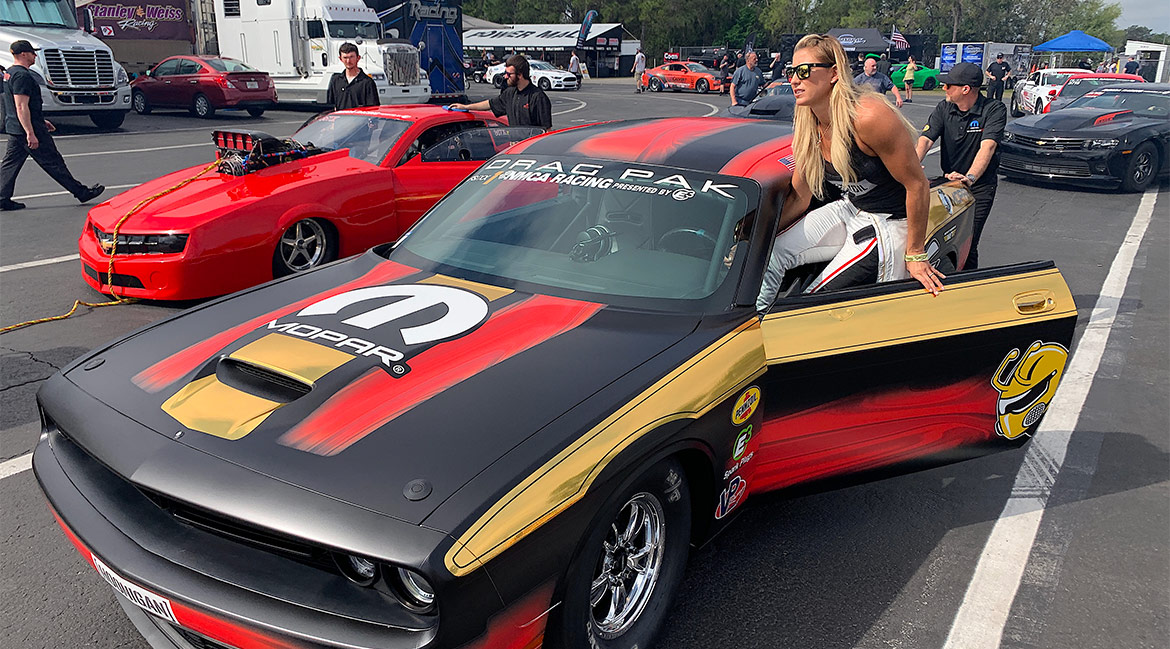 In the Holley EFI Factory Super Cars class, DSR Mopar Dodge Challenger Drag Pak drivers Leah Pritchett and Mark Pawuk faced off against an army of COPO Camaros and Cobra Jet Mustangs. After three qualifying sessions, Pritchett ended up in 10th, while Pawuk was four spots back in 14th. During eliminations, both Pritchett and Pawuk advanced due to their awesome driving skills and reaction times and defeated faster opponents on a holeshot.

Pritchett was on her game on race day and made it all the way to the quarter-finals while her teammate, Mark Pawuk, drove his HEMI engine-powered machine to a runner-up finish.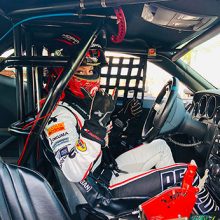 Crew chief Kevin Helms will analyze the run data from the NMCA event while he and the team head up the road to compete at the NHRA Gatornationals this weekend.
The second stop for the NMCA will be Atlanta Dragway in Commerce, Georgia, for the All-Star Nationals April 4-7. Named "Georgia's House of Speed", the Atlanta Dragway staff takes pride in making their facility live up to its name with constant grooming of the starting line. The NMCA's racers, including our Dodge owners who compete in the Dodge / Mopar HEMI Shootout, appreciate that consistency on the racetrack because they like to go fast. After all, getting that ET slip with your personal best is what it's all about and let's be honest, we love to show them off to our friends and brag to competitors.
Comments
Comments
Previous