Wide Open West in a Dodge Challenger SRT® Widebody – Part 3
4 years ago Showcase
The Bonneville Salt Flats, the Badlands, blizzards in the mountains and more awaited us on our return voyage! Vegas is OK for a couple of days, but the circus kind of wears on your soul before too long. Ironically enough, "Leaving Las Vegas" pumped from the Beats by Dre system as we headed northeast and made tracks beyond the city limits.
It was a stunning day strung with threatening clouds which never followed through, and US-93 makes for a fine drive with interesting terrain, long straightaways and smooth roads. I suppose those west of the Mississippi take that last thing for granted; but when you're from Detroit, every mile without an asteroid crater-type pothole is a sign from the gods to put the hammer down. I've gotten pretty good at explaining that to the police. Still no tickets.
As good as the TorqueFlite A8 is, it's no secret I like to work the pedal and the shifter myself. I'm a huge fan of the Tremec 6060-equipped manual transmission Challengers. There's a mechanical feel in it you just don't get from most modern manuals. Bolt it in line with the widebody Hellcat's supercharged HEMI® on a lonely two-lane road and bring down the thunder. It's like I'm Mad Max and Darla's Imperator Furiosa, only I'm the one in need of a bionic arm as we bound down Fury Road while the blower screams while sucking in the atmosphere.

Last year, I made it to Bonneville for the first time, only the dry lake bed wasn't dry, but flooded. The flats were still a must-see, as the shallow waters extended seemingly to the edge of the world, or the base of the Silver Island Mountain Range, depending on which direction you were taking in. There was an eerie calm as I drove out to the end of an asphalt peninsula; outside of that sliver of a dead end road, I was surrounded by a reflective pool. The heaviness of the place – in past accomplishment, defeat and future daring – haunts the soul. As cool as all that was, I was looking forward to a different experience.

This time, we lucked out with a salty surface that was (mostly) dry and dense enough to drive on. So we did. I poked and prodded the crust until sufficiently satisfied we wouldn't wind up sunk in mud. Caution was still employed while we picked our path, carefully avoiding obvious wet areas.

The move to isolation happens gradually, but when it hits us, it's kind of all of a sudden: We are alone. I-80 is in the ether, the paved peninsula and a busload of tourists could no longer be seen or heard. GPS was all that connected us with an orchestrated civilization.
You know that weird thing that touches you to your core when diving into an enormous piece of the earth, a place that warps all sense of scale and space? Where your senses are assaulted and soothed at the same time, when you feel compelled to cry or smile or laugh or just stare with incredulity at the vastness and depth of our world? The Bonneville Salt Flats swallows you up into a surreal, otherworldly place, both mentally and physically.
There were no land speed records being set that day, especially not with a stuffed-to-the-gill car and less than ideal surface. Luckily, there were no tow rigs needed either. Thank god for a smart wife pointing me in the right direction as darkness fell and I lost my bearings. I did have enough sense to keep momentum moving forward as we made a looping left and trudged through some "questionable" salt before finally reaching blacktop with an appropriately sized sigh of relief. Once again, it was our time to hit the highway.
After receiving my second and third speed warning of the trip, which sandwiches our close call with my terrible sense of direction and soft salt in Bonneville, you'd think maybe I'd not push my luck any farther, yeah? I'll see your call and raise you a blizzard in the Eastern Rocky Mountains of Wyoming!
For three hours, we pushed east through what looked like a galaxy far, far away at light-speed from the cockpit of the Millennium Falcon. Snow was building up on the interstate, making for pretty slick conditions, but I grew up driving rear-wheel-drive V8 vans shod with worn-out tires during west Michigan winters. Heck, I put winter tires on my old Scat Pack and drove it year-round! OK, maybe now I was dealing with a bit more power. And the super wide Pirelli P-Zeros aren't exactly as "cold weather friendly" as their Scorpion Snow and Ice brothers. Still, the Hellcat stayed remarkably composed. Who needs a Trackhawk? I love the battle of man and machine versus Mother Nature. Darla, not so much, but she's been with me long enough to trust my skills in the white stuff. We made it through to the other side and far enough to put the Badlands within range for the next day.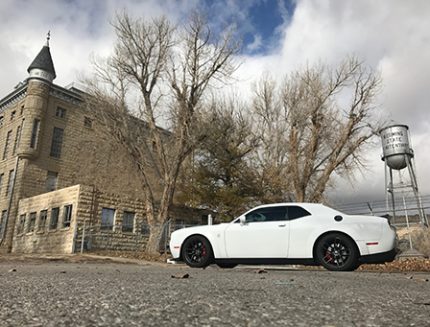 Early the next morning, we wandered a bit off the beaten path in a well-worn town named Rawlins. There was no way I wasn't stopping for a photo-op in front of Wyoming's old State Penitentiary. Ironically, there was not a cop car in sight.
In 2011, we drove through South Dakota's Badlands and wanted to reach it again while the sun was still above the horizon. It's another wild, inspirational and other-worldly place. Pedal to the metal, we snuck in during the early afternoon a few minutes before sunset. We set out on Rim Road and creeped from one lookout to the next, taking in both wildlife and the sky's changing colors.
Shadows grew longer until nothing was lit but the stars in the sky. We'd seen so much on our trek, but now our final destination, home, was next. It's a route through the Midwest I've driven 100 times.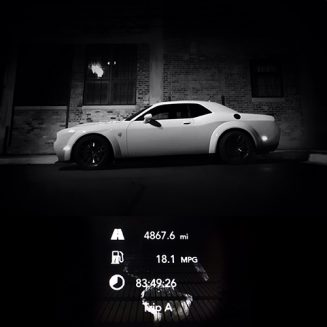 And we made it: 4,867.6 miles from Detroit to Vegas and back with a few scenic detours in the mix. It was rewarding to let the car kind of reveal itself to us from mile to mile, state to state. The Widebody Hellcat really is a riotous Grand Touring car. Its DNA still has that smooth sedan deep within it, also appointed with a nice sound system and rich leather interior. Long stretches are comfortable, but you know substantial g-forces or glorious burnouts are just a twitch of the foot away.
Blasting through the winding roads of America, the extra width of both the stance and the tires adds no small amount of confidence to the driver of widebody versus the narrow body. That's no knock on the latter, it just adds an element of sophistication to the mix. It's kind of like if you saw two wolves dress up as sheep while hunting them. One grabbed its costume at 7-Eleven while the other has a brilliant "Mission Impossible"-esque sheep mask. The base Hellcat is a homicidal lunatic like Jack "heeere's Johnny!" Torrance. The widebody is slick like John Wick.
The last three years, our annual Detroit to Vegas round trip has been in a Viper ACR, a Challenger Hellcat and now a widebody Hellcat! What's next?!
Comments
Comments