Crate Expectations
4 years ago Showcase
Incredible Performance, Right Out of the Box
How do you transform a classic street vehicle into a fire-breathing dragon that eats up the track? It's easy when you drop in a Mopar® Crate Engine. Installing one in your machine is not only fairly straightforward, it can be completed in just a few days. Just ask Tony Angelo and his team of mechanics at TAngelo Racing.
Angelo, the renowned drift racer and host of Motor Trend Channel's show HOT ROD Garage, has installed a half dozen Mopar Crate Engines over the past four or five years. He appreciates the ease of installation and has been impressed by these marvels of performance. "They work awesome," said Angelo. "All the modern stuff is so powerful and dead reliable. I've used them in drift and drag stuff and they work great."
One of Angelo's more noteworthy crate-related projects was the 392 6.4L Gen III HEMI® V8 engine he put in the drift-ready muscle car nicknamed "Fishtail" – a customized 1972 Plymouth Barracuda. The vehicle made its debut at SEMA 2016 where it generated more than its share of buzz. In addition to its impressive powerhouse, it also sported a T56 Magnesium six-speed manual transmission, 4.11 gears and a Currie 9" rear end.
The 392 HEMI engine is just one of the crate engine offerings from Mopar. There's also a 345 5.7L HEMI engine, a 6.2L supercharged HEMI engine that puts out 707 horsepower, and the 426 supercharged HEMI engine that generates a head-spinning 1,000 horsepower!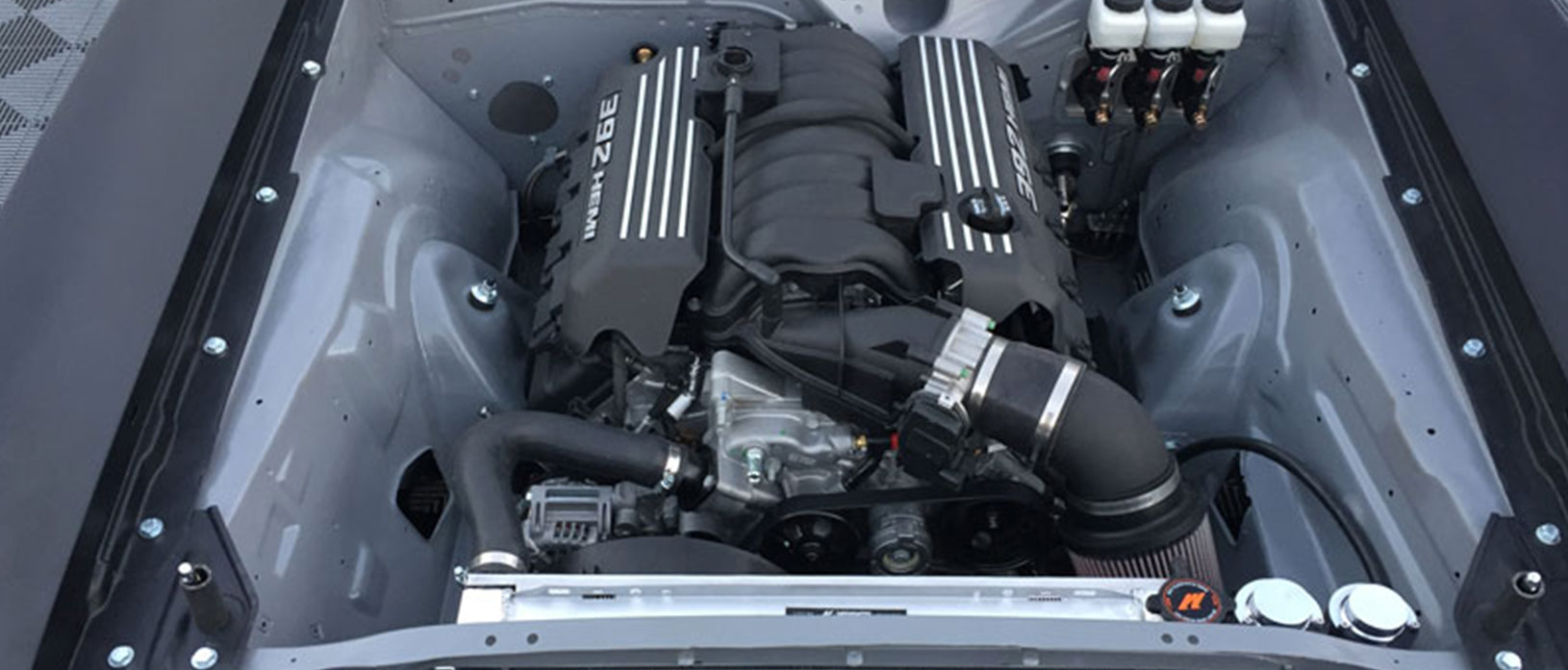 Installation kits are available for pre-1976 cars that include everything needed – accelerator pedal, engine wiring harness, chassis harness, power distribution center, ground jumper, O2 sensor, PCM and charge air temperature sensor. These kits are designed to save countless hours of experimentation, because they're built to accommodate a modern engine in an older vehicle.
"It takes all the guesswork out of it," Angelo said in regards to installing a Mopar Crate Engine. "Before, it took all day to figure it out. You practically needed a degree in wiring to do it. And the horsepower available now is crazy."
If you're mechanically adept and the thought of repowering an older vehicle intimidates you, Angelo offers this advice: "These crate engines are really straightforward. Anyone thinking that they want to install one can handle it with some basic research and skills."
So, the question is, are you ready to get your crate on?
Comments
Comments
Previous