Speed Trap: Court Date – The Verdict Is In
4 years ago Events
It's been a high-horsepower adventure these past seven days, racking up 4,000 miles in this Durango SRT® Pursuit Concept, aptly named "Speed Trap." We've raced at 18 events held at eight tracks, traveled through seven states, two time zones, and lived on a steady diet of beef jerky, gas station pizza, and highly caffeinated cola, all while spending nights hammering across the country. Did I mention we were traveling an average of over 500 plus miles between stops? It's all part of the charm, romance, and sadistic allure of the One Lap of America, which tests both driving skills and co-driver relationships. Luckily for me and my awesome co-driver David Carr, we were so opposite, it actually worked. Carr an SRT Engineer whose very logical and analytical thought process could rival Star Trek's Mr. Spock. I was behaving more like Bill Murray in the movie Stripes, and we still managed not to get on each other's nerves. I learned about "high risk, low rewards" if I pushed the Durango too fast. And my much younger driving partner learned some classic movie quotes like – "Oh, it's not the speed really so much, I just wish I hadn't drunk all that cough syrup this morning."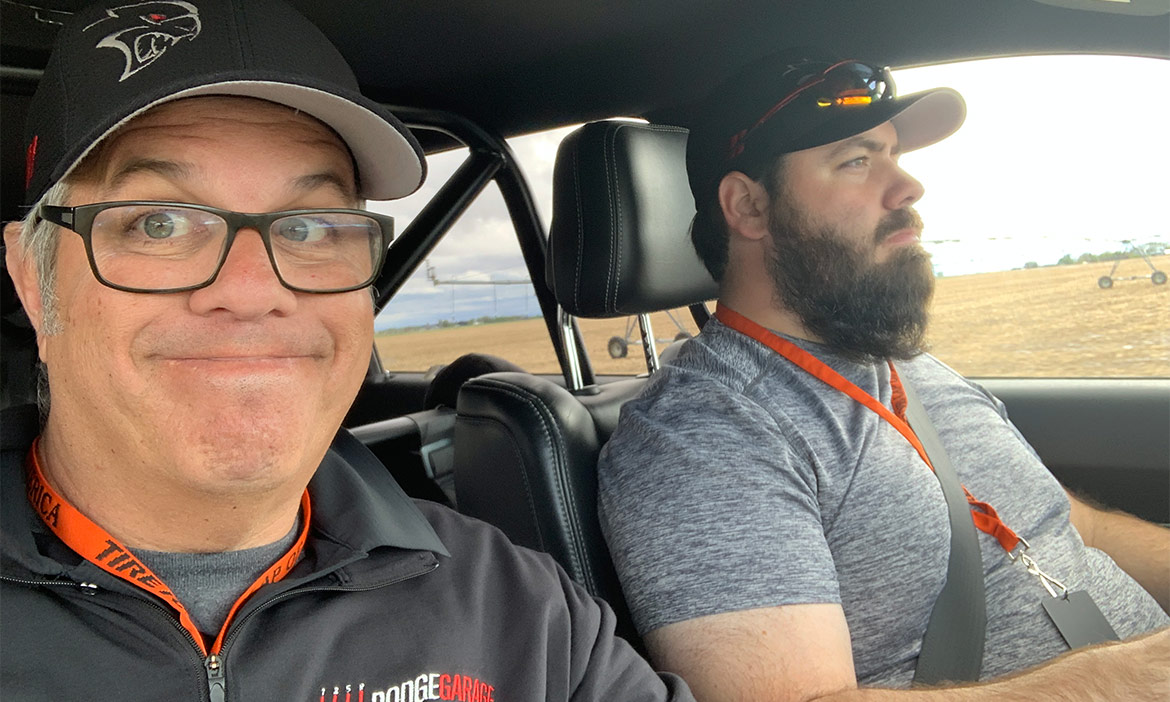 I was cracking up on the inside while Carr stared stoically through the dead bugs and road dirt smeared on the Durango's grimy windshield.
If you've been following our adventures on DodgeGarage.com, and hopefully you have, our last feature was a mid-week update that had us departing Brainerd International Raceway up in Minnesota running first in class and moving up to 19th from the 21st overall position. Since we were in Minnesota, I was going to throw some one-liners at Carr from the film Fargo like "You Betcha!", but I didn't want to push him over the edge. We had many more miles to cover and more race courses where we need to lay down some good lap times. Our next stop was Motorsports Park Hastings in Nebraska, a 551-mile jaunt through the nation's heartland; a rolling canvas of fields and prairies. At night, it looked daunting and lonely, but our 797-horsepower 6.2-Liter supercharged HEMI® V8 just ate up the miles.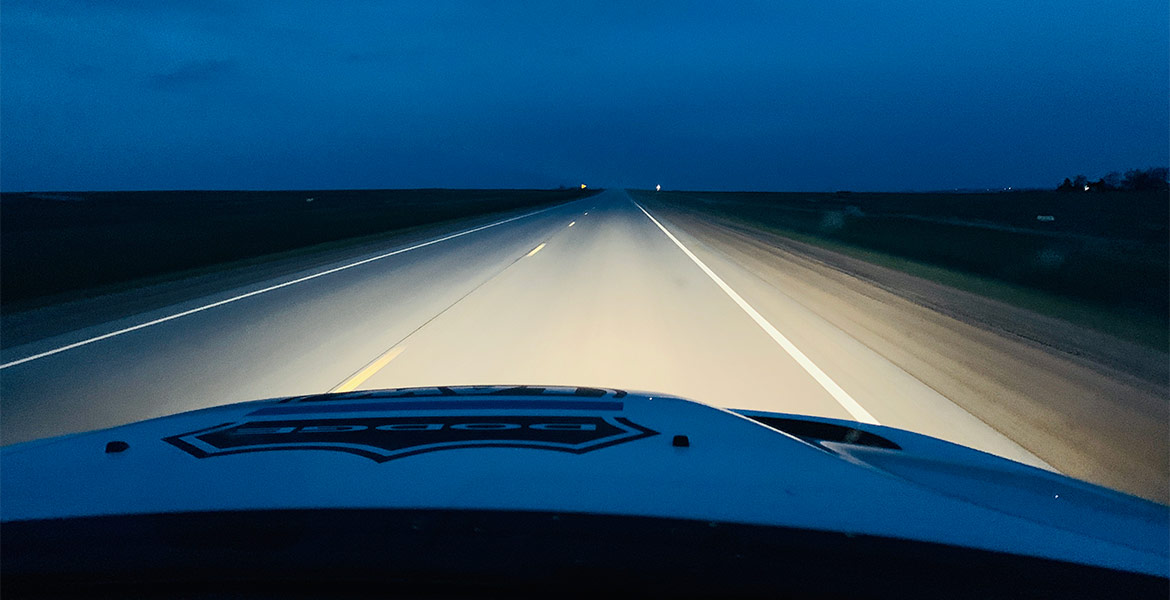 Once again, our Durango SRT Pursuit Concept "Speed Trap" showed the fans and the competition what it can do on the race track. We left Motorsports Park Hastings running 17th in the overall standings among 77 entrants and widening the gap between us and the other competitors in the Truck/SUV class that included a heavily modified Durango SRT 392 and a Jeep Grand Cherokee Trackhawk. Afterwards, we packed up and headed east for our next stop at Blackhawk Farms Raceway in South Beloit, Illinois. Constant morning showers made the wet track surface challenging, but "Speed Trap" powered though the corners and sweeping curves without getting out of shape. In the afternoon session, the track was dry, which allowed sports cars to take advantage of this narrow and twisty track, favors lightweight vehicles. This ended up bumping the Durango to the 24th spot, still in the top third of the field and first in class. We also had time to play around with Mike Musto and John McGann from Hot Rod magazine in their Challenger SRT ®Hellcat Widebody. Since both our machines were packing the same serious supercharged 6.2-Liter HEMI heat, we staged some chase scenes on the Blackhawk Farms track.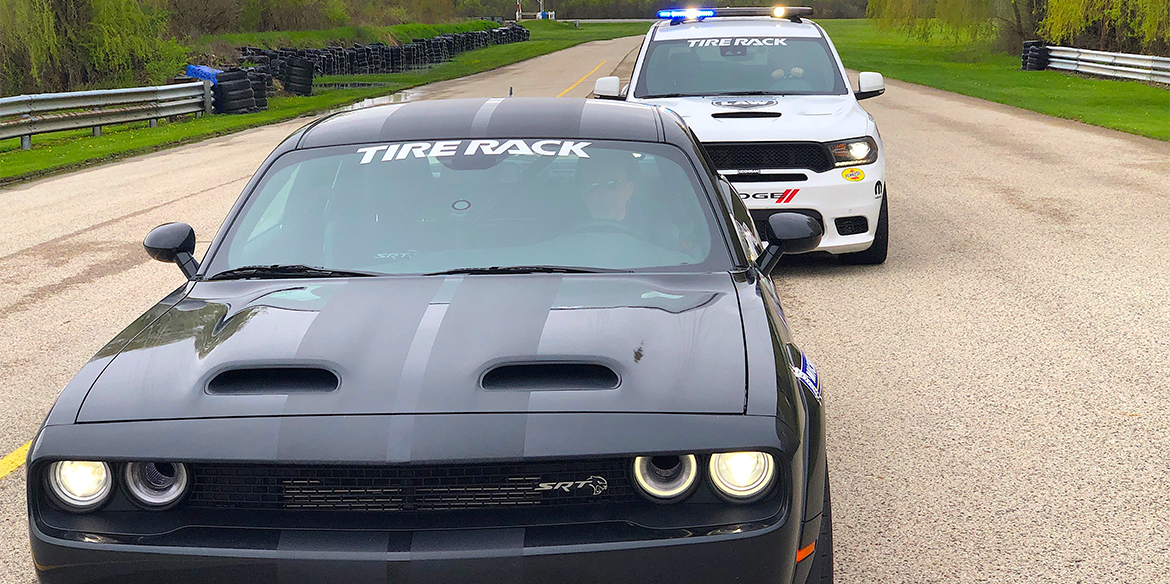 Our second-to last stop was NCM Motorsports Park in Bowling Green, Kentucky. Here we would run three different road courses and push "Speed Trap" to its limit. The One Lap rules dictate competitors must run the same tires throughout the event, and we had already accumulated over 3,000 hard miles on our Pirelli P-Zero tires. Carr pushed the 5,000-pound beast to the limit around the race track while trying to manage both tire and brake wear and got bumped to 17th position. The next and final stop was where it all began, Tire Rack World Headquarters in South Bend, Indiana, for the dry skid pad competition. During the skid pad competition, "Speed Trap" gave its max and completed that portion of the event in the 44th spot.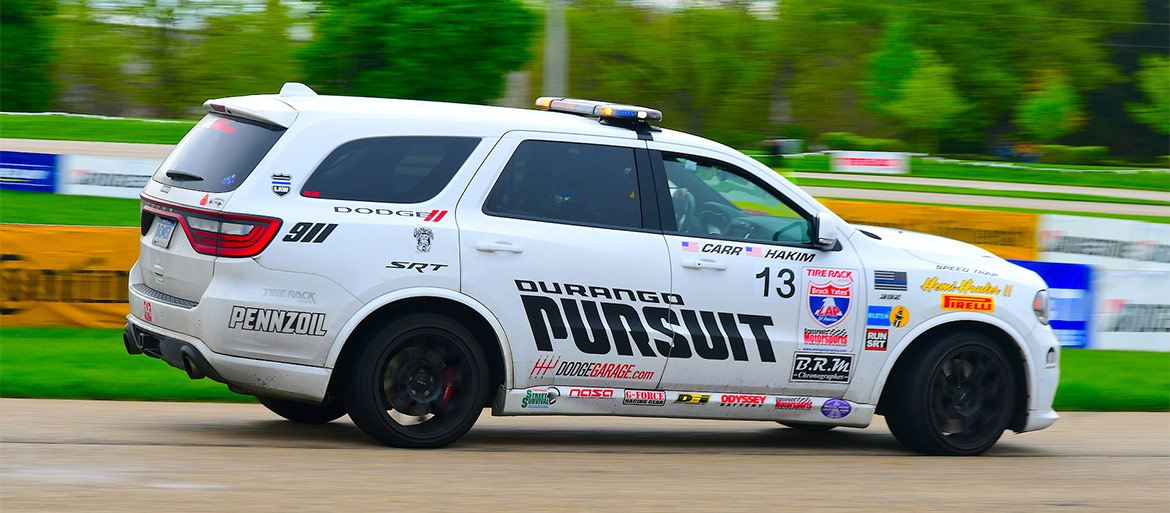 So, the overall verdict for our "Speed Trap" Durango SRT Pursuit Concept after this year's One Lap of America is in – I judge it guilty on all counts. "Speed Trap" is guilty of being a performance vehicle that aggravated the competition with excessive horsepower, impeding their ability to get better lap times, while impersonating higher-priced exotic supercars with its stellar performance. The judge based this decision on "Speed Trap" finishing 18th overall (among 77 competitors) and first in the Truck/SUV class. This is an improvement over placing 24th overall in our 2018 rookie race, but back then we didn't have all the Hellcat Redeye HEMI goodness under the scooped hood. So, if you think a Durango is just a vehicle to haul kids, trailers and other "stuff," better check the badge on the front fenders and see what it's packing. You could be in a world of hurt if you get on its wrong side.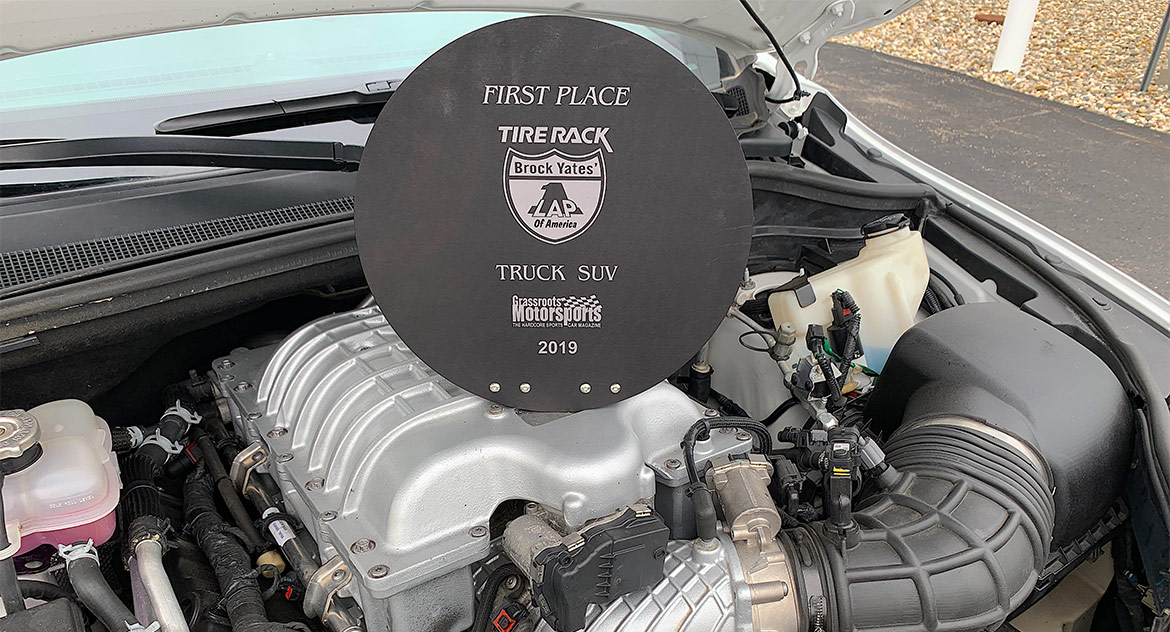 Look back at the journey to trial:
Comments
Comments
Previous