Mom Missile & World's Fastest Durango SRT® Hellcat
2 years ago Owners + Clubs Video
To continue with the greatness that is the Dodge Durango SRT® Hellcat, we need to move on to the party portion of the story. If you missed the previous article featuring Mark Schietzbach and his Durango SRT Hellcat that he uses as a work vehicle, we discussed how versatile the car is and how I think it is the "Swiss Army Knife" of vehicles. What CAN the Durango SRT Hellcat do? Haul kids. Tow. Be a work vehicle. Be a daily driver. Drag race.
What? Drag race? Who would drag race a 5,900-lb. rectangle? I told you all that we would be racing them. You didn't believe me? So let me teach you some about the Satera family. We have Jeremy, aka "Dad", who is a die-hard Dodge enthusiast and owner of Satera Tuning, a Gen III HEMI® performance shop. We have Melissa, aka "Mom", the recently converted. We have the kiddos, aka "Rugrats", ages 2.5 years and 8 months old. And last but not least, we have Jeremy's father, aka "Grandpa", handing out candy to the kids before bedtime.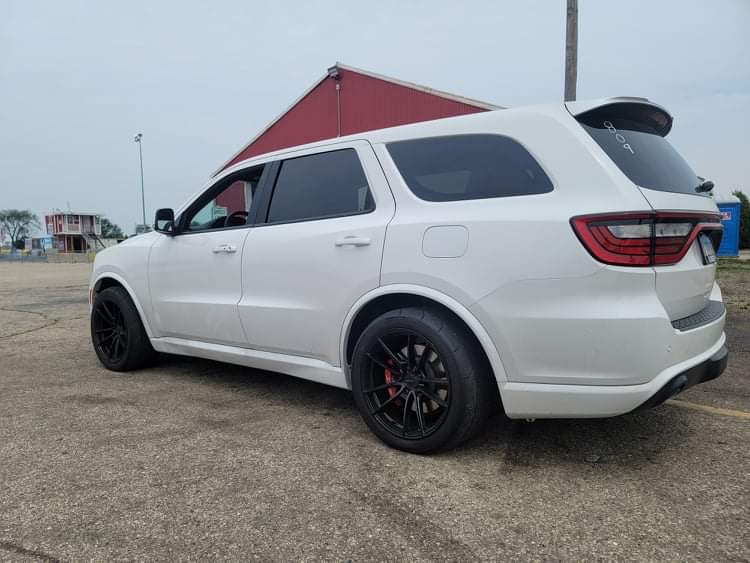 The Satera clan currently resides in Huntley, Illinois, just a short distance from Jeremy's shop. He has had his hands on every type of Dodge build you can think of and drove an SRT Hellcat himself. Dodge announced the Charger SRT Hellcat Redeye and Jeremy decided he was going to trade his car in for the new beast. Shortly after, Dodge just HAD to announce the Durango SRT Hellcat. During that time, Melissa was driving a Ford Explorer as her daily driver and the family-hauler. They had modified the car with some basic bolt-on items for Melissa to take to the track and have some fun learning the ropes of drag racing. Jeremy pitched the idea of replacing it with a Durango SRT Hellcat and assured her that he would make it way faster than her current SUV. The couple had considered a Jeep® Trackhawk on and off but ultimately could not get around having a third row. The boss of the house (the Mrs.) agreed, the battle was won, and the Durango SRT Hellcat was ordered.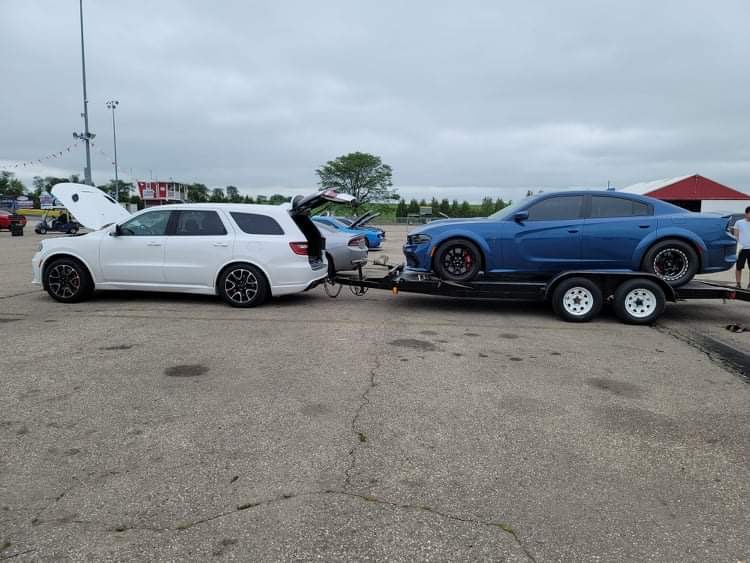 There were a few check boxes that had to be marked to make the purchase happen. It had to be able to tow Jeremy's SRT Hellcat to the track as their previous vehicle could not. It had to have three rows for the five of them. It had to be Melissa's daily driver. It had to safely, consistently and easily run 10s in the quarter-mile. If Jeremy couldn't check these boxes when he put down the deposit, he would be sleeping in the dog house out back.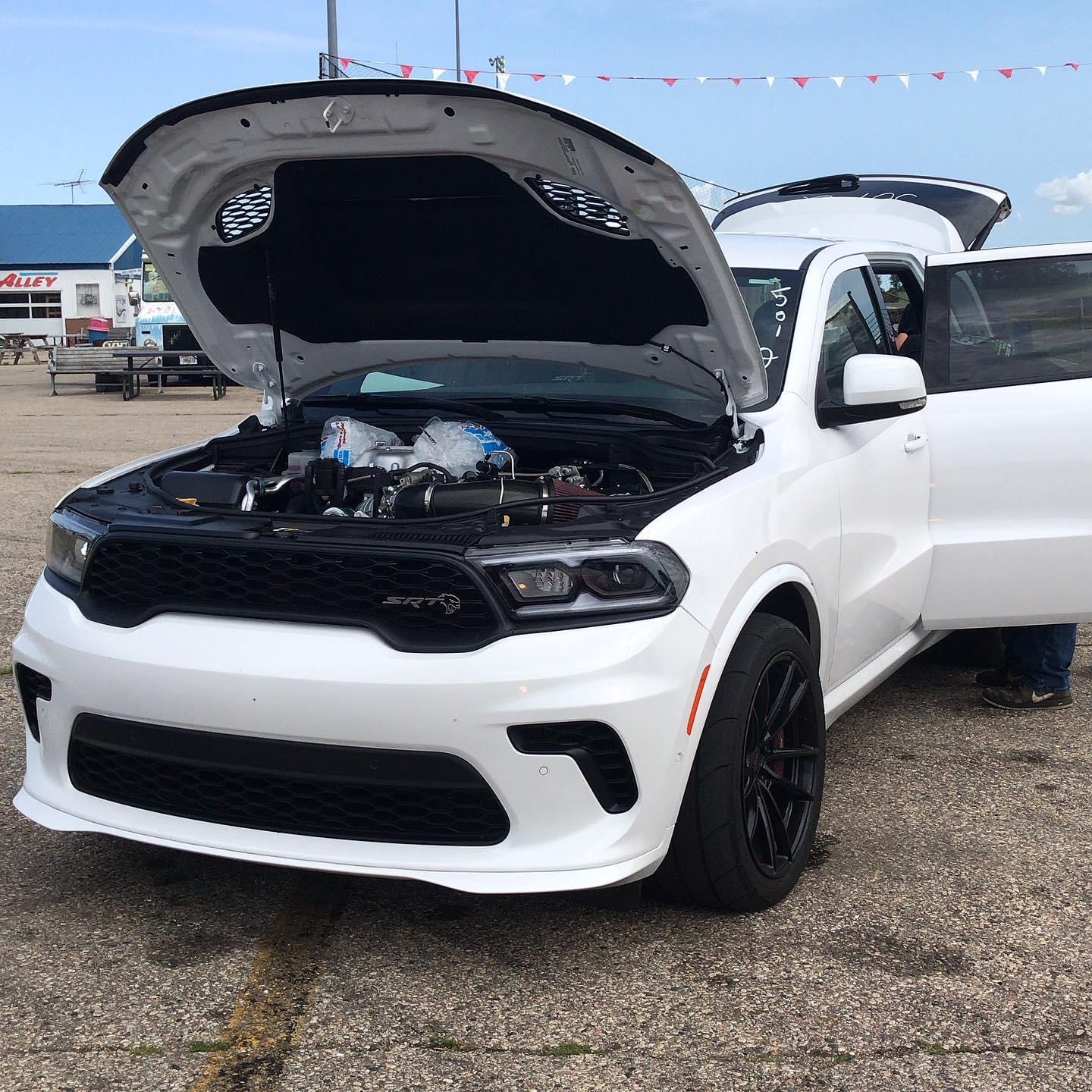 When the Satera family took delivery of the Durango SRT Hellcat, they wasted no time in getting down to business. I imagine nights are cold in the springtime that far north, so Jeremy better produce a 10-second vehicle, and quick, or he may end up with frostbite on his toes from sleeping in the backyard. Jeremy installed his in-house designed 2.75" supercharger pulley to crank out some more boost, some bigger fuel injectors to run on E85 and wrote up a custom tune. They loaded up his Charger Redeye on the trailer, backed the "Hellrango" up to the trailer, and towed the racecar to the track with the newly modified "mom missile". To clarify for anyone who may not be aware, a 2.75" supercharger pulley, injectors and a tune is a VERY basic, inexpensive AND short list of modifications to the SRT Hellcat platform. These fell right in line with making sure it could safely and reliably be a 10-second daily driver. They arrived at the track, car seats still in the back, unhooked the trailer and drove to the staging lanes. Melissa's very first pass "off the trailer" and its very first pass ever, she ripped out a 10.94. We are talking stock wheels and tires, all interior parts, heat-soaked from the commute to the track and not even the best air!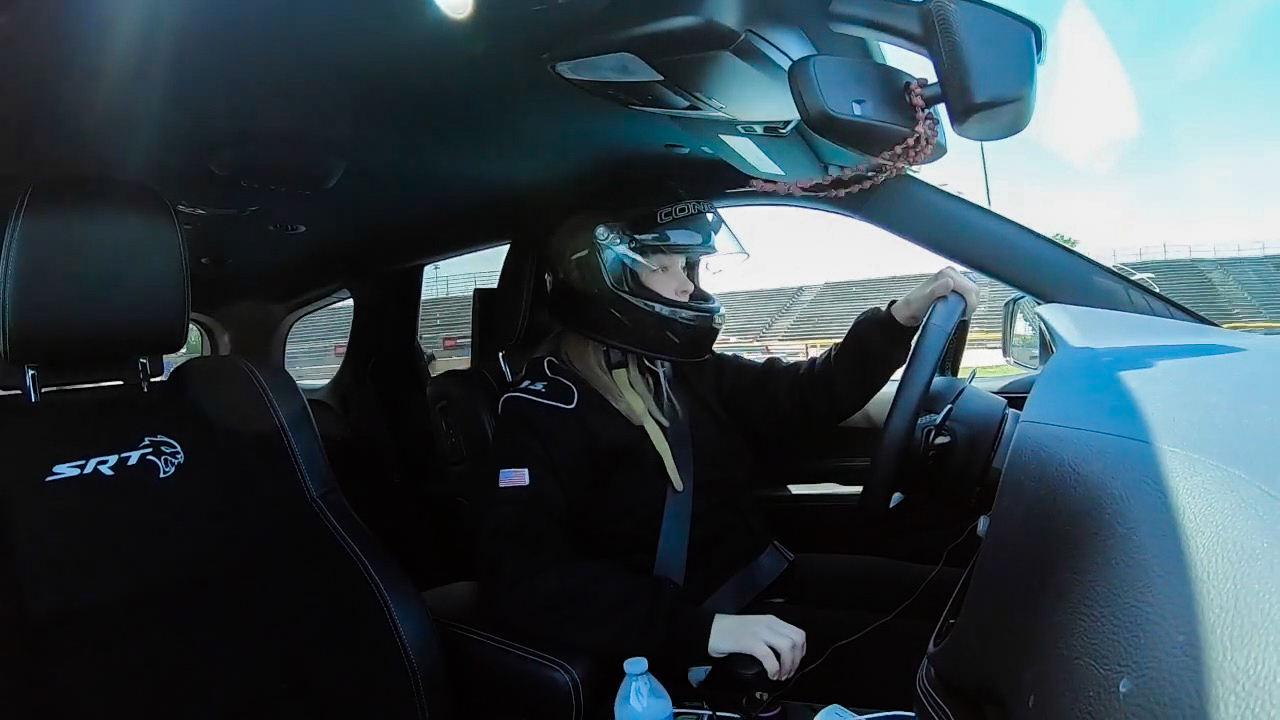 Well, that was easy! Mission accomplished. The story could end there. The peanut gallery that is social media stepped in and called the Satera gang out saying he had a slip with faster 1/8 numbers than what their 10.94 slip had. What mom out there is gonna stand for that?! Melissa cracked the whip and Jeremy got to wrenching. He added a 10% overdrive dampener pulley, a cold air intake and some lighter 20" wheels with a slightly stickier street tire. Melissa was out of town several states away, so Jeremy and five of his friends piled in the Durango and headed to the track. The crew jumped out of the car and Jeremy headed straight for the staging lanes, fully heat-soaked and all! First pass with just the two new mods and lighter wheels resulted in a 10.6 with no effort. I will mention again, this is still a very basic and reliable set of modifications. Jeremy looped back around and got set back up to make a second pass. The result? A 10.50 time slip. This is faster than a 2020 Ford Shelby GT500, faster than a 2020 Chevrolet C8 Corvette, faster than a Lamborghini Aventador, and faster than a Tesla Model S P100D.
That is comparing apples to oranges, however, in terms of speed, a 5,800-lb SUV with three rows that has speeds akin to those vehicles mentioned by adding just a few small parts is mind blowing. Sure, a Durango SRT Hellcat can't go around a race track like an Aventador or C8 Corvette, but neither of those can haul 6 people and your groceries, or tow 9,000 lbs.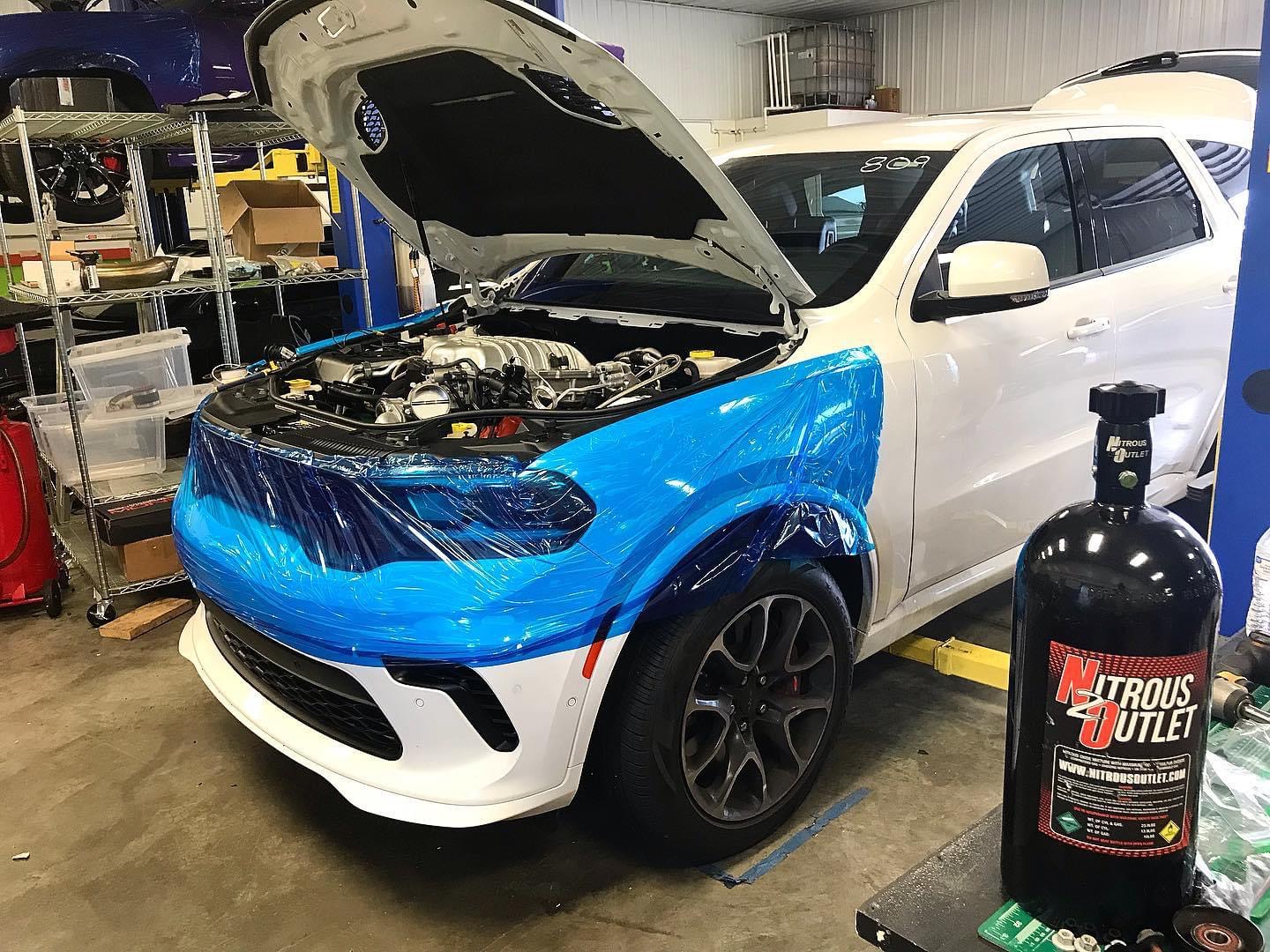 At the same time the Satera clan was shutting down social media loud mouths, there were some other racers battling to knock them off the top slot. OBVIOUSLY mom wasn't going to stand for that either. A friendly "battle to the 9s" started between the Satera's and Scott Boegler from American Muscle Performance. Living half the country apart from each other, both teams stated they would be at the track by the weekend. Jeremy had just a few days to come up with a way to shave off over half of a second from their time slip. Nitrous! The quick and easy drink of choice. Jeremy pieced together a crude nitrous kit with parts laying around the shop and mixed up some more potent racing ethanol blend and threw the mom missile on the dyno Thursday night. With just some fuel injectors, cold air intake, modest boost increase over stock, lighter 20" wheels and some nitrous, it put down 1,089 horsepower to the wheels. In terms of sticking with their plan of keeping it a reliable daily driver, this is starting to inch out of that category. While that amount of power is still reliable from a statistical standpoint (thousands of people safely making this much power) for the SRT Hellcat motor, it is starting to push far beyond what the rest of the drivetrain was designed for. While Jeremy was in the shop finishing up Melissa's flying brick, Scott had snuck off to the track and pulled of a 9-second pass, becoming the first Durango SRT Hellcat to run in the 9s.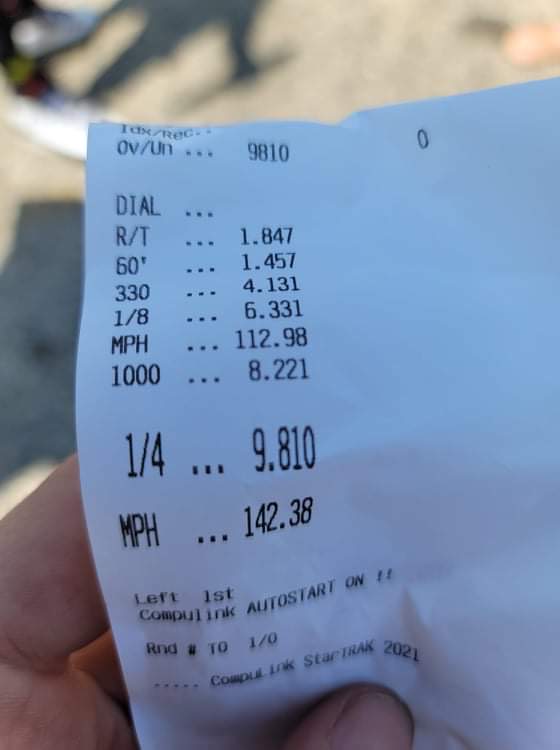 That wasn't going to stop the Sateras, so they loaded up the next morning and headed off to the track. They arrived at the track and let the car cool down for a while on this trip. When the car was cool, Jeremy took to the staging lanes to make a test pass. He ripped out a 9.81 time slip! The Satera Durango wasn't the first to the 9s, but it was once again the world's fastest. That is faster than a Bugatti Chiron, in a 5,800-lb SUV with a few inexpensive bolt-on parts! That is insane. After what was surely a few rounds of high fives, Melissa buckled in to make some passes herself. Track prep started to fade and the car was now heat-soaked, but she was able to pull off multiple 9.9 passes. Having hit their goal, again, the power couple packed up and headed home.
Since running the 9.8 pass, Jeremy says they have removed the nitrous system and dropped it back to its more reliable and realistic high-10-second configuration. Melissa wanted to keep it a 10-second family hauling, racecar-towing, grocery-getting daily driver without having to fear it may be getting pushed past her comfort zone. Jeremy states that they do hope to see people continue to push the Durango SRT Hellcat, but they have no plans of trying to push it any further than what they set out to do with their 9.81 time slip.
The Durango SRT Hellcat ran 9s. Mission accomplished yet again. Well, what about everything else? What about the towing, the comfort, the kid hauling, the design, the quality? Jeremy says the Durango SRT Hellcat exceeded their expectations in every single way. It does everything Dodge said it would, and it does them all very well.
From electrician work truck to 9-second mom missile, are you starting to believe me that the Durango SRT Hellcat is the most versatile SUV ever made? Pssshhhttttt…..stick around.
Comments
Comments