Under the Hood with Dodge Thrill Rides Part 3 The Drivers
5 years ago Events Video
"You got the BEST job in the world!" We hear it EVERY day at work, and for the most part, that's right. I'm John Hammer and for the last 12 years, I've been blessed to be part of the experiential marketing team that connects Dodge with enthusiasts like you. This is part three of our multi-part series that focuses on Dodge Thrill Rides; our cross-country tour that gives thrill-seekers like you the chance to get inside a 707-horsepower Dodge Challenger and Charger SRT® Hellcat with a pro driver at the wheel, taking the cars to (and often over) the edge. We have already talked about the cars and the tires… now it's time to focus on the people behind the wheel: the drivers.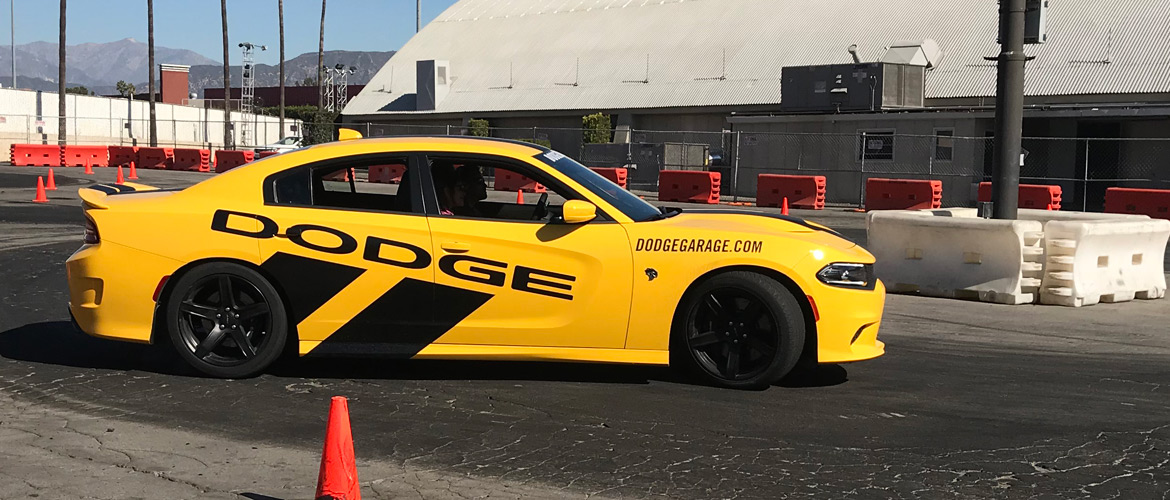 You probably won't be surprised to hear that we didn't just answer an ad on Craigslist to get this job. The world of precision drivers is pretty small and many of us have competed against each other on tracks before coming to work in this industry. In fact, that's the answer to the most commonly asked question: How did you find this gig? Almost all of us are current or former racecar drivers. I've joked that Thrill Rides is where old, fat, retired racers are put out to pasture… but what a pasture it is! We are blessed to travel the country, meet other enthusiasts and drive amazing cars.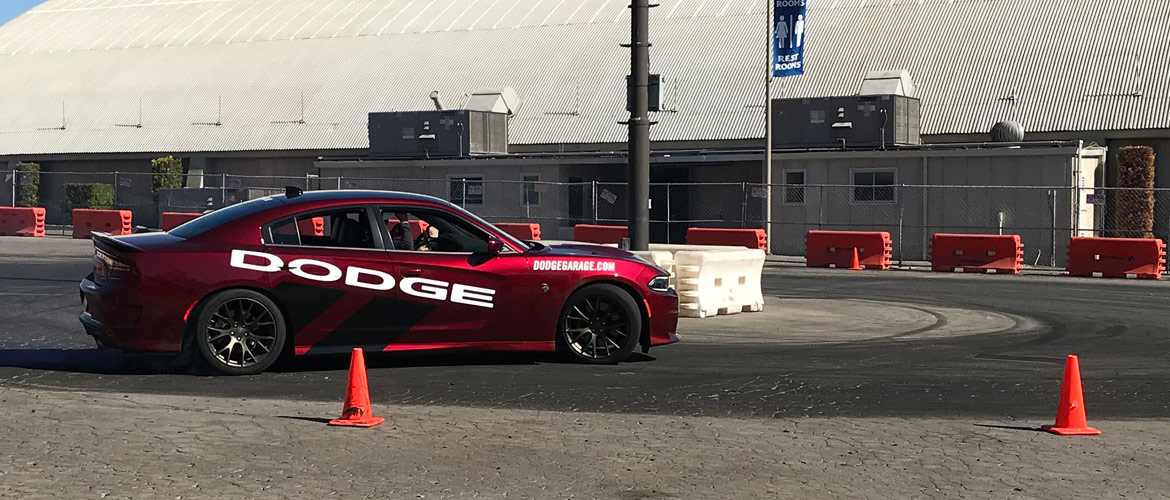 Our typical day starts early; we get to the event site a couple hours before we open for business. We clean and service the cars each morning, checking fluids and air pressures, and torquing the lugnuts. By the time that's done, we usually have a line of guests (yes, even before we are open!). And from there, it's game on, running nonstop for the next eight hours, giving as many as 2000 rides in a day. At the end of the day, we wash the cars, fuel them up and get them ready for the next day.
Let's answer some of the most common questions…
"What experience do you have?"
We come from all different backgrounds in motorsports: NASCAR, IndyCar, sportscar racing, sprint cars and even NHRA. We have been instructors at racetracks, precision drivers for media launches and press days, even stunt drivers for TV, commercials and movies. You may recognize some of our names, others you won't, but you can be assured that no matter which of us is behind the wheel, you've got a highly trained professional at the helm.
"What's your favorite car to drive?"
We all agree that each car has its own personality. And not just between Chargers and Challengers; as the cars break in, they take on a personality of their own. Back in 2008, we had a black Dodge Magnum SRT8 that was outfitted with Mopar® intake and suspension bits and it was THE car we all fought for!
"You must love it when it rains, right? It's easier to drift then!"
Actually, that's NOT true. We want the most mechanical grip we can get on the track, then we use that HEMI® power to break the rear end loose while pivoting around the front tires. In the wet, the front tires want to slide, so you'll see the brake lights flicker a bit more often than in the dry. That's us using left foot braking to get the nose to take a set. Even though we're not "racing," we are using racing techniques every lap on track.
"What's it take for ME to drive?" (Usually followed by a cheesy laugh!)
$64,295 and you can buy your own SRT Hellcat! However, at our Dodge Thrill Rides you leave the driving to the pros.
"How can I learn to drive like that?"
Understand that what we can do on track comes from decades of experience; and while we make it look easy, it's a VERY delicate balance on the edge. Right up to the limit, you're having a blast, but go over just a bit and you're in the wall. We all have years of racing experience. That said, you can learn the basics; remember the SRT Track Experience? We are the team that ran that program. These days, Dodge has an affiliation with the Bondurant school out in Phoenix, where you can get on track. That said, the most important mod you can do to your car is the DRIVER mod… make yourself a better driver. A great driver in an average car will beat an average driver in a modded car 9 times out of 10.
"Which Hellcat do YOU own?"
This question always makes me laugh: none of us own a Hellcat because we don't NEED to. We get paid to drive them in the most extreme ways at work! That said, we are all "car guys"; and as a team, we have had a number of SRTs, HEMIs and classic Mopars, plus a big range of enthusiast cars, trucks and motorcycles.
"Are you hiring?"
Not right now! As you can imagine, turnover is pretty low in our world. I mentioned SRT Track Experience; I joined that program in 2006 and have been here ever since. Most of our team has been here the better part of a decade. Get your hands on an opportunity like this and you tend to not let go.
We'd love to take you for a ride! Check out the video and schedule below to see where you can take a Thrill Ride of your own!
---
---
| Event | Location | Date |
| --- | --- | --- |
| Mecum Auctions Houston | Houston, TX | April 5-7 |
| Barrett-Jackson West Palm Beach | West Palm, FL | April 12-14 |
| Mecum Indianapolis | Indianapolis, IN | May 15-20 |
| Mopars in the Park | Minnesota | June 1-3 |
| Barrett-Jackson Northeast | Uncasville, CT | June 20-23 |
| Chrysler of Carlisle | Harrisburg, PA | July 13-15 |
| Mecum Harrisburg | Harrisburg, PA | August 2-4 |
| Roadkill Nights | Pontiac, MI | TBD |
| Mecum Louisville | Louisville, KY | September 6-8 |
| Barrett-Jackson Las Vegas | Las Vegas, NV | September 27-29 |
| Mecum Las Vegas | Las Vegas, NV | November 15-17 |
Comments
Comments
Previous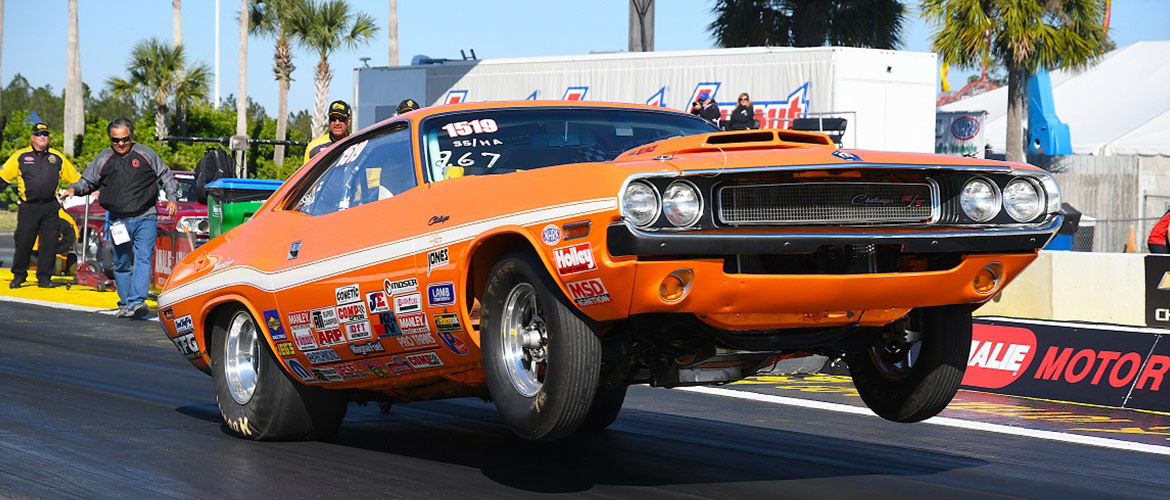 Next