Big Daddy's House
5 years ago Racing
"Big Daddy" Don Garlits, a name so synonymous with drag racing, has been setting records, pushing boundaries and dominating the quarter-mile since the earth cooled. Okay, maybe not that long ago, but Garlits has been an innovator while breaking speed barriers on the drag strip way before we began launching satellites into space and "I like Ike" was a current campaign slogan.
 Unlike most drivers that either sold their racecars or scrapped them when their usefulness was over, Garlits saved many of his old dragsters and hot rods, even if they were mangled and wrecked. During the golden era of drag racing, Garlits had the foresight to preserve many of his machines that set new records and won championships. When other racers chose to dump all their racing equipment when the sponsor money evaporated, Garlits squirreled away his collection of Flatheads and HEMI® race machines, knowing they'd be rare one day.
As the decades marched on, Garlits needed a bigger shop to not only house his array of "Swamp Rat" dragsters and other memorabilia, but also other iconic racing machinery that may have lined up next to him to do battle at the strip. Many of the Garlits "Swamp Rat" cars are here, but he also turns out to be a pack rat with an accumulation of cars and memorabilia from other top names in the sport. As his collection grew, Garlits realized the cars in his collection were of historic value and should be seen by fans and enthusiasts.
That's when the ignition switch was flipped and Garlits began working on a permanent home for his mass assortment of dragsters, funny cars, hot rods, muscle cars, engines and other drag racing paraphernalia that has chronicled man's quest for acceleration in 1,320 feet.
It was 1976 when the Don Garlits Museum of Drag Racing opened its doors, and with over 90 racing cars in a dedicated building, it's like heaven to any drag racing fan. For automotive enthusiasts who also appreciate hot rods, street rods and muscle cars, Garlits has another museum on-site dubbed the Antique Car building and it houses over 50 vehicles showcasing a wide variety of cars from over the past 100 years.
The museum is also home to the International Drag Racing Hall of Fame, whose inductees include a long list of drag racing royalty and the movers and shakers of the sport, many of which raced under the Dodge/Plymouth banner and even some of our engineers who developed the infamous HEMI. Some of Chrysler's drag racing program managers from the 1960s and '70s have also been inducted into the International Drag Racing Hall of Fame.
Before this year's NHRA Gatornationals, we had a chance to check the Don Garlits Museum of Drag Racing in Ocala, Florida, and walk among the historic dragsters and funny cars. We even saw some cool vintage Dodge muscle cars and other unique oddities that run on gasoline and make power. So, here's a quick snapshot of what you'll find once you walk through the doors of Big Daddy's house.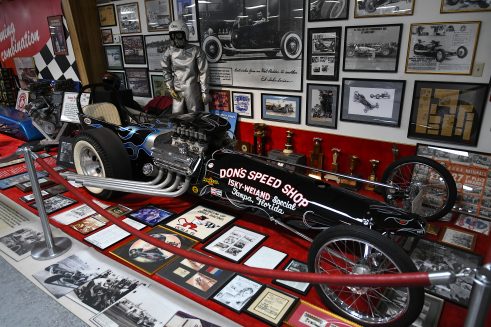 Don Garlits established his initial legacy with this multi-colored dragster, and Swamp Rat 1 — the first of the touring Swamp Rats to run nitromethane for fuel, using carburetors.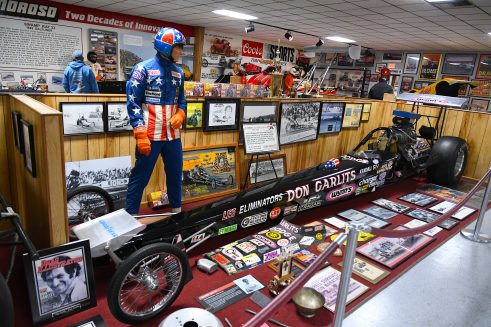 This rear-engine dragster, Swamp Rat 14, is considered Don's most important innovation in drag racing. It was developed as the result of a horrible accident in 1970 that had resulted in a permanent foot injury for Garlits and revolutionized Top Fuel.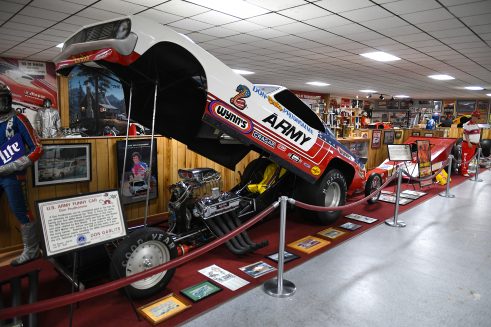 The Plymouth 'Cuda-bodied funny cars of Don "The Snake" Prudhomme became famous under Hot Wheels sponsorship. Prudhomme raced this example in the early 1970s with backing from Chrysler, U.S. Army and others.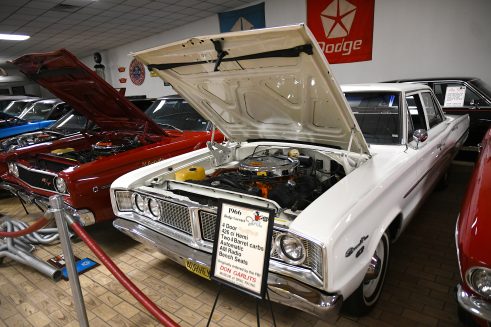 This rare 1966 four-door 426 HEMI Dodge Coronet was originally ordered by the FBI and is a prized part of the collection of antique automobiles that the museum hosts. It's one of only four four-door units ever produced by Chrysler.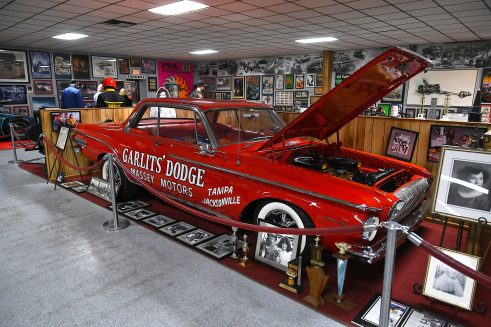 This red 413 Max Wedge Dodge was created as a tribute racer for nostalgia racing and is displayed in the memory of Don's late wife, Pat, who drive a car like this back in the early 1960s era.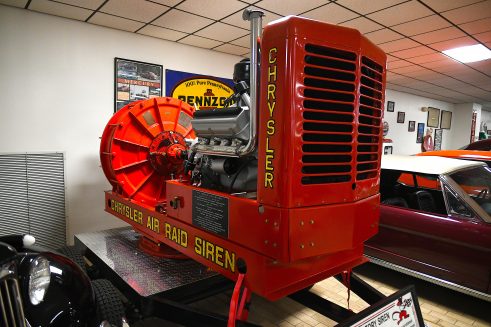 Need the loudest siren ever? How about this HEMI-powered monster that once resided in Miami to warn of incoming Russian missile attacks. Treasures like this are found throughout the museum's multiple display buildings.
By David Hakim
Comments
Comments