Backbone of the Sport
5 years ago Racing
The sport of drag racing has its heroes and many of them climb in and get strapped into 11,000 horsepower machines that hurl them down the strip in three-seconds at over 330 MPH. Fans line their pit areas in search of an autograph and even selfies. These drivers get the big checks, the glory, and the front-page coverage.
But when the Top Fuel Dragsters and Funny Cars are in their pits getting torn down by their crews between rounds at NHRA national events, it's the Sportsman racers that head to the staging lanes and race down the strip competing and trying to win rounds. Their cars may not shake the ground and send eight-foot flames out of the headers, but the competition between drivers and the brand rivalry is very intense. And while the spectators may pile out of the grandstands for a hot dog and cold drink when the Sportsman racers run, the racing is just as intense as when the Pros blast down the strip.
During the NHRA Gatornationals, many of the Dodge/Mopar® Sportsman racers were competing in the Stock and Super Stock classes. It's these categories in which our history was founded. The 426 Max Wedge and 426 HEMI® "Package Cars" have dominated the drag strips for over five decades. The Dodge/Mopar Sportsman racers are a passionate group of drivers/owners and the NHRA Gatornationals brings out the fastest bunch looking to bring home a win in their class.
Since its inaugural event in 1970, the Gatornationals is one of NHRA's biggest races that attract many "snowbirds" from the east coast and Midwest. They come to central Florida for warm sun and to get their fill of nitro. It also brings in a passionate and hardworking group of Dodge/Mopar Sportsman racers looking to win rounds and score a victory in their class at this historic race. It's these same racers that have fulltime jobs and yet run many of the NHRA National events and Divisional races, chasing points and setting records with little or no sponsor funding. Many of today's drag racing professionals came up through the Sportsman ranks.
The Dodge/Mopar races primarily compete in the Stock and Super Stock classes and it's this variety of cool looking muscle cars that you'd more likely see on the streets or at a local cruise night that the strip. They may look "stock" but their engines, transmissions, and chassis are "science out" and wouldn't like idling in stop-and-go traffic without protesting.
Here's a quick look at some awesome Dodge/Mopar Stockers and Super Stockers from this year's NHRA Gatornationals. They may look like production models and even used the same sheetmetal and trim parts of their more sedate pedestrian models, but looks can be deceiving. With a large faction of dedicated "amateur" participants in search of going fast at the same track/event like their professional counterparts, the numerous Sportsman racers work hard day in and day out and are the backbone of the sport.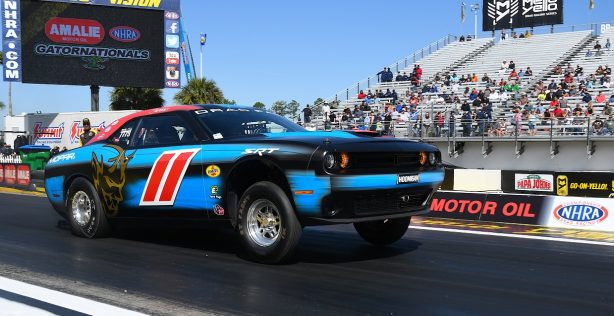 Leah Pritchett might drive a three-second Top Fuel Dragster, but she also wheels a Dodge Challenger Mopar Drag Pak in the Factory Stock Showdown class at some NHRA National Events. With over a 1000 horsepower under the Challenger's hood, it's still a fun ride in the low eight-second zone for Pritchett.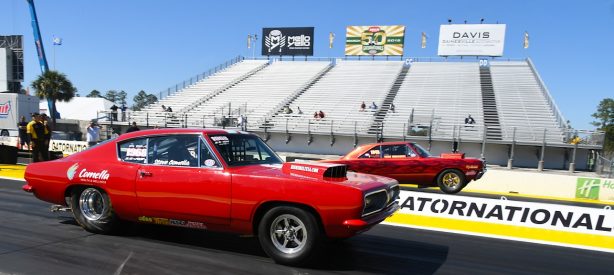 For many years, the 1968 Super Stock HEMI® Darts and Barracudas were the kings of the class. Purpose built by Chrysler in conjunction with Hurst, these cars are still racing today and have a dedicated fan following.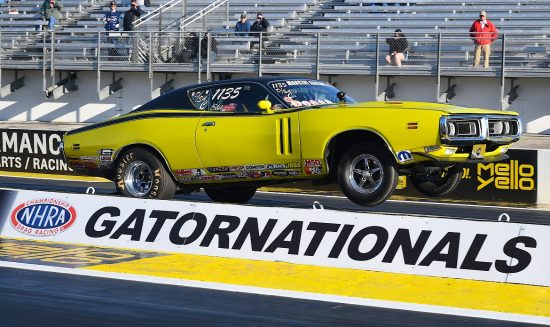 It may look like a street car, but Nick Reiter's 1971 Dodge Charger R/T yanks the front wheels when he hammers the 440 Six Pack. Reiter has been racing his Charger R/T in Stock Eliminator since it was practically new and has accumulated numerous class wins across the country.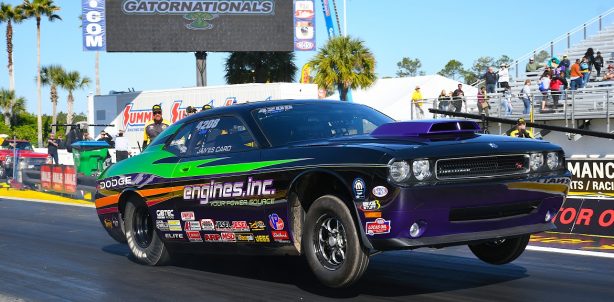 Dodge Challenger Mopar Drag Paks also run in the highly competitive Super Stock class. Second generation Dodge/Mopar Sportsman Racer James Caro gets some air off the line when he stabs the throttle in his Mopar powered machine.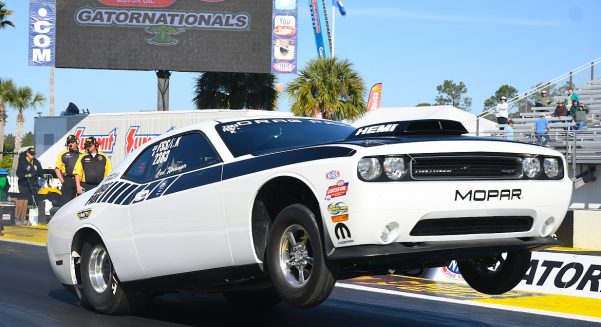 Longtime NHRA Super Stock competitor Carl Weisinger has raced many "Brand X" machines before getting his Dodge Challenger Mopar Drag Pack. The Orlando resident loves the car and judging by how it leaves, it one heck of a ride down the quarter-mile.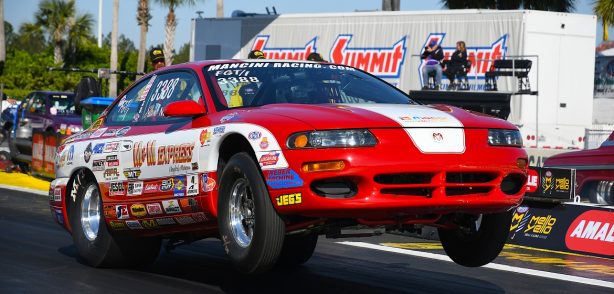 Mark Nowicki's 1998 Dodge Avenger may have been a front-wheel drive four cylinder originally, but the Gaylord Michigan racer has modified it to fit the NHRA Super Stock GT class. Now, a modified 5.9L Magnum sends power to the rear slicks and the Avenger runs 10 second ETs at will.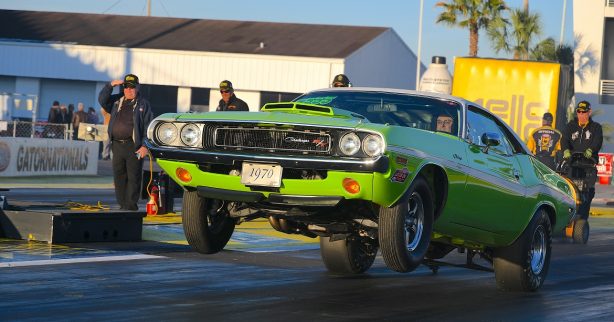 One of our favorite cars from the NHRA Gatornationals was Woody Gary's stunning 1970 Dodge Challenger R/T. With its Sublime paint, white R/T longitude strip and vinyl top, it epitomized the Dodge Scat Pack muscle car era. With 426 HEMI® under the NHRA approved fiberglass T/A hood, it was rocking Gainesville Raceway with low ten second times.
Comments
Comments