Connecting with Our Grassroots
5 years ago Events
Drag racing is the purest form of motorsports. Two cars line up to do battle, but only one comes back to face another competitor in the next elimination round. With its roots firmly planted in the pavement of unused runways of old, deactivated military air strips across the country following the end of WWII, drag racing has grown to be a multi-million-dollar sport over the last 60 years.
And while it's a rush to be in the grandstands watching the nitro-fueled, 11,000-horsepower supercharged HEMI®-powered Top Fuel Dragsters and Funny Cars blasting down 1,000 feet in under four seconds, deep down we'd really love to take our own Scat Pack, SRT® Hellcat or Dodge Challenger SRT Demon down the strip and partake in the excitement. Let's be real, it's even more fun to be an active participant than a sideline spectator. Who doesn't want to test their driving skills of cutting a good light and getting the car to hook up? Thanks to SRT engineering giving us Sport and Race modes (that in some cases include Line Lock and TransBrake), we have the tools we need to improve with each pass we make. Grassroots glory.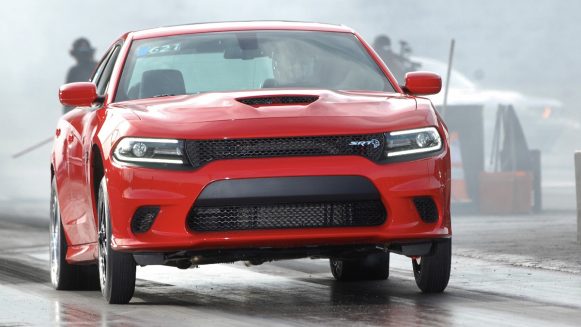 "NMCA taps into the huge and growing street car market where fans can relate to the cars they see on the track. It's especially satisfying that street car owners can bring their factory-built hot rods to an NMCA national event and race them in a safe, fun environment… the track! From insane Pro Mods and Street Outlaws to new street car racers, NMCA fans can witness the best in Big 3 performance," said Steve Wolcott, President and CEO of ProMedia LLC, which owns the NMCA. The NMCA offers various classes for owners to compete in, without having to do any major mods to their cars.
That's why Dodge//SRT, Mopar® and the National Muscle Car Association (NMCA) formed a partnership this year. Dodge//SRT and Mopar wanted to work with a recognized enthusiast-based organization that provides participants a safe racing environment where they could push their HEMI Challenger and Charger street cars to the limit down the quarter-mile at the drag strip. The NMCA caters to the enthusiasts who drive their performance cars daily, but are looking to occasionally race on the weekends. NMCA is the #2 championship drag racing series behind NHRA with a 100% focus on muscle car drag racing. And like all race series, the competition in NMCA is as fierce as the brand loyalty and camaraderie among the racers is strong.
Looking to get in on the action? The Dodge/Mopar, NMCA HEMI Shootout provides a great place to race your car. First-timers will receive personalized, step-by-step instructions from the NMCA staff. Participants are welcome to show up for early registration, get instructions on how to race, and get the most out of test-and-tune passes down the drag strip. There might be another car in the next lane, but you're racing the clock to get the best elapsed time and speed out of your machine.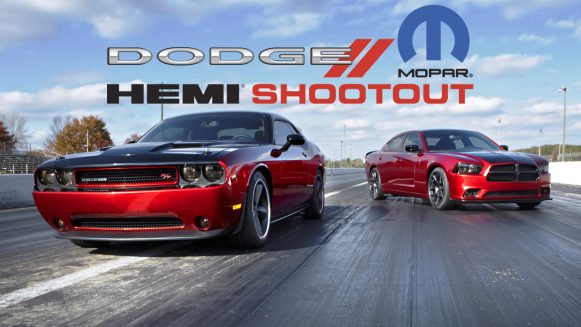 Dodge/Mopar HEMI Shootout participants can either enjoy the full festivities from Thursday through Sunday, or just when the class runs on Saturday. The format is super easy to follow and is only open to street-legal (licensed/insured) vehicles; competitors don't race against each other… they race against themselves. Although 2 racers line up together at the line, reaction time doesn't matter. NMCA will average each competitor's 3 passes and the closest average (without going under) to 15, 14, 13, 12, 11, 10 and 9 seconds wins cash and an award. Of course, there are also awards for the overall quickest and runner-up participants. It's a great time with an easy format combined with personalized instruction to answer any questions a participant might have. The overall runner-up will receive $100 and an award, with the overall winner receiving $250 and an NMCA Victor award. And, of course, bragging rights.
Wolcott added, "Dodge owners will have the red carpet rolled out for them as NMCA makes their HEMI Shootout experience as easy, fun and exciting as possible. From the moment a Dodge participant rolls in the gate, he or she will be welcomed with a smile and every effort will be provided to ensure the enjoyment of the awesome power and performance of their vehicle on the track."
What's even better is that if you're one of the first 75 owners to register, Dodge and Mopar will comp your entry so you can enjoy the amazing performance of your modern HEMI muscle car in a fun, safe and controlled environment at the drag strip for free. Limited to the first 75 vehicle owners to register, it's good for one (1) complimentary car and driver race credential valued up to $175.
So now there's no excuse not to hit the strip with your Challenger or Charger and see what it'll do! Remember, the ET slip doesn't lie and it'll be your badge of honor when you're at the next car show or cruise night and someone asks you, "What does it run in the quarter?"
If you can't make it to the NMCA season-opening Muscle Car Mayhem next month at Bradenton Motorsports Park in Florida, fear not, we've got you covered. DodgeGarage.com will be Live Streaming the event for most of the weekend (March 9-11). So, crank up your speakers and catch all the action. If you're considering having some fun with your Dodge, check out the events tab on Dodge Garage to get the low-down on where NMCA will be throughout 2018.
Comments
Comments