Rain Can't Stop the Biggest Spring Fest Show Yet
5 years ago Events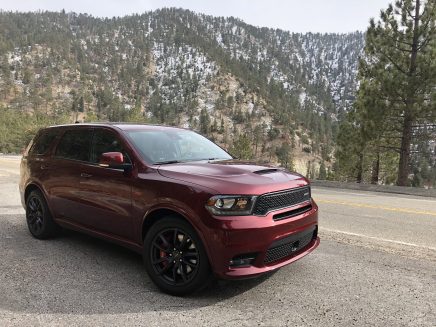 The famous California mountains were swathed in snow clouds, and mist pooled around the foothills, drifting down and around the grandstands at Auto Club Raceway in Pomona, California. It was an unpromising scene for a car show, yet a parade of headlights waited at the entrance, engines idling in a song of superchargers and aftermarket exhaust. When the gates opened on Spring Fest 13; Challenger, Charger, Magnum, Chrysler and Jeep® owners poured into the fairgrounds, proving that nothing keeps a Mopar® owner from showing off their car, certainly not a little rain.
Spring Fest started as a small car show for a few local California Chrysler fans. Now in its 13th year, the event boasted its biggest attendance yet. Organizer John Fortuna announced to the crowd that 1,875 cars were on-site. Thousands of people wandered the fairgrounds admiring the show vehicles, talking with the FCA designers, and lining up for thrill rides in Dodge SRT® Hellcats. We did a bit of wandering ourselves and found an interesting story around every corner.
The first thing that strikes you when you attend any modern Mopar show is the variety of customization amongst the participants. Considering Spring Fest started as a celebration of a single platform (LX, now expanded to include variants), you'd imagine that nearly 2,000 cars would be rows of clones, but we couldn't find a single car that looked like the one next to it — except maybe in the case of the two black-and-purple customized "his and hers" Dodge Chargers. Some folks went for wild external mods, like halo headlight LEDs that dance along with the music on the stereo, or racey aero bolt-ons. Others stayed stock, but chose bright factory colors and clever personalized license plates. There were lots of themes and wraps, including multiple nods to movies like Star Wars and Mad Max. Retro looks were popular too, with visual shoutouts to famous Chrysler racers of the past like Richard Petty or Sox and Martin. Speaking of racers, there were some seriously quick machines on display. Originally, the schedule called for drag racing on the legendary Pomona quarter-mile, but the rain kept the would-be racers parked. Despite that, the Dodge Challenger SRT Demons, stripped Magnums, and hopped-up SRT Jeeps drew a crowd with their caged interiors, skinny fronts and fat rear meats.
If the biggest crowds were found waiting to do ride-along drift rides in Hellcats, the second busiest spot in the Fairplex was under the design tent in the midway, where Head of Dodge and SRT Design for FCA Mark Trostle and his team had set up a rainbow of little model Challengers painted in a bright palette of potential new colors. Trostle called them "Skittles" and, indeed, it looked like someone had spilled out a bag of chromatic candy on the tables. Trostle's team was made up of eight designers, some senior, like LaShirl Turner, Chief Color and Material Designer for FCA, and some brand new who were at the event for the very first time. For Trostle, the goal of the color samples was to shake things up. "We'd had success bringing back heritage colors, but I want to create the next generation of those colors," he said. "I wanted to do a color that would be controversial, that people would talk about. Is there room for it to grow, to develop?"
For Turner, the chance to speak directly with the intended audience was too good to pass up. "We're constantly working on new color palettes," she told us. "Usually, we do a lot of trend research, but who is better to ask than our own customers?"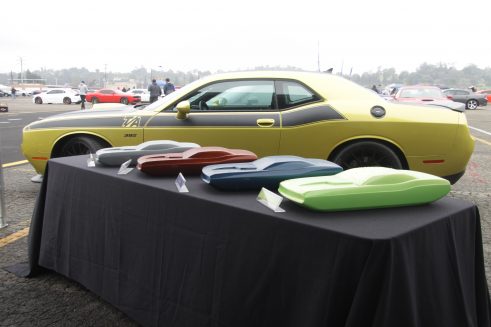 To accomplish this, the design team not only had a full-size T/A Challenger painted in a greeny-yellow metallic called Fortuna's Gold, but also painted the display models and labeled each with a groan-worthy name tag like "Michigan Salt" (a grimy, yet attractive off-white) or "Shake N Bake" (a warm metallic bronze the color of fried chicken). FCA Interior Design Manager Dan Zimmermann gave us the scoop on the names. "We wanted to make people laugh, to get attention. We were cracking ourselves up in the brainstorm session." Some of the names were obvious, like a bright green named "Wicked Witch," while others were more subtle, like a soft non-metallic gray named "Garbage Can."
"We have trash cans that exact color back at the design studio," Zimmermann told us with a laugh.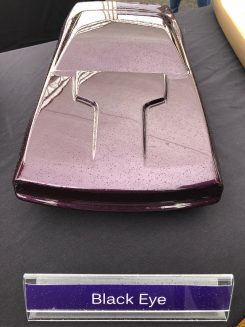 Certainly, the names and the variety of colors were a hit with the audience. They voted in droves, so much so that the design team is still counting up the ballots. "If I had to guess, I think the metallic purple, 'Black Eye,' is going to be the winner," said FCA Color and Trim Designer, Shady Elias.
"We're always impressed with how much historical knowledge the customers have about the colors," Trostle told us. "They'll know the paint codes for B7, or the old Lemon Twist. They'll know where we got the inspiration from for the new colors."
Dodge's willingness to be wild with paint is obviously part of what attracts the customers for the Challengers and Chargers. We saw a wide variety of high-impact shades, and when there wasn't a factory option that went far enough, owners took it upon themselves to push the envelope. Erik Degrate from Long Beach, California, brought out a 2006 Dodge Magnum SRT which was styling from (chromed and engraved) head to (flamed and pinstriped) toe. "I've been working on this car for 12 years," he told us. "It's a lot of one-off pieces. I love all genres of custom cars. It leans a little to the custom side, a little to lowriders."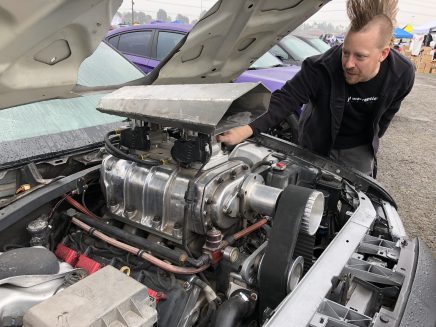 Around the corner was a Chrysler 300 that went the opposite direction of Degrate's polished and sparkling wagon. Matt Leischer of Mad Matt Creations has a giant old-school 6-71 blower on his flat-black 2006 Chrysler 300 SRT. "I didn't want to do it easy," he says about the blown 398ci, 6.1L-based HEMI®. "I can't make more power this way, but I can make it more interesting." Leischer's car was a fan favorite, drawing huge crowds every time he fired it up.
We loved all the radical customs and well-cared-for daily drivers in the show, but in the end, we'd say the event was best summed up by Jorge, Rocky and Carlos Perez. We met the Perez brothers in the parking lot where they were installing an air intake on Jorge's 392 Challenger. "Whose is this?" we asked, and Rocky told us that it was his older brother's, but he had one too, and Carlos had one on order. Or maybe Carlos had one and Rocky had one on order? Anyhow, three brothers, three 392 Challengers, one really good show.
Find out more about Spring Fest LX at socallx.com.
Comments
Comments