Under the Hood with Dodge Thrill Rides Part 1 The Cars
5 years ago Events Video
This is part 1 of our 3-part series Under The Hood With Dodge Thrill Rides.
Experiential Marketing. When I tell people that's what I do for a living, I'm usually met with a head cocked to one side like a confused dog. I explain it this way… You know that lady passing out free samples of cheese in the grocery store? I'm that lady, and my cheese is cars. So when we go to an event like Barrett-Jackson or Spring Festival, our Dodge Thrill Ride team is giving you a sample of what these cars can do. And that leads us to this three-part series giving you behind-the-scenes access and stories from the team. Let's get you Under The Hood of our Dodge Thrill Rides.
The Dodge Thrill Ride show is where you'll see us drifting 2018 Dodge Challenger and Charger SRT® Hellcats on track. On a typical day, we are open from 9 to 5 and put through somewhere between one and two thousand guests, never stopping except for fuel and tires. I'm asked a lot of questions about what we do and how we do it, so let's answer the most common ones.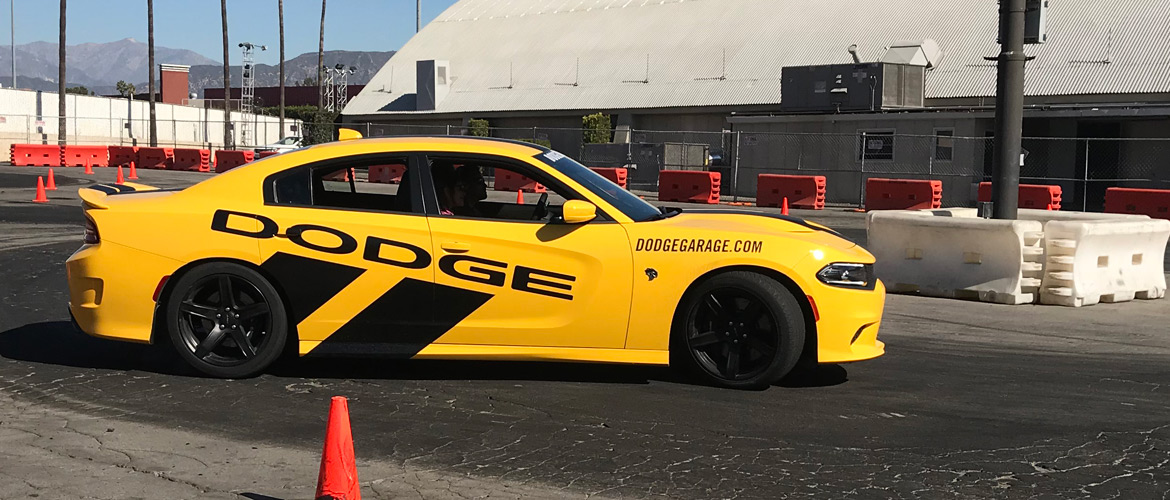 "What mods have you done to the cars?"
Nothing. The cars you see us sliding around on the edge of adhesion are completely stock, exactly the same as you see at your local Dodge dealership. We joke that all we've done is add some decals and tighten up the loose nut behind the wheel (our pro drivers… I'll feature them in another upcoming piece).
"What kind of maintenance do you have to do?"
Obviously, we go through a lot of tires, brakes and fuel, but surprisingly there's not much needed other than fluid changes. Our fleet manager, Jeremy Knowles, points out that the cars really take the punishment well. Anything that needs to be changed is always replaced with factory Mopar® parts.
"Ever blow up an engine?"
Nope! In fact, we've never lost a supercharger or transmission or clutch or suspension parts or… you get the idea. Obviously, what we do is FAR more extreme than driving to the office or even making some passes at your local drag strip, but the reliability is impressive. If they can handle this torture test, your street-driven car is going to be just fine.
"So, has anyone ever gotten sick during a thrill ride?"
Yep. It wasn't pretty. We hired a detailing service to clean it up and they earned every penny we paid them!
"Do you drive the cars from place to place?"
No, they're hauled on big rigs from event to event. They'll cross the country a number of times a season, but the miles on the car are almost exclusively on track miles.
"What's your favorite to drive on track?"
All of us on the team agree that they have their own personalities. The Challenger SRT Hellcat has a shorter wheelbase, so it's easier to initiate the drift, but the Charger SRT Hellcat can often get bigger slip angles, especially when we fill the back seats with guests. Pro Tip: Watch which way we drift on any given track. For example, if we are drifting more to the left, you'll want to get the right rear seat in the Charger SRT Hellcat. More to the right, you want the left rear. Those seats get the maximum angles as we slide through the corners!
"Which one is faster?"
It's no secret that the four-door Charger SRT Hellcat is a bit quicker and faster than the Challenger SRT Hellcat. 0-60 they're pretty close, just 1/10th of a second apart. In the ¼ mile, the Charger wins by 2/10ths. Top speed goes to the Charger again at 204 miles per hour, 5 more than the Challenger. That said, on our thrill ride courses, they run identical speeds and lap times.
"How long do you keep the cars?"
One year. We get a new fleet each January and run them for the entire season, ending in November. Most years, we do a couple dozen events and each event is usually multiple days. By the end of the year, each car will have about 3,000 miles on it (just broken in, right?!).
"Are these cars crushed when you're done with them?"
No! When you hear of companies crushing cars, they're talking about engineering vehicles. Those are taken apart and put back together as part of the development process and are never intended to go public. Our Dodge Thrill Ride cars, however, came right off the assembly line and are "real" cars. So what do we do with them when we're done? We peel off the decals, install a fresh set of tires, new brakes and fluids and send them to auction where they eventually wind up on a dealership's used car lot ready to thrill a new owner… maybe even you!
"Are you hiring?"
Not right now! However, in a future installment of Under The Hood, I'll introduce you to some of our pro drivers and the unique backgrounds they have.
What's impressive is that we can do this show day in and day out, banging off rev limiters, sliding sideways, destroying tires and giving tens of thousands of guests like you the chance to experience a 707-horsepower Challenger and Charger SRT Hellcat. So, while the lady at the supermarket may have a delicious piece of cheese, I'm betting our free experience will stick in your memory a lot longer!
Check out the video and Dodge Thrill Ride schedule below. Stay tuned to Dodge Garage for the next installment of "Under The Hood with Dodge Thrill Rides".
---
---
| Event | Location | Date |
| --- | --- | --- |
| Mecum Auctions Houston | Houston, TX | April 5-7 |
| Barrett-Jackson West Palm Beach | West Palm, FL | April 12-14 |
| Mecum Indianapolis | Indianapolis, IN | May 15-20 |
| Mopars in the Park | Minnesota | June 1-3 |
| Barrett-Jackson Northeast | Uncasville, CT | June 20-23 |
| Chrysler of Carlisle | Harrisburg, PA | July 13-15 |
| Mecum Harrisburg | Harrisburg, PA | August 2-4 |
| Roadkill Nights | Pontiac, MI | TBD |
| Mecum Louisville | Louisville, KY | September 6-8 |
| Barrett-Jackson Las Vegas | Las Vegas, NV | September 27-29 |
| Mecum Las Vegas | Las Vegas, NV | November 15-17 |
Comments
Comments