Dodge Puts the Energy in the NRG Center!
5 years ago Events
Writing about the weather on a car-based website doesn't seem normal, but the same front that caused a snow delay at the Texas Motor Speedway near Dallas also made temperatures dip some 30 degrees below normal at the Mecum Auction in Houston this past weekend. Dodge was there with our Thrill Ride show and a full display of our latest high-performance vehicles. As one of our guests pointed out, "The heated seats in that Hellcat are working overtime today!"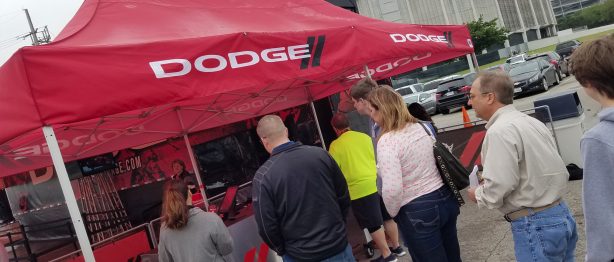 Inside the NRG Center, 1,000 cars lined up to cross the block over a three-day show. Every seller wonders how much their is car worth. The quick answer is "Whatever someone will pay on that particular day." Sellers can put a reserve price on their vehicles, meaning that if bidding doesn't reach that amount, the car won't sell. The risk is that if you set the reserve too high, bidders lose interest and the car won't sell at all. We saw a fair amount of that gamesmanship this past week; it worked out for some, but "The Bid Goes On" process at Mecum is working overtime to make deals after a number of cars crossed the block without selling.
In my preview article, I mentioned what Mecum referred to as "An Investment Grade Viper Collection," and when I got there in person, they weren't kidding. Turns out, the ten cars in that group came from Bernie Katz (yes, that Bernie Katz of BJ Motors / Viper Exchange fame). Up close and personal, they were all exceptional vehicles, and I was particularly smitten with the 1996 Ketchup & Mustard Viper (red with yellow wheels). That color combination isn't for everyone, but if you're looking to make a statement, that one does it in a big way (No Sale at $45,000).
There may be no more iconic Viper than the 1996 Blue & White GTS. And with only 4,800 miles, this one was an outstanding example that sold at $55,000. Then, the crowd really came alive when the 1998 Viper GTS-R rolled across the block. Dodge had to build 100 to homologate the Viper to race at LeMans and it has the look and feel of those famous Team Oreca racecars. White paint, blue stripes, BIG aerodynamics … and an equal price tag to go with it. This amazing machine sold for $129,250.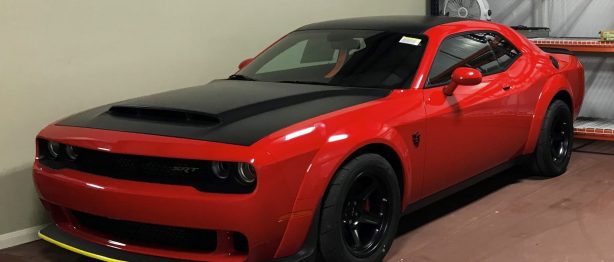 Before it crossed the block, I got to meet the owner of a red 2018 Dodge Challenger SRT® Demon (#670 of 3,000 USA cars) and, obviously, we talked about what he hoped it would sell for. The past couple auctions saw Demons sell in the $130,000 range, so that was his hope for his car. "It only takes 2 guys who really want it to get the price up," he said. They must have been in the room, because his car, with just EIGHT miles on it, sold for $140,000.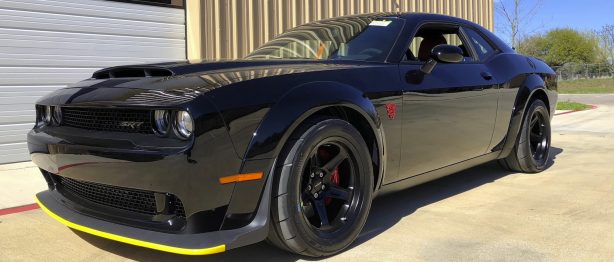 HOLD THE PRESSES … that wasn't the only Demon at the auction. #1,148 was up for sale too. Pitch Black with full Demonic Red interior and only SIX miles on it. Sold for $170,500, which we believe is the highest price paid at auction for a Demon at this point.
Other interesting Dodge cars at the auction…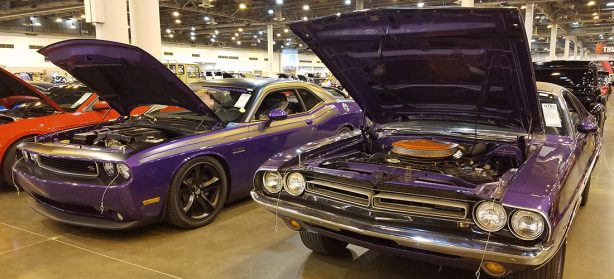 Remember the TV commercial from a couple years ago where you could buy a raffle ticket to win matching Plum Crazy Challengers? There was a classic 1971 and a hot rodded 2013 and you'd get both with the winning ticket. Well, those cars came to the auction and did pretty well. The '13 sold for over $57,000 and the '71 topped a whopping $184,250!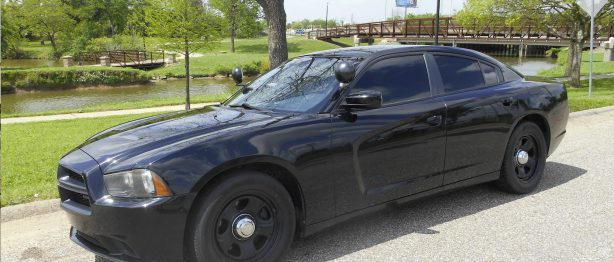 We've all had the thought once: "Wouldn't it be great to have a police car? I'd never get stuck in traffic!" Someone got that opportunity when they won this 2012 Dodge Charger Pursuit (that's the official name for our factory-built police cars). With the 370-horsepower 5.7 V8, minimalist steel wheels, dark tinted glass and spotlights on the A Pillars, this Charger gives you the opportunity to make donut jokes from two angles: the HEMI® power … and, well … you know. Sold for just $8,800.
The next Mecum auction is in Indianapolis, May 15-19.
Comments
Comments