Four Days in Florida: Barrett-Jackson Palm Beach 2018 Auction Recap
5 years ago Events
The dust has settled, the happy crowds of car fanatics have dispersed and the huge indoor South Florida Expo Center arena is once again quiet. But just a few days ago (as this is written), during the week of April 12-15, 2018, 692 collector and special interest cars, trucks and motorcycles crossed the Barrett-Jackson auction block in search of new owners, who spent $39.4 million to add some fresh metal to their driveways, garages and collections. Of the top ten most expensive sales, half were Chrysler Corporation models! Mopar® vehicles – classic and modern – are red hot, folks!
Through it all, your faithful Dodge Garage roving reporter and veteran on-camera host of the Velocity channel broadcast, "Scat Pack Steve" Magnante, recorded the following images for your enjoyment. If you didn't know, the very first Barrett-Jackson Florida collector car event took place at this venue a full sixteen years ago. As for me, I joined the TV broadcast in 2005, and this 2018 show marked my fourteenth appearance on the Florida auction stage.
Long-time viewers of the Barrett-Jackson TV program will know that each car is on the auction block for an average of four minutes before the hammer drops and the next car takes its place. During those scant moments of exposure, it's been my job to help point out interesting features, historical facts and cultural commentary for each offering to the TV viewer at home. For most of my years, I've been teamed with Mike "the Voice of NASCAR on Fox" Joy or Rick DeBruhl, though occasionally Velocity adds stars from its other automotive TV shows to the mix for added effect. During this 2018 Florida event, it was my pleasure to collaborate with Motor Trend magazine's Jonny Lieberman for a large part of the show because Mike Joy had to leave early for NASCAR commitments.
In this installment of the Dodge Garage, let's have a look at some of the highlights of the sale, plus some behind-the-scenes views you didn't see on TV. You'll notice my vehicle choices are all of the Chrysler Corp. / FCA persuasion. While Barrett-Jackson sells and embraces vehicles of every make, this is Dodge Garage after all. You can read up on the Brand X machinery elsewhere.
Well known to millions of TV viewers, the Barrett-Jackson auction stage is a celebration of classic vehicles and the American spirit. Each year, Barrett-Jackson supports charities working to benefit medical research, improve child care and assist military veterans.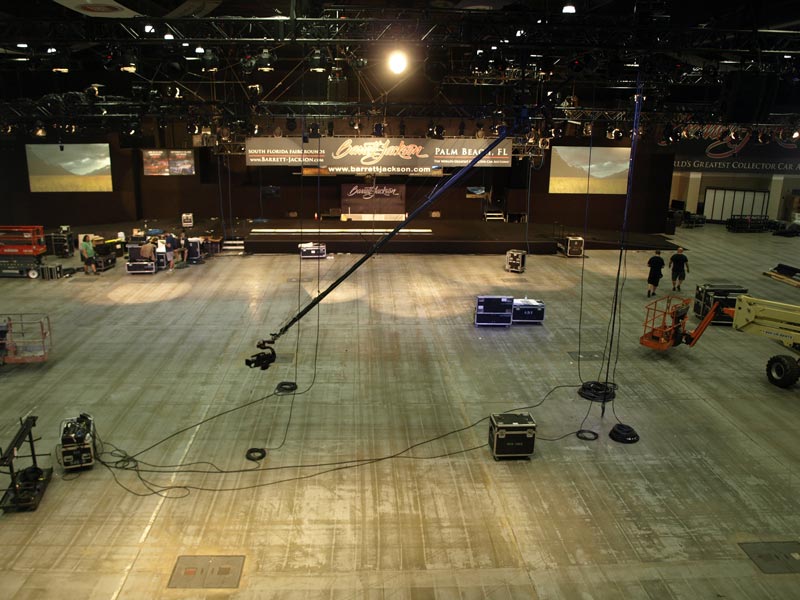 It takes hundreds of behind-the-scenes technicians to transform each arena for use. After the show, they take it all down and put it in storage until the next event. The same stage and podium is used at Barrett-Jackson's four annual events, which take place in Scottsdale, Arizona (January); Palm Beach, Florida (April); Mohegan Sun Resort and Casino in Uncasville, Connecticut (June); and at the Mandalay Bay Casino in Las Vegas, Nevada (October).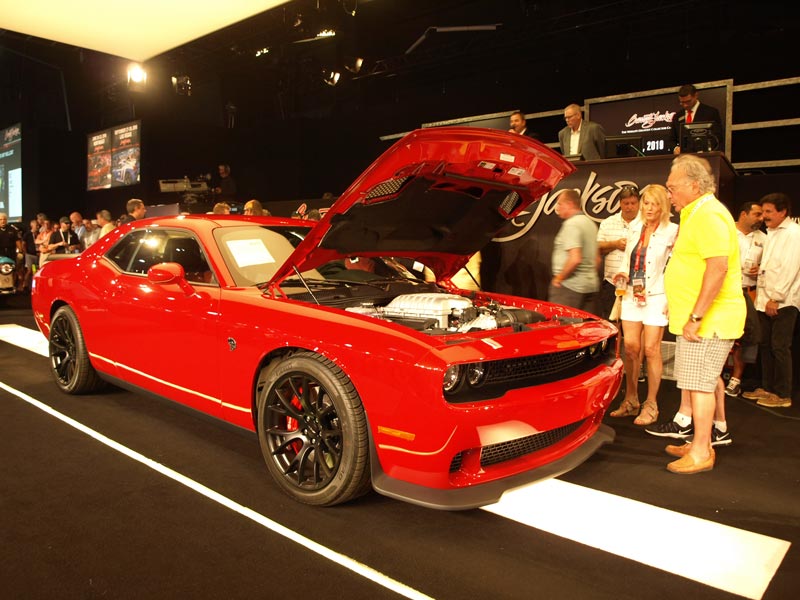 With a mere six miles on the odometer, this 2015 Dodge Challenger SRT® Hellcat (Lot 405) with the Torqueflite 8-speed automatic transmission fetched $63,800. The new owner faces a true dilemma … keep it sealed in the wrapper for continued monetary appreciation, or hit the road and enjoy its 707 horsepower at every opportunity. What would YOU do?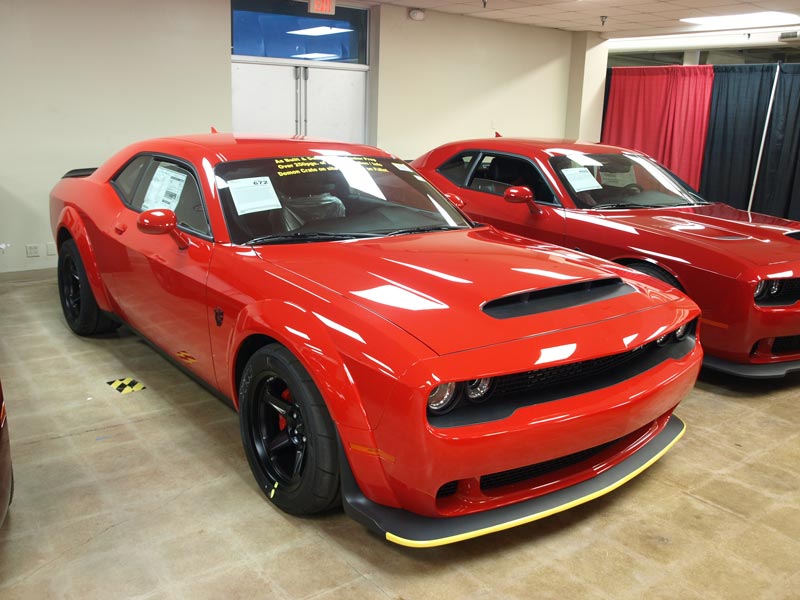 Also showing only six miles on its odometer, this as-delivered 2018 Dodge Challenger SRT Demon (Lot 672) sold for $143,000 – almost twice its window sticker price. Such is the demand for these amazing wheelie-popping, 9-second, HEMI®-powered muscle cars. Sold with the optional Demon Crate, this SRT Demon's onboard computer is still in "sleep mode", a mild state of tune intended to protect the cars from over-enthusiastic handlers during shipment to dealerships.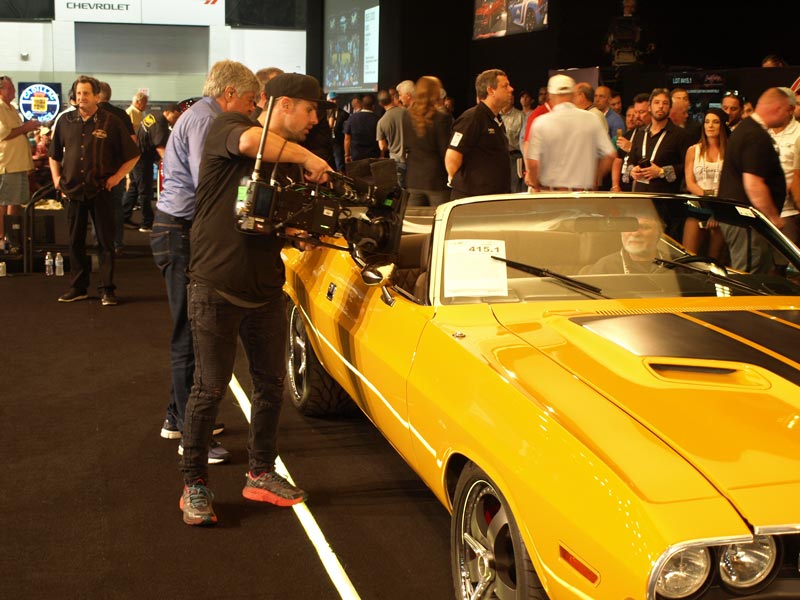 Blending classic looks with cutting-edge aftermarket mechanicals, so-called Resto-Mods are very popular with enthusiasts who like to drive. This appealing 1971 Dodge Challenger (Lot 415.1) started life as an L code 383 2-barrel cruiser. Then XV Motorsports transformed it with an all-aluminum 527 HEMI, Hilborn 8-stack EFI, a 5-speed manual transmission and coil-link suspension with massive disc brakes all around. The tasteful Butterscotch machine sold for $104,500, undoubtedly a fraction of its build cost.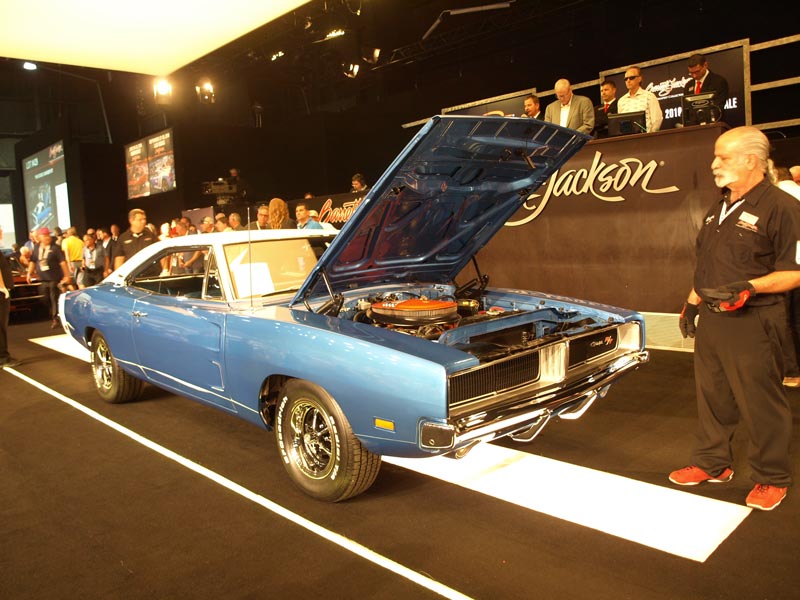 Closer to showroom stock condition, this 1969 Dodge Charger R/T (Lot 429) traded for $82,500, making its seller very happy. A true XS29 R/T (non-R/T VINs begin with XP29, Charger SEs and 500s begin with XX29), its matching numbers 440 big block has been fortified with a Six Pack induction system. Of the 75,549 Chargers built in 1969, only 20,100 were R/T muscle machines.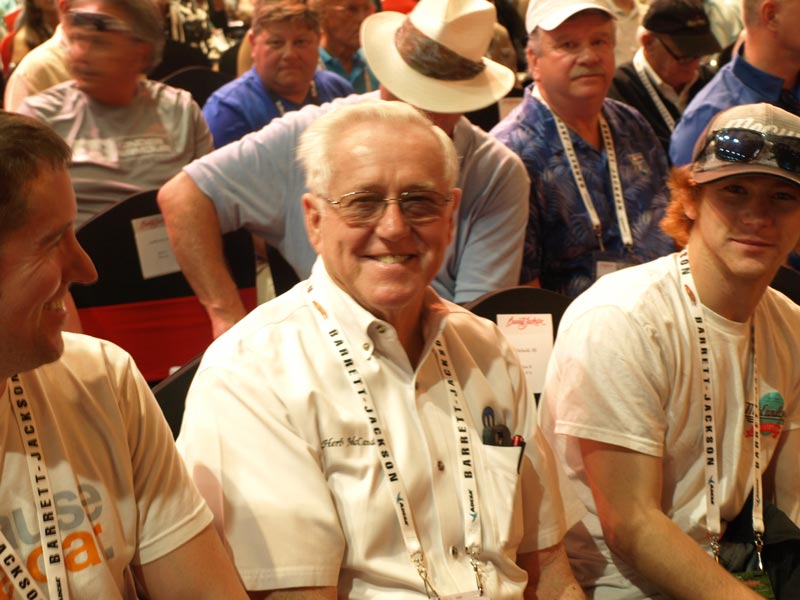 Mopar drag racing legend Herb McCandless and sons made several purchases, including a 1959 DeSoto Adventurer convertible from the John Staluppi Cars of Dreams collection. It sold for $330,000 and was the second-highest priced sale of the entire show. Herb drove several Plymouth HEMI cars in NHRA Stock, Super Stock, Pro Stock and Factory Experimental classes during the '60s and early '70s. Herb was also part of the legendary Sox & Martin Plymouth race team.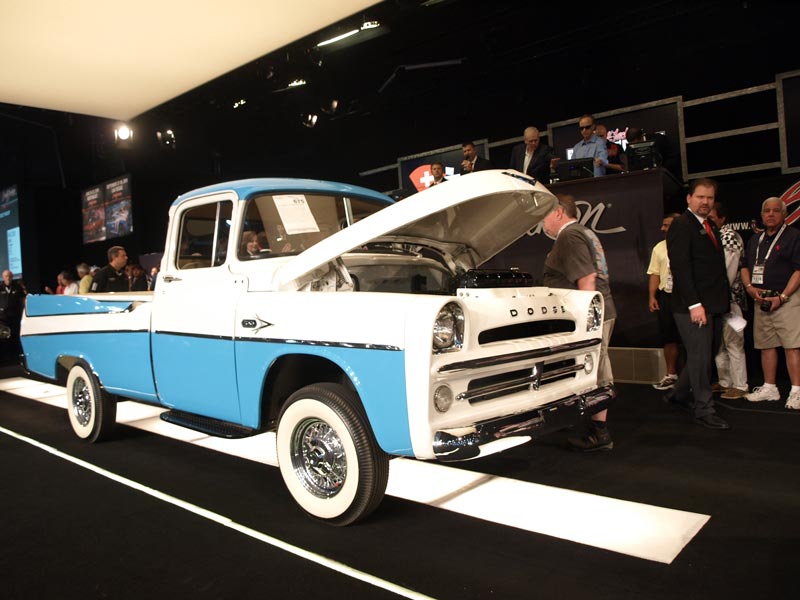 Featured in the Dodge Garage Barrett-Jackson auction preview story, the McCandlesses bought this pristine 1957 Dodge D100 Sweptside pickup truck (Lot 675) for $90,200, a world record high payment for the breed. An answer to the more streamlined pickup bed designs like the 1955 Chevrolet Cameo Carrier, the finned body panels were borrowed from the Plymouth station wagon parts bin. Only 1,050 were built.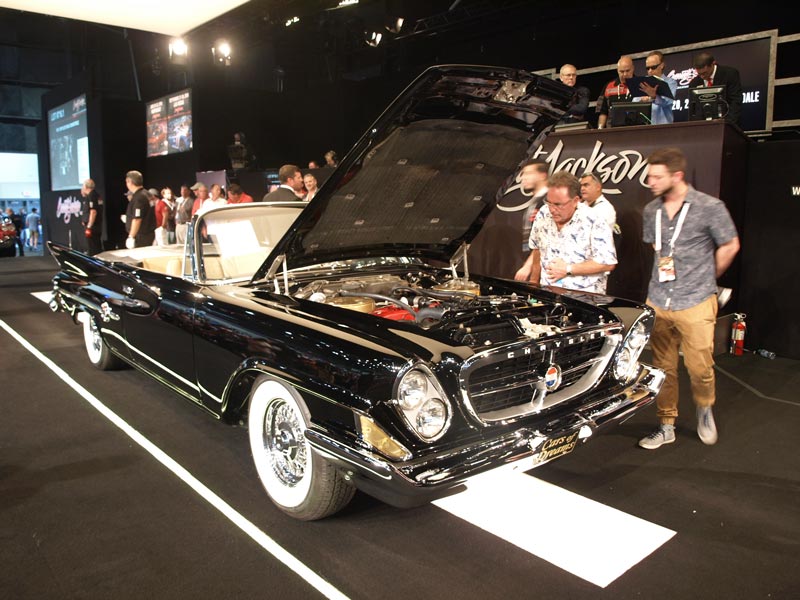 Three of the Top Ten highest priced sales of the event were tail finned offerings from Chrysler stylist Virgil Exner's "Forward Look" period of the late 1950s. Despite selling for a strong $148,500, this 1961 Chrysler 300G convertible (Lot 716.1) wasn't one of them. Of the 1,617 G's built in 1961, this is one of only 337 convertibles. The top-selling Exner-era cars were the aforementioned 1959 DeSoto Adventurer (Lot 718.1, $330,000), 1957 DeSoto Adventurer convertible (Lot 720, $231,000) and 1956 DeSoto Fire Flight convertible (Lot 717.1, $225,500). Fins are IN!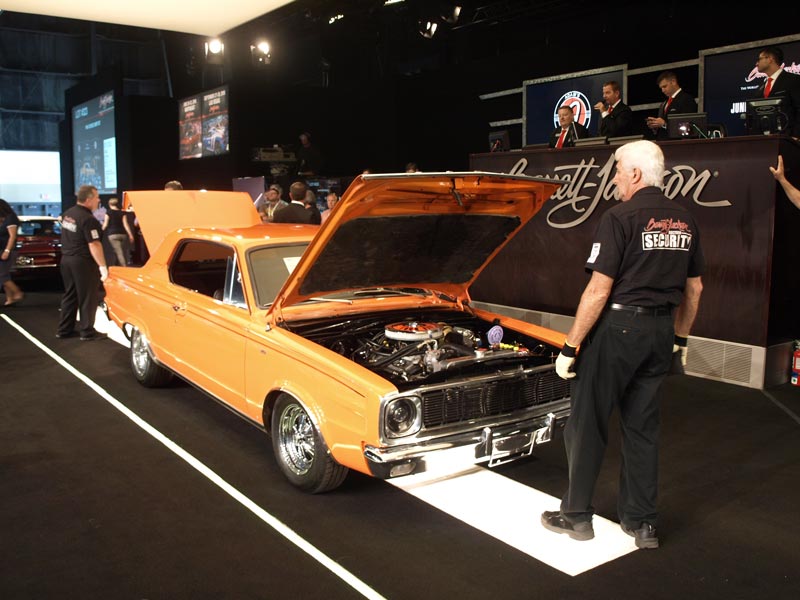 At the other end of the spectrum, this 1966 Dodge Dart GT (Lot 323) sold for a comparatively affordable $14,850. Lightly modified with a 340 in place of its original 273 V8, its status as a factory-built 4-speed Dart added significant interest.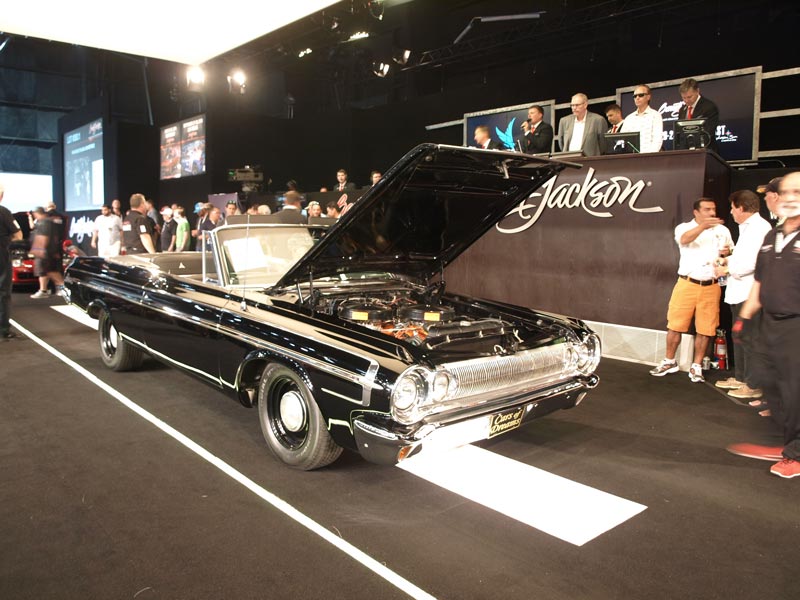 Another car from the pre-event Dodge Garage preview story, this sinister 1964 Dodge Polara convertible (Lot 393.1) sold for $93,500. Packing a 440-based Max Wedge engine backed by a "dial a win" push button Torqueflite automatic, it's a tribute to the handful of factory-assembled Max Wedge convertibles of the 1962-1964 era. The vast majority of Max Wedges were installed in two-door sedans and hardtops. Very few convertible buyers needed the ram-inducted big block's brutal straight line ability.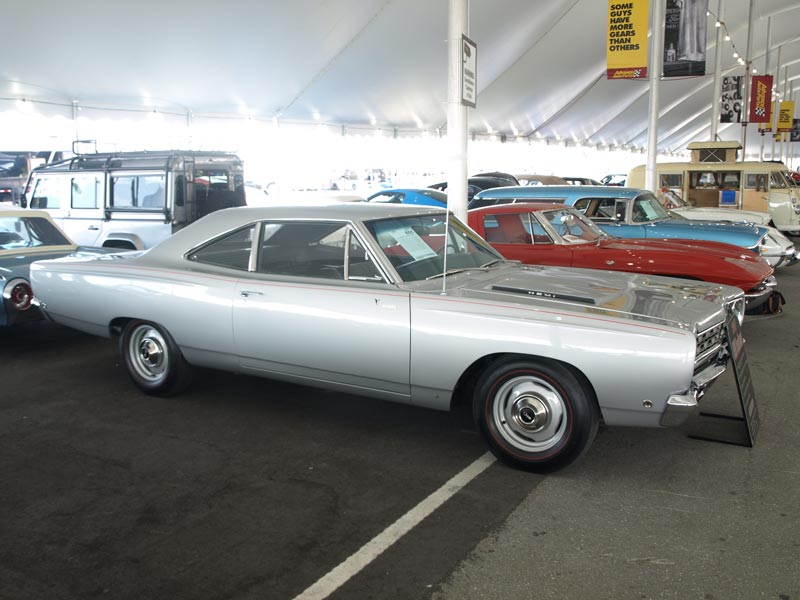 Plymouth's 1968 Road Runner launched the "budget muscle car" trend by replacing creature comfort items with heavy-duty parts and a minimum of frills. Priced at $2,896 new with base 335 horsepower 383, it was up to 25% cheaper than many competitors but just as fast. The 426 Street HEMI option added $714.30, but at 425 horsepower, it made the Road Runner one of the quickest muscle cars of the day. This well-restored 1968 4-speed HEMI Road Runner pillar coupe (Lot 651) sold for $99,000. Beep, beep!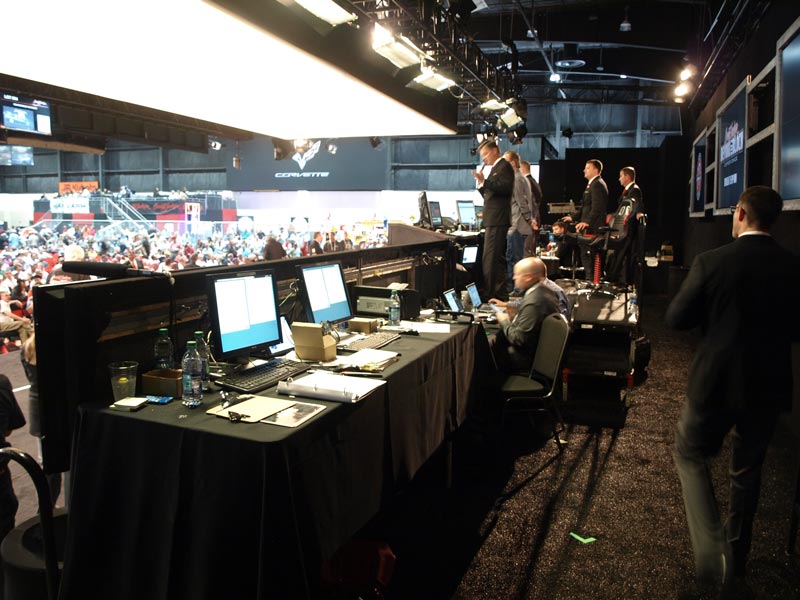 Going back behind the scenes on the auction block, the computer monitors display real-time bidder information to help keep track of who buys what.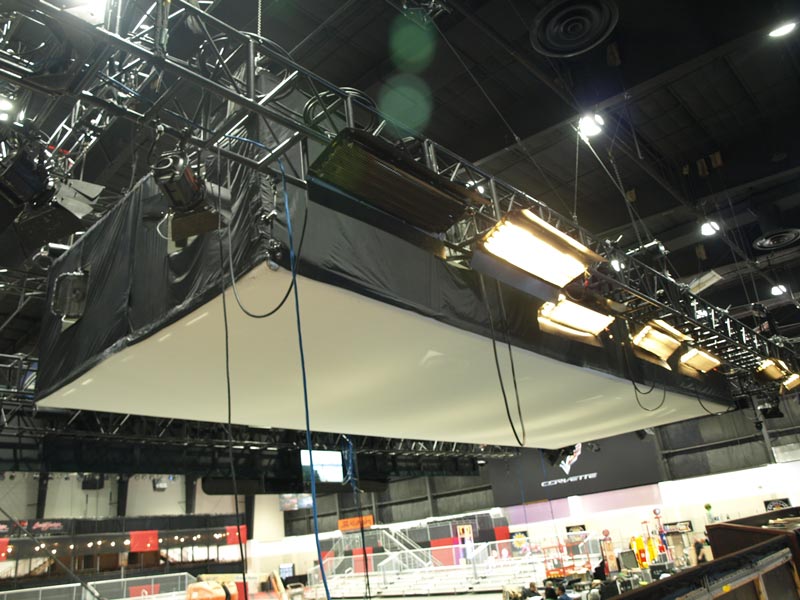 This huge light box is suspended directly over the auction stage. It illuminates each car with even light to accentuate color and detail. It also contains several loud speakers to help project the auctioneer's voice throughout the room. Pro Tip: The block can get hot at times. Large fans inside the light box cool the electronics but also cast a sweet draft onto the right side of the stage. I like to stand in the breeze to cool off on hotter days.
Comments
Comments