Mecum Auction Houston Preview
5 years ago Events
Houston, We Have a Dodge
In 1966, Dodge debuted the now legendary 426 HEMI®, giving enthusiasts something to cheer about. That same year, AstroTurf debuted in Houston, Texas, so fans could watch sports indoors, out of the city's notorious heat and humidity.
April 5-7, we head to "Space City" for the next Mecum Auction and, as Dodge enthusiasts, there is an extra special treat this time: a collection of Dodge Vipers. Mecum refers to this group as "investment grade" with all of the cars at less than 10,000 miles. They'll all cross the block together, one after another, on Friday.
Dodge Thrill Rides will be on hand as well. Make sure you head outside and ride shotgun in a 707-horsepower Dodge Challenger or Charger SRT® Hellcat. Our professional driving team makes sure you have the thrill of a lifetime. If you haven't read them yet, check out the 3-part series "Under the Hood with Dodge Thrill Rides" so you know what to expect: Part 1 – Cars, Part 2 – Tires, Part 3 – Drivers.
Here are some Dodge vehicles to check out at Mecum Houston…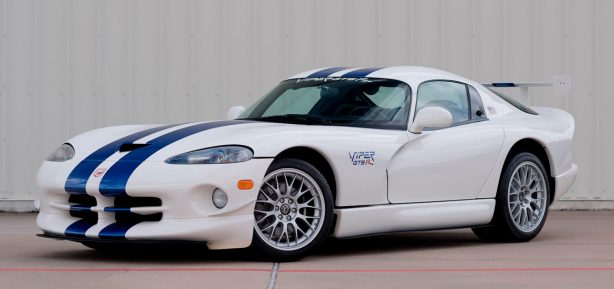 Only 100 of these were ever built to homologate the Viper for international racing (with great success with Team Oreca). Each GTS-R was white with blue stripes and features power upgraded to 460 horsepower. This particular car only has 1,200 miles.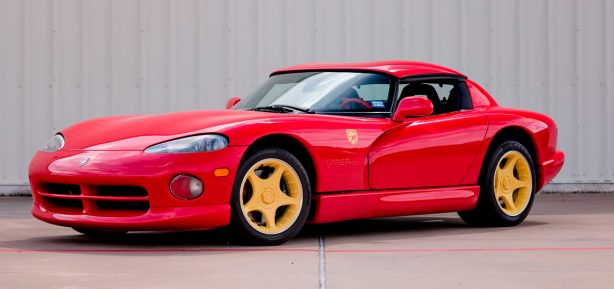 One of just 166 Red RT/10s produced, and it is believed that only 25 were built with the yellow wheels, or as we say in the Viper hobby, it's a "Ketchup & Mustard" car. Less than 6,200 miles and includes the hardtop.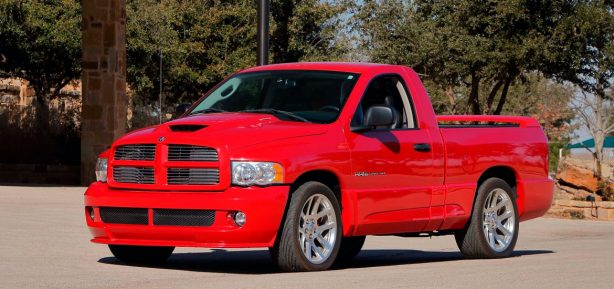 How can you argue with a Viper-powered pickup truck?! Making 500 horsepower and backed by a 6-speed manual transmission, the SRT-10 can hit 60 miles per hour in about 5 seconds and go 150 miles per hour. And still carry your gear out back. This one has less than 31,000 miles and is expected to sell in the $20,000-$25,000 range and has no reserve.
2015 Dodge Challenger SRT Hellcat & 2016 Dodge Challenger SRT Hellcat
Like the Ram SRT-10, both of these cars are part of the Rick Smith Collection. Smith was known for his high-level custom builds, so to see cars left bone stock is surprising. Perhaps he had bigger plans for them before his passing? Regardless, each car only has THIRTEEN miles on the odometer. The white '15 is a 6-speed, the red '16 is an automatic and both have the sepia interior. They are selling at no reserve.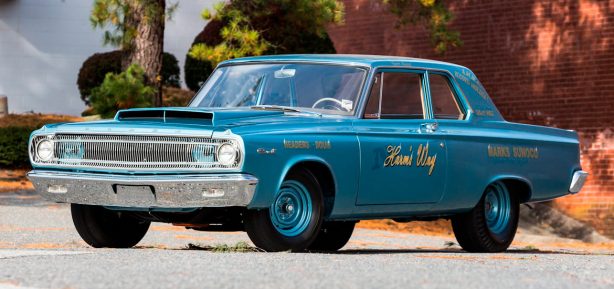 1965 Dodge HEMI Coronet Super Stock
The A990s were built to slip around the NHRA's new rules for 1965 and this is #46 of just 101 ever built. Raced by Harmon Friend and known as "N Harms Way," it set a world record at Norwalk in 1969. It has since gone through a complete restoration to its "as raced" livery and won 1st in class and Best of Show at the Monster Mopar Weekend World Finals in '14 and First Place at World of Wheels Indianapolis in '16.
Houston is one of my favorite cities and if you're headed there, let me recommend a few things.
Houston Coffee & Cars is Saturday morning, April 7. Like all C&C type events, it's open to everyone and the variety of cars is outstanding.
The Hemi Hideout is an event center / private collection. It's not always open, so plan ahead; but if you can get in there, it's WELL worth the trip.
Houston has a Top Golf that I went to with the Space City LX club. I'm NOT a golfer and still had a blast there.
Speaking of Space City LX, the club has taken me to a lot of great places to eat over the years and while I don't want to single out any particular place, you would be foolish not to find a local Tex Mex restaurant to enjoy!
Comments
Comments