The Faces of the Barrett-Jackson Television Broadcast Team on Velocity
5 years ago Events
In January of 2005, I was sitting on the couch of my home in El Monte, California, watching the Barrett-Jackson collector car auction for the very first time. I'd never before watched the big Scottsdale show – let alone attended in person as a spectator. But friends told me "it's the best place to see choice muscle cars sell for top dollar". Being a hard-core muscle car enthusiast, I tuned in. As the show progressed, I grew to understand what my pals were saying; the Barrett-Jackson broadcast (then on Speed Channel) was great entertainment. Finally, muscle cars were being taken seriously and portrayed as the investment "vehicles" they truly can be.
Keep in mind, in 2005, California was targeting vintage cars for destruction for being "gross polluters" and state-funded crush campaigns were a real threat. This turn-around from trash to treasure was a great counter-measure, even if it did drive prices out of reach for many people.
Watching the show hosts discuss each car, I thought to myself, "Wow, I'd love to be part of that." But, fat chance, right? How would a former Hot Rod magazine staff member (I was Tech Editor at Hot Rod from August 19, 1997, through January 20, 2004) get hooked up with a huge show like Barrett-Jackson? Little did I know, The Fates were scheming. At the time, Barrett-Jackson was just starting on its path toward producing the four auctions per year we all appreciate today in 2018.
Back then in 2005, they did the so-called "mother ship event" in Scottsdale each January, a fixture since 1971, and were toying with smaller off-shoot events around the country. The first of these took place at the Petersen Automotive Museum on Wilshire Blvd. in Los Angeles. Then, in 2003, Craig Jackson launched the Palm Beach, Florida, event; and now, sixteen years later, it's still going strong.
As for me, a few weeks after watching the 2005 Scottsdale show in my living room, I got a call from Speed Channel. The Florida show was coming up on April 1-3 and one of the hosts had dropped out. Because my work for Hot Rod Magazine TV aired on Speed Channel, the producers knew of me and figured I could add a technical element to the show.
It has been fourteen years since my first Florida show. It went well enough and I was added to the permanent team and have been part of every Barrett-Jackson TV broadcast ever since. In a nut shell, my task is to give each car a voice for the four minutes it is on the block. I make it a point to research each vehicle in the weeks before the auction. This way, I can instantly and efficiently hone in on the most significant detail during TV time. A little bit of preparation goes a long way.
But it takes a team to put on a show like the live Barrett-Jackson TV broadcast. Let's meet the team from last week's 2018 Palm Beach show.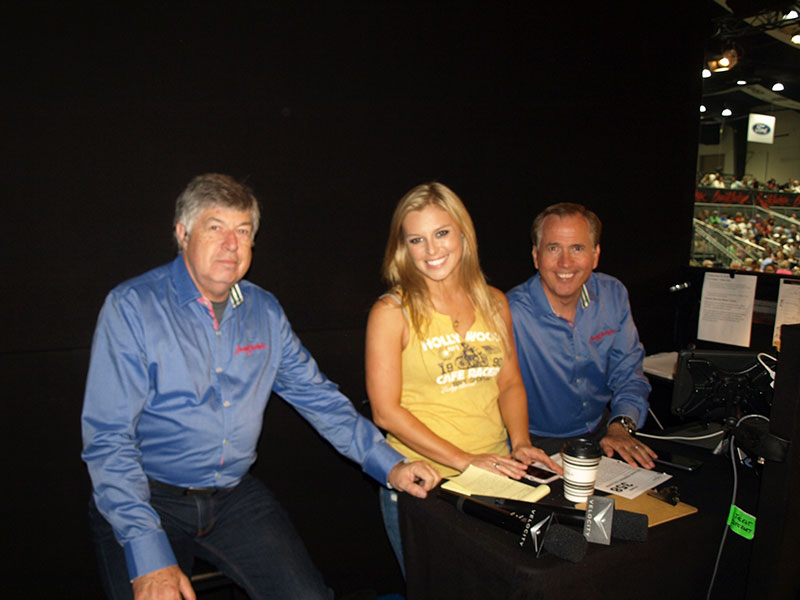 Mike Joy (left) and I make up the on-stage vehicle commentary team. Mike is also "the voice of NASCAR on Fox", where he narrates the live action at major races like the Daytona 500. If you've ever watched NASCAR, you've heard Mike's powerful, knowledgeable voice. He even had a part in the movie comedy Talladega Nights. Mike has been part of the Barrett-Jackson team far longer than I have and he's taught me many lessons over the years. Cristy Lee (center) is one of the All Girls Garage TV show hosts on Velocity and is also a Dodge spokesperson. In 2015, Cristy and I co-hosted a fun video showcasing the Mopar® Performance Scat Pack Stage Kits for 5.7-liter HEMI®-powered Charger and Challenger R/Ts. Rick DeBruhl (right) is the main host.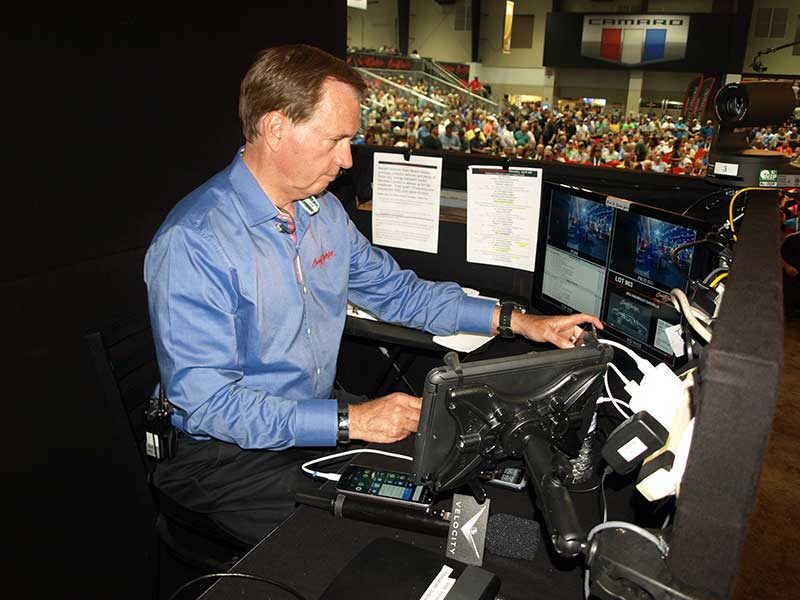 As the show's primary host, Rick handles commercial breaks, introduces each auction car and reads promotional material for sponsors. Somewhat hidden in plain sight, his broadcast "nest" is located on the right-hand side of the raised sector behind the vehicle platform. Elsewhere, Rick provides commentary and in-garage field reports for broadcasts of the Indy 500 and other televised races. Rick also had a decades-long run as an investigative TV reporter in the Phoenix area.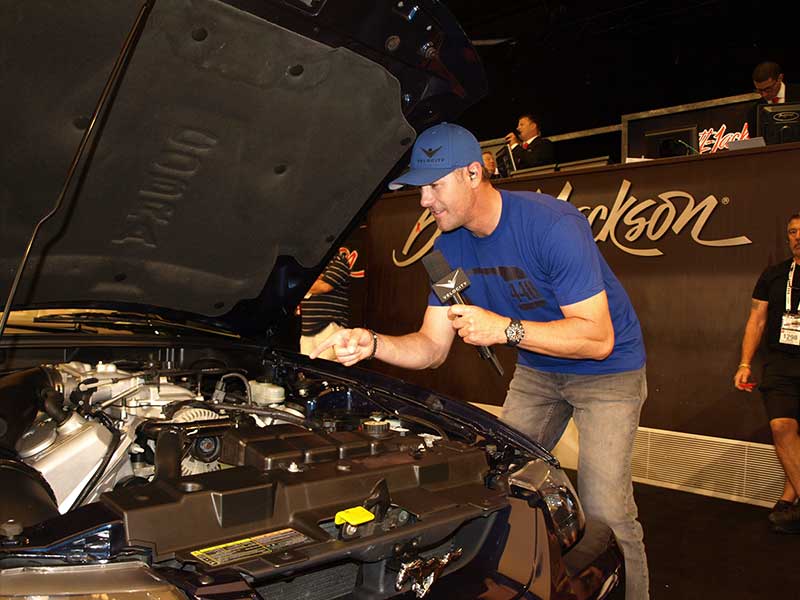 Fans of the mega-hit TV rebuild show Overhaulin' know Chris Jacobs. With Chip Foose, Chris co-hosted over 100 episodes. Chris joined the Barrett-Jackson broadcast team in 2015 and is a Mopar guy at the core. He's great at doing super energetic "show opens and closes" and conducting live celebrity interviews. He's also always ready to jump on stage with vehicle insight when a car lights his fuse. Elsewhere, Chris co-hosts the Long Lost Family TV show, helping to reunite adoptees with siblings and parents, and has had many TV and movie roles as an actor.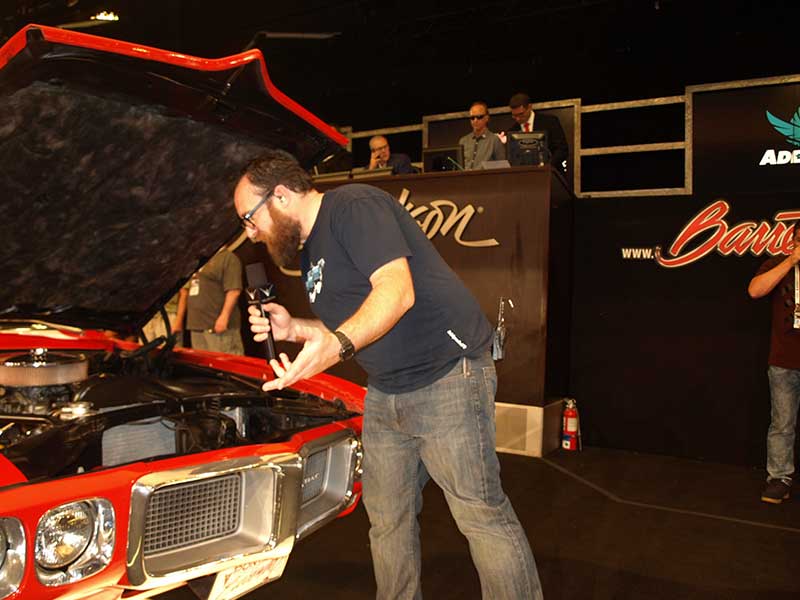 Since the switch in broadcast rights from Speed Channel-Fox Sports to Velocity Channel-Discovery Communications in 2015, guest hosts from various Velocity/Discovery television and print entities have been added to many Barrett-Jackson productions. For this event, Motor Trend magazine Senior Features Editor Jonny Lieberman joined me and Mike Joy on stage. Lieberman also co-hosts the popular Motor Trend On Demand show Head 2 Head. Other guest hosts have included Dave "Bitchin' Rides" Kindig, Jared "Car Fix" Zimmerman and Ralph "RMD Garage" Houlguin.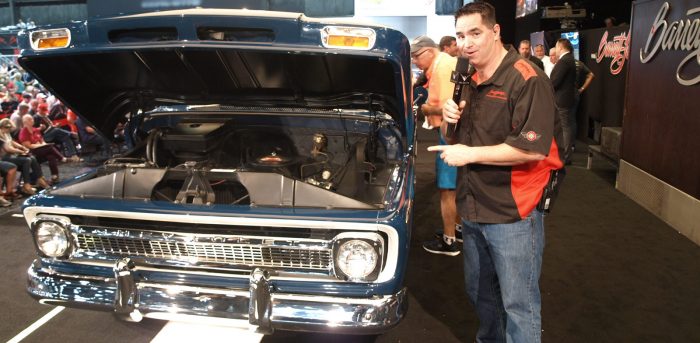 And then there's me, your author, "Scat Pack Steve" Magnante. Long-time Barrett-Jackson viewers might have noticed the Palm Beach show was my very first event without my usual black horn-rimmed glasses. Instead, I wore contact lenses because the thick Florida humidity fogs my glasses on stage. Over the past 14 years, I've done 45 Barrett-Jackson auctions (14 in Palm Beach, Florida; 13 in Scottsdale, Arizona; 10 in Las Vegas, Nevada; 3 in Orange County, California; 3 in Reno, Nevada; and 2 at the Mohegan Sun Resort and Casino in Uncasville, Connecticut). The next show – Mohegan Sun – is rapidly approaching on June 20-23. This is the auction featuring The Ultimate Last Chance, where the last production Viper and the last production Dodge Challenger SRT® Demon will find a new home with the highest bidder. Be there or be square!
Comments
Comments