Dodge Can Throw a Party…a Drag Racing Party!
5 years ago Events Video
It's always exciting to get an email from a contact at Dodge, as you never know what kind of exciting news it may contain. Last summer, I received one of those mystery emails, and to my delight, it was an invitation to Roadkill Nights Powered by Dodge, in Michigan. While I don't watch too much television, I knew of the Roadkill show and was familiar with their crazy SRT® Hellcat-swapped 1968 Dodge Charger. Without an ounce of thought, I RSVP'd and started packing.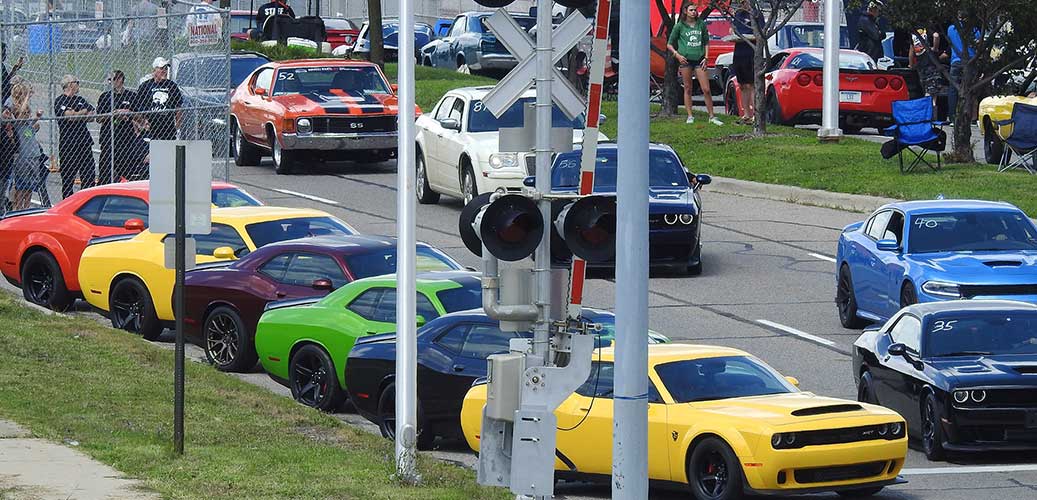 Before I share how amazing this event was, I have to tell you about what happened when I landed in Detroit. As I was wandering the airport corridors looking for the taxi terminal, I overheard two guys talking about their hotel, and it just so happened that I was staying at the same place. They were wearing the typical "car guy" T-shirts and I figured they were brethren, so I approached them about sharing a cab ride to our destination hotel. Being that the hotel was a good $100 cab fare away, I was relieved that these guys were more than happy to share the ride. We eventually hopped into a not-so-cool minivan and off we went.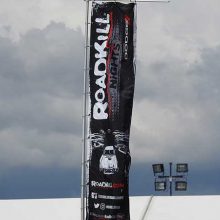 As we began our journey, small talk led to discussion of the Roadkill Nights event. One of them asked if I watched the show. Like I said earlier, I know of the show but haven't watched it, so I told him the same. He then asked if I recognized who he was. Awkwardness filled the dingy minivan as I looked closely at these guys to see if I could recall seeing them before. After a short dip into my repository, I couldn't come up with anything, but apparently I was riding along with someone I should have been familiar with. They then introduced themselves as Lucky Costa and Steve Dulcich. Being that I spend more time in the garage than in front of the TV, I had to inform them that I still didn't know who the hell they were and we all got a good chuckle. The next day at the Roadkill event, there were about a dozen people lined up against the fence screaming for autographs from these two, and as I've come to find out, these guys are a pretty big deal and I was oblivious. To make things even more odd, Lucky was actually familiar with my Scat Pack build, which is cool, but maybe I should start watching a little more TV so I'm in the loop. It just goes to show you that car guys are car guys and we're all down to earth. Thanks for the ride, Lucky and Steve, and thanks to the production company for the taxi fare, as these guys refused to let me chip in for the ride.
The next morning, it was off to Woodward Avenue to check out the event. Some good friends of mine were at the same hotel so I picked an SRT Hellcat, hopped in the passenger seat, and off we went in a convoy of Mopar® muscle. Upon arrival, we found streets that were blocked off for us and the entire area was like a blast from the past, with what I imagine would be the closest thing to the old spirit of street racing on Woodward Avenue. Cars were lined up for a mile, poised to tear up the asphalt, and I was really wishing I had brought my car to take part in the experience. In no time, the sweet aroma of race fuel and tire smoke filled the air as cars ripped down Woodward.
As hard as it was, I peeled myself away from the drag strip and headed into the M1 Concourse to check out the rest of the activities. The first stop was the Dodge VIP area. After a thorough screening for credentials, I was granted access to the special area that Dodge set up for us. As usual, Dodge knocked it out of the park with great food, drinks and maybe the nicest semi trailer I've ever seen. Upon entering the trailer, I felt as if I had just walked into a nightclub, complete with an open bar, couches, big screens, rooftop views and lots of Dodge Challenger SRT Demon-themed decor.
The next stop was the Thrill Rides! Dodge had several cars blazing through the road course at over 100 miles per hour, and their passenger seats were open to whoever wanted to ride along. My first ride was in an SRT Hellcat Challenger, of course. And after that experience, I can definitely say that "Thrill Ride" is the appropriate name for this portion of the event. I am strictly a drag racer and have never been on a road course, so needless to say, I was definitely thrilled while diving into corners at high speed while the tires screamed for mercy. The ride was so much fun that I started pondering the idea of taking up a new sport instead of driving in a straight line. To get my complete fix, I hopped out of the SRT Hellcat and right into a Dodge Viper to get another trip around the track. If you do one thing at the Roadkill event, be sure and do the Thrill Rides! They are free to all spectators and they even handed out free T-shirts while we were in line.
Being a huge Dodge SRT Demon fan, I then decided to stop by the SRT Demon drag race simulator where you get a chance to test your racing skills. I saw this simulator in New York City at the SRT Demon Reveal Party, but by the time I went to give it a try, they had closed it down. Here was my chance to finally give it a go. In this simulator, you sit down in a real car, lined up against your opponent who has their own car next to you. Large screens in front of you display the track, and helpers are there to teach you the trans brake and shifting procedure. Once the lights drop, you release the trans brake and are launched down the track. The front of your car lifts in the air, and if all goes well, the tires come back to the earth and you drive the car straight down the track in an attempt to beat your opponent. You get three attempts to get your best time, and if you can perfect your launch and shift points, you'll get impressive times. All three of my runs were very close together, with my best elapsed time being 9.687 seconds.
Speaking of running 9.6's in an SRT Demon, Leah Pritchett was also in attendance with her Dodge/Mopar Top Fuel Dragster. Not a soul in the stands could resist plugging their ears as she blazed down the track at wide-open throttle and shook the earth. Matt Hagan was also there, and the big event I was eagerly awaiting was for each of them to hop in a Dodge SRT Demon and see who could get to the finish line first. This was to be the drag racing finale, but after several torrential downpours, time ran out and the track officials drying the asphalt were met with more and more rain. Hopefully, this year, the fans can see two Dodge SRT Demons go head to head on Woodward Ave.
Last but not least, the car show was truly something to behold. From classics to Vipers and everything in between, there was certainly no shortage of eye candy. Roadkill Nights has everything you could want at an event. Lots of celebrities, plenty of vendor booths, drag racing, road racing, great food, a huge car show and a lot of Dodges. What more could you ask for? Tickets are only $10, so grab yours and we'll see you there!
Comments
Comments