Epic Day of Racing – Roadkill Nights Powered by Dodge Returns to Woodward
5 years ago Events
For those that don't know, Roadkill Nights is a massive event that shuts down Woodward Avenue in Pontiac, Michigan, to run 1/8th mile drags in the middle of the street. Last year, David Freiburger and Mike Finnegan were scheduled to go head-to-head with David's 1970 Dodge Charger and Mike's 1955 Blasphemi. There were other celebrity drivers that would race each other for bragging rights, and even pro drivers Leah Pritchett and Matt Hagan. The pros also brought their work cars to put on a show later in the evening. However, the true stars were the street cars that had entered to race for a chance at the $10,000 of prize money!
It's set to return to Pontiac, Michigan, on Saturday, August 11, at M1 Concourse. The following story is how the 2017 Roadkill Nights event unfolded for me.
It was about this time last year that I was doing my monthly check of my spam folder. I had missed three emails from Dodge, inviting me to come to Roadkill Nights. I was instantly set into a panicked frenzy. Did I miss my chance?! Was I too late?! I'd been a fan of Roadkill for a while at that point, and to get the opportunity to check out their biggest event of the year, all hosted by Dodge? Unbelievably cool!
I fired off an email as fast as I could, and after what felt likes years for a reply, the very next morning I saw it: I WAS GOING TO ROADKILL! The Friday before Roadkill, my wife and I packed up my 2013 Charger R/T and left our home in Minnesota for the destination of Detroit. My wife, being the morning person, opted for first crack at driving duty. With the driver's seat comes control of the radio, so I take no responsibility for the choice of station. However, listening to 80s on 8 while on our way to Roadkill ended up being a bit foreshadowing of the musical entertainment we would be enjoying at the event.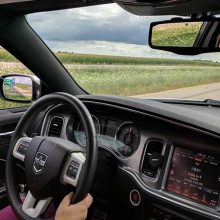 As we made our way through Wisconsin, I kept thinking about the traffic through Chicago and if it would be faster to take the outskirt route or run through the middle of the city. I put my faith in Google and was rewarded with very little traffic. My wife didn't want to even drive anywhere near Chicago, so I was in command of the Charger. Chicago traffic can be fickle, and maybe we got lucky, but it wasn't nearly as bad as I was anticipating.
Making quick work of Illinois and what felt like a thousand toll roads, we entered Indiana. On our last toll road, the driver in front of us paid our toll! Best yet, it was a fellow Mopar® owner! When we finally sailed under the giant "Welcome to Pure Michigan" sign, we were relieved to see the end of the toll roads. (We're not used to toll roads back in Minnesota, and really hope they don't sneak their way into our state.)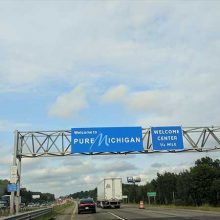 I know Michigan is home to many auto manufacturers, but it sure seemed like Mopar Country on our drive through the state. It could be that I was just noticing more because I was heading to Roadkill to hang with Dodge.
We arrived at our hotel around 9:50 p.m., which meant we'd been driving for close to 12 hours. After a normal 12-hour driving day, I'm ready to hit the pillow, but it was too exciting. The parking lot was full of Dodges, so we knew we were in the right spot. We stopped down in the lobby of the hotel to have a drink. We spotted Mike Musto, from The House of Muscle, hanging out in the lobby. I should have said "Hi!", but that's how it goes sometimes. I posted a shot from the bar on Instagram, and that's when I finally got to meet @BoostedScatPack. I'd been a fan of his car for a while now and we'd chatted a bit in the past, but now I actually knew someone else in attendance!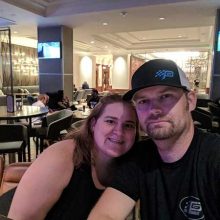 The morning of the big event, we got up bright and early to make it over to M1 Concourse, the host facility of Roadkill Nights. I'd heard of M1 before, but didn't fully appreciate the facility until I was there. It's a 1.5-mile race track right in the middle of Pontiac, Michigan! There are also a bunch of private garage condos nestled along the track, making this one heck of a playground for adults. I shouldn't be surprised that a facility like this could be built in the middle of a residential area, being it's the home of the Big Three, but a venue like this would be unfathomable back home. We have car condos, but they don't have their own race track!
As we walked through the grounds, I wanted to see what kind of cars were here to actually race. I wasn't disappointed. There were some real racers here to take the prize money being offered by the event. To sweeten the pot, Dodge was throwing a bonus in each category; if the winning car was a Dodge.
So many great cars were there to compete, it was difficult to keep track of them all. Down at the end of the staging area, we found the Dodge Challenger SRT® Demons and SRT Hellcats that were going to be used by the celebrity racers. It took a lot of effort on my part not to hop in and just pretend I was one of the celebrities and go race them…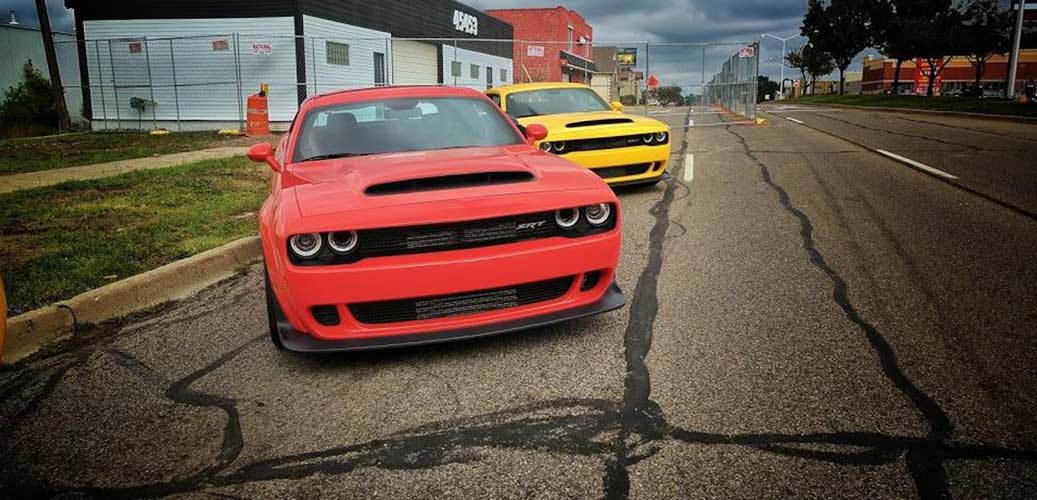 After my conscience told me to move along, we wandered back into M1 to see the rest of the happenings at Roadkill Nights. The main attraction might be the racing, but Dodge made sure this was a jam-packed event. We walked back to the car show field where they had the Dodge and Mopar displays. One of the cars there was a SEMA special from 2009, the 426-powered 1320 Challenger. Funny that a year after the show, Dodge drops a bombshell by making that name a production model, sans the 426! I really hope someone orders a new 1320 Scat Pack and does a similar paint scheme.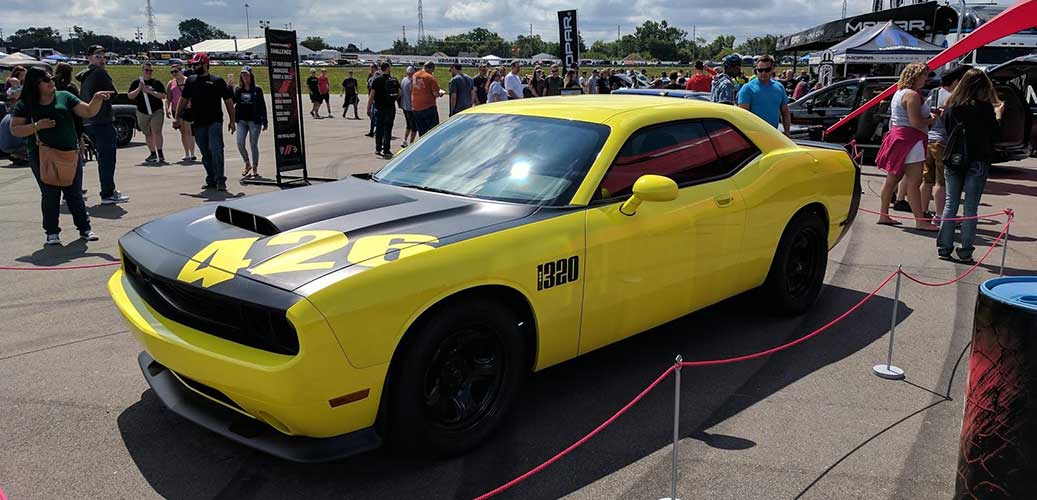 Now, as I mentioned earlier, Dodge pulled out all the stops for Roadkill Nights. They had a live band, covering all the best hair-band rock ballads from the '80s. Gotta say, these guys killed it with their stage personna and their ability to rock out the best hits from the era of too much hairspray and too tight pants.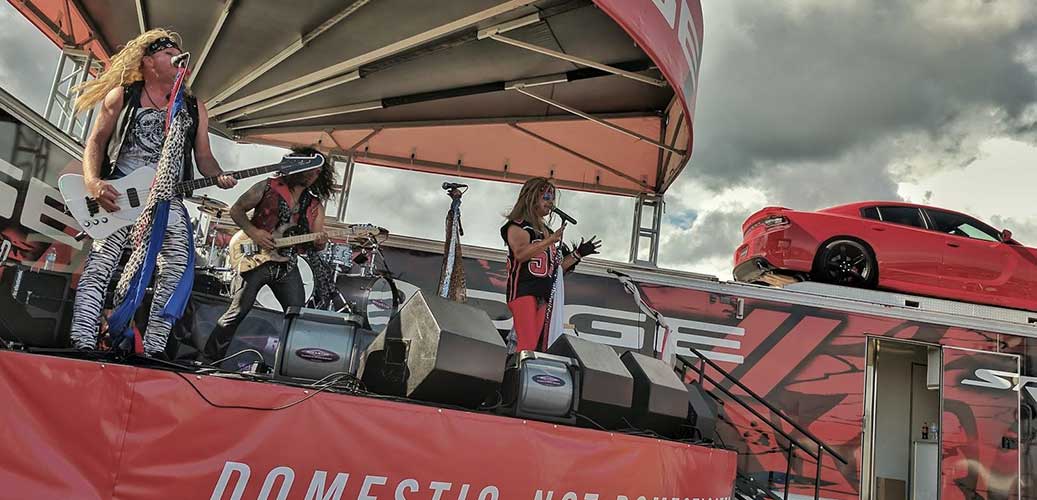 After listening to a song or two, we decided to check out the cars that the Roadkill guys haul around. Owning a 1952 Dodge 2-ton truck, seeing Stubby Bob was pretty cool. My intention is to complete mine for parade duty, but it's neat to see what the polar opposite of the spectrum looks like.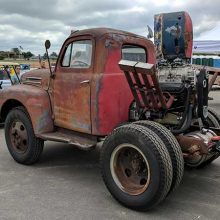 As we were milling about, we ran into Tim Kuniskis, then head of passenger car brands (Dodge, SRT, Chrysler, and Fiat®). After chatting with him briefly, I realized he had brought a blue SRT Demon to the event as his personal transportation for the day. It didn't take long for me to talk my way into the driver's seat, albeit without the key. Yeah, I could get used to piloting a car like this. All that power with an insane amount of comfort, it's crazy to think this is a 840 hp drag racing machine!
The fine folks at Dodge were able to score me a little one-on-one time with Chris Cowland, who's the head of Advanced & SRT Powertrain development with FCA. It was my first time interviewing someone and if you're interested in watching the video, you can find it on YouTube. Warning: the audio is pretty poor quality. I learned a lot about creating videos that day. Mistakes that won't be repeated!
We decided to rest our feet a bit and actually watch some of the racing. Sitting back and eating lunch, all while cars go screaming by just feet away, was a surreal experience. It was a lot like the SRT Demon itself, actually. Fast and comfortable!
After hanging out a bit and feeling rested, we headed back to the other "main attraction": the thrill rides! Here, Dodge was loading people into SRT Hellcats and Vipers, and letting it rip through a portion of the 1.5-mile course at Roadkill Nights. I had done the thrill rides back at Mopars in the Park that year, which I thought that was cool, but here at M1, they had the room do to a lot more than the straight line I experienced back home. It was a riot!
Rains moved in and caused a bit of a delay, but we found the adult beverages and waited it out. Once it stopped, the track workers scrambled to get the track (Woodward Avenue) drivable again. Then, without too much delay, the celebrity races started. First up were David and Mike from Roadkill. Mike was having issues, so they restarted and ran again. When the lights turned green, it looked like Mike had the win in the bag, but a missed shift allowed David to go sailing by the 1/8-mile marker for the win.
Once that "grudge" match was completed, the other celebs jumped into the SRT Hellcats to race for their charity of choice. Mike was quickly eliminated, and I ended up chatting with him for a few minutes while he enjoyed some of Michigan's finest ginger ale. Yes, the "best day of work ever" line was used and it felt very appropriate, even though he lost the race.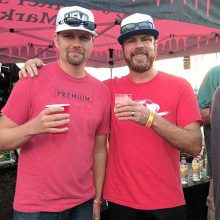 As the night wound down, the rain came again and made it so the final racers or the final celebrity run in the SRT Demons couldn't happen. The awards were given out on their qualifying times. This is one of those things in racing, where every run counts; even when you think it doesn't.
As we drove back to the hotel, my wife and I thought about the day we had just participated in. What an amazing event and something we both really enjoyed! We had a big day of driving ahead of us, but the trip was so worth it! We decided to take the scenic drive home and run across the Mackinac Bridge to the upper peninsula of Michigan on our way home to Minnesota.
The trip was a blast and was worth the pain of 12+ hours of driving each way. Only thing I'd change would be to bring a battery back for my phone, and an external mic. Oh, and no rain! I can cover the battery pack and mic, but if someone could order a rain-free Saturday this year, I'd appreciate it.
If you're coming to Roadkill Nights this year, be prepared for an epic day of racing, fun and good company.
-Bud Kleppe
@ScatPackClub
Comments
Comments