Release the Trans Brake – 2019 NMCA Season is About to Launch
4 years ago Events
There's severe winter storms rolling across the middle of the country and marching up northeast. In its wake of record amounts of snow and plummeting single-digit temps, there are signs spring is coming soon. Maybe not in the form of budding leaves and chirping birds, but rather burning rubber and smoky burnouts. The season-opening NMCA Muscle Car Mayhem event at Bradenton Motorsports Park is just around the corner and the weather forecast for southern Florida is looking good. Owners of SRT® Demons, SRT Hellcats, Scat Packs and just about any other late-model HEMI® engine-powered machines are looking forward to running some fast ETs down the quarter-mile drag strip. This is also the second season of the NMCA Dodge/Mopar® HEMI Shootout and it continues to gain traction with many drivers of Dodge muscle machines putting their pedal to the metal. They'll experience the true potential of their cars while trying out different starting line launch techniques and improving their tuning skills, but the main goal is to have fun for free.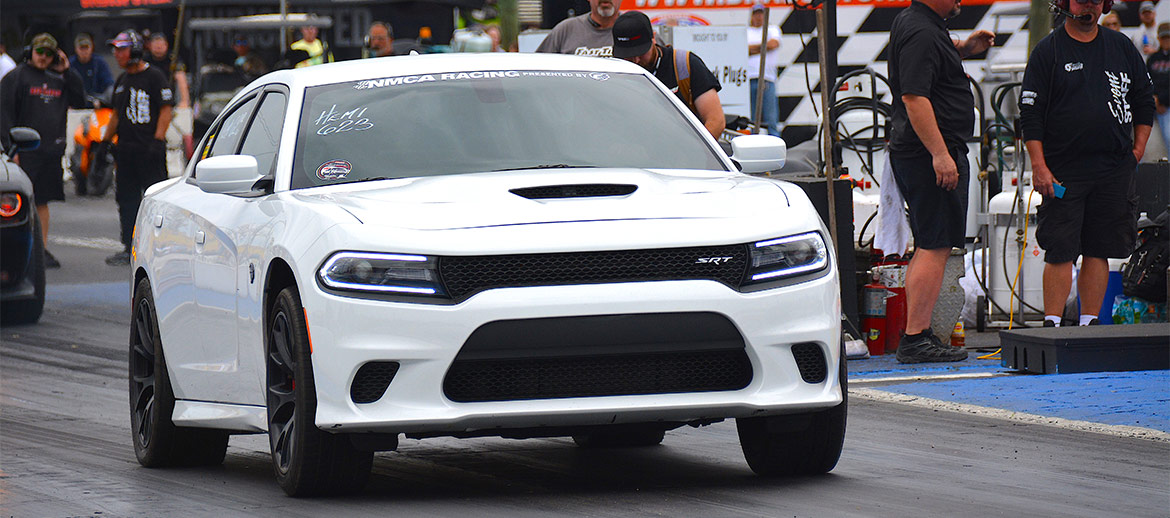 "NMCA's thrilled with the overwhelming success of the Dodge/Mopar HEMI Shootout that's continuing for 2019," said Steve Wolcott, President & CEO of the NMCA Muscle Car Nationals. "NMCA's Muscle Car Mayhem season-opener this weekend in Bradenton, Florida, has maxed-out with all 75 free entries secured by passionate owners ready to enjoy their Challengers, SRT Demons, SRT Hellcats, Chargers and other Gen III HEMI engine-powered vehicles on the 1320. The Dodge/Mopar HEMI Shootout participants will be treated to a special VIP area, presented by HHP Racing, and the eight fastest competitors will return on Sunday for the all-new Arrington Performance HEMI Quick 8, presented by Red Line Oil, where we'll present the champion with cash and an NMCA Victor award in our special Aerospace Components Winners Circle."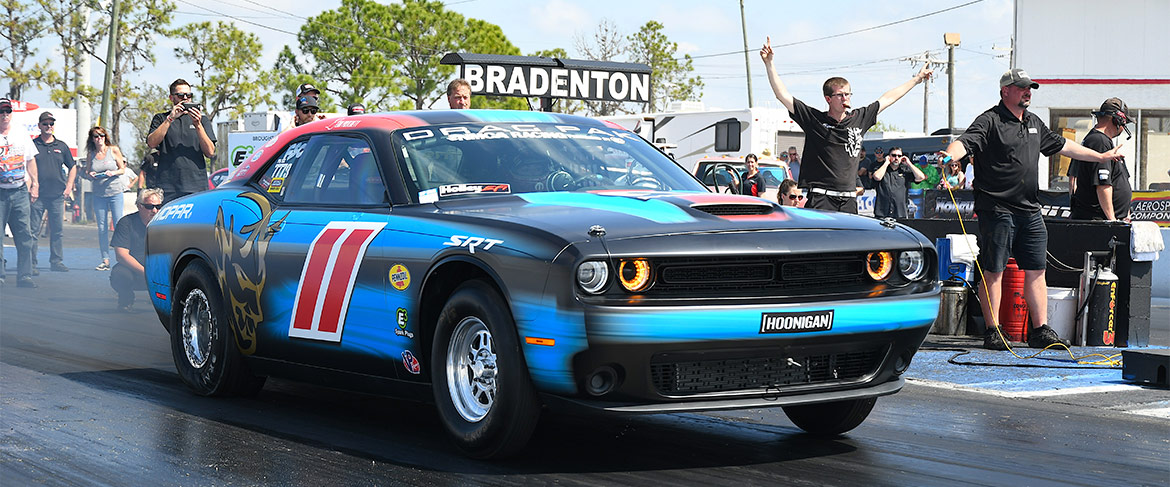 NMCA Muscle Car Mayhem will also have some fast seven-second Stockers competing in the Holley EFI Factory Super Cars class. 2018 NHRA Factory Stock Showdown World Champ Leah Pritchett will be doing battle with her Mopar Dodge Challenger Drag Pak against other factory-built "Package Cars" that include Cobra Jet Mustangs and COPO Camaros. She, along with many other drivers, will also use the season-opening NMCA Muscle Car Mayhem to fine-tune their 1,500-horsepower supercharged V8 machines before heading up I-75 to the NHRA Gatornationals in Gainesville, Florida, the following weekend.
Leah Pritchett is excited to be heading back to Bradenton Motorsports Park to get behind the wheel of her Mopar Dodge Challenger Drag Pak and put down some strong numbers in the NMCA Factory Super Cars class. At last year's NMCA opener, the team struggled a bit and had teething pains, but those quickly went away throughout the 2018 race season as Leah would win the NHRA Factory Stock World Championship.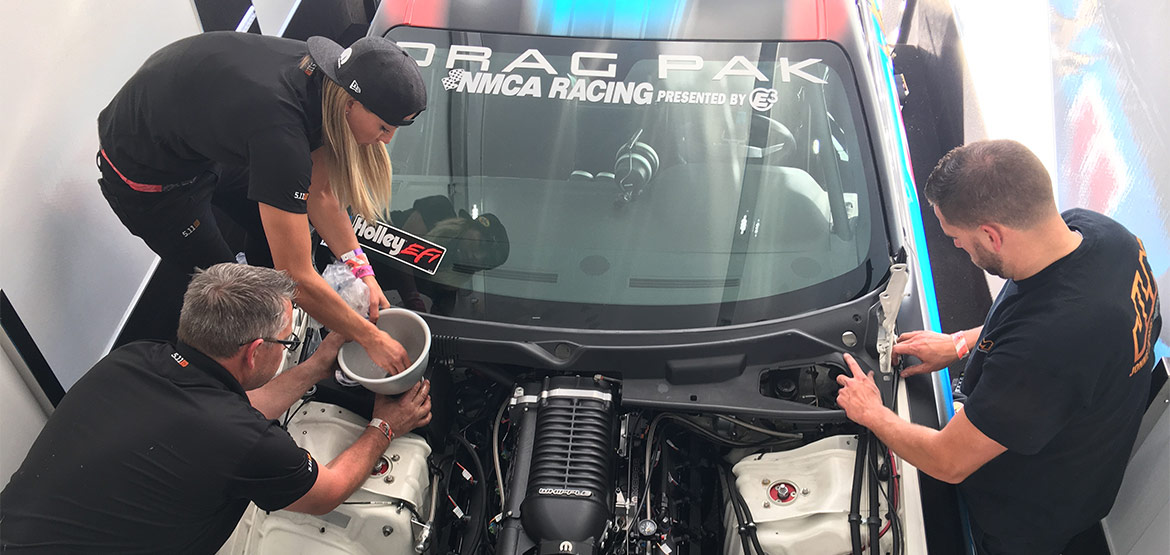 "At the 2018 Bradenton race, it was a little bit of a bumpy start for our DSR Mopar Drag Pak team. We were just beginning to emerge ourselves into this class and were dealt a few punches," said Leah Pritchett. "With the 2018 NHRA Factory Stock championship under our belt, we are ready to come out swinging with a few updates as we continue to find new ways to maximize our allowed power capabilities."
A seasoned racer like Leah and her team are not taking the competition lightly. If anything, they know they'll be loaded for bear once they roll into Bradenton and line up next to Pritchett. There's a target on her back and she knows it and is ready to come out swinging.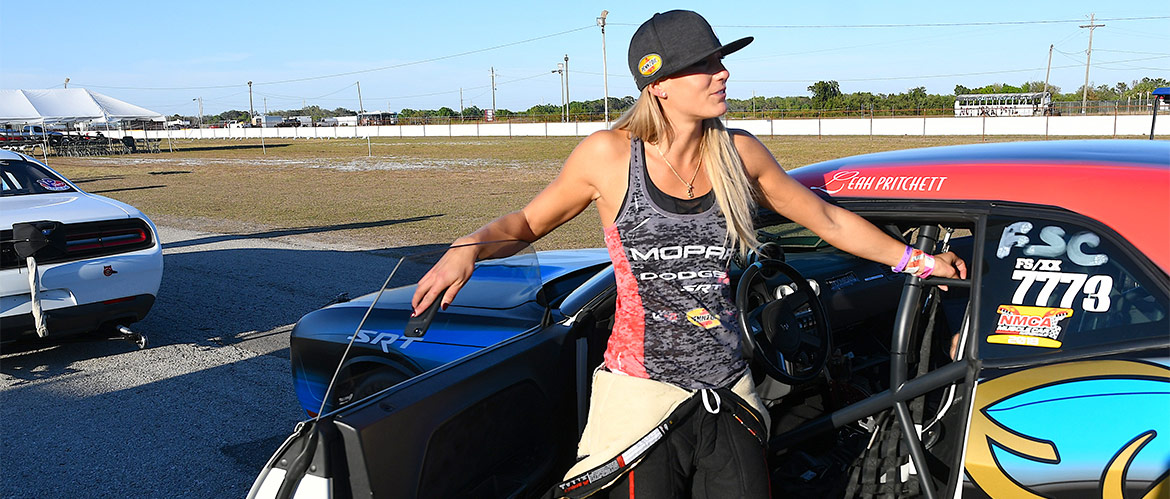 "The competition is always stepping up their game and it's non-stop. We are heading out with the same approach as we have throughout all stages of our Mopar program, which is to perform at the highest level. If someone runs faster than us, we just dig in more and find the performance needed to out-run those guys," explained Pritchett. "This will be my second NMCA Bradenton event, and it's one that I've been excited about on the calendar for months. I'm most looking forward to dialing-in our 2019 Mopar Drag Pak program, and spending time with grassroots drag racing fans," exclaimed Pritchett. "This year, we will have my Drag Pak teammate Mark Pawuk, who won the Norwalk NMCA event last year. We'll be treating this event as strategic preparation for the 50th anniversary of the Gatornationals, while getting a taste of competition blood. So for me, this event excites me to the core."
Pritchett's crew chief Kevin Helms will have his work cut out for him at Bradenton as there will be many fast and determined racers looking to begin the season by taking down the reigning world champ in the class. Knowing this, Helms and the rest of the team wasted no time during the short off-season and loaded up the Challenger Drag Pak a few weeks earlier and headed south for some much needed testing. Their mission is to constantly refine the tune-up of the already stout 354-cubic-inch supercharged HEMI V8 engine that powered Pritchett to her 2018 NHRA FSS title. Testing is also a way to stay one step ahead of the competitor in the next lane.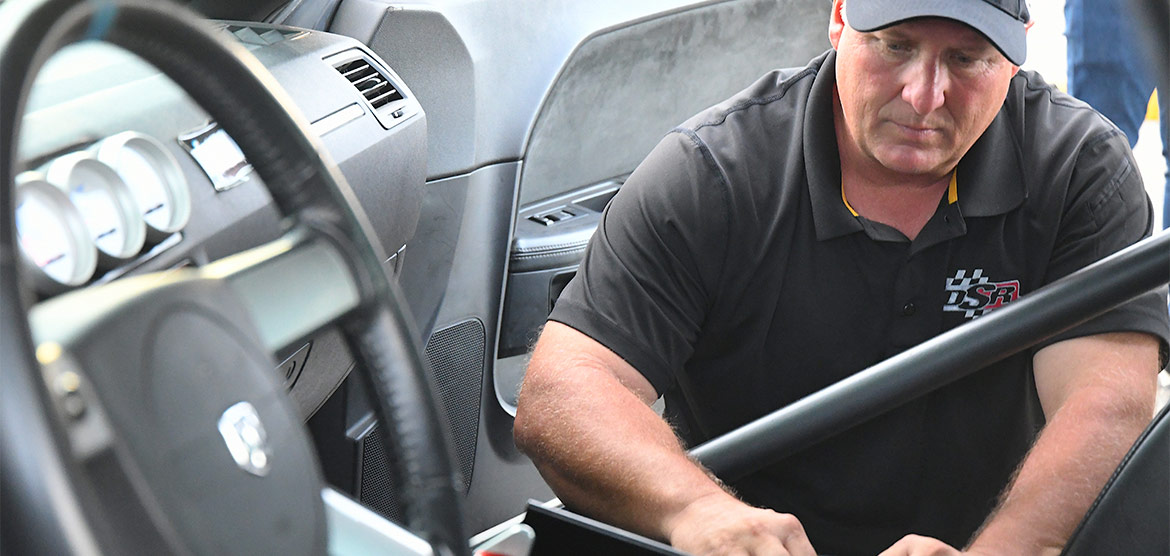 "After a 2018 NHRA Factory Stock world championship season, we tested really well at Orlando Speed World and had our best-ever 60-foot times and miles-per-hour run," said Helms. "Our challenge this year will be the fact the Cobra Jet Mustangs and COPO Camaros have new superchargers that are far superior to the older 2.9-liter Whipple unit we're currently running as per NHRA rules. So, we'll do our best and run with what we have, but Leah will still be very competitive."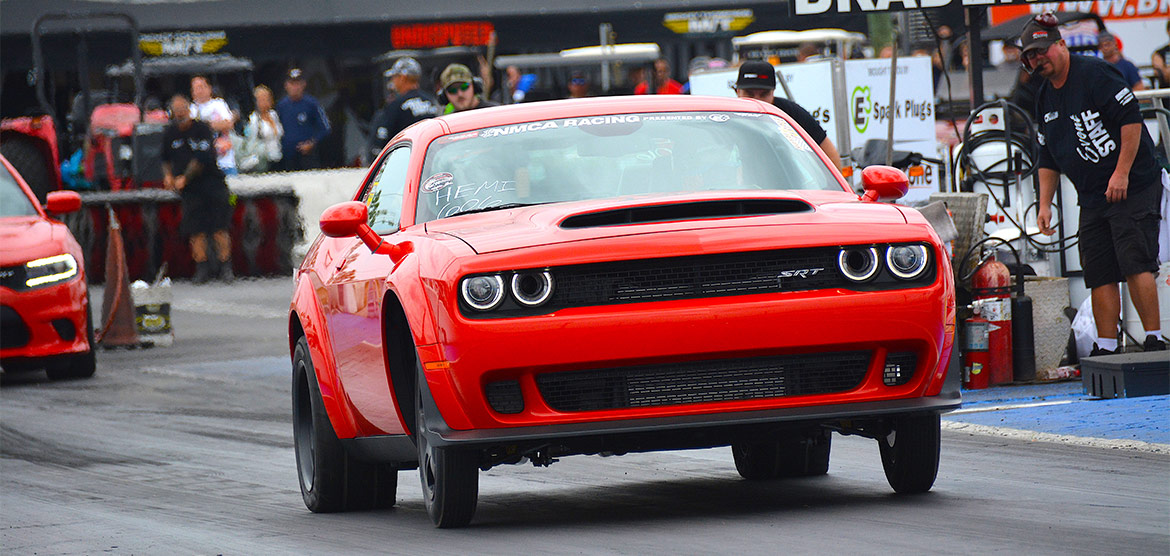 Dodge/Mopar HEMI Shootout participants, especially SRT Demon and SRT Hellcat owners looking to make more runs this weekend at Bradenton, can also enter the HEMI Quick 8 to win more prizes. If you're more into laying low and showing off your ride, there's a car show sponsored by local Mopar car clubs showcasing old-school and late-model Dodge muscle in the pits at Bradenton Motorsports Park that fans can check out.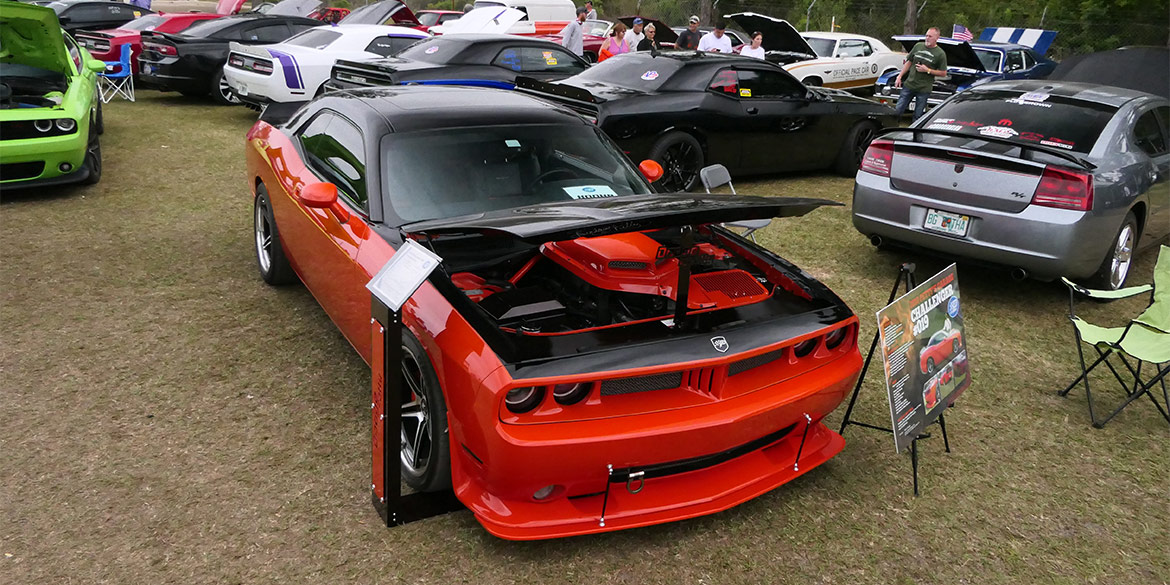 If you're stuck in the frozen tundra and need a shot of high-octane adrenaline, you can catch all the action right from your home computer, laptop or cell phone as Dodge Garage will be livestreaming all the action from the NMCA Muscle Car Mayhem all weekend.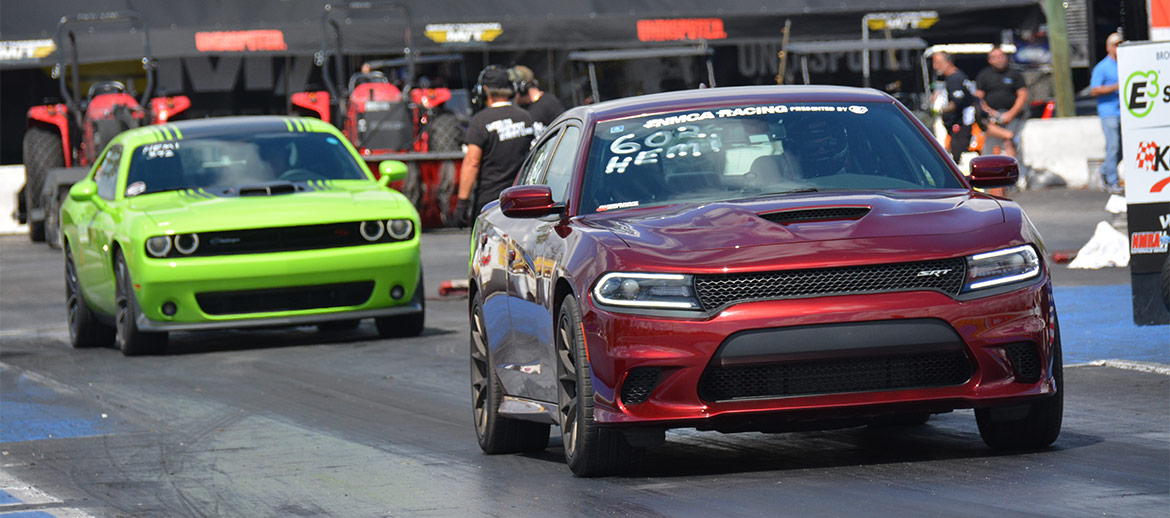 Comments
Comments
Previous