Humans & Machines Converge
4 years ago Events
2,000 cars. 5,000 people. Thousands of humans and machines converged on a somewhat chilly yet still glorious Saturday morning in May, and a historic meet-up ensued.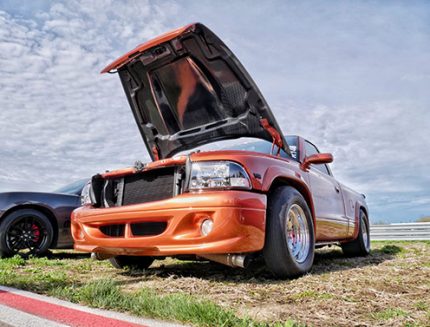 M1 Concourse, which resides at the northern end of Detroit's hallowed Woodward Avenue, played host to the biggest Cars & Coffee Michigan has ever seen. It was a multifarious gathering of supercars, hypercars, sports cars, street trucks, late-model muscle, restomods and enthusiasts who, after a drawn-out off-season, were like wolves pent up in a studio apartment ready to devour anything and everything automotive. The feast was sponsored by the family-owned LaFontaine Automotive Group, and they put on a helluva show. Both figuratively, like above, and literally, with food trucks, coffee and doughnuts.
Mopar® vehicles were very well represented. Remember the Dakota R/T Dodge built in the late nineties/early two thousands? Waaaay back in the day I'd hang out with the Dak R/T club every now and then because my brother-in-law helped start it. I still run into people from the crew on occasion, and while I missed @rob.rowe in person I most definitely didn't miss his truck! I guess last year he swapped a 392 in for a blown motor, and man does it look mean. The 6.4L HEMI engine is prepped for boost down the road with forged internals and it's hooked up to a Cope Racing built 46re with a manual valve body & trans brake. It leaves hard with a 3,400 stall torque converter and a 4.56 locker inside a 9.25 rear end. Notice the exhaust dumps below the front fascia! It goes 12.0 in the quarter mile, and Rob said he's looking to go quicker.
Showing up fashionably late was a wild supercharged Viper-powered Challenger "'Cuda" built by Katech Motors. The procharger sounded like the grim reaper whistling through a graveyard. Hopefully, I'll get the chance to find out more about this ludicrous machine soon!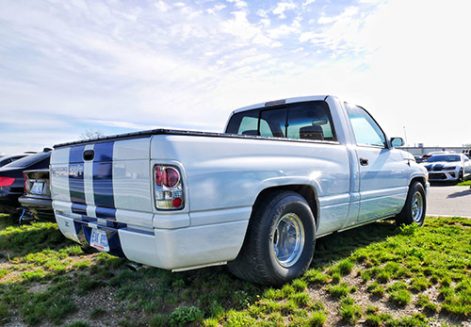 Remember the '96 Ram SS/T? It looked good with a Viper paint job as it set the Pace for the Indy 500! Then Dodge built it for two more years because the people demanded it. Regular cab and RWD only, loud exhaust and a bump up to TWO HUNDRED AND FORTY-FIVE horsepower. If the aggressive hood and Hoosiers on the back wheels are any indication, this one is putting down a little bit more than that.
I couldn't stay long, as Darla and I had an appointment at the Skillman branch of the Detroit Public Library to look through the National Automotive History Archives. As I was leaving, I was blown away by a line of badass cars waiting to get into M1! I don't think it's out of line to say the entire Midwest is ready for cruising season. Saturday's show was just the first taste!
Here's a gallery of my favorite vehicles from the show. Which one do you like best?
Comments
Comments