Speed Trap: Bending Corners & Stopping on a Dime
4 years ago Events
In the last Speed Trap feature, we talked about the infusion of 797 horsepower and 707 lb.-ft. of torque courtesy of a 6.2-liter supercharged HEMI® V8 engine that we borrowed from a 2019 Dodge Challenger SRT® Hellcat Redeye. And while the increased "oomph" under the Durango's hood will be a welcome addition, we'll also need to turn some corners and haul this 5,000-pound behemoth down from triple-digit speeds in some very short distances. Remember, it's not a sprint but a marathon when you enter the Tire Rack Brock Yates' One Lap of America.
Seasoned veterans will tell you that the brakes and tires will wear quickly if you go all out and just mash the gas pedal.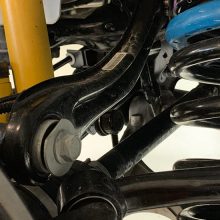 Some rookie participants on One Lap will soon find themselves burning brake pads, rotors and tires, while sliding off the track and into a patch of grass, barrier walls or even quicksand. Okay, I was just joking on the quicksand, but how cool would it be to watch some supercar driver whose driving skills fell short of the vehicle's capabilities get swallowed up into the earth? Maybe I'll suggest that next year to the event organizers. But here's our plan to make the Durango SRT "Speed Trap" even more nimble and ready to come to a complete stop when commanded by myself and co-driver David Carr.
First, let's talk about handling. For a vehicle of this size, a stock Durango SRT will hustle around most race tracks with a decent driver in a hurry. In the market segment the Durango SRT competes in, it has to run with high-end, premium performance SUVs that cost tens of thousands of dollars more. The Durango SRT is the American working class hero that's not afraid to "throw down" with the competition from Germany if needed. With lessons learned from last year's One Lap, the SRT engineers once again added the Mopar® Performance lowering springs that have a revised spring rate over the production units.
"The primary goal of these Mopar springs is to lower the center of gravity, this allows the weight transfer to be more balanced so that we can corner faster while having improved camber to resist tire wear during track usage.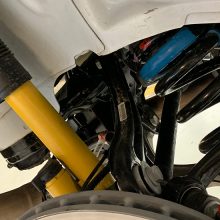 These lowering springs bring the vehicle about 15mm closer to the ground, we have found this to be a good compromise of improving CG (center of gravity) while leaving enough suspension travel to keep the tires happy through most events, which can be a forgotten factor when lowering a vehicle," said SRT engineer and One Lap co-driver David Carr.
It's more than just springs that will help the Durango SRT "Speed Trap" corner at speeds without getting its hair messy. Everything in the suspension and chassis has to work together or the vehicle will handle like a rolled up wet carpet. That's why the SRT folks decided to keep the stock Durango SRT shocks in place when building this one-off concept.
"Our Production Bilstein ADS dampers are very robust and well rounded, we are using production Durango SRT dampers, which allow for a great level of comfort on road (transits) while keeping the vehicle very controlled around the track," added David Carr.
Another area the SRT folks updated on our "Speed Trap" Durango SRT Pursuit Concept was the brakes. The increased speed we'll be travelling on some of the tracks, especially at infamous road courses like Nelson Ledges in Ohio and Road America in Atlanta, good brakes are a key component.
"Each track brings with it a handful of unique challenges.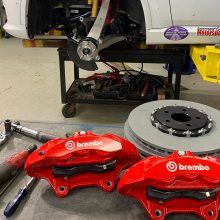 Some of the tracks have very long straights, which will allow us to reach very high speeds while making sure we can still slow down too. Other tracks have 'blind' or 'high risk' corners that require trusting the vehicle to have grip and perform in a predictable way. While others have very tight corners that require careful planning and weight management," exclaimed David Carr.
Here again, the SRT gearheads upgraded the stopping power with 15.75-inch Brembo two-piece front vented rotors versus the production 15.0-inch units. Massive Brembo six-piston calipers painted with a distinctive red finish shine put the clampdown on the massive rotors. Out back, the production SRT 13.78-inch Brembo vented rotors with four-piston red calipers are more than willing to handle whatever's thrown at them. These babies will give us all the outstanding stopping performance, heat management and durability we'll need as One Lap will push the limits of the suspension and brake updates on the "Speed Trap" Durango SRT.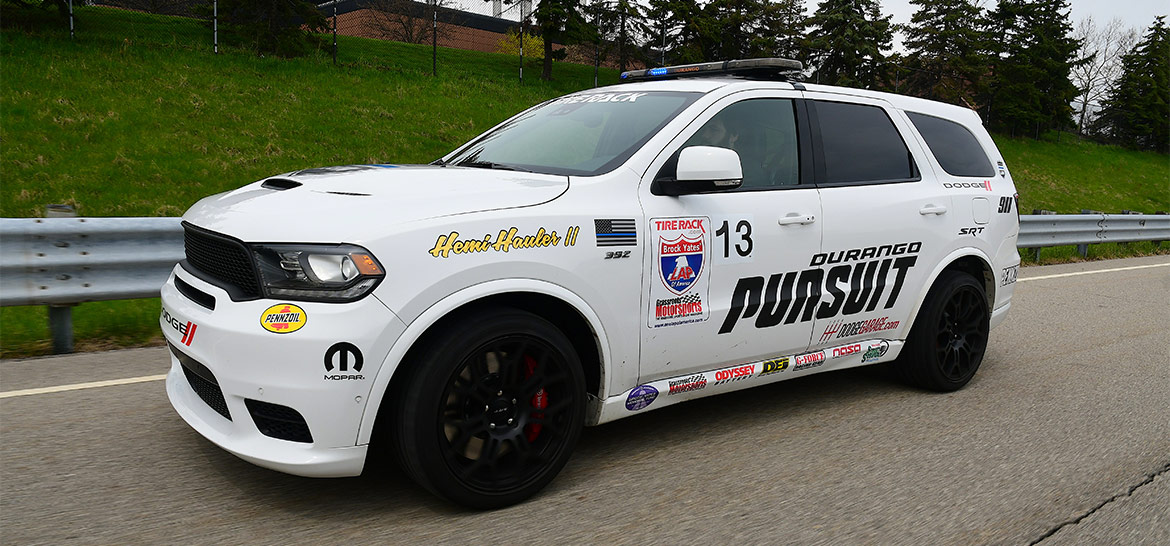 All I know is we can't wait to try this thing out! We'll find out soon enough, so hang on – it's going to be fun ride!
Comments
Comments
Previous